Recently on Cyclingnews.com
US Cyclocross Championships - CN
Providence, RI, USA, December 9-11, 2005
Big weekend for U.S. Cyclocross Championships
By Steve Medcroft
2004 men's champ Jonathan Page
Photo ©: Mitch Clinton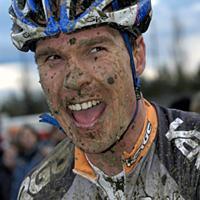 On December 9 through the 11th in Providence, Rhode Island, the best in U.S. cyclocross will come together to battle for the right to wear the national championship jersey in 2006. More than twenty championships will be awarded over the weekend in categories ranging from junior, collegiate, masters, and U23, to Saturday's elite men and Sunday's elite women's showcases.
In the men's race, three-time and defending national champion, Jonathan Page, is expected to return from the European cyclocross circuit, leaving the rest of field with the job of trying to match his form and skill. Defending women's national champion Katie Compton will lose the element of surprise that helped her win last year's race and will face currently on-form favourites like Ann Knapp and Barbara Howe in the women's race.
Held in historic Roger Williams Park in Providence, promoters have devised a challenging stage for the weekend. And if the current predictions of snow and freezing temperatures hold, the weather could make the event as photogenic and memorable for spectators as the last two years when racers, on a Portland, Oregon course drenched by torrential downpours, raced through running rivers of mud.
Elite Men
It's difficult to pick a clear favourite out of the men's U.S. 'cross field this year. Last year, there was a consistent, but small, group of racers on the U.S. scene (Ryan Trebon (Corvallis, Ore.), Adam Craig (Bangor, Maine), Todd Wells (Durango, Colo.), Mark McCormack (Northeaston, Mass.) and at nationals it was obvious that they all faced the common challenge of Jonathan Page coming over to pick up his third national championship jersey in a row. This year, a number of riders have shown strong form.
Former national champ Tim Johnson (Middleton, Mass) has come back to 'cross and seems to be on form after some strong UCI races in the Northeast and a strong showing in the USGP. Ryan Trebon dominated USGP but took off for Europe in November and left his teammate (Barry Wicks, Bend, Ore.) to take the overall USGP win. Adam Craig took time off after the MTB season but showed up for his first 'cross race of the year only to come a close second to Todd Wells. Wells is always in the mix. And what about the wild card? Tour de France antagonist Chris Horner (Bend, Ore.) has competed in a couple of test races and has the kind of natural ability that could put him in front of the field as well.
But the real favourite has to be Jonathan Page (Tilton, N.H.). Page consistently places ahead of other Americans at elite European 'cross races. And although Johnson's been chomping at the bit for bad weather at nationals (because his prior national championship, in 2000, was earned in snow) and the weather reports seem to be leaning his way, Page is no stranger to bad weather. If snow is going to tilt the race in anyone's favour, it would probably be Page more than Johnson. But who knows. The race is so deep and talented this year, it truly could be anyone's game.
Elite Women
Katie Compton (Code Racing)
Photo ©: Matthew E. Moses

In women's U.S. cyclocross races, the stories have been all Lyne Bessette. She won ninety-five percent of the races she entered. but Bessette will be missing from the Nationals field - as a Canadian national, she's ineligible to race the U.S. national Championships - so it will be a wide open race. USGP series winner Barbara Howe (Larkspur, Calif.) has shown moxy in her first dedicated 'cross season and roadie Georgia Gould (Boise, Idaho) has been out front in regional races and both women should play prominently.
Expect two former champions to play a major role in the outcome of the race too. Ann Knapp (Des Moines, Wash.), although she hasn't been travelling to many UCI races this season, is known to perform well in challenging conditions, is seasoned, and has the experience of having been at the top of the podium before. Wily Katie Compton, who raced local Colorado men's races to prepare for her upset win at last year's nationals, has followed a similar program for 2005 and should be on the start line in Providence.
But the two riders are truly wild cards. Knapp may not have had the preparation she needs to be as dominant as she can and Compton won't be able to hide in obscurity this year. So expect to see a large lead group stick together through the final laps and a big push at the right moment to put a new national champion on the books.
Elite U23
For the past six years in a row, Jesse Anthony (Beverly, MA) has won a cyclocross national jersey. In the beginning of the 2005 season, it looked as if Anthony was in the kind of condition to run away with the sport again but a serious challenger has developed out of Colorado. Troy Wells (Durango, Colo.), younger brother of MTB star Todd Wells, upset Anthony at both the first Gloucester USGP race and the final USGP in San Francisco; the only rider to finish ahead of Anthony in any USGP race.
Elite Juniors
The 2005 USGP series saw a back and forth battle between Danny Summerhill and defending national champ Bjorn Selander in the elite junior category, with Summerhill taking the overall.
Live coverage
Racing gets underway Friday with age-group and collegiate racing. Stay tuned to live.cyclingnews.com for live on-line race coverage of the following races:
Saturday, December 10
Elite U23, 12 noon, 50 minutes
Elite Juniors, 2pm, 40 minutes
Elite men, 3pm, 60 minutes
Sunday, December 11
Elite Women, 3pm, 40 minutes