Cyclo-cross news & racing roundup for December 5
Edited by Laura Weislo and Paul Verkuylen
Welcome to our regular roundup of what's happening in cyclo-cross. Feel free to send feedback, news and releases to mtb@cyclingnews.com.
Luck in the mud for Nys
By Brecht Decaluwé
World cup leader and winner today Sven Nys (Rabobank).
Photo ©: Oskar Matxin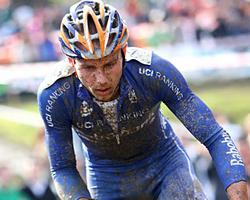 The cyclo-cross peloton moved to the North of Spain for the fourth World Cup. The ziklo krosa in Igorreko – birthplace of Iban Mayo – offered the riders an extremely muddy course in dry and sunny weather conditions.
Local riders like Oscar Vazquez, Unai Yus and Isaac Suarez were hoping for a good performance against the mainly Belgian opposition. Despite the transfer south, however the usual protagonists' names didn't change a bit in the race.
French champion Francis Mourey surprised the Belgians from the start, and comfortably led the race until a mechanical at an extremely bad moment left him without a chance for the win; the unlucky French champion eventually finished seventh in Igorre.
Due to Mourey's broken derailleur, UCI-leader Sven Nys and Belgian champion Bart Wellens were suddenly offered the lead and they battled it out for the win in Spain. With less than one kilometre to go, Wellens heard his derailleur break as well, and so last year's winner, Nys, was essentially gifted the win. Wellens was lucky to stay in second place and held off team-mate Klaas Vantornout.
World champion Erwin Vervecken found a course that suited him perfectly; he had a good start but eventually had to settle for fourth. First non-Belgian in Spain was veteran Richard Groenendaal in fifth place. Jonathan Page of the USA finished 17th at four minutes from winner Nys, while compatriot Jonathan Baker was 34th.
"Luck was very important today," said winner Nys after the race. "I've encountered the same problems two years ago," Nys referred to the year that Wellens won the Igorre World Cup in 2005.
"I punctured two times, but then I noticed that my running was going better than in the previous weeks. Mourey was the big favourite for the win, but I felt that he made too many errors. My guess is that it would've been very close in the last lap," Nys explained on how he figured the race would have developed had Mourey not had mechanical problems.
See the full results, report and photos here.
Another Vanthourenhout goes pro
Cyclo-crosser Dieter Vanthourenhout will join his cousin Sven in the professional ranks after signing a professional contract with the Palmans-Sapim team which will take effect January 1, 2008.
Vanthourenhout was under contract with the Easypay team, managed by Dirk Vanopbroeke for one and a half years. "It is with sorrow that we see Vanthourenhout leave, but we couldn't match the offer that he received from Palmans-Sapim," Vanobroeke said.
The 22 year old will ride in the colours of Palmans as of the GP Sven Nys, being held on January 1. "I received an offer from the team a few days ago. I didn't have to consider it for very long. Certainly not as it was a pro contract. I can now concentrate fully on cyclo-cross. It is the intention that I gradually keep growing through the years," Vanthourenhout said.
Vanthourenhout has been having a break-out year, scoring top finishes in the Vlaamse Houtlandcross (4th), GP Stad Hasselt (7th) and Koksijde World Cup (11th). He is currently ranked 24th in the UCI rankings.
The young Belgian will ride alongside Belgians Niels Albert, Davy Commeyne and Tom Van Den Bosch as well as Czech rider Radomir Simunek
"We wanted to have Dieter as our leader for next season. For that reason Easypay wanted to offer him a five year contract. Because we are not a continental team, Dieter can't ride any pro races," Vanobroeke said
"We find it disappointing that he is leaving, but we wish him success in his future pro career," Vanobroeke said, who is now on the lookout for new talent to strengthen his team.
Nys triple tested in Spain
Sven Nys found himself tested not once, not twice but three times by antidoping authorities while he was in Spain for the Igorre World Cup. The Belgian, who currently leads the UCI rankings by a comfortable margin over compatriots Bart Wellens and Klaas Vantornout, was met by WADA at his hotel on Saturday for a surprise doping control.
Then, on Sunday morning, the entire Belgian selection was subjected to doping control. Finally, when Nys won the race, he was automatically tested by the doping control authorities after the race. The Rabobank rider was unflustered by the attention, joking to Sporza.be, "Luckily I'm in Spain for another day, otherwise the Flemish federation might come along, too."
Wicked weather flip-flops USGP series lead
Tim Johnson (C'dale/Leer/Cyclocross)
Photo ©: Kurt Jambretz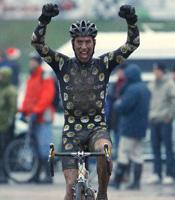 The US Gran Prix of Cyclo-cross headed to America's heart of 'cross, Portland, Oregon for the series finale. Well known for it's ability to deliver wet weather and challenging parcours, the Pacific Northwest handed the riders an additional challenge: first a wintry mix of snow and rain, and then near-hurricane force winds and torrential rains which turned the course at the Portland International Raceway into a soupy bog. Needless to say, weather was a factor in every race for everyone except the crowds, who turned out 6,000 strong to witness the spectacle.
On Saturday, Tim Johnson (Cannondale/Leer/Cyclo-crossworld.com) and Georgia Gould (Luna) each powered their way to a victory into the series leader's white jersey, Gould retaining hers, and Johnson taking the jersey from the shoulders of Kona-YourKey's Ryan Trebon.
Before the race, series leader, Ryan Trebon (Kona - YourKey) held held a slender six point advantage over Tim Johnson (Cannondale/Leer/Cyclo-crossworld.com) in the race for the overall title. Johnson, who is known to excel in the slop and muddy conditions, was up for the challenge and did not disappoint with a dominating performance today. Johnson put up lap times a full minute faster than any other category on the muddy course today and seemed to get stronger as the race continued.
Trebon, who was running second for most of the race, had to withstand a late attack by Todd Wells (GT) who caught Trebon with 200 meters to go in the race. Trebon won the sprint to finish second and a close four point deficit to Johnson overall.
On Sunday warmer weather but near hurricane conditions greeted the riders for day two, and at the start of the men's race, Trebon took the hole shot and never looked back. The rider, who at one point held a lead of over a minute, dominated the field throughout the race. Johnson was strong but was unable to close on Trebon after his explosive start. The Leer/Cannondale rider, battled Barry Wicks (Kona YourKey.com) and Wells for second place for a good part of the race, and was able to slowly pull away to finish second.
With his win, Trebon took his second consecutive USGP Championship and third of his career (2004, 2006 and 2007).
See full results, report and photos from Saturday's and Sunday's races.
Gould doubles in Portland toward USGP overall
Georgia Gould (Luna) brings it home
Photo ©: Kurt Jambretz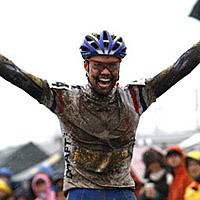 Luna's Georgia Gould proved her sweep in the New Jersey round of the USGP was no fluke as she powered away from the field to take consecutive victories in Portland's series finale. US Champion Katie Compton and Canadian Lyne Bessette, both of whom were fighting illness after their trip to Europe, struggled in the mud on Saturday, finishing second and fourth, respectively, then both abandoned in the horrific conditions on Sunday.
The filthy weather proved beneficial to the experienced mountain bikers, who topped the results lists both days. Gould, and her team-mate Katerina Nash and veteran off-roader Alison Sydor were first, third and fifth on Saturday and 1-2-3 on Sunday.
With her wins in Portland, Gould earned both the series title and an automatic selection to the USA's team for the Cyclo-cross World Championships in Treviso.
See the full results, report and photos from Saturday's and Sunday's races.
Nys may ride the road in 2009
Sven Nys is thinking of turning his efforts to the road, specifically he would like to ride the spring classics in 2009 according to Het Laatste Nieuws . If the Belgian decides to make an attempt on the monuments of the sport, he will make the step from the Rabobank continental squad to a ProTour team.
Nys has been the dominant rider the past few years on the cyclo-cross scene but is thinking of expanding his horizons. "The cross is my first love, but my targets are gradually drying up," Nys said.
Nys is looking for new objectives in his sporting career. He recently qualified to represent Belgium at the Beijing Olympics in the mountain bike event, but the Cannibal wants more. Nys sees a spring classics campaign targeting races such as the Tour of Flanders and Paris Roubaix as the epitome of the sport.
Nys has previously ridden Paris Roubaix, in 2003 he was part of the Rabobank team but failed to finish the race.
If Nys decides to chase his dream, then he will leave the continental Rabobank team, and ride for a ProTour team. If he decides to stay with cyclo-cross, then he will remain with the Dutch squad, where he has a contract that runs until the end of 2008.
Albert to ride nationals as elite
Niels Albert has decided to race the Belgian national championships in Hofstade as an elite rather than under 23, according to Sport.be.
On January 6, the Palmans-Cras 'crosser will take on the rest of Belgium's elite riders, in an attempt to take the professional title. Good news for those in the under 23 category as it will increase their chances of taking the title.
In the elite category, Albert will become a marked man for riders the caliber of Sven Nys (Rabobank), Erwin Vervecken (Fidea), and Bart Wellens (Fidea). He already showed that he is more than ready for the challenge by ending Nys domination of the super prestige series in Gieten.
Nine days before the championships, Albert will line up in the under 23 category for the world cup in Hofstade. Albert also intents to ride the world championships as an under 23, he plans on winning the title before making the jump to the elite category for good.
Donahue scores career highlight in Carlisle
By Kirsten Robbins in Carlisle, Pennsylvania
Cold conditions but sunny skies greeted riders at the Verge Mid Atlantic Cyclo-cross Series' penultimate race in Carlisle, Pennsylvania. Alec Donahue (Joe's Garage) celebrated a paramount victory in his cycling career after he rode away from a four-man battle to take a solo victory. Second placed today, Charles Pendry (Inland Construction) pulled through with a long overdue podium placing after he won a bunch sprint ahead of third placed Jon Hamblen (RGM Watches-Richard Sachs) and 2006 MAC series winner, Wes Schempf (C3-Sollay).
"There were a lot of attacks on the back section," said Donahue in regards to the final three-lap showdown between the four leading riders. "I started attacking over the run up in the back and when I had a gap I kept the pressure on through all the corners and stayed away from Pendry, Hamblen and Schempf."
With many of the east coast's top gun cross riders competing in the final USGP round in Portland, Oregon, there was plenty of opportunity to claim some much needed UCI points, that would secure riders a better start position for the upcoming US national championships to be held in Kansas later this month.
See the full results, report and photos here.
Bruno-Roy benefits from Koksijde
By Kirsten Robbins in Carlisle, Pennsylvania
A successful trip to Europe to compete in the Koksijde World Cup round #4 brought Maureen Bruno Roy's (Independent Fabrications) game up a notch as she reaped the rewards of victory in the Carlisle Cross Classic's penultimate Verge Mid Atlantic Cyclo-cross Series, solidifying her series lead in the process. Catherine Walberg (Team Kenda Tire) and Betsy Shogren (Ford) rounded out the podium in second and third place respectively.
"I think that racing in a really hard race before this was good for my performance today," acknowledged Bruno Roy with regards to her unplanned trip to Belgium last weekend. "I was in over my head in the World Cup but I learned how to race past my ability which is great for the end of the season fitness."
The expenses to complete in the Portland USGP were more costly than flying to Belgium to race in the World Cup and Bruno Roy admitted that not only did she saved on travel expenses but she gained more UCI points by placing twenty-sixth in the World Cup than she would have racing in the east coast series while raising the bar in her late season fitness.
See the full results, report and photos here.
US riders must petitions for Worlds by December 10
USA Cycling has announced that the deadline for elite women, U23 men and junior men to submit petitions for consideration as a discretionary nomination for the 2008 UCI Cyclo-cross World Championships team is Monday, December 10.
The only automatic nominations to the team for elite women, U23 and junior men come from: 1) Medal winners from the 2007 Cyclo-cross World Championships still racing in that category (Katie Compton); 2) Any rider finishing top five in a 2007-08 World Cup (Katie Compton), 3) The winner of the USA Nationals (to be determined); 4) The winner of the USGP series (Georgia Gould, Jamey Driscoll, Luke Keough).
A total of five spots in each category are to be filled by automatic and discretionary nominations. USA cycling will fund only one position for the Worlds team for elite women and U23 men, while two juniors will receive funding. Other riders must pay $1500 in travel costs.
Unlike past years, the deadline to submit petitions to USA Cycling falls before the USA Cycling Cyclo-cross National Championships, scheduled this year for Dec. 13-16 in Kansas City, Kansas.
Elite men who wish to be considered will have until January 4 to submit their petitions.
The discretionary nominations for the elite women, U23 men and junior men will be announced following the National Championships on December 18.
The 2008 UCI Cyclo-cross World Championships are scheduled for Jan. 26-27 in Treviso, Italy.
US Nationals registration deadline approaching
The deadline to register for this year's USA Cycling Cyclo-cross National Championships is only a few days away and organizers remind competitors that registration for the event is online only.
Registration deadline for the Dec. 13-16 event at Kansas City's Wyandotte County Park is Saturday, Dec. 8 at midnight CST. To register, go to www.kccrossnationals.com. No on-site registrations are allowed and all entry fees are non-refundable and non-transferable. No exceptions will be made.
"We are closing in on last year's record turnout for nationals," said Race Director Bill Marshall of KLM Marketing Solutions. "With the price of airfare to and from Kansas City at a reasonable rate and plenty of hotel rooms still available, we hope racers who were undecided now decide to make the trip."
Riders who have previewed the course say it is a smooth, fast course where any type of rider can shine. At close to two miles a lap, it includes grass, tight technical turns, natural run-ups and a few sections that will really spread out the competition.
"I think the course flows pretty well," said four-time U.S. national cyclo-cross champion Steve Tilford. "Most people would think Kansas would be flat, but this course has more elevation gain than many races I've done."
Upcoming UCI Cyclo-cross races
December 8: Coupe du Monde UCI / UCI World Cup, Milan (Ita) CDM
December 8: Verge NECCS #6, W.E. Steadman GP, Rhode Island (USA) C2
December 9: Frankfurter Rad-Cross, Frankfurt a/Main (Ger) C2
December 9: National Trophy Series 4, Peel Park, Bradford (GBr) C2
December 9: Radquer Wetzikon, Wetzikon (Swi) C1
December 9: Superprestige, Veghel (Ned) C1
December 9: Verge NECCS #7, NBX GP, Rhode Island (USA) C2
December 9: Valtellina Iperal Cross, Morbegno (Ita) C2
(All rights reserved/Copyright Future Publishing (Overseas) Limited 2007)