Cyclo-Cross World Cup #5 - CDM
Igorre, Spain, December 2, 2007
Main Page Results Overall standings Previous Race Next Race
Stage 4 - December 5: Elite Men, 60 minutes
Luck in the mud for Nys
Mourey strongest but bike lets him down
By Brecht Decaluwé
World cup leader and winner today Sven Nys (Rabobank).
Photo ©: Oskar Matxin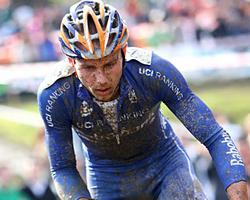 The cyclo-cross peloton moved to the North of Spain for the fourth World Cup. The 'ziklo krosa' in Igorreko – birthplace of Iban Mayo – offered the riders an extremely muddy course in dry and sunny weather conditions. Local riders like Oscar Vazquez, Unai Yus and Isaac Suarez were hoping for a good performance against the mainly Belgian opposition. Despite the transfer south, the protagonists' names didn't change a bit in the race though. French champion Francis Mourey surprised the Belgians, and comfortably led the race until a mechanical at an extremely bad moment left him without a chance for the win; the unlucky French champion eventually finished seventh in Igorre.
Due to Mourey's broken derailleur, UCI-leader Sven Nys and Belgian champion Bart Wellens were suddenly offered the lead and they would battle it out for the win in Spain. With less than one kilometre to go, Wellens heard his derailleur break as well, and so last year's winner, Nys, was essentially gifted the win. Wellens was lucky to stay in second place and held off team-mate Klaas Vantornout.
World champion Erwin Vervecken found a course that suited him perfectly; he had a good start but eventually had to settle for fourth. First non-Belgian in Spain was veteran Richard Groenendaal in fifth place. Jonathan Page of the USA finished 17th at four minutes from winner Nys, while compatriot Jonathan Baker was 34th.
"Luck was very important today," said winner Nys after the race. "I've encountered the same problems two years ago," Nys referred to the year that Wellens won the Igorre World Cup in 2005.
"I punctured two times, but then I noticed that my running was going better than in the previous weeks. Mourey was the big favourite for the win, but I felt that he made too many errors. My guess is that it would've been very close in the last lap," Nys explained on how he figured the race would have developed had Mourey not had mechanical problems.
He was left with compatriot Wellens for company, who was also affected with a mechanical. "Eventually I heard that crack that I heard in 2005," Nys commented on Wellens' mechanical, "and from then on I just hoped that I would be spared from back luck."
Bart Wellens wasn't too disappointed when he talked with Sporza TV before he stepped on the podium. "It's bad luck, that's all. I didn't panic, there was no need to since there was nothing I could do to turn things around. I can only hope for better luck in the future," Wellens said.
When asked if he felt that Mourey would've won the race without his mechanical Wellens felt they still had a chance. "Actually I didn't know he was in the lead after my poor start. But when I bridged up with Nys, we both pulled to take him back," Wellens explained.
The third Belgian on the podium in Igorre was Klaas Vantornout. The Fidea rider, who is moving to the Sunweb team next year, has shown his qualities once again. This season the Belgian hasn't finished outside the top-five in any World Cup race. Nevertheless, he wasn't too happy after the race as he was clearly in pain. "I've hit the ground pretty hard and hurt my hip and elbow," Vantornout explained. "I could move forward with Wellens but then I made another mistake. From then on I just focused on securing that third place."
The next World Cup leg is held in Hofstade, Belgium, on December 26. Last year World Champion Erwin Vervecken won his first big race of the season on the magnificent sandy course around the lake in Hofstade; Cyclingnews will be there to see if things are repeated in 2007.
How it unfolded
Frenchman Francis Mourey (Française des Jeux)
Photo ©: Oskar Matxin

Fifty-five riders started in the fifth World Cup race of the season, and it was Francis Mourey who made a blitz start. The French Champion jumped away from the rest of the field which was being lead by World Champion, Vervecken. After one lap, Mourey had almost twenty seconds on a first group with all but one of the favourites. Belgian champion Bart Wellens had a terrible start and rode 48" behind leader Mourey. Page didn't start too well either, and he was riding only ten seconds ahead of Wellens.
Mourey kept going hard and his gap increased to 25" on a group with Sven Vanthourenhout, Vervecken and Nys. In this group UCI leader Nys wasn't taking any initiative at all, giving the impression he had a bad day. Italian Champion Franzoi still felt the pains from his crash in the previous World Cup leg in Koksijde; he left the race after one lap.
The gap from Mourey on the three chasers grew up to 37" after only three laps. Behind this group, about thirteen riders rode together at 45" from Mourey. While Wellens was moving up in this group, Page didn't feature in it. Sometimes Mourey got stuck in the mud and lost a couple of seconds, but overall he was still riding faster than the chasers.
Wellens cooperated with team-mate Vantornout to bridge up towards Nys, Vanthourenhout and Vervecken. Nys hadn't pulled before but just when Wellens was about to connect with his group he accelerated, with only Vanthourenhout able to follow him. The duo quickly had a five second gap on the three others. A Dutch tandem made of Groenendaal and Thijs Al was trailing at one minute from leader Mourey just before the race was halfway finished.
Sven Vanthourenhout lost contact with Nys when he kept riding where it proved to be impossible, which led to him being stuck in the mud. The Sunweb rider dropped back to the group with Vervecken, Vantornout and Wellens. With still a half an hour to go, Nys was on his own in second position at about 30" from leader Mourey.
Wellens unzipped his jersey and he left the chasing group behind Nys and Mourey, with only Vantornout able to follow the Belgian Champion. Mourey was still comfortably leading Nys with half a minute, while Wellens and Vantornout trailed at 40". Behind them, Groenendaal and Al caught up with Vervecken and Vanthourenhout at one minute from Mourey.
Wellens eventually left Vantornout behind, and with only three laps to go he bridged up with Nys. The Belgian duo were not coming back on Mourey as they were chasing at 32", nevertheless they worked together. He made mistakes, like almost getting stuck in the tape surrounding the course, but still led comfortably. Then disaster hit the Mourey when he geared-up into the road leading towards the finish. His derailleur let him down, and Mourey was forced to run all the way to the pit that was more than 400 metres. Nys and Wellens caught the unlucky runner even before the finish line, and so did Vantornout at 14" from the new leaders. When Mourey finally reached the pit box he was already back in sixth position at more than a minute from Nys and Wellens.
The initiative in the leader's group was taken by Wellens, but he couldn't get rid of Nys although he put him under pressure at every running section. When entering the ultimate lap the duo was saving all of the energy they had for what was to come. Vantornout was still chasing at 15", but it didn't seem likely that he would come back again. Mourey remained sixth position, riding together with Vanthourenhout at 1'15" from the leading duo.
Mud was the order of the day and made the
Photo ©: Oskar Matxin

Nys clearly tried to ride whenever he could, while Wellens tried to exploit his running capabilities at every occasion. Despite both of them trying hard to drop each other, they were still together halfway the course. Then Wellens was hit with the same setback as Mourey, his derailleur was destroyed just before the leaders hit the stairs. The pit box wasn't too far away, and for a while, Wellens was able to manage his mechanical as more running was needed after the stairs. However, when Nys accelerate on his bike he easily dropped Wellens.
The gap was no more than 15" after Wellens changed bikes, and Nys couldn't afford to make any mistake. The last bend in the course – where Mourey destroyed his derailleur – was taken very carefully by Nys as he didn't want to shift anymore at this stage of the race. He made an sympathetic gesture towards Wellens before cruising towards the finish line to grab the victory.
Wellens finished at 15" before team-mate Vantornout, who continues his string of top-five results in World Cups this year. World Champion Vervecken won the sprint of veterans for fourth place, one minute from winner Nys. Sven Vanthourenhout dropped Mourey in the last lap to grab sixth place. When the French Champion crossed the line, he received a thunderous applause from the Basque crowd for his strong performance. Thijs Al finished on eighth place, and Christian Heule beat Bart Aernouts for ninth place at 2'24" from winner Nys.
Photography
For a thumbnail gallery of these images, click here
Images by Oskar Matxin/www.oskarmatxin.com
Images by Joel Roberts / www.tekhaus.com.au/gallery)
Results
1 Sven Nys (Bel) Rabobank                                 1.05.33
2 Bart Wellens (Bel) Fidea Cycling Team                   0.00.15
3 Klaas Vantornout (Bel) Fidea Cycling Team               0.00.30
4 Erwin Vervecken (Bel) Fidea Cycling Team                0.00.59
5 Richard Groenendaal (Ned) AA Sport Drinks               0.01.04
6 Sven Vanthourenhout (Bel) Sunweb Pro Job                0.01.26
7 Francis Mourey (Fra) Française des Jeux                 0.01.36
8 Thijs Al (Ned) BeOne CRC Team                           0.01.53
9 Christian Heule (Swi) Stevens Racing Team               0.02.24
10 Bart Aernouts (Bel) Rabobank                                  
11 Kevin Pauwels (Bel) Fidea Cycling Team                 0.02.42
12 Radomír Simunek (Cze) Palmans-Cras                     0.02.54
13 Zdenek Stybar (Cze) Fidea Cycling Team                 0.03.04
14 Aurelien Duval (Fra)                                   0.03.10
15 Rob Peeters (Bel) Landbouwkrediet - Tönissteiner       0.03.30
16 Gerben De Knegt (Ned) Rabobank                         0.03.38
17 Jonathan Page (USA) Sunweb Pro Job                     0.03.59
18 Maarten Nijland (Ned) Ruiter Dakkapellen Wielerteam    0.04.16
19 Simon Zahner (Swi) Bürgis Cycling Team                 0.04.36
20 David Derepas (Fra) VC Roubaix Lille Metropole         0.05.07
21 Marius Gil (Pol)                                       0.05.18
22 Dieter Vanthourenhout (Bel) Easypay Cyclocross Team    0.05.24
23 Wilant Van Gils (Ned) ZZPR.nl                                 
24 Isaac Suarez Fernande (Spa)                            0.05.31
25 Robert Glajza (Svk) CK ZP Sport a.s. Podbrezová        0.06.17
26 Romain Villa (Fra)                                     0.06.27
27 Kamil Ausbuher (Cze) Easypay Cyclocross Team           0.06.29
28 Unai Yus Kerejeta (Spa)                                       
29 Jan Verstraeten (Bel) Sunweb Pro Job                   0.06.50
30 José Antonio Hermida (Spa)                             0.07.05
31 Rafael Visinelli (Ita) GS Forestale                    0.07.24
32 Ondrej Bambula (Cze) Cyklo Team Budvar Tábor           0.07.37
33 Marco Bianco (Ita) Arcobaleno Carraro                  0.07.55
34 Jonathan Baker (USA) Primus Mootry                     0.08.02
35 Oscar Vazquez Crespo (Spa)                             0.08.22
36 David Seco Amundarain (Spa)                                   
37 Javie Ruiz De Larrina (Spa)                            0.10.23
 
One lap down
 
38 Julien Belgy (Fra) Bouygues Télécom                           
39 David Menger (Cze) Cyklo Team Budvar Tábor                    
40 Mauro Gonzalez Fontan (Spa)                                   
 
Two laps down
 
41 Hugo Martinez Rus (Spa)                                       
 
Four laps down
 
42 Nicolas Bazin (Fra) US Domont                                 
43 Jan Chrobák (Cze) Johnson Controls AS                         
DNF Enrico Franzoi (Ita) Lampre-Fondital                         
DNF Steve Chainel (Fra) Auber 93                                 
DNF Jonathan Lopez (Fra)                                         
DNF Milan Barenyi (Svk) CK ZP Sport a.s. Podbrezová              
DNF Robert Gavenda (Svk) Selle Italia Guerciotti                 
DNF Malte Urban (Ger) Heinz von Heiden Focus                     
DNS Marco Aurelio Fontana (Ita) Selle Italia Guerciotti