USGP Portland Cup - C1/C2
Portland, Oregon, December 1-2, 2007
Main Page Results Overall standings Previous Race Next Race
Race 2 - December 1: Elite Men, 60 minutes
Johnson takes wins as well as series lead
Tim Johnson (C'dale/Leer/Cyclocross)
Photo ©: Kurt Jambretz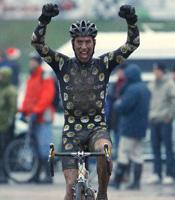 Tim Johnson (Cannondale/Leer/Cyclo-crossworld.com) and Georgia Gould (Luna) each powered their way to a victory today and the series overall leads as the US Gran Prix of Cyclo-cross enters its final weekend at the Toyota Portland Cup in Portland, Oregan.
As expected, the weather was a significant factor. "It was a bad day for everything except cyclo-cross," commentator for the event Richard Fries announced. The bone-chilling wintry mix of snow, wind, mud and rain made it messy but seemed to be a magnet for the Portland crowds who turned out 6,000 strong.
Before the race, series leader, Ryan Trebon (Kona - YourKey) held held a slender six point advantage over Tim Johnson (Cannondale/Leer/Cyclo-crossworld.com) in the race for the overall title. Johnson, who is known to excel in the slop and muddy conditions, was up for the challenge and did not disappoint with a dominating performance today. Johnson put up lap times a full minute faster than any other category on the muddy course today and seemed to get stronger as the race continued.
With the win, Johnson regains the leader's jersey he held until Trebon wrested it away in New Jersey. Trebon, who was running second for most of the race, had to withstand a late attack by Todd Wells (GT) who caught Trebon with 200 meters to go in the race. Trebon won the sprint to finish second and holds a close second to Johnson overall. As if it was planned, the men's race will be decided tomorrow on the last day of the series.
U23 men
To witness the quality and depth of riding in US cyclo-cross, you need not look any further than the U23 category. Jamey Driscoll (FiordiFrutta), the eventual U23 winner and category leader, finished 6th overall in the elite men's field. Danny Summerhill (Clif Bar) battled his way for a second place finish. Bjorn Selander (Ridley), who finished third, actually led the entire elite men's field after the first lap.
Photography
For a thumbnail gallery of these images, click here
Images by Mitch Clinton/www.clintonphoto.com
Images by Kurt Jambretz/www.actionimages.cc/
Images by Dave McElwaine/www.trailwatch.net
Images by FJ Hughes/www.fhughesphoto.com
Results
Elite Men
 
1 Tim Johnson (C'dale/Leer/cyclocrossworld)                       1.00.12
2 Ryan Trebon (Kona-YourKey.com)                                     0.36
3 Todd Wells (GT)                                                        
4 Barry Wicks (Kona-YourKey.com)                                     1.59
5 Adam Craig (Giant)                                                 2.30
6 Jamey Driscoll (FiordiFrutta Elite Cycling Team)                   2.58
7 Geoff Kabush (Maxxis/Litespeed)                                    3.06
8 Matthieu Toulouse (Maxxis/Litespeed)                               3.41
9 Carl Decker (Giant)                                                3.45
10 Troy Wells (Team Clif Bar Cyclocross)                             3.54
11 Matt Shriver (Jittery Joe's/Sonic Cyclocross)                     4.03
12 Chris Sheppard (Santa Cruz Bicycles)                              4.08
13 Danny Summerhill (Clif Bar Development Cyclo-Cross Team)          4.21
14 Jeremy Powers (cyclocrossworld.com)                               4.27
15 Bjorn Selander (Ridley Factory Team)                                  
16 Tristan Schouten (Planet Bike)                                    4.51
17 Andy Jacques-Maynes (California Giant Berry Farms/Specialized)    5.11
18 Jesse Anthony (Jamis Bicycles)                                    5.31
19 Mark Mccormack (Clif Bar)                                         5.40
20 Adam Mcgrath (Maxxis/Litespeed)                                   5.43
21 Christopher Jones (Nerac Pro Cycling)                             5.49
22 Erik Tonkin (Kona)                                                5.53
23 Russell Stevenson (Benaroya Research Institute Cycling Team)      6.36
24 Justin Robinson (California Giant Berry Farms/Specialized)        6.42
25 Nicholas Weighall (Rad Racing NW)                                     
 
One lap behind
 
26 Aaron Schooler (E.R.T.C. - Redbike)                                   
27 Adam Myerson (Nerac Pro Cycling)                                      
28 Sean Babcock (Team S&M)                                               
29 Molly Cameron (Vanilla bicycles-Stumptown coffee)                     
30 Shannon Skerritt (VANILLA BICYCLES)                                   
31 Sean Worsech (Rad Racing)                                             
32 Daniel Neyens (Hagens-Berman Cycling Team)                            
33 Carson Miller (Fred Meyer/Northwest Adventure)                        
34 Nicholas Keough (JitteryJoe's/Sonic Cyclocross)                       
35 Chris Parrish (Hagens Berman LLP)                                     
36 Mitchell Peterson (Mona Vie)                                          
37 Jerome Townsend (Ridley Factory Team)                                 
38 Chance Noble (California Giant Berry Farms/Specialized)               
39 Brady Kappius (Clif Bar Development Cyclo-Cross Team)                 
40 Toby Swanson (Benaroya Reasearch Institute Cycling Team)              
41 Matt Kraus (RGM WATCHES - RICHARD SACHS)                              
42 Kevin Bradford-Parish (REDLINE)                                       
43 David Hackworthy (Ridley)                                             
44 Ryan Iddings (Lapierre USA)                                           
45 Ian Brown (River City/TonicFab.com)                                   
46 John-Christian Flack (The Valley Athletic Club)                       
47 John Behrens (Bailey/Black Mountain Bicycles)                         
48 Chris Horner (Indiana University Medical Center)                      
49 Alex Howes (Clif Bar Development Cyclo-Cross Team)                    
50 Taylor Lane (Clif Bar Development Cyclo-Cross Team)                   
51 Solomon Woras (Vanilla)                                               
52 Mark Blackwelder (Gentle Lovers)                                      
53 Shaun Adamson (Juventus)                                              
54 Chris Brandt (Collins/Specialized)                                    
55 Shawn Harshman (Harshman Wealth / Primus Mootry)                      
56 Damian Schmitt (Sunnyside Sports)                                     
57 Jason First (VooDoo Bikes)                                            
58 Luke Brechwald (Rad Racing NW)                                        
59 Pascal Wehr (Sugoi)                                                   
60 Patrick Wilder                                                        
61 James Williams (Sunnyside Sports)      

U23
 
1  Jamey Driscoll (FiordiFrutta)                              
2  Danny Summerhill (Clif Bar Development Cyclocross Team)    
3  Bjorn Selander (Ridley)