Cyclo-cross news & racing round-up for November 9
Edited by Laura Weislo
Welcome to our regular roundup of what's happening in cyclo-cross. Feel free to send feedback, news and releases to mtb@cyclingnews.com.
French surprise in Italy, Vos victorious in women's 'cross
By Tim Maloney-European Editor in Treviso
Francis Mourey (Fra) celebrates
Photo ©: Roberto Bettini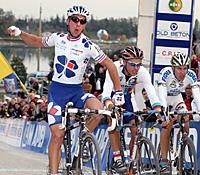 As the late afternoon winter sun bathed Le Bandie sports center near Treviso, Italy, on a crisp Saturday afternoon, it shown brightest on diminutive 26-year-old Frenchman Francis Mourey (Francaise Des Jeux), who surprisingly out-sprinted World Cup leader Sven Nys (Rabobank) and World Champion Erwin Vervecken (Fidea) with a superb move at the end of a hotly contested fourth race in the 2006-07 UCI World Cup Cyclo-cross series. On the steep final ramp to the finish, petit powerhouse Mourey made the perfect move up the right side of the uphill gravel track in the final 20 meters to turn the tables on Nys, who had beaten the French rider in Round Two of the Cyclo-cross World Cup two weeks ago in Kalmthout, Belgium.
"It was a very hard race today, very fast", explained Mourey after the finish in Treviso. "I had a good position in the sprint, and I was able to come around Nys to win. I'm very happy with my result." Despite his second cyclo-cross defeat in two days, Sven Nys already has won two of four World Cup 'Crosses and maintains the lead in the 2006-07 UCI World Cup Cyclo-cross series. World Champ big guy Erwin Vervecken made the split and made the podium, but didn't have the legs to crack other front runners Mourey and Nys.
Women's Race
It seems that Dutch World Cyclo-cross (and Road Race) champion Mariannne Vos may be unbeatable. The 19-year-old Dutch phenom easily marked the other riders who made up the lead group in the Women's World Cup cross, with British rider Helen Wyman smoothly and solidly leading through most of the difficult sections. But in the end, it was the inexorable sprint of Vos that easily brought the Dutch woman the win ahead of Women's World Cup leader Hanka Kupfernagel and another German rider, Birgit Hollman.
See the full report, results and photos here.
Nys extends lead in cyclo-cross rankings
By Brecht Decaluwé
Nys finished second to Mourey in Treviso
Photo ©: Roberto Bettini

The new UCI-rankings show little movement at the top. Sven Nys (Rabobank) remains the untroubled leader as he extended his lead on world champion Erwin Vervecken (Fidea) up to 309 points (over 195 points last week). Nys won the Koppenbergcross, the Witloof Veldrit and finished second at the world cup in Treviso. Bart Wellens (Fidea) completes the Belgian top-three.
The new number four is the recent winner of the world cup event in Treviso, Francis Mourey (Française des Jeux). The Frenchman jumped over two Rabobank riders: Sven Vanthourenhout and Dutch champion Gerben De Knegt.
New in the top-10 is the U23 world champion, Czech Zdenek Stybar (Fidea), who won the U23 race in Treviso and the next day beat Enrico Franzoi in a smaller race; he gained one place in the UCI-rankings. Stybar's compatriot Kamil Ausbuher (Budweiser) tumbled out of the top-10, losing no less than four positions. The young Swiss rider Simon Zahner rode very strong last week, surprising many by finishing fourth in Treviso and second in Schmerikon; he gained 12 places, and is now 12th overall.
Best American rider is 25 year-old Ryan Trebon (Kona), who lost four positions and lies currently 20th. His loss is partly due to his failure to win the race in Boulder (due to mechanical problems), and partly because there weren't that many races in the USA where UCI-points were at stake. Tim Johnson (Cannondale/Cyclocrossworld.com) still trails the Kona-rider by one position (21st).
In the nations rankings, Belgium is comfortably leading the Czech Republic with more than twice their points. France is now third before the Netherlands. Switzerland overtook the USA for fifth place, and Italy concludes the top-seven.
Top 25 rankings

1 Sven Nys (Bel) Rabobank                                 1370 pts
2 Erwin Vervecken (Bel) Fidea Cycling Team                1061
3 Bart Wellens (Bel) Fidea Cycling Team                    896
4 Francis Mourey (Fra) Française Des Jeux                  774
5 Sven Vanthourenhout (Bel) Sunweb-Projobcyclingteam       681
6 Gerben De Knegt (Ned) Rabobank                           653
7 Christian Heule (Swi) Stevens Racing Team                601
8 Klaas Vantornout (Bel) Morgan Blue                       585
9 Radomir Simunek (Cze)                                    570
10 Zdenek Stybar (Cze) Fidea Cycling Team                  501
11 Kamil Ausbuher (Cze) Cyklo Team Budvar Tábor            500
12 Simon Zahner (Swi)                                      432
13 Enrico Franzoi (Ita) Lampre - Caffita                   412
14 Kevin Pauwels (Bel) Fidea Cycling Team                  403
15 John Gadret (Fra) Ag2r-Prevoyance                       395
16 Zdenek Mlynár (Cze) Max Cursor                          389
17 Steve Chainel (Fra)                                     378
18 Bart Aernouts (Bel) Rabobank                            375
19 Richard Groenendaal (Ned) Rabobank                      347
20 Ryan Trebon (USA)                                       345
21 Timothy Johnson (USA) Cannondale/Cyclocrossworld.com    325
22 Marco Bianco (Ita)                                      275
23 Maarten Nijland (Ned) Eurogifts.Com                     265
24 Thijs Al (Ned) B & E Cycling Team                       265
25 Tim Van Nuffel (Bel) AVB Asbestverwijdering             264
26 Petr Dlask (Cze) AVB Asbestverwijdering                 254
27 Niels Albert (Bel) Palmans-Sapim-Collstrop              227
28 Malte Urban (Ger) Stevens Racing Team                   225
US Gran Prix of Cyclo-cross round 3 and 4 wrap-up
Trebon and Compton set an unmatched pace at Xilinx Cup
Series leader Ryan Trebon (Kona)
Photo ©: Mitchell Clinton

From the start it was Ryan Trebon (Kona), Barry Wicks (Kona), and Jeremy Powers (Jelly Belly) getting away early and setting the pace. Lap after lap, Trebon, decked out in his white USGP leader's jersey, began to slowly pull away before finally dropping the other two and staying ahead for good. For most of the race there was a group of five chasing: Wicks, Powers, Tim Johnson (Cannondale/Cyclocrossworld.com), Todd Wells (GT), and Danish Champion Joachim Parbo.
With just over two laps remaining, Wicks broke his seat post and crashed. Just a few minutes later Wells hooked his bars on the tape and went down. Johnson and Powers attacked and were able to get a gap on the chase group until Wells quickly recovered to join them.
National Champion Katie Compton (Spike)
Photo ©: Russ & Nancy Wright

With Trebon safely out front, the only race was for second. The sprint came down to these three with Powers just edging Wells in a close finish with Johnson coming in fourth. Wicks recovered nicely to round out the top five. Trebon will be decked out in white again as he retains the series lead.
In her first ever USGP race Katie Compton (Spike) blew away the field, winning with a margin of over a minute. Compton, the current national cyclocross champion, missed the first weekend of the USGP in Gloucester but has been on the top of her game and racing very well including a win in Boulder earlier this week. The race was no contest with Compton jumping out to an early lead and never looking back. Like in the men's race, the only real battle was for second place where current series leader, Georgia Gould (Luna) led out and out-sprinted Katerina Nash (Luna) and defending USGP champ Lyne Bessette (Cyclocrossworld.com). Melissa Thomas (Maxxis) rounded out the top five.
Boulder Cup
Men's elite winner, Barry Wicks (Kona)
Photo ©: Russ & Nancy Wright

The men's race ended in similar fashion to the previous day's Xilinx Cup, with a Kona rider crossing the line first. But this time it wasn't Ryan Trebon… it was Trebon's teammate Barry Wicks taking home his first USGP win of the year and Katie Compton (Spike) made it two in a row as she swept the weekend series on the women's side. Trebon and Georgia Gould (Luna) both retain their USGP series leads as the 2006 Crank Brothers U.S. Gran Prix of Cyclocross wrapped up its second weekend with the Boulder Cup at Harlow Platts Park in Boulder, Colorado.
In contrast to the previous day's competition, the men's Boulder Cup race was exciting and unpredictable with multiple lead changes throughout the race. After the first lap there was a group of five out in front including Ryan Trebon (Kona), Todd Wells (GT), Barry Wicks (Kona), Jonathan Baker (Harshman Wealth Management / Primus Mootry) and Geoff Kabush (Maxxis). On the second lap, at the Cliff Bar run up, Trebon attacked as the crowd of approximately 600 fans went wild. Wells followed and the pair stayed ahead.
Around the halfway mark, Trebon suffered the first of two mechanical problems. First, his bars came loose then a few laps later sustained a flat which dropped him out of contention. Johnson, who had a slow start, had worked his way back through the field to join Wells in the lead. The two of them were in front with Wicks trailing about 10 seconds behind.
With two and a half laps to go, Wicks closed the gap and caught Wells and Johnson. Jeremy Powers was in fourth and Trebon, who was riding hard to get back in contention, was in fifth place.
Wicks, Wells and Johnson stayed together on the last two laps until the last long uphill. It was Wells who jumped first but Wicks came hard from the left and overcame both for the win. Johnson finished second, Wells came in third, and Trebon ended up passing Powers to finish fourth. Despite finishing off the podium, Trebon retains the white jersey as the series leader.
Katie Compton killing it!
Photo ©: Ryan Amirault

With her convincing victory the previous day, national champion Katie Compton (Spike) became the woman to beat in Boulder. But reining USGP champion, Lyne Bessette (Cyclocrossworld.com) made it known she is not going down without a fight. From the jump it was Compton and Bessette out in front and the pair stayed ahead for the entire race.
With three laps to go Compton attacked on the downhill and got a slight gap. Bessette didn't let her get too far and caught Compton fairly quickly. With two to go, Compton attacked again and stayed away to capture her second USGP win in as many days while Bessette finished second.
Despite the Compton/Bessette battle, it is Georgia Gould (Luna) who keeps the series lead. Gould, who finished in third, was followed by Katerina Nash (Luna) and Wendy Simms (Kona).
See the full results and photos here for the Xilinx Cup, and here for Boulder Cup.
USGP standings after round 4

Elite Men
 
1 Ryan Trebon (Kona)                                                 180 pts
2 Tim Johnson (Cannondale/Cyclocrossworld.com)                       150
3 Barry Wicks (Kona)                                                 140
4 Todd Wells (Team GT)                                               102
5 Jeremy Powers (Jelly Belly)                                         72

Women
 
1 Georgia Gould (Luna Women's MTB Team)                              164 pts
2 Lyne Bessette (Cyclocrossworld.com)                                160
3 Katerina Nash (Luna Women's MTB Team)                              128
4 Wendy Simms (Kona)                                                 113
5 Katie Compton (Spike Professional)                                 100

U23 
 
1 Jamey Driscoll (FiordiFrutta)                                      156 pts
2 Jesse Anthony (Team Clif Bar)                                      110
3 Chance Noble (California Giant Strawberries/Specialized)           108
3 Dan Neyens (Hagens-Berman LLP Cycling)                             108
5 Nicholas Weighall (Alan Factory Cyclocross Team)                   102

Junior
 
1 Alex Coelho (Hot Tubes Development Cycling)                        160 pts
2 Danny Summerhill (TIAA-CREF/CLIF BAR)                              151
3 Jim Lennon (TIAA-CREF/CLIF BAR)                                    124
4 Sean Worsech (Rad Racing)                                          120
5 Jerome Townsend (ALAN)                                             112

Masters
 
1 Roger Aspholm (Westwood Velo)                                      174 pts
2 Will Black (Lone Star Racing)                                      130
3 Dale Knapp (Kona)                                                  104
4 Gannon Myall (California Giant Strawberries/Specialized)            92
5 Richard Feldman (Durance Cycleworks - Lehman Brothers)              90

See the full standings here.
Global cyclo-cross round-up
Upcoming UCI Cyclo-cross races
November 11: Lower Allen, Camp Hill, PA (USA) C2
November 11: GVA Trophee #2, Niel Jaarmarkt Cross, Niel (Bel) C2
November 11: Prix de l'armistice, Chateaubernard (Fra) C2
November 11: Canadian National Championships, Nanaimo, BC (Can) CN

November 12: UCI World Cup Round 5, Pijnacker (Ned) CDM
November 12: Highland Park Cyclo-cross, Highland Park, New Jersey (USA) C2
November 12: Int. Radquerfeldein, Frenkendorf (Swi) C2
Other races
November 11: Colorado State Cyclocross Championships - Durango, Colorado
November 12: North Carolina Cyclocross Series Race #4 - NC State Championship - Pinehurst, North Carolina
November 12: Cross Crusade Series Race #6 - OBRA Championships - Portland, Oregon
MAC series hosts two international events
The Verge MAC Series hosts two UCI international cyclo-cross races this coming weekend. The Lower Allen Classic, one of the jewels of the Verge MAC Series, will take place on Saturday, November 11, in Camp Hill Pennsylvania, just outside of the State Capital of Harrisburg. The following day, the series will move east to Jamesburg, New Jersey for the recently relocated HPCX Cyclo-cross in central New Jersey. Both races carry a UCI-C2 listing and will bring in riders from at least four countries and both sides of the Atlantic Ocean. Both races will also see the return of the Sports Balm 'Hot Lap' prime for the Elite Masters and B Men.
In the past four years, the Lower Allen Classic has made donations totaling $5,000 to the Lower Allen Township Park. This year, promoter Mike Hebe is looking toward a $1,500 donation to the park from the proceeds of the event. And in keeping with the spirit of the upcoming Thanksgiving Holiday, Hebe has also instituted a food drive at his Lower Allen Classic cyclocross to benefit the Bethesda Mission, a homeless shelter in nearby Harrisburg. "I am going to ask all riders to show their generosity to those less fortunate around the holidays," he said. "Just think the amount of people who could have a great meal because of us. If each racer brought three-or-four dollars of non-perishable food to the race, that is almost $1,000 worth of food. The amount of goodwill that will generate is huge!"
The following day's HPCX cyclo-cross was recently relocated from its traditional home in Highland Park to a temporary location in Jamesburg, New Jersey, because ongoing construction in Highland Park is running past schedule. New Jersey riders who are familiar with Jamesburg's Thompson Park are speaking highly of it. According to MAC regular Brian Burgess, who knows the area well, "I used to ride there quite a bit when I was working in New Brunswick. That is an excellent venue for a cyclo-cross race. Hills, sand pits, off cambers, road climbs and flats, great starting/finishing stretches, etc. It even has a little zoo and playgrounds for the young 'uns. It's also just 2 miles from exit 8a off the Jersey Turnpike, so it couldn't be easier to get to. For those wanting an adventuresome warm up, there's a bunch of nice singletrack buried in the back of the park. Great, great venue."
For more information on this Verge MAC International Double-Header, including directions and pre-registration information, see www.bikereg.com, the official on-line registration service of Verge MAC. Elite riders, please note that UCI rules prohibit day-of-race registration for the UCI classes at these races.
ENTEGA city 'cross cup
On November 19th, cyclo-cross racing will come into the City at the first Entega city 'cross cup in Lorsch, Germany, 50 km south of Frankfurt. Former world class road cyclist and now bikeshop owner and event organizer, Algis Oleknavicius, is promoting the event. "Olek" is already well known in the bike racing community with his current events in the region (ENTEGA energyCup, ENTEGA Grand Prix). " Our startlist already include some great cyclo-cross racers from Germany. We are happy Hanka Kupfernagel will be at the event. The spectators will see a exiting race that will include speed, skills and tactics," Olek said.
Confirmed riders: Hanka Kupfernagel, Thorsten Struch, Paul Voß, Rene Birkenfeld, Lukes Ondrey
Event schedule 1300: Youthclass, 13.30: Open Men, 13:55: Elite Women and Juniors, 14:35: Elite men
Canadian 'cross championship registration ends November 9th
With registration at almost 150, the organizers of the Canadian national cyclo-cross championship have announced a prize list for the Elite Men's and Women's races that includes equal prize money for these two fields. Winners will also take home a set of Crankbrothers pedals. But racers will have to act fast in order to take part, as the registration will end Thursday, November 9th at 7:00pm Pacific time. There will be no Friday or Saturday registration for this event.
Pennsylvania state championships to include team relay
Top-flight cyclo-cross returns to south-central Pennsylvania on Saturday, November 25 with the running of the 2006 Sutliff Hummer Pennsylvania state cyclo-cross championships at the Carlisle Fairgrounds in Carlisle. Organized by Yellow Breeches Racing, the event will crown state champions in a dozen categories racing in five individual events. Also on tap is the 'Lil' Belgians' kids race and the second running of the non-championship cyclo-cross relay.
The featured event will be the non-championship team relay race that follows the individual championship races. A unique race, the cyclo-cross relay race debuted at last year's championships and was such a huge hit that there was no doubt that it would be reprised for this year's event. A slightly shorter race than last year, the eight-lap race will be contested by four-person teams comprised of an Elite Man, B-Man and Master teamed with either a Woman or Junior racer.
Since every lap is done at first-lap intensity, and there is no prescribed start order for the different riders, the Sutliff Hummer Team Relay promises to be a fast, entertaining event, even without hijinks. But just to add to the fun, the promoters have announced that awards will be given to those teams who best express individuality, imagination, and ambition via costumes, chants, and other imaginative schemes as judged by a panel of peers.
Nebraska 'cross championship
The 2006 Nebraska cyclo-cross series continues on November 18-19, 2006 at Pioneers Park in southwest Lincoln. The Nebraska "No Fear Championship Weekend" will serve as the finale of the series, as well as rounds 2 and 3 of the Maxxis Midwest cyclo-cross series. Sunday's race will also double as the Nebraska USCF cyclo-cross chamnpionship.
A cash prize list of $1000 will be awarded each day. Race action begins at 12:00pm on Saturday with a full schedule of races for all ages and abilities including the women's category 1/2/3 race at 2:45pm and the men's category 1/2/3 event at 3:45pm. Sunday's races begin at 10:00a.m.with the women's 1/2/3 race at 11:00a.m. and the men's 1/2/3 race at 1:30p.m. Women competing in the weekend's category 1/2/3 women's events may enter the Men's 3/4 events at no charge with a paid women's "open" entry fee.
Competitors and spectators alike are encouraged to bring an item of winter clothing including gloves, jackets, hats and sweaters, which will be donated to the Lincoln People's City Mission.
So-Cal cyclo-cross race returns to Hart Park
Round 5 of the Southern California cyclo-cross Prestige series will take place November 11-12 for a double header weekend at scenic Hart Park in Bakersfield, CA. The racing action will be fast and furious on two world class courses designed by race director Sam Ames. Racers will feel the speed and flow of these courses as they contest 6-8 minute laps over varying terrain. Hart Park provides a fantastic venue for the whole family - spectators can view most of the race from one vantage point, and visit the sponsor booths and bikes by Specialized, Cannondale and more.
Both days of racing promise exciting racing action, fun, lots of prizes and cash. The official race flyer can be found at www.kernwheelmen.org and series info. and a race schedule can be found at www.socalcross.org. Race day registration opens at 7am with no late fees and beginners are welcome.
Chicago Cup returns to town
The third race of the Chicago cyclo-cross cup racing series returns to the city parks. The race will be held on Sunday, November 12 at Jackson Park in the southern part of the city. The lead sponsor of this race is xXx Racing_AthletiCo. The course will be in an open field that will include mature trees, a short hill, and asphalt sections making it a fast course.
LAKE Cycling has agreed to sponsor the junior championship race which will award the top boy and girl point's leaders with a shoe gift certificate. In addition, LAKE Cycling has also donated podium caps to the winners.
Points will be awarded for each race with the winner of each category receiving an Overall Series Winner jersey presented by Pactimo. Race flyers and information for the 2006 Chicago Cyclocross Cup can be found at http://www.chicrosscup.com/
(All rights reserved/Copyright Knapp Communications Pty Limited 2005)