Chainbiter 8.0 by Benidorm Bikes - C2
Farmington, USA, November 4, 2006
2005 Results Results Past winners
Frattini and Dickey first UCI cyclo-cross wins
By Kirsten Robbins in Farmington, CT
Frattini builds fitness to win
Davide Frattini (Colavita-Sutter Home) Leads Marc McCormack (Cliff Bar)
Photo ©: Paul Weiss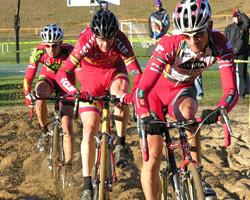 Italian cyclo-cross talent, Davide Frattini (Colavita Olive Oil/Sutter Home) soloed to his first UCI cyclo-cross win leaving Mark McCormack (Clif Bar) to win a heated sprint for second over Matt White (Fiordifrutta) and Johnny Sundt (Hagens Berman).
McCormack and Frattini have spent two years as teammates during the North American road season. "I know Mark as a road rider, but I didn't know how he rides in cyclo-cross," Frattini said. "The first thing I knew for sure was that we could not come to a sprint together or I would be second. I also know that he is really strong -- he is 'Mark'. He was the US Pro champion on the road and US cyclo-cross champion too. He is the Daniele Pontoni of the US and he is the kind of rider who is an example to everyone in cycling."
Davide Frattini (Colavita-Sutter Home) wins Elite Men's field
Photo ©: Paul Weiss

The race did not start so smoothly for Frattini who crashed into the first corner off the start. "I think I was too aggressive at the start and I have to take it easy next time," Frattini joked. "I went too fast into the first corner, jumped the curb, slid out and crashed. Fortunately, I was the first guy into that corner and everyone else was moving slower so when I got back on my bike I had only lost ten spots. The front group slowed down to look at each other and I was able to bridge to them. I was lucky and spent the next two laps hoping no one made a big attack because I was suffering at that moment and needed a chance to recover."
The front group of four had dwindled from the original six riders established by the third lap. Michael Cody (Fiordifrutta) and Matt Kraus (Alan Factory) began to show signs of fatigue with three laps to go and eventually fell off of the pace. "It was a big group and I was surprised to see six guys together for so long, even with all the attacking," Mark McCormack said. "There were a lot of attempts but when it came back together everyone was so smoked from chasing that they were content to sit there until some one decided to go again."
Frattini made several aggressive attacks but it was his final effort that broke the elastic band between himself and the other three. "I jumped in the part where I felt comfortable – on the descents and in the technical parts," Frattini said. "I felt good today because I could jump and hold the effort for the last lap. I tried to go with four laps to go but I stopped because I knew I could not hold this for three more laps solo. This kind of fitness comes with many more races and over time. My friend Luca Damiani (FIDIBC) and I are starting to build this kind of fitness for the European races coming up."
Elite Men ride and run the hill
Photo ©: Paul Weiss

This is also the first UCI race I have won and I am happy for Colavita/Sutter Home and Blue bikes that support me. They gave us the team car to use for the month we are in the US so it is nice to pay them back with a win."
It was McCormack who was capable of responding too many of the jumps and his diesel-like engine that pulled back any strays. "When Dave made his final move I tried hard to chase," said McCormack. "With half a lap to go Johnny Sundt made a few really hard surges, more trying to get rid of us than to catch Dave, but he bobbled on the run up and it was a three man sprint at that point."
It was a tactical game between McCormack, White and Sundt. Each played with their abilities and experience to try to beat the other. "I felt like I was racing Mark today and let Davide slip away when he attacked," White said. "I didn't want to bridge to him on the last lap because I knew that if I just missed it than Mark was going to blow by me. Unfortunately I let it come down to a sprint with Mark, which is not the best situation either. I was on his wheel and he took a different line than I did coming to the finish. We had the same speed but I just couldn't come around him and I lost it. My goal was to keep my eye on Mark because I wanted to win. I thought Mark was going to be the man to race for it – I was a little caught off guard my Davide's strength."
Elite Men's top threewinners
Photo ©: Paul Weiss

Frattini remarked further on McCormack's performance suggesting that, "Mark did a lot of work to close gaps today. But I think the other riders were not looking at me because I am new to cyclo-cross in the US They were looking at Mark because they know he is very strong and it was their tactic to put Mark into difficulty."
Today's circuit promoted speed but was not without its technical sections. "The course had a little bit of everything," McCormack said. "It had power, fast technical corners, tricky sand and pavement but in general it was really fast. It became a matter of power. Whoever had the most fitness today won."
McCormack's accumulated points make him the new leader in the Verge New England Cyclo-cross series. "I wouldn't say I'm the man to beat here," McCormack said. "I have not won a race yet this year at the UCI level but I am consistently in the top. ... I am looking forward to tomorrow. I have won this series many times and it is always an honor to lead the series. The ultimate goal is to be in the jersey at the end of the last race."
Dickey stomps on her competition
Callie Mcdowell (Velo Bella-Kona) has fun in the sandtrap
Photo ©: Paul Weiss

Mackenzie Dickey powers her way to the finish line and convincingly won a two up sprint against Amy Wallace (Richard Sachs). Rebecca Wellans (Gear Works) closely followed the lead duo finishing a strong third place.
Mackenzie Dickey (Verge) has been quickly racing her way into one of the top riders on the North American circuit. Dickey blew apart her competition from the gun, riding the first two thirds of the race out front alone. "I had a really fast start because normally people eventually catch me -- so starting fast is my game plan," Mackenzie Dickey said.
Rebecca Wellans, Erica Yozell (Fort Factory) and Sarah Cushmann (Gear Works) hunted Dickey for several laps. The riders and spectators were surprised when Amy Wallace came flying through the chase group in a successful bridge to Dickey. "I started off a little too hard and went over my handlebars in the start," Amy Wallace said. "I was in last place and it was really difficult to move up. I made it all the way to Mackenzie with two laps to go. But, I was hoping to try to lose her before the finish because she is a good sprinter. We kind of sat on each other in the last part and she was stronger in the end."
Pauline Frascone (Independent Fabrication-Kempner) at the sandtrap
Photo ©: Paul Weiss

The two powerhouse cyclo-cross riders came barrelling into the final sand pit with the same intentions – to come out of it first. "Amy and I were both rotating and neither of us sitting on," Dickey said. "We were both worried that Wellans would catch us, so we wanted to keep the momentum going. ... I knew who ever came out of the sand pit had the definite advantage so it was my goal to take the inside corner, and it worked out. I love sprinting and I love sprinting when it is up hill. As soon as I came out of that sand pit I put my head down and I didn't let up until I crossed the finish line."
Rebecca Wellans pulled off a strong third place by sustaining the gap Dickey forced on her from the start. "I could not believe that I saw Amy coming up behind me," Wellans said. "I was happy to see that she did not get hurt after crashing through the first corner. I think I am a level of power below the race today and have been struggling with my health for a little while. I felt like I was dangling the whole race. It was nice to have them in front because visually it is easier to push myself when I have them right in front of me. There were a couple of spots where I was so close and it was almost torture because I did not have the juice to close it down."
Elite Women's winners Mackenzie Dickey, Amy Wallace & Rebecca Wellens
Photo ©: Paul Weiss

Dickey is trailing Lyne Bessette (Cyclocrossworld.com) by two points in the Verge New England Cyclo Cross Series. "One of my goals is to podium for the Verge Series," Dickey said. "Lyne is leading right now and she is a very strong competitor. She just happens to be out in Colorado for the Boulder Grand Prix this weekend so I wanted to take advantage of gaining back some points. I am going to try my hardest to take over the jersey tomorrow. If I can't keep it than I would love to have it for a little while."
Dickey commented on the Chainbiter 8.0 as being the series favourite, "today's course is my favourite in the cyclo-cross season especially with the sand pit. I was looking forward to it and it happened to work out for me. This is an interesting course and the sand pit is where you can put time on people or get time taken out of you -- It definitely suited me. The ride up section is where I could gain time also."
The history behind the event name, Chainbiter 8.0, can be traced eight years back to the daughter of Jan Tanner, former US national cyclo-cross champion and organizer. "My six-month old daughter was found teething on a chain in our bike shop the first year we decided to organize the event," Tanner said.
Benidorm Bikes and the Eastern Bloc Cycling Club hosted a successful cyclo-cross event with record registration numbers. "The number of riders participating to day is amazing," Tanner said. "We had approximately four hundred and seventy-five starters today, which is the most ever."
Photography
For a thumbnail gallery of these images, click here
Images by Paul Weiss/www.paulweiss.bz
Results

Elite Men
 
1 Davide Frattini (Colavita / Sutter Home)                        59.46
2 Mark Mccormack (Clif Bar)                                        0.08
3 Matt White (Fiordifrutta)                                            
4 Jonny Sundt (Hagensberman Llp)                                       
5 Michael Cody (Fiordifrutta Cycling Team)                         0.34
6 Matt Kraus (Alan Factory Team)                                       
7 Luca Damiani (Fidibc Vc Arbedo)                                  1.08
8 Johannes Huseby (Fiordifrutta Elite Cycling Team)                    
9 Adam Myerson (Nerac)                                             2.36
10 Charles Marzot (Cl Noonan/ Coast To Coast/ Kam)                 2.42
11 Josh Dillon (Fiordifrutta)                                      3.28
12 Alec Donahue (Joe's Garage/Reynolds)                            3.40
13 Christopher Jones (Targetraining- Williamscycling.Com)          3.51
14 Christopher Peck (Fiordifrutta)                                 3.56
15 Robbie King (Priority Health)                                   4.14
16 John Hanson (Nerac/Outdoorlights.Com Pro Cycling Team)          4.24
17 Bill Elliston (Targetraining/Fuji)                              4.31
18 Eneas Freyre (Targetraining)                                    4.45
19 Justin Lindine (Windham Mountain Outfitters)                    4.47
20 Ryan Fleming (Alan Factory Cyclocross Team)                     4.51
21 Kevin Molloy (Crca/Axis)                                        4.57
22 Ward Solar (Verge Sport/Test Pilot)                             5.01
23 Stephen Weller (Cycle-Smart)                                    5.02
24 Noah Tyler (Rgm Watches/Richard Sachs/Rex Chiu)                 5.59
25 Jonathan Bruno (Independent Fabrication/Channel Cafe)               
26 Daniel Coady (Ncc / Bikereg.Com)                                6.20
27 Chris Rozdilsky (Fiordafrutta)                                  6.30
28 Brian Hayes (Rgm Watches - Richard Sachs - Rex Chiu)            6.33
29 Olivier Bordeleau (Xprezo)                                      6.39
30 Peter Rubijano (Ham's Cyclery/Inglehart Frames)                 7.16
31 John Loehner (Crca/Axis)                                        7.19
32 Robert Giannini (Crca/Sakonnet Technology)                      7.25
33 John Burns (Bikeman.Com)                                        7.52
 
1 lap behind
 
34 Alex Whitmore (Harris Cyclery/Igleheart Frames)                     
35 Adam Sullivan (Caster's Majik Coffee P/B Apex Tech Group)           
36 Adam St. Germain (Caster's/Majik Coffee P/B Apex Technologies)      
37 Brad Sheehan (1K2Go.Com/S&W Sports Cycling Team)                    
38 Jeff Leake (Fts / Dave's Bike Shop)                                 
39 Jason White (Ata Cycle / Giant)                                     
40 Karl Rahn (Crca/Axis)                                               
 
Elite Women
 
1 Mackenzie Dickey (Rochdale)                                     39.56
2 Amy Wallace (Rgm Watches - Richard Sachs - Rex Chiu)             0.01
3 Rebecca Wellons (Gearworks/Spin Arts Cycling Team)               0.17
4 Sara Cushman (Gear Works/Spin Arts)                              0.35
5 Erica Yozell (Fort Factory Team)                                 0.44
6 Cris Rothfuss (Nebc/Cycle Loft)                                  0.47
7 Ann Hansgate (Cambridge)                                         0.57
8 Betsy Shogren (Fort Factory Team)                                0.59
9 Melody Chase (Nhcc-Rhino Bike)                                   1.21
10 Amanda Lawrence (North Atlantic Velo)                           1.23
11 Marci Titus Hall (Desalvo Custom Cycles)                        1.31
12 Pauline Frascone (Independent Fabrication/Kempner)              1.43
13 Heidi Von Teitenberg (C3/Adg/Joe's)                             1.47
14 Perri Mertens (Harris Cyclery/Igleheart)                        2.10
15 Marianne Stover (Independent Fabrications)                      2.28
16 Katrina Davis (Rgm Watches-Richardsachs-Rex Chui)               2.38
17 Megan Bilodeau (Ncc - Bikereg.Com)                              2.52
18 Lisa Most (Wissahickon)                                         3.08
19 Rebecca Menke (Team International Bike/Nerac)                   3.15
20 Kathleen Billington (Connecticut Coast Cycling)                 3.20
21 Brenda Bahnson (Independent Fabrication)                        3.30
22 Celeste Dunn (Fts / Dave's Bike Shop)                           3.34
23 Allie Kenzer (Team International Bike/Nerac)                    3.41
24 Kathy Sarvary (Gearworks/Spin Arts Cycling Team)                3.45
25 Catherine Dudley (Putney/West Hill)                             4.34
26 Susan Maclean (Gear Works/Spin Arts Cycling Team)               5.11
27 Laura Jensen (Benidorm/Eastern Bloc Cycling Club)               5.46
28 Kathryne Carr (Easthampton)                                     5.56
29 Elisa Gagnon (Advil/Chopstick)                                  6.18
30 Callie Mcdowell (Velo Bella-Kona)                               8.17
 
B Men
 
1 Sean O'rourke (Token Products/Tnmracing.Net)                    43.29
2 Damien Colfer (Mechanical Services/Cycle Mania)                  0.22
3 Andrew Boone (Tnmracing.Net / Token Products)                    0.26
4 Mark Nicholson (Tnmracing.Net / Token Products)                  0.56
5 Nathaniel Ward (Joe's Garage/Reynolds Composites)                    
6 Pete Smith                                                       1.10
7 Matthew Purdy (North Atlantic Velo)                                  
8 Jeff Busch                                                       1.23
9 Gary Douville (Nebc/Cycle Loft)                                      
10 Andrew Grabarek                                                 1.39
11 Ryan Rumsey                                                     1.45
12 Ryan Kelly                                                      1.57
13 Greg Hillson                                                    1.58
14 Scott Dolmat-Connell                                            2.05
15 Jamie Pelletier (Ncc/Bikereg.Com)                                   
16 Andrew Crooks (Nyc Velo)                                            
17 Marc Bavineau (Essex County Velo)                                   
18 Don Snoop                                                       2.15
19 Sean Cavanaugh                                                  2.20
20 Jonathan Auerbuch (Dartmouth College)                               
21 Jeff Ferraro                                                    2.22
22 Pierre Vanden Borre                                             2.36
23 Brian Keegan                                                    2.45
24 Steven Morse                                                    2.55
25 Adam Szczepanski (Wissahickon)                                      
26 Joshua Lipka (Bca/Vomax)                                            
27 Dale Krantz (Stage 1)                                               
28 Colin H. Murphy (Essex County Velo)                                 
29 J Gabriel Lloyd (Crca / Remax)                                      
30 Greg Burbidge (Claremont Cycle Depot)                               
31 Joshua Austin (201A)                                                
32 Jerry Hughes (Bikeman.Com)                                          
33 Brian Rutter (Rb's Bait Shop)                                       
34 Nathaniel Cook                                                  3.25
35 Jeff Murray                                                     3.33
36 Coley Bryan                                                     3.37
37 Joe Cruz (North Atlantic Velo / Soul Cycles)                        
38 Jeremy Dunn                                                     3.50
39 Chris Crowell (Stage 1 / Fusionthink)                               
40 Zach Magoon (Bikeman.Com)                                           
41 Frank Zgoda (Sotheby's/Strictly Bicycles)                           
42 Talbott Ingran                                                  3.53
43 Matthew Jamison                                                 4.08
44 Shane Kramer                                                    4.16
45 Shane Mulrooney                                                 4.20
46 Michael Harney                                                      
47 Patrick Goguen                                                  4.41
48 Brian Walburn (Nashua)                                              
49 Jean Paul Desrosiers Jr (Targetraining)                             
50 Steven Simonds (Gorham Bike/Giant)                                  
51 Willem Heydendael                                               4.47
52 Nate Simms                                                      4.53
53 Jim Wirtanen                                                    5.02
54 William Palm                                                    5.26
55 Mark Romanovsky (Hvvc/Dutchess Cars)                                
56 Ronnie Steers (Gamache Cyclery)                                     
57 Spike Mclaughlin (Cox Communications Cycling Team)                  
58 Ethan Parsons                                                   5.39
59 Kenny Ambach                                                    5.44
60 Basil Moutsopoulos                                              5.49
61 Greg Martin (Independent Fabrication)                               
62 Tyson Parody (Putney/West Hill)                                     
63 Todd Crisafulli                                                 5.59
64 Charles Florek                                                  6.17
65 Sam Stevens                                                     6.38
66 Don Yungher                                                     6.57
67 Richard Brown (Noreast Cycling)                                     
68 Thomas Lebosquet                                                7.06
69 John Dorfer (Veloshop)                                              
70 Maximino Veiga (Targetraining / Fastar)                             
71 Mike Bennett (Team International Bike/Nerac)                        
72 C. Greg Robidoux (Team International Bike/Nerac)                    
73 Chuck Nguyen                                                    7.33
74 David Hartmann (Stage1 Cycling)                                     
75 Eben Weiss                                                      7.56
76 Brian Girard                                                    8.15
77 Jay Nossen                                                      8.31
78 Mark Robson (Nerac/ Outdoorlights.Com)                              
 
1 lap behind
 
79 Stanley Lezon (Capital Velo Club)                                   
80 Marco Verwys (Bike Route)                                           
81 Matt Inconiglios (Stage 1 / Fusionthink)                            
82 Brian Koski (Stage 1/Fusionthink)                                   
83 Jeffrey Nebolini (Hjolamenn)                                        
 
U19 Juniors
 
1 Nicholas Keough                                                 36.04
2 Luke Keough (Cl Noonan/ Coast To Coast/ Kam)                         
3 Gavin Mannion (Ccb/Volkswagen)                                       
4 Robert Schmidt (Cbrc)                                                
5 Greg Carpenter (Devo)                                                
6 Brad Perley (Trek/Cape-Able Bikes)                                   
7 Manny Goguen (Union Velo)                                            
8 Jesse Keough (Cl Noonan/ Coast To Coast/ Kam)                        
9 Aj Bontorno (Georgetown)                                             
 
Cub Juniors
 
1 Paul Lynch (Mystic Velo Club)                                   19.00
2 Tommy Goguen (Union Velo)                                            
3 Curtis White (Cbrc/Capital Bicycle Racing Club)                      
4 Jarred Reuter (Rt-44 Velo/Silver City)                               
5 Peter Goguen (Union Velo)                                            
6 Aaron House (Housatonic Wheel Club)                                  
7 Jimmy Mucci (Fts /Dave's Bike Shop)                                  
8 Tiffany Bontorno (Georgetown)                                        
9 Adam Hugabone (Fts Racing)                                           
10 Austin Vincent (Looking)                                            
11 Nate Morse (Bikelink/Mbrc)                                          
12 Matt Cunningham (Ebcc)                                              
13 Abigail Callahan (Bicyclelink/Mbrc)                                 
14 Richard J Vincent Iii (Weatogue)                                    
15 Nathan Cunningham (Ebcc)                                            
16 Shawn Hudlin (Fts Racing)                                           
 
B Women
 
1 Jesse Ingram                                                    37.00
2 Jennifer Strasser (Uconn)                                            
3 Jennifer Stebbins (Dartmouth College Cycling)                        
4 Alexandra Jospe (Colby Alum)                                         
5 Erin Duggan (Anthem Blue Cross & Blue Shield - Cccc (Road)/Vavon)    
6 Hannah Kirshner (The Hub/Circle-A)                                   
7 Kim Blodgett (Ibc Int'l)                                             
8 Robin Shea (East End/Kreb Cycle)                                     
9 Mary Lynn Wikar (Fts/Dave's Bike Shop)                               
10 Vicki Thomas (Ride With Rendall)                                    
11 Rachel Brown (Harvard University Cycling Association)               
12 Kristen Naegle (Mit)                                                
13 Heidi Wakeman (Team Harborside Cycle)                               
14 Jenny Ives (Cbrc)                                                   
15 Jak Kukla (Unh Cycling/Noreast)                                     
16 Natalia Gardiol (Mit)                                               
17 Caitlin Bever (Mit)                                                 
18 Samantha Barlow (Cuevas/Act)                                        
19 Janet Ramos (Nebc/Cycle Loft)                                       
20 Christina Lindsey (Philadelphia)                                    
21 Amy Robson (Team Bicycle Alley)                                     
22 Katie Dunn (Tufts University)                                       
23 Sally Mcinnis (Jra Cycles)                                          
24 Stacey Moseley (Westerly)                                           
25 Kerry Combs (Independent Fabrication)                               
26 Bess Arendall (Birmingham)                                          
27 Rebecca Zanconato (Hup United)                                      
28 Lesli Stevens (Anthem Blue Cross & Blue Shield - Cccc)              
29 Sonya Cates (Mit)                                                   
30 Jennifer Muto (Charlestown)                                         
31 Hannah Sarnow (Team International Bike/Nerac)                       
32 Pamela Keith (New Fairfield)                                        
33 Sarah Hart (Colby College Cycling)                                  
 
Masters 35/45+
 
1 Curt Davis (Fiordifrutta Elite Cycling Team)                    42.30
2 Jonny Bold (Corner Cycle)                                            
3 Michael Yozell (Fort Factory Team)                               0.39
4 Mark Stotz (Gearworks -- Spinarts)                               1.03
5 Pascal Bussieres (Biogen Idec Auberge La Goéliche)                   
6 Greg Ferguson (Fort Factory Team)                                1.07
7 Kevin Hines (Gear Works / Spin Arts)                             1.09
8 Troy Fenderson (Boston Scientific Cycling/Everactive Online)     1.34
9 John Mosher (Bicycle Link/Mbrc)                                  1.42
10 Sam Morse (Bicycle Link/Mbrc)                                   1.57
11 Sean Groom (Squadra Coppi/Im Saab)                              2.06
12 Troy Kimball (Westwood Velo)                                    2.18
13 Christopher Long (Independent Fabrication/Gotham)                   
14 Ralf Warmuth (Highland Park Hermes)                             2.24
15 John Meerse (Hurricane Mountain Multisport)                         
16 Christopher Burke (Providence Velo)                             2.30
17 Kris Auer (C3/Adg/Joe's)                                            
18 Alan Starrett (Bikeman.Com)                                         
19 Keith Gauvin (Horst,Benidorm Prc)                                   
20 Matthew Howard (Crca/Bandit Racing)                             2.37
21 Stephan Marcoux (Louis Garneau/Ski Velo)                        2.52
22 Curtis Boivin (Providence Velo)                                 3.09
23 Mark Gunsalus (Bikebarnracing.Com)                              3.20
24 Gunnar Shogren (Fort Factory Team)                              3.29
25 Michael Bernard (Gearworks Spin)                                    
26 Eric Marro (Bob/Skofield Builders)                                  
27 Jan Wiejak (Verge Sport/Test Pilot)                             3.40
28 Daniel Gagliarde (Mtbmind.Com)                                  3.46
29 Brian Cantele (Benidorm Bikes)                                      
30 Aaron Millett (Essex County Velo)                                   
31 Jay Richards (Maplelag Resort)                                      
32 Wade Summers (Horst-Benidorm-Property Research Corp)                
33 Todd Wheelden (Aegis/Kennebec Bike & Ski)                           
34 Todd Bowden (Cvc)                                                   
35 William Sawyer (Gearworks - Spinarts)                           4.00
36 Bradley Patches (Gretna Bikes)                                  4.05
37 Scott Livingston (Horst-Benidorm-Property Research Corp.)       4.10
38 Tim Groesbeck (Ccb)                                             4.14
39 Keith Button (Noreast Cycling)                                  4.17
40 Kenny Shardlow (Bikebarnracing.Com)                             4.27
41 Paul Lynch (Bicyclelink/Mbrc)                                   4.44
42 Scott Wade (West Hill/Putney)                                       
43 James Walsh (Cox Communications)                                4.48
44 David Belknap (Bicycle Link/Mbrc)                               4.51
45 William Thompson (Bethel Cycle - Mcra)                          4.55
46 Thomas Butler (Ccb/Volkswagen)                                  5.07
47 Jeffrey Kellogg (North Atlantic Velo - Classbook - Pedros)          
48 Jeffrey Molongoski (Cyclonauts)                                     
49 Harry Stover (Bikebarn Racing)                                  5.19
50 Steven Kane (Byron Lake)                                            
51 Bruce Bell (Gmbc/Catamount)                                     5.28
52 Matthew Domnarski (Horst-Benidorm-Property Research Corp.)      5.42
53 Marc Boudreau (Ride With Rendall)                               5.46
54 Paul Nyberg (Horst-Benidorm-Property Research Corp.)            5.59
55 Chris Facas (Westwood Velo/Trade Manage Capitol)                    
56 Gary Aspnes (Horst-Benidorm-Property Research Corp.)                
57 Brian Pierce (Martinez Bros. Racing)                                
58 Doug Aspinwall (Joe's Garage/Reynolds Composites)               6.10
59 Kevin Callahan (Bicycle Link/Mbrc)                                  
60 Geoff Sullivan (Eastern Bloc Cycling Club)                          
61 Dave Barr (Fitchburg Cycling Club)                              6.15
62 Basil Moutsopoulos (Crca/Sakonnet Technology)                   6.25
63 David Foley (Bob/Skofield Builders)                             6.36
64 Paul Weiss (Portland Velo Club)                                 6.40
65 Wayne Cunningham (Nebc/Cycle Loft)                              6.49
66 John Grenier (Bob/Skofield Builders)                            6.59
67 J.D. Bilodeau (Ncc - Bikereg.Com)                               6.58
68 Tbc                                                                 
69 Daniel Russell (Bicycle Link/Mbrc)                              7.05
70 Timothy Shea (Bob / Skofield Builders)                          7.10
71 Kyle Wolfe (Targetraining / Fastar)                             7.21
72 James Conopask (Tokeneke Road Club)                                 
73 Steven Bonadio (Arc-En-Ciel Racing Team)                            
74 Barry Doubleday (Mass Bay Road Club)                            7.27
75 Bryan Atwood (Fiordifrutta)                                     7.33
76 David Leedberg (Gearworks / Spin Arts)                          7.49
77 Richard Sachs (Rgm Watches- Richard Sachs - Rex Chiu)           7.58
78 Paul Debartolo (Gs Gotham/Toga)                                 8.15
 
1 lap behind
 
79 Chris Evans (Wissahickon)                                           
80 William Keith (Bethel Cycle/Cannondale)                             
81 Carl Ring (Nhcc/ Team Nh)                                           
82 George Hebner (Bethel Cycle Sport Club)                             
83 Thom Reid (Horst-Benidorm-Property Research Corp)                   
84 Robert Newton (Benidorm/Eastern Bloc Cycling Club)                  
 
C Men
 
1 Matthew Simpson (B.O.B Cycling - Skofield Builders)             32.01
2 Timothy Mather (Pig Iron Sports)                                 0.08
3 Darren Snyder (Thule Inc.)                                       0.35
4 James Newton (Nerac.Com / International Bike Centers)            0.40
5 Oscar Jimenez (Nebc/Cycleloft)                                   0.44
6 Jason Gulbinas (Nebc)                                            0.48
7 Paul Novotasky Jr. (Pig Iron Sports)                             0.54
8 Patrick Clifford (County Kerry)                                  0.57
9 Keith Liggett (Cyclonauts)                                       1.00
10 Mike Zanconato (Hup United)                                     1.03
11 Colin Reuter (Somerville)                                       1.09
12 Joe Kubisek (Southington)                                           
13 Esteban Velasquez (White Plains)                                    
14 Sam Dodge (Stage 1)                                                 
15 Nathaniel Campbell (Brandeis University Cycling)                    
16 Michael Sheehan (Gmbc/Catamount)                                    
17 Joey Solomon (Stage 1-Fusion Think-Cannondale)                      
18 Eric Silva (Tufts University)                                       
19 Cory Johannessen (Essex County Velo/Harvard University Cycling)     
20 John Wilde (Harvard U Cycling)                                      
21 Zachary Wills (Alan Factory Team)                                   
22 Ronald Bucari (New Hartford)                                        
23 Matt Carpenter (Ebcc/Benidorm)                                      
24 Michael Schmidt (Ridgefield)                                        
25 Matthew Snow (Targetraining)                                    2.07
26 Christian Eager (Quadcycles/Arlington Bicycle Club)                 
27 Miles Ericson (Eastern Bloc)                                        
28 Justin Craig Roth (Harriscyclery/Igleheart)                     2.19
29 Cimarron Wortham (Mit Cycling/Fxdd)                             2.25
30 Brian Croteau (Noreast Cycling)                                     
31 Jason Sears (Mit Cycling/Fxdd)                                  2.40
32 Stephen Kelley (Vortex Racing)                                      
33 John Gibbons (Boston)                                               
34 David Lafferty (Mit Cycling / Fxdd)                             3.04
35 Blake Bedoya (Rutgers University Cycling Team)                      
36 Jonathan Packer (Afd / Ocean State Velo Club)                       
37 Jeff Lukach (Univ Of New Hampshire)                             3.19
38 Theo Niedziela (Thule)                                              
39 John Witmer (Gmbc/Catamount)                                    3.35
40 David Loszewski (B.O.B. Cycling)                                    
41 Brian Hoehne (Epic-Velo)                                            
42 Jason Walder (Ghcc Central Wheel)                                   
43 Joseph Trumontino (Connecticut Coast Cycling)                       
44 Denis Niez (Bethlehem)                                              
45 Matthew Jorgensen (Mystic Velo)                                     
46 Chris Chapron (Esc)                                                 
47 Taylor Valentine (New Haven)                                        
48 John Nagle (Mit Cycling/Fxdd)                                       
49 Mark Sondeen (Manchester Expo Wheelmen)                             
50 Brad Paquin (Stage 1)                                               
51 Jeff Grelt (Ghcc Central Wheel)                                     
52 Drew Procyk (Mystic Velo)                                           
53 Edward Chalker (Rutgers University Cycling Team)                    
54 John Torrey (Agawam)                                                
55 Tbc                                                                 
56 John Allen (East Berlin)                                            
57 Andy Glaser (Rutgers University Cycling Team)                       
58 Nick Loomis (Mit Cycling - Fxdd)                                    
59 Mike Romanovsky (Hvvc / Dutchess Cars)                              
60 Mike Cyr (Mansfield)                                            6.28
61 Steven Robbins (Ncc)                                                
62 Tbc                                                                 
63 Christophe Jammet (Crca)                                            
64 Michael Innusa (Sbra)                                               
65 Terry Donovan (Lido Beach)                                      7.44
66 Clifton Valarose (Epic-Velo)                                        
67 Kurt Maw (Salem Cycle)                                              
68 Jim Lynch (Mystic Velo Club)                                        
69 Joseph Aubin (Southington)                                          
70 Chris Schickler (Competitive Edge)                              8.50
71 Barton Craig (Providence Bicycle)                                   
72 Kyle Carroll (Rutgers Cycling)                                      
 
1 lap behind
 
73 Tbc                                                                 
74 Joshua Jamner (Colby College Cycling)                               
75 Don Heckler Jr. (Berlin)                                            
 
B Masters
 
1 Jason Clark (Cbrc)                                              33.10
2 Michael Keough (Cornercyclecyclingclub)                              
3 Scott Struve (Stage 1 Fusion Think Cannondale)                       
4 Christopher Cyr (Bikeman.Com)                                        
5 Anthony Pace (Eastern Bloc Cycling Club)                             
6 Chip Baker (Sycip Racing)                                        0.58
7 Derek Griggs (Recycled Sports)                                   1.16
8 Dan Stasz (Joe's Garage / Reynolds Composites)                   1.25
9 Michael Sarnblad (Gearworks / Spinarts)                          3.08
10 Jay Bartlett (Hup United)                                           
11 Scott Roy (Bicycle Link Mbrc)                                       
12 Chris Winter (Cybc Richard Sachs)                                   
13 Theo Kindermans (Cyclocrossworld.Com)                               
14 Juan Dejesus (Cyclonauts)                                       1.55
15 Joe Sconzo (Capital Velo Club/Vernon Cycle)                         
16 Maximino Veiga (Targetraining / Fastar)                         2.10
17 Wayne Barlow (Coyote Hill)                                          
18 Bill Doonan (Nebc/Cycleloft)                                        
19 George Gagnon (Naults.Com)                                      2.26
20 John Plump (Quad Cycles/Arlington Bike Club)                        
21 John Laupheimer (Nebc/Cycleloft)                                    
22 Tom Perkins (Bike Depot)                                            
23 Daniel Marcy (Gmbc/Catamount)                                       
24 Ken Jayne (Amgen)                                               3.22
25 Donald Catlin (Tokeneke Road Club)                                  
26 Mark Dutka (Mystic Velo)                                            
27 Kurt Loell (Union Velo Club)                                        
28 Ken Coleman (Housatonic Wheel Club)                                 
29 Theodore Essenfeld (Essenfeld Enterprises/Uss Guardian)             
30 Todd Samuelson (Clarke Cycles)                                      
31 Rick Comshaw (Capital Velo Club / Vernon Cycles)                    
32 Randy Taylor (Laurel)                                               
33 Kevin Young (Minuteman Road Club)                               4.20
34 Jay Downs (Fort Factory Team)                                       
35 Paul Hayes (Guilford)                                           4.50
36 Jay Mongillo (Ccc / Keltic Construction)                        5.19
37 Paul Debitetto (Boston Triathlon Team)                              
38 David Singleton (Mystic Velo)                                       
39 Jeff Papineau (Cyclonauts)                                          
40 Lawrence Purtill (Narragansett)                                     
41 Ben Chayes (Cyclonauts)                                             
 
Masters 55+
 
1 David Rath (Gmbc/Catamount)                                     33.10
2 Bannister Phillip (Putney/West Hill)                             1.16
3 James Themig (Mystic Velo Mcra)                                  1.17
4 Bruce Mccowan (Arc En Ciel Racing Team / Mcra)                   1.55
5 Kent Webster (Putney/West Hill)                                  2.26
6 Dave Beals (Cbrc)                                                3.22
7 Jim Quinn (The Bicycle Link/Mbrc)                                4.50
8 Steven Abbott (Thread City Cyclers)                              5.19
9 Richard Costa (Cyclonauts Racers Inc.)                               
10 Dan Tieger (Essex County Velo)                                      
11 Russell Brooks (Naults Cyclery/Naults.Com)                      6.10
12 John Shea (East End/Kreb)                                           
13 Jim Dowling (Maine Cycling Club/Rainbow)                        6.35
14 Bob Ludecke (Laurel Bike Club)                                  7.32
15 Joe Hepp (Southern Maine Cycling Club)                          7.41
 
1 lap behind
 
16 Herbert Bates (Naults.Com)                                          
17 Donald Snoop (Hang On Snoopy Racing)                                
18 Curtiss Burwell (Laurel Bicycle Club)                               
19 Vincent Donohue (Worcester Cycling Club)                            

Past winners

2005 Tim Johnson (USA) cyclocrossworld.com-louisgarneau   Lyne Bessette (Can) cyclocrossworld.com-louisgarneau
2004 Ryan Trebon (USA) Kona Bicycles                      Mary McConneloug (USA) SevenCycles
2003 Mark McCormack (Saturn)                              Anna Milkowski (Gearworks-Spinarts) 
2002 Marc Gullickson (Mongoose/Hyundai)                   Mary McConneloug (Seven Cycles)