Chainbiter 7.0 by Benidorm Bikes - C2
Farmington, USA, November 12, 2005
2004 Results Results Past winners
Johnson takes sprint finale; Bessette makes it 11 in a row
Tim Johnson outsprints Todd Wells
Photo ©: Paul Weiss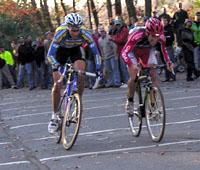 In an ending as rare as it was exciting, Tim Johnson (Cyclocrossworld.com-Louis Garneau) closed out the Elite Men's race at ChainBIter 7.0 in Farmington, Conn. with a narrow sprint finish win over Todd Wells (GT-Hyundai). Stop two on the 2005 Verge New England Championship Cyclo-Cross Series presented by Cycle-Smart, Farmington's final race came down to the final meters with Johnson leading out Wells, racing in his first UCI categorized event of the year, and just barely holding off the 2004 mountain bike Olympian.
"We were trying to hurt each other the last couple laps," said Johnson, who took the Verge NECCS overall leader's jersey off Mark McCormack's back by virtue of his win and McCormack finishing out of the top five.. "Todd was flying, he hasn't missed a beat from the end of his season. I led out the whole way, you know, 'When in doubt lead it out.' He eased back on me, but I had just enough."
Johnson and Wells formed the decisive trio with Under-23 series leader Jesse Anthony (Team Clif Bar) after several laps. Anthony hung on until two-to-go, when he couldn't maintain the fierce pace of the two former national champs. Anthony held on for third overall and top U-23, solidifying his hold on the U-23 jersey.
Lyne Bessette
Photo ©: Paul Weiss

Newly crowned Canadian National Champion Lyne Bessette (Cyclocrossworld.com-Louis Garneau) chalked up her 11th straight win of the 2005 'cross season in the same fashion as she had the previous 10. Bessette soloed off the front of the Elite Women's field during the first lap and never looked back. Charging hard out of every corner and keeping her pace high for the duration, Bessette opened a minute-plus gap within a few laps, more than enough for another convincing win. Bessette was followed home by Rhonda Mazza (Team S&M-Vanilla Bicycle) with Maureen Bruno Roy (Independent Fabrication) filling out the top three.
Pascal Biussieres (Biogen idec, Auberge La Goéliche) won the B Men's race, repeating his win from the Verge NECCS opener in Maine. Ethan Gilmour (Coyote Hill-K2) claimed a thriller in the Junior Men's race ahead of series leader Jerome Townsend (Bicycle Alley). Rob Hult (Fior di Frutta) turned the tables on defending series champion Jonny Bold (Corner Cycle) in the Men's 35+.
The Verge NECCS continues on Sunday with the Cycle-Smart International in Northampton, Mass.
Photography
For a thumbnail gallery of these images, click here
Images by Paul Weiss/www.paulweiss.bz
Results

Elite Men, 119 starters
 
1 Tim Johnson (USA) cyclocrossworld.com-louisgarneau          54.29
2 Todd Wells (USA) Team GT/Hyundai
3 Jesse Anthony (USA) Team Clif Bar                            0.32
4 Michael Cody (USA) FiordiFrutta Elite Cycling Team           1.05
5 Jonathan Baker (USA) Primus Mootry Race Team
6 Mark McCormack (USA) Team ClifBar
7 Erik Tonkin (USA) Kona                                       1.11
8 Greg Reain (USA) Stevens International Cyclocross Team       2.22
9 Tristan Schouten (USA) Trek VW Michelin                      2.25
10 Matt White (USA) FiordiFrutta Elite Cycling Team            2.35
11 Justin Spinelli (USA) RGM Watches - Richard Sachs           2.53
12 Ryan Leech (USA) FORT-GPOA!                                 2.58
13 Chris McGovern (USA)                                        3.00
14 Matt Kraus (USA) Alan Factory Team                          3.04
15 Nathan Chown (USA) Ital Pasta/Fuji Canada/St.Catharines     3.13
16 Johannes Huseby (USA) FiordiFrutta Elite Cycling Team
17 Roger Aspholm (USA) Westwood Velo
18 Ryan O'Connor (USA) 1K2go.com
19 Chris Peck (USA) FiordiFrutta Elite Cycling Team            3.28
20 Whitey Debroux (USA) Denver Boulder Couriers                3.47
21 Adam Hodges Myerson (USA) Team Nerac.com/TD Banknorth       4.14
22 Noah Taylor (USA) RGM Watches - Richard Sachs               4.26
23 Cory Burns (USA)                                            4.41
24 Weston Schempf (USA) FORT-GPOA!
25 Ward Solar (USA) Verge / Natures Path
26 Jonathan Bruno (USA) Independent Fabrication
27 Adam McGrath (USA) Redline                                  5.37
28 Benoit Simard (USA) Specialized Canada/Périgny              5.44
29 Tom Hopper (USA) Bikeman.com                                5.47
30 Daniel Coady (USA) NCC Bikereg.com                          6.06
31 Myron F. Baker Jr. (USA) Vergesport.com Test Pilot          6.59
32 John Foley (USA) Bike Alley                                 7.09
33 Aaron Molloy (USA) 1K2go.com                                7.11
34 Brad Sheehan (USA) 1K2go.com
35 Shawn Harshman (USA) Alan Factory Team                      7.22
36 Matt Demeis (USA) BIKEMAN.COM                               7.33
37 Kris Ayer (USA) Alan Mid atlantic                           7.57
38 Alistair Sponsel (USA) Colavita Racing                      8.05
39 Tim Haitz (USA) Vicious Cycles                              8.11
40 Ben Turner (USA) TIAA-CREF/CLIF BAR
41 Morgan Macleod (USA) Mechanical Services/Cycle Mania
42 Brian Hayes (USA) RGM Watches - Richard Sachs
43 Keith Jennings (USA) Louis Garneau Racing
44 John Burns (USA) Bikeman.com
45 Tom Gosselin (USA) Mechanical Services/Cycle Mania
46 Matt Wilson (USA) Team Harborside Cycles
47 Myles Romanow (USA) HVC/Jessie's
48 Ryan Fleming (USA) ALAN Factory Team
49 Adam Sullivan (USA) Caster's/Majik Coffee p/b Apex Tech
50 Brian Keegan (USA) La Festa Brick and Brew
 
Elite Women, 77 starters
 
1 Lyne Bessette (Can) cyclocrossworld.com-louisgarneau        38.25
2 Rhonda Mazza (USA) Team S&M/Vanilla Bicycles                 1.35
3 Maureen Bruno Roy (USA) Independent Fabrication              2.31
4 Mackenzie Dickey (USA) Team Bicycle Alley                    3.07
5 Tara Ross (USA) Victory Brewing                              3.25
6 Marianne Stover (USA) Independent Fabrication                3.55
7 Pauline Frascone (USA) Independent Fabrication               4.12
8 Rebecca Wellons (USA) Gearworks spin arts                    4.36
9 Amy Wallace (USA) Verizon Wireless Wheelworks                4.51
10 Kami Tremblay (USA) Gearworks spin arts                     5.30
11 Kerry Litka (USA) Dansko Wheelworks
12 Stephanie White (USA) Gearworks/Spin Arts
13 Hollie McGovern (USA) sierra express
14 Perri Mertens (USA) harriscycleryracing.com                 5.40
15 Heidi Von Teitenberg (USA) Alan Mid Atlantic                5.54
16 Rebecca Cooke (USA)
17 Megan Bilodeau (USA) NCC / BikeReg.com                      6.12
18 Celeste Drumm (USA) HUP united
19 Marci Titus Hall (USA)
20 Sara Cushman (USA) Gear Works/Spin Arts
21 Kathy Sarvary (USA) Gearworks spin arts                     6.35
22 Natalie Dumont (USA) Gearworks Cyclery                      6.40
23 Lisa Most (USA) Wissahickon                                 7.35
24 Beth Mason (USA) NCVC/Edge Technologies                     7.38
25 Susan Maclean (USA) Gear Works/Spin Arts Cycling Team       8.49
26 Brenda Bahnson (USA) Independent Fabrication                9.36
27 Michele Smith (USA) Independent Fabrication
 
B Men, 119 starters
 
1 Pascal Bussières (Biogen idec, Auberge La Goéliche)         45.54
2 Peter Rubijono (HarrisCycleryRacing.com)                     0.19
3 Alexandre Frappier (Biogen Idec)
4 Alex Whitmore (harriscycleryracing.com)
5 Andrew Crooks (NYC velo)                                     0.27
6 Robert Newton (Benidorm/Eastern Bloc Cycling Club)           1.14
7 Neil Ross (McMaster University)                              1.25
8 Roland Meunier (bike alley)                                  1.37
9 Matt Hersey (bikeman.com)                                    1.40
10 Stan Jurga (Essex County Velo)                              1.46
11 Pete Smith (ESSEX COUNTY VELO)                              1.57
12 Sean O'Rourke (Team Spirit Cycling)
13 Hunter Pronovost (Trailblazer - CCCC)                       2.09
14 Matthew Purdy (North Atlantic Velo/Mercury Web)             2.17
15 David Rose (harriscycleryracing.com)                        2.21
16 Sean Capizzo (Caster's/Majik Coffee p/b Apex Tech)          2.24
17 Donald Snoop (Vergesport.com Test Pilot)                    2.30
18 Jeff Murray (Team Berlin Bike)                              2.39
19 Chris Mayhew (FORT/GPOA)
20 Brendan Cornett (MCC rainbow bike)                          3.06
21 Tom Mains (Velocity Sports/CCE)                             3.18
22 Jim Wirtanen (harriscycleryracing.com)                      3.27
23 Daniel Brill (Team Beacon)                                  3.29
24 Jeff Busch (Yorktown cycles)                                3.31
25 Ryan Kelly (University of New Hampshire Cycling)            3.36
26 Joe Cruz (North Atlantic Velo / Soul Cycles)
27 Ernest Tantkus (Mystic cycle center)                        3.56
28 Nathaniel Cook (harriscycleryracing.com)                    4.01
29 Scott Livingston (Team Horst Engineering)
30 Keith Button (NHCC/Team NH)
31 Miro Koulnis (UVM cycling)                                  4.08
32 Andrew Grabarek (Nautilus Velo Club)
33 Pierre Vanden Borre (HUP United)
34 Corey Masson
35 Joshua Thiel (Blacksheep cycles)
36 Art Trapotsis (HUP United)
37 Steven Morse (BIKEMAN.COM)                                  4.16
38 Brian Rutter (Berlin Bike)
39 Zane Wenzel (Benidorm PRC)
40 Michael Harney (Caster's/Majik Coffee p/b Apex )            4.51
41 Zach Johnson (Essex County Velo)                            4.55
42 Frank Zgoda (CRCA/Strictly Bicycles)                        5.09
43 Patrick Goguen (NCC/Bikereg.com)                            5.13
44 Jp Partland (Kissena)                                       5.16
45 Todd Crisafulli (North Atlantic Velo/Mercury Web)           5.32
46 Alec Riendeau (Highland Park Hermes)                        5.36
47 Jd Bilodeau (NCC/Bikereg.com)                               5.41
48 Mark Vareschi (Rutgers Cycling)                             5.44
49 Chris Crowell (Berlin Bike)
50 Tim Ratta                                                   5.47
51 Richard Brown (NHCC/Team NH)                                5.50
52 Chris Winter (CYBC Richard Sachs)                           6.06
53 Juston Manville (North Atlantic Velo)
54 Bradley Evans (Squadra Coppi/IM Saab)                       6.10
55 Darren Crupi (RAD SPORT OUTFITTERS LLC.)
56 Chuck Nguyen (Providence Velo Club)
57 Scott Rosenthal (HUP United)                                6.31
58 John Genovese (Essex County Velo)                           6.46
59 Zach Magoon (Bikeman)                                       7.51
60 John Busey (Putney)                                         7.01
61 Spike McLaughlin (Cox Communications Cycling Team)
62 Gary S. Keblish (Cycle-Smart)
63 Gary Aspnes (Benidorm-Property Research Corp)               7.07
64 Scott Collins (AFD/OSVC)
65 Richard Battaglia (Boston Road Club/ATA Cycles)             7.37
66 Arthur Roti (Horst sports)                                  7.45
67 Eric Lowenstein (Highland Park Hermes)                      7.48
68 Cary Fridrich (Minuteman Road Club)
69 Stanley Lezon (Capital Velo Club - Pig Iron)
70 C. Greg Robidoux (Boston Velo Pepsi)
71 Phil Brubaker (Putney)                                      8.15
72 Mark Robson (Team Bicycle Alley)                            8.32
73 James Bernstein (Mambo Kings)
74 Patrick Snoop                                               8.47
75 Drew Szeliga (UNH Cycling)                                  9.55
 
One lap behind  
 
76 Robert Luebbers (Onion River Sports)
77 Matt Cagnetta
78 Rob Wuebker
79 Thayne Nord (harriscycleryracing.com)
80 Dave Drumm (HUP United)
81 Thom Reid (Benidorm-Property Research Corp)
82 Edward Parsons (VeloEuropa Cycle Sport)
83 Jeff Gelt (AMC cycling)
84 Adam Szczepanski (Bike & Blade - Serfs)
85 Mike Zanconato (HUP United)
 
Juniors 17-18, 36 starters
 
1 Ethan Gilmour (Coyote Hill/ K2bike)                         38.42
2 Jerome Townsend (Team Bike Alley)                            0.02
3 Duncan McGovern (Putney)                                     1.31
4 Greg Carpenter (Cannondale MTB Team)                         1.55
5 Dylan O'Sullivan (Team Bicycle Alley)                        2.03
6 Nicholas Keough (Coast/CI Noonan/KAM)                        2.38
7 Ryan Barlow (CUEVAS)                                         3.09
8 Robert Schmidt (Vortex Racing- CBRC)
9 Jc Coughlin (Union Velo Club)                                4.10
10 Nathan Belcher (Union Velo)                                 4.19
 
Juniors 15-16, 39 starters
 
1 Silas Anthony (ECV)                                         43.41
2 Gavin Mannion (CCB/Volkswagen)                               0.03
3 Luke Keough (Corner Cycle)                                   1.07
4 Manny Goguen (Union Velo)                                    2.41
 
One lap behind  
 
5 Spencer Pero (BCA/Vomax)
6 Jesse Keough (Corner Cycle)
7 Nate Morse (BikeLink/MBRC)
 
Cub Juniors, 47 starters
 
1 Spencer Pero (BCA/Vomax)                                    20.08
2 Curtis White (SAAB of Halfmoon/CBRC)                         0.53
3 Elizabeth White (NEBC)                                       0.58
4 Jesse Keough (Corner Cycle)                                  1.07
5 Jarred Reuter (Specialized Velo 44)                          1.57
6 Tommy Goguen (Union Velo)                                    2.27
7 Nate Morse (BikeLink/MBRC)                                   3.03
8 Peter Goguen (Union Velo)                                    3.30
9 Tiffany Bontorno (JRA cycles)                                6.03
10 Abigail Callahan (unattched)                                6.29
11 Caleb Anthony (ECV)                                         7.01
12 Joshua Robair                                               8.15
13 Johanna Duggan                                             12.52
 
Masters 35+, 120 starters
 
1 Rob Hult (FiordiFrutta)                                     45.34
2 Jonny Bold (Corner Cycle / Independent Fabrication)          0.07
3 Todd Watters (union velo)                                    0.21
4 Mark Gunsalus (Bike Barn Racing)                             0.55
5 Mike Yozell (FORT-GPOA!)                                     1.00
6 Mark Stotz (Gearworks -- Spinarts)                           1.02
7 Todd Cassan (Rocinante)
8 Robert Campos (HVC/Jessies)                                  1.06
9 Sam Morse (Bicycle Link/MBRC)                                1.09
10 Todd Rowell (NCC / BikeReg.com)                             1.13
11 John McKone (CCB/Volkswagon)                                1.22
12 Greg Ferguson (FORT-GPOA!)
13 Sean Groom (Squadra Coppi)                                  1.28
14 Arik Jon Holm (Union Velo)                                  1.41
15 Kevin Hines (Gear Works / Spin Arts)
16 Robert Bobrow (Papa John's Racing Team)                     1.46
17 Scott Wade (Gearworks/Spinarts)                             1.55
18 Terrence Finn (THF)                                         1.59
19 Colman O'Connor (Bicycle Link/MBRC)
20 Joel Brown (Cox Communications Cycling Team)                2.02
21 Alan Starrett (Bikeman.com)                                 2.19
22 Troy Kimball (Westwood Cycle Masters Team)                  2.41
23 Jan Wiejak (Vergesport.com Test Pilot)                      2.55
24 Matthew Howard (CRCA/Blue Ribbon-Translations.com)          2.56
25 Wiliam Crecelius (papa johns)
26 Michael Wonderly (CogWildRacing.org/RocknRoadcycles.com)    3.00
27 Paul Curley (Gearworks/Spinarts)                            3.06
28 John Mosher (Bicycle Link/MBRC)                             3.09
29 Stuart Jensen (Benidorm/Eastern Bloc Cycling Club)
30 Thomas Butler (SAAB of Halfmoon/New Salem - CBRC)           3.13
31 David Belknap (Bike Link/MBRC)                              3.16
32 Peter Brennan (Trek/VW)                                     3.24
33 William Sawyer (Gearworks - Spinarts)                       3.28
34 Brian Cantele (Benidorm Bikes)                              3.31
35 Bob Bisson (Gear Works / Spin Arts)                         3.47
36 Ralf Warmuth (Highland Park Hermes)                         3.49
37 Brad Patches (BCA)                                          3.51
38 James Walsh (Cox Communications)                            3.54
39 Daniel Gagliarde (MTB mind.com)                             3.56
40 Tim Groesbeck (CCB)                                         4.16
41 Eric Bowker (Gary Fisher)                                   4.21
42 Christopher Cyr (Bikeman.com)                               4.25
43 Kevin Callahan (Bicycle Link/MBRC)                          4.34
44 Bob Lesmerises (White Mountain Velo)                        4.35
45 Christopher Long (Independent Fabrication/Gotham)
46 James Tordella
47 Todd Bowdin (CVC Pig Iron)                                  4.57
48 Alan Buday (rotations racing)                               5.10
49 Jay Busse (Union Velo)                                      5.17
50 James Myers
51 Matthew Domnarski (Benidorm-Property Research Corp.)
52 Paul Nyberg (Benidorm-Property Research Corp.)
53 Mike Troisi (Gear Works / Spin Arts)                        5.38
54 Paul Lynch (bicyclelink/mbrc)                               5.40
55 Timothy Shea (BOB / Nault's Cyclery)                        5.44
56 Steven Kane (Byron Lake)                                    5.48
57 Steve Roszko (NCC / BikeReg.com)                            6.03
58 Christopher Smith                                           6.11
59 Kelly Cline (Wissahickon)                                   6.21
60 David Foley (BOB / Nault's Cyclery)                         6.27
61 Geoff Sullivan (Benidorm/Eastern Bloc Cycling Club)         6.29
62 Peter Crowley (NCC / BikeReg.com)                           6.40
63 Michael Sarnblad (Gearworks / Spinarts)
64 Wade Summers (Benidorm - Property Research Corp)            7.34
65 Paul Cooke (Alan racing)                                    7.40
66 Kerry Robair                                                7.45
67 Steven Bonadio (Arc-en-Ciel Racing Team)                    7.53
68 Gary S. Keblish (Cycle-Smart)                               7.59
69 Marc Boudreau (Ride with Rendall)                           8.18
70 Rob Kramer (MBRC bicycle link)                              8.32
71 Wayne Cunningham (NEBC/Cycle Loft)                          8.34
72 Daniel Russell (Bicycle Link/MBRC)
73 Paul Debartolo (GS Gotham/TOGA)                             9.47
74 Robert Dadekian (Capital Bicycle Racing Club)
 
One lap behind  
 
75 Kurt Scheerer (Vergesport.com Test Pilot)
76 Chris Evans (Wissahickon)
77 Matt Carpenter (Team Edge/Bikers Edge)
78 Greg Black (Vergesport.com Test Pilot)
79 Paul Weiss (Portland Velo Club)
80 Richard Desmarais (union velo)
81 Fafar Bayat (CRCA/Strictly Bicycles)
 
C Men, 92 starters
 
1 Andrew Boone (NEBC)                                         35.01
2 Robert Bauer (Minuteman road Club)                           0.14
3 Gary Douville (unattached)                                   0.20
4 Jim Swigart (Cycle Center Racing)                            0.29
5 Harry Stover (Arc - en - ciel)                               0.45
6 Stephen Kelley (Vortex Racing)                               0.49
7 Gregg Ferraris (Epic velo)
8 James Newton                                                 1.21
9 John Wilde (Harvard )                                        1.23
10 Mark Romanovsky                                             1.29
11 Greg Burbidge                                               1.36
12 Scott Scott (Stage One Fusion Think)                        1.47
13 Zachary Wills (Harvard )                                    2.06
14 Nicholas Broskovich (Cycle Center Racing)                   2.14
15 Jose Martinez (Team Bike Alley)                             2.17
16 Jason Gulbinas (unattached)                                 2.24
17 Nathan Miller (UNH Cycling)
18 Martin Wright (harriscycleryracing.com)                     2.42
19 Sven Lohse                                                  2.56
20 Ben Corbalis (Union Velo)                                   3.02
21 Rory Henderson                                              3.22
22 Miles Ericson (unattached)                                  3.29
23 Mark Sondeen (Manchester Expo Wheelmen)                     3.51
24 Ray Hoff (unattached)                                       4.12
25 Jack Enxuto (Benidorm)
26 Jake Colvin (unattached)                                    4.27
27 John Torrey (MTBMIND.COM)
28 Mike Romanovsky (HVVC)                                      4.37
29 Joe Tremontano (Northeast bicycles)                         4.41
30 Esteban Velasquez                                           4.51
31 Tim Lagosh                                                  4.57
32 Ron Menner                                                  5.49
33 Todd Eves (MRC)                                             6.09
34 Clifton Valarose (Epic velo)                                6.36
35 Taylor Valentine (unattached)
36 Craig McCarrick (Connecticut College Cycling)               7.15
37 Terry Donovan                                               9.01
 
One lap behind  
 
38 Frank Dionisio (unattached)
39 Ron Dilaurenzio
40 Ronald Bucari
 
B Women, 63 starters
 
1 Erin Canniff (Team Harborside)                              38.52
2 Natalie Stoll (UNH)                                          1.00
3 Laura Jensen (Benidorm/Eastern Bloc Cycling Club)            2.04
4 Erin Duggan (MTB chick)                                      2.45
5 Tracy Elmes (harriscycleryracing)                            3.00
6 Jennifer Rhodes (Dansko wheelworks)
7 Lana Courtney (Skyline bicycles)                             4.29
8 Mary Wikar (unattached)                                      5.15
 
One lap behind  
 
9 Janet Sestokas (NEBC Cycle Loft)
10 Sally McInnis (Rage Harpoon)
11 Lori Whynot (NEBC/CycleLoft)
12 Olivia Jaras (Tufts)
13 Patricia Bender (Epic Velo)
14 Anna Kaltenboeck (Alan )
 
B Masters, 44 starters
 
1 Jeffrey Kellogg (NAV / Mercury Club)                        34.15
2 Doug Aspinwall (NCC / BikeReg.com)                           0.17
3 Joe Rodrigues (cyclonauts)                                   0.38
4 James Conopask (Tokeneke)                                    1.00
5 Dan Stasz (NCC / BikeReg.com)                                1.10
6 William Thompson (Bethel Cycle)                              1.24
7 Chris Facas (Westwood Velo Masters Team)                     1.27
8 James Paterson
9 Theo Kindermans (cyclocrossworld.com)                        1.35
10 Royce Yeomans (cyclonauts racers)
11 John Baker (putney/westhill)                                1.45
12 Anthony Pace (EBCC)                                         2.43
13 John Plump (Quad Cycles)                                    3.10
14 Michael Schmidt
15 Oscar Rosales (CRCA/Renaissance)                            3.24
16 Ralph Gulemmo (East End Kreb Cycle)                         3.28
17 Glen Fraser (NHCC/Team NH)
18 Jeff Papineau (Cyclonauts)                                  3.33
19 Richard Costa                                               3.42
20 David Leedberg (GearWorks / Spin Arts)                      4.04
21 Bill Doonan (NEBC/Cycleloft)                                4.12
22 Steven Abbott (thread city cyclers)                         4.41
23 Joseph Sconzo (CVC pig iron)                                4.50
24 Adam Brodsky (Missing Link/ MBRC)                           4.53
25 Ken Coleman (Housatonic Wheel Club)                         5.08
26 Mark McCabe (Alan Factory Team)                             5.34
27 Jim Quinn (the bicycle link)                                5.53
28 Garabed Minasian (BOB)                                      6.00
29 Rick Comshaw (Capital Velo Club)                            6.41
30 Michael Parr (NAV/Mercury Web Solutions)                    7.22
31 Jay Mongillo (Northeast Bicycles)                           7.46
32 Robert Newton (Benidorm/Eastern Bloc Cycling Club)          8.11
33 Jim Dowling (Maine Cycling Club/Rainbow)                    8.27
34 David Singleton (Pfizer Cyclists)                           9.17
 
One lap behind  
 
35 Andree Keith (Laurel)
 
Masters 55+, 11 starters
 
1 Phil Bannister (Putney/West Hill)                           35.30
2 Bruce McCowan (Arc En Ciel)                                  0.06
3 Dave Beals (SAAB of Halfmoon/New Salem - CBRC)               3.06
4 James Themig (Mystic Velo Club)                              3.38
5 Thomas Downey (Bicycle Link/MBRC)                            4.22
6 Bob Cary (Skylands Cycling)                                  7.07
7 Bob Ludecke (Laural club)                                    8.04
 
One lap behind  
 
8 Herbert Bates (NEBC/Cycle Loft)
9 Curtiss Burwell (Laurel )
10 Vincent Donohue (worcester cycling club)
11 Donald Snoop

Past winners

2004 Ryan Trebon (USA) Kona Bicycles     Mary McConneloug (USA) SevenCycles
2003 Mark McCormack (Saturn)             Anna Milkowski (Gearworks-Spinarts) 
2002 Marc Gullickson (Mongoose/Hyundai)  Mary McConneloug (Seven Cycles)