Recently on Cyclingnews.com
Chainbiter 6.0 'Cross - C2
Farmington, USA, November 13, 2004
2003 Results Results Past winners
Trebon and McConneloug Dominate Chainbiter 6.0
Mary McConneloug
Photo ©: Mike Morris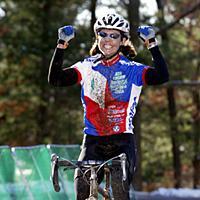 An overnight blanket of snow made the parcours very difficult, but Kona's Ryan Trebon and Seven Cycle's Mary McConneloug made it look easy in Saturday's 4th round of the Verge New England Championship Cyclo-cross Series, the Chainbiter 6.0.
McConneloug, the Olympic mountain biker, took advantage of her skills in sloppy, wet conditions to take the early lead and never relinquish it. Marianne Stover (Independent Fabrications) won the holeshot with McConneloug and got a gap on the rest of the field during the first lap, making the field chase. Several riders were up to the challenge, including AnnaMilkowski (Rona), Maureen Bruno-Roy (Cyclocrossworld.com), Celeste Drumm (HUP United), Sinead Fitzgibbon (CRCA/Aquafina), and junior national champion Stephanie White (Dansko/Wheelworks). But they were never able to make contact with McConneloug, who was on superb form today. Unfortunately for Stover, she could not stay with the Seven Cycles engine as the muddy conditions got the best of her bike and she eventually had to withdraw with mechanical problems.
Anna Milkowski (Rona)
Photo ©: Mike Morris

Meanwhile, with the race for first over, Milkowski went clear from the field by the time the riders make the barriers for the second time. She acquired a pretty significant lead, but Bruno-Roy went to work and methodically reeled her in. By the 2 to go mark, Bruno-Roy had not only caught Milkowski but dropped her and powered away to a terrific 2nd place finish. Milkowski's good start was good enough to get her a comfortable 3rd place finish. Drumm survived a late challenge from Colorado mountain biker Gretchen Reeves (Rocky Mountain/Business Objects) to grab 4th on the day, with Reeves settling for 5th. McConneloug maintains her overall series lead going into Sunday's Cycle-Smart International.
Ryan Trebon
Photo ©: Mike Morris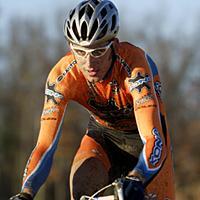 The men started in warm and sunny conditions but the melting snow continued to slow different parts of the course. Defending race champion Mark McCormack (Clif Bar/Colavita) got a great start to lead out a huge pack early on. A pack of about 15 riders stayed together for the first lap and a half until Trebon attacked and brought McCormack and Jonny Sundt (Maxxis/Giant) with him. Recognizing the winning move, veteran Mark Gullickson (Redline) bridged up to the 3 and by the end of lap 3 it was Trebon, McCormack, and Gullickson in front, with Sundt slowly dropping back. While the lead 3 got comfortable, Trebon attacked again and went clear, leaving Gullickson and McCormack to battle a charging Jackson Stewart (Clif Bar). Once Stewart caught on, the two teammates worked over Gullickson and eventually dropped him with 4 to go. With Trebon gone, Stewart and McCormack worked well together to maintain 2nd spot and hold off Gullickson. Trebon took an easy win with McCormack and Stewart taking 2nd and 3rd respectively. Gullickson came in 4th and Todd Wells led the best of the rest by taking 5th spot. Trebon's win was just enough to vault him over McCormack into the series lead by one point; setting up a fierce fight for the Verge series lead on Sunday.
Greg Ferguson, Masters Winner
Photo ©: Mike Morris

The winners in the amateur races today were Greg Ferguson (Fort/GPOA) in the Masters 35+, Toby Marzot (Corner Cycles) in the Juniors, Mike Magur (Verge) in the B Men, Luke Keough in the Cub Juniors, James Themig (Mystic Velo) in the Masters 55+, Matthew Shaffer (USCGA) in the Beginner Men, Laura Jensen (Benidorm Bikes) in the Beginner Women, and Peter Crowley (Northampton CC/BikeReg.com) in the Beginner Masters.
Round 5 of the Verge New England Championship Cyclocross Series will take place Sunday, November 14th, in Northampton, Massachusetts at the 14th annual Cycle-Smart International.
The Chainbiter 6.0 Cyclo-Cross is sponsored by Benidorm Bikes & Boards, Braziler Technology Inc., Cannondale, and Quality Bicycle Products. A percentage of the proceeds from the race were contributed to the Casey LeGeyt Fund (a 12-year old girl from Canton, CT who was recently diagnosed with leukemia).
The kids race
Photo ©: Mike Morris

The Verge New England Championship Cyclo-Cross Series is sponsored by Verge Sport, makers of quality custom cycling apparel; Cycle-Smart, providers of custom coaching solutions for all riders and cycling disciplines; International Bicycle Center, New England's cyclo-cross source, in Boston, Newton, and on the web at internationalbike.com; BikeReg.com, offering all of your online event registration needs; IntensePicts.com, professional event photography; The Ride Magazine, the magazine of New England cycling culture; and Pioneer Event Productions, offering technical solutions for cycling events, from course design and construction to results and timing.
Photography
Images by Mike Morris/www.intensepicts.com
Results
Elite Men, 47 starters
 
1 Ryan Trebon (USA) Kona Bicycles                                        56.09
2 Mark McCormack (USA) Clif Bar Colavita Olive Oil                        0.21
3 Jackson Stewart (USA) Clif Bar Cyclocross                                   
4 Marc Gullickson (USA) Redline                                           0.58
5 Todd Wells (USA) GT/Hyundai                                             1.10
6 Adam Craig (USA) Maxxis                                                 1.16
7 Ben Jacques-Maynes (USA) sierra nevada cycling                          1.25
8 Erik Tonkin (USA) Kona                                                  1.42
9 Jonathan Sundt (USA) Maxxis                                             2.41
10 Johannes Huesby (USA) Fiordifrutta                                     3.11
11 Michael Broderick (USA) Seven Cycles                                       
12 Troy Wells (USA) KONA/EASTON/HILLENBRAND/CCA                           3.46
13 Cory Burns (USA) Colavita-Bolla                                        4.21
14 Matt White (USA) NCC / BikeReg.com                                     4.24
15 Jeb Schneider (USA) Alan Factory Team                                  4.25
16 Zak Grabowski (USA) TIAA-CREF/CLIF BAR                                 4.30
17 Greg Wittwer (USA) Cyclocrossworld.com                                 4.38
18 Matt Kraus (USA) Alan Factory Team                                     5.05
19 Jonathan Bruno (USA) Independent Fabrication                           5.46
20 Jamey Driscoll (USA) Richard Sachs                                     5.58
21 Michael Cody (USA) NCC / BikeReg.com                                   6.02
22 Noah Taylor (USA) Putney                                                   
23 John Hanson (USA) NCC / BikeReg.com                                    6.30
24 Chris McGovern (USA) sierra nevada cycling                             6.45
25 Alec Donahue (USA) Louis Garneau                                       7.36
26 Jacob Stechmann (USA) Subway-Express                                   7.51
27 Ryan Brooks (USA) Hell's Kitchen                                       7.55
28 Andrew Wulfkuhle (USA) Alan MidAtlantic                                8.18
29 John Burns (USA) BIKEMAN.COM                                           8.59
 
One lap behind
 
30 Matt Demeis (USA) BIKEMAN.COM                                              
31 Joseph Piccillo (USA) Evolution Racing                                     
32 Troy Michaud (USA) Eurotek                                                 
33 Chris Samuel (USA) ProPedals                                               
34 Robert Giannini (USA) Sakonnet                                             
35 Kristopher Auer (USA) Alan MidAtlantic                                     
36 Michael Patrick (USA) Gary Fisher                                          
37 Alistair Sponsel (USA) Colavita-Bolla Racing                               
38 Brian Hayes (USA) UConn Cycling                                            
39 Jon Hansen (USA) Embestida!                                                
40 Donald Snoop (USA) Verge                                                   
 
Under 23
 
1 Troy Wells (USA) KONA/EASTON/HILLENBRAND/CCA                           59.55
2 Cory Burns (USA) Colavita-Bolla                                         0.35
3 Matt White (USA) NCC / BikeReg.com                                      0.38
4 Zak Grabowski (USA) TIAA-CREF/CLIF BAR                                  0.44
5 Greg Wittwer (USA) Cyclocrossworld.com                                  0.52
6 Jamey Driscoll (USA) Richard Sachs                                      2.12
7 John Hanson (USA) NCC / BikeReg.com                                     2.44
 
One lap behind
 
8 Brian Hayes (USA) UConn Cycling                                             
 
 
Elite Women, 29 starters
 
1 Mary McConneloug (USA) SevenCycles                                     39.52
2 Maureen Bruno Roy (USA) Cyclocrossworld.com                             1.16
3 Anna Milkowski (USA) RONA                                               1.51
4 Mackenzie Dickey (USA) Team Bicycle Alley                               2.35
5 Gretchen Reeves (USA) Rocky Mtn/Busn. Objects                           2.51
6 Celeste Drumm (USA) HUP United                                          3.16
7 Tara Ross (Can) Team Diet Cheerwine                                     3.32
8 Stephanie White (USA) Dansko/Wheelworks                                 3.55
9 Sinead Fitzgibbon (USA) Aquafina                                        4.04
10 Katrina Davis (USA) Richard Sachs/ CYBC                                4.07
11 Rebecca Wellons (USA) Gearworks/Spin Arts Cycling Team                 4.21
12 Sami Fournier (USA) Velo Bella                                         4.56
13 Maryann Martinez (USA) CCB/Volkswagen                                  5.03
14 Betsy Schauer (USA) FORT-GPOA!                                         5.19
15 Jennifer Magur (USA) Biovail/Cervelo                                   5.34
16 Pauline Frascone (USA) MysticVelo                                      5.38
17 Melanie Swartz (USA) Squadra Coppi/IM Saab                             5.56
18 Emmy Monahan (Ned) Bikeman.com                                         6.23
19 Kathryn Roszko (USA) NCC / BikeReg.com                                     
20 Susan Maclean (USA) Gear Works/Spin Arts Cycling Team                      
21 Kami Tremblay (USA) LSU/Kelley                                         6.39
22 Lisa Most (USA) Wissahickon                                            6.52
23 Kathy Savary (USA) Midstate Cycling                                    7.06
24 Sara Cushman (USA) Gear Works/Spin Arts                                7.12
25 Catherine Dudley (USA)                                                 7.16
26 Megan Clark (USA) Cycle-Smart                                          8.07
27 Martha Wilson (USA) Dansko Wheelworks                                  9.19
 
One lap behind
 
28 Michele Smith (USA) Independent Fabrication                                
 
Juniors, 18 starters
 
1 Charles Marzot (Corner Cycle Cycling Club)                             37.29
2 Morgan Macleod (Portland Velo/Jamis)                                    0.27
3 Will Dugan (Tosk/BCA)                                                   0.52
4 Adam McGrath (Redline Excel Sports)                                     1.40
5 Jeremy Townsend (Bicycle Alley)                                         1.47
6 Jon Belcher (Union Velo)                                                    
7 Kirk Carlson (Heart of New England)                                     1.52
8 Timothyy Halliday (Americas)                                            2.18
9 Michael Wickman (Heart of New England)                                  2.46
10 Colt McElwaine (Northeast Bicycle Club-Cycle Loft)                     3.38
11 Evan Piche (NECSA)                                                     4.11
12 Nathan Belcher (Union Velo)                                            7.07
13 Dylan O'Sullivan (Team Bicycle Alley)                                  7.34
14 Greg Carpenter (Cannondale)                                            7.58
15 Luke Keough (Corner Cycles)                                            9.58
 
One lap behind
 
16 Daniel Liebowitz (Eastern Bloc Cycling Club)                               
 
Masters 35+, 52 starters
 
1 Greg Ferguson (FORT-GPOA !)                                            45.47
2 Jonny Bold (Corner Cycle/ Independent Fabrication)                      0.05
3 Gunnar Shogren (FORT-GPOA !)                                                
4 Sean Groom (Squadra Copi)                                                   
5 Roger Aspholm (Westwood Velo)                                           0.24
6 Mark Stotz (Gearworks)                                                  0.33
7 Troy Fenderson (Boston Scientific/euroTEK)                                  
8 Michael Yozell (FORT-GPOA !)                                                
9 Sam Morse (Bicycle Link/MBRC)                                           1.18
10 Arik Jon Holm (Union Velo Masters Team)                                1.42
11 Paul Curley (Gearworks / Spinarts)                                     2.12
12 Christopher Long (Independent Fabrication/Gotham)                      2.26
13 Scott Wade (Gearworks/Spinarts)                                        2.43
14 Michael Bernard (Gearworks)                                                
15 Dan Massucco (Minuteman Road Club)                                         
16 John Mosher (NEBC/Cycleloft)                                           3.00
17 Christopher White (BOB Cycling/Nault's Cyclery)                            
18 Tim Groesbeck (CCB)                                                        
19 Bradley Patches                                                            
20 Paul Boudreau (Essex County Velo)                                          
21 Kevin Callahan (Bicycle Link/MBRC)                                         
22 John Meerse (Fastsplits Cycling Team)                                  3.13
23 Mark Gunsalus (Bike Barn Racing)                                       3.39
24 Kelly Cline (Wissahickon)                                              4.05
25 Steve Roszko (NCC / BikeReg.com)                                       4.18
26 David Belknap (Bike Link/MBRC)                                         4.30
27 Stuart Jensen (Benidorm/Createx Colors)                                4.40
28 Rob Belcher (Union Velo)                                               4.47
29 Paul Nyberg (Benidorm/Createx Colors)                                  4.55
30 Dominique Desmonts (BVC/Jakes)                                         5.15
31 Tom Stevens (Gear Works/Spin Arts)                                     5.31
32 Christopher Smith                                                      5.59
33 John Buser (putney/westhill)                                           6.08
34 Alan Buday (rotations racing)                                          6.23
35 Geoff Sullivan (Benidorm)                                              6.33
36 John Baker (putney/westhill)                                           6.37
37 Gary Cundiff (CAPE COD PEDROS/K2/WHEELWORKS)                           7.01
38 Kevin Breckenmaker (Team Harrisburg)                                   7.03
39 Douglas Dicks (CRCA)                                                   7.47
40 Brad Roberts (Putney West Hill)                                        8.31
41 Timothy Shea (BOB / Nault's Cyclery)                                   8.37
42 Steven Bonadio (Arc-en-Ciel Racing Team)                               8.47
 
One lap behind
 
43 Wayne Cunningham (NEBC/Cycle Loft)                                         
44 Jay Downs (FORT-GPOA !)                                                    
45 Mike Troisi (Gear Works Cyclery)                                           
46 Nunzio Dibiasi (Team Harrisburg)                                           
47 Tom Officer (Richard Sachs/CYBC)                                           
48 Fafar Bayat (Strictly Bicycles)                                            
 
Masters 45+
 
1 Paul Curley (Gearworks / Spinarts)                                     47.59
2 Christopher Long (Independent Fabrication/Gotham)                       0.14
3 Scott Wade (Gearworks/Spinarts)                                         0.31
4 Tim Groesbeck (CCB)                                                         
5 Kevin Callahan (Bicycle Link/MBRC)                                          
6 David Belknap (Bike Link/MBRC)                                          2.18
7 Rob Belcher (Union Velo)                                                2.35
8 Tom Stevens (Gear Works/Spin Arts)                                      3.19
9 Geoff Sullivan (Benidorm)                                               4.21
10 Kevin Breckenmaker (Team Harrisburg)                                   4.51
11 Timothy Shea (BOB / Nault's Cyclery)                                   6.25
 
One lap behind
 
12 Nunzio Dibiasi (Team Harrisburg)                                           
13 Tom Officer (Richard Sachs/CYBC)                                           
14 Fafar Bayat (Strictly Bicycles)                                            
 
B Men, 56 starters
 
1 Mike Magur (Verge)                                                     46.07
2 Roger Aspholm (Westwood Velo)                                           0.19
3 Ryan Rumsey (bikeman.com)                                               1.13
4 Matt Hersey (bikeman.com)                                               1.28
5 Brian Cantele                                                           1.53
6 Marc Bavineau (ECV)                                                     2.10
7 Tom Hopper (bikeman.com)                                                2.35
8 Paolo Zenoni (Westwood Velo)                                            2.50
9 Dan Davenport (CogWild Racing/CT RocknRoad)                             3.02
10 Logan Hodson (Alan Factory Team)                                       3.13
11 Ryan Fleming (Peerless Insurance/Papa Wheelies)                        3.29
12 Nils Johan Anestad (Evolution)                                         3.37
13 Stan Jurga (ECV)                                                       3.43
14 Brendan Sullivan (VeloEuropa/International Bicycle Center)             3.47
15 Brant Hornberger (NCC / Bikereg.com)                                   3.53
16 Brendan Cornett (Maine Cycling Club/Rainbow Bike)                      4.01
17 Matt Wilson (NAV/Mercury Web Solutions)                                4.04
18 Kyle Wolfe (ECV)                                                           
19 Hunter Pronovost (gruppo Sportivo Europeo)                             4.28
20 Matthew Budd                                                           4.37
21 Chris Mayhew (FORT-GPOA !)                                             4.48
22 Patrick Goguen (nebc)                                                  4.51
23 Chris Rozdilsky (Sakonnet)                                             4.53
24 Todd Crisafulli (North Atlantic Velo/Mercury Web Solutions Cycling)    5.09
25 Neil Ross (McMaster Cycling)                                           5.13
26 Eric Maniez (Cambridge Bikes)                                          5.21
27 David Rose                                                             5.37
28 Brian Rulter (Berlin)                                                  5.39
29 Ernest Tawtkus                                                             
30 Joseph Crooks (Cyclonauts)                                             6.27
31 Judd Milne (Squadra Coppi/IM Saab)                                     6.55
32 Dave Drumm (HUP United)                                                7.09
33 Drew Davis (Quad Cycles)                                               7.24
34 Jurgen Nebelung (Portland Velo Club)                                   7.25
35 Steven Morse (BIKEMAN.COM)                                                 
36 Darius Greenbacher (NCC / BikeReg.com)                                 7.28
37 Brian Walak (BCA)                                                      7.31
38 John Genovese (Essex County Velo)                                      8.01
39 Alec Riendeau (Highland Park)                                          8.08
40 Robert Dadekian (CBRC)                                                 8.11
41 Ethan Parsons (NCC / BikeReg.com)                                      8.17
42 Jeff Ferraro (Benidorm Bikes/Createx Colors)                           8.44
43 Chris Evans (Wissahickon)                                              9.11
44 Dusan Strika (Kissena Cycling Team)                                   10.17
 
One lap behind
 
45 John Hirsch (CycleCenter Racing)                                           
46 Art Roti (Horst)                                                           
47 Darren Crupi (Heart Of New England/Peerless)                               
48 Jeffrey Busch (USI)                                                        
49 Mike Zanconato (HUP United)                                                
50 Sean Gallaway                                                              
 
Cub Juniors, 8 starters
 
1 Luke Keough (Corner Cycles)                                            15.47
2 Manny Goguen (nebc)                                                     0.50
3 Gavin Mannion (CCB/Volkswagen)                                          1.54
4 Jesse Keough (Corner Cycles)                                            4.09
5 Spencer Pero (BCA/TOSK)                                                 4.42
6 Elizabeth White (NECSA)                                                 6.42
7 Nate Morse (MBRC)                                                       9.39
8 Abagail Callahan (Bicycle Link)                                         9.59
 
Masters 55+, 4 starters
 
1 James Themig (Mystic Velo Club)                                        40.12
2 Karl Dittebrandt (kissena cycling club)                                     
3 Vincent Donahue (Worcester Cycling Club)                                    
4 Curtis Burwell (Laurel Bicycle)                                             
 
C Men, 25 starters
 
1 Matthew Shaffer (USCGA)                                                34.04
2 Peter Hutchins (NCC / Bikereg.com)                                      0.20
3 John Smey                                                               0.34
4 Graham Thompson (Mystic Cycle)                                          0.49
5 Mark Romanowski                                                         1.25
6 John Plump                                                              1.35
7 Stanley Lezon (Capital Velo Club - Pig Iron)                            1.43
8 Miles Ericson                                                               
9 Scott Rosenthal                                                         2.11
10 James Peterson                                                         2.22
11 John Wilde                                                             2.27
12 Mark West (NCC / BikeReg.com)                                          2.32
13 Frank Dally (Bethel Cycles)                                            2.46
14 Tim Gagne (Cyclonauts)                                                     
15 Ben Buckle (Verge/Test Pilot)                                          3.03
16 Robert Magadini (Housatonic)                                           3.11
17 Jack Ehxutu (Benidorm)                                                 3.18
18 James Rawstron (Union Velo Cycling Club)                               5.02
19 Ken Coleman (BCA/Tosk)                                                 5.20
20 Theodore Essenfeld                                                     5.36
21 Mark Sondeen (Manchester Expo)                                         6.53
22 Jose Melendez                                                          9.26
23 Esteban Velasquez                                                     10.28
24 Bill Bellrose                                                         12.04
 
B Women, 5 starters
 
1 Laura Jensen (Benidorm/Createx)                                        41.13
2 Lesli Stevens (Team Berlin Bike)                                            
3 Brenda Bahnson (Independent Fabrication)                                0.43
4 Lana Courtney (Dansko/Wheelworks)                                       1.30
5 Marcy Paul (Hope United)                                                1.35
 
B Masters, 21 starters
 
1 Peter Crowley (NCC / BikeReg.com)                                      34.24
2 Jeff Papineau (Cyclonauts)                                              0.36
3 Mark Hixson                                                             0.39
4 Brian Plouffe (Powder Ridge)                                            1.13
5 Doug Aspinwall (NCC / BikeReg.com)                                      1.30
6 Chris Winter (CYBC Richard Sachs)                                       1.31
7 Michael Keough (Corner Cycles)                                          1.44
8 Joe Rodriguez (Cyclonauts)                                              2.02
9 Theo Kindermans (cyclocrossworld.com)                                   2.07
10 Bill Thompson (Bethel Cycles)                                          2.12
11 Steve White (White's Bikes)                                            2.35
12 Garabed Minasian (BOB)                                                 2.54
13 T.C. Perkins (Tablerock)                                               3.44
14 Bill Doonan                                                            4.23
15 Joe Scorizo (CVC/Pig Iron)                                             4.26
16 Joe Ceppetelli (NCC / BikeReg.com)                                     4.50
17 Richard Sachs (CYBC/Richard Sachs)                                     5.05
18 Robert Luebbers (GMBC/Catamount)                                       5.57
19 David Singleton (Pfizer Cyclists)                                      7.46
20 Rick Comshaw (CVC)                                                     8.47
 
B Masters 45+
 
1 Peter Crowley (NCC / BikeReg.com)                                      34.24
2 Michael Keough (Corner Cycles)                                          1.44
3 Theo Kindermans (cyclocrossworld.com)                                   2.07
4 Bill Thompson (Bethel Cycles)                                           2.12
5 Steve White (White's Bikes)                                             2.35
6 Garabed Minasian (BOB)                                                  2.54
7 Richard Sachs (CYBC/Richard Sachs)                                      5.05


Past winners
2003 Mark McCormack (Saturn)             Anna Milkowski (Gearworks-Spinarts) 
2002 Marc Gullickson (Mongoose/Hyundai)  Mary McConneloug (Seven Cycles)