Koppenbergcross - C1
Oudenaarde, Belgium, November 1, 2006
2005 results Results Past winners
Equipment battle won by Nys
By Brecht Decaluwé in Oudenaarde
A very muddy Sven Nys (Rabobank)
Photo ©: Roberto Bettini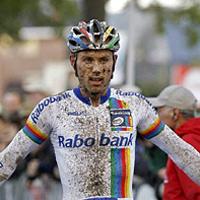 "Mud and crashes, this was pure cyclo-cross," announced Sven Nys after his fourth win in the Koppenbergcross. The race in Belgium was another big win for Nys of Rabobank in an eventful and exciting race up and around the famed Koppenberg. 15,000 spectators enjoyed a thrilling race with many changes among the leaders. For a while, John Gadret (Ag2R Prévoyance) gave the impression that he could annoy the Belgian UCI-leader, Nys. Halfway through the race, Sven Nys overcame his technical problems and steamed through towards the lead and eventually the victory.
"I was never worried because I know that the best rider always wins over here," Nys explained after the muddy day in Oudenaarde, Belgium. "In this race you're allowed to make mistakes because in the end the experience and the condition gain it over all the other factors."
It's quite clear that when the courses get heavier, the strong guys move up. Nys' experienced team mate Richard Groenendaal (Rabobank) finished second and he knew how he got that good result; saying, "My experience and instincts kept me on the bike were others had to walk."
John Gadret had a great first half
Photo ©: Brecht Decaluwé

An unexpected shower spoiled the setup of cross bikes for most riders. Even Sven Nys – known for his skills – suffered with the suddenly slippery course. At one point the UCI-leader was seen letting some air from his tyres while the race was going on!
Behind the two experienced Rabobank-riders John Gadret managed to hold for third place. Gadret performed really strong on the road in the Giro d'Italia but still wants to race in cyclo-cross. "I'm really happy with my performance as this is the first important cyclo-cross for me. Up until now, I didn't enjoy specific cyclo-cross training so I'm certainly lacking the technical skills that other riders have mastered," Gadret explained. "My goal this season is to win an event in the world cup."
Tomorrow Nys will ride in a somewhat smaller race in Knokke, Belgium before travelling to Italy for the world cup race in Treviso.
How it unfolded
The best start went to Klaas Vantornout (Fidea), who managed to distance himself from the others. Behind him many riders like world champion Erwin Vervecken were having troubles with badly adjusted bikes. There were too many crashes to count and the spectators without a doubt enjoyed those first laps.
Bart Wellens (Fidea) immediately changed bikes while Sven Nys waited a little longer. After a few laps John Gadret took over the command as he was clearly the best climber of the field. He enjoyed a few laps in the lead, and up through halfway into the race it seemed that he could grab the win. But that was until Sven Nys - who was always riding around fifth position - suddenly moved forward.
The lead-up
Photo ©: Brecht Decaluwé

On the technical descent Nys and Groenendaal were clearly faster than Gadret. The French rider got caught and with three laps to go there were three leaders. Gadret couldn't hold on to the Rabobank duo but on the climbs he always moved closer.
In the last lap, Sven Nys was clearly the strongest rider and he cruised to victory. This was his 20th victory in a race of the Gazet van Antwerpen-trofee (Antwerp Gazette Trophy), equalling the record of his compatriot Paul Herijgers. John Gadret just managed to hold of young Bart Aernouts (Rabobank) for third place making it a real international podium.
Wellens enjoyed a good first half of the race but couldn't hold on to it. Again he suffered a lot with flat tyres and bad bike changes. He finished fifth and more than a minute behind Sven Nys. World champion Erwin Vervecken knew before the race that this wasn't his cup of tea, he will be happy with his sixth place.
Photography
For a thumbnail gallery of these images, click here
Images by Roberto Bettini/www.bettiniphoto.net
Images by Brecht Decaluwé/Cyclingnews.com
Images by Stijn Vercaemer
Results

Men Elite
 
1 Sven Nys (Bel) Rabobank                                            1.01.47
2 Richard Groenendaal (Ned) Rabobank                                     0.13
3 John Gadret (Fra) Ag2R Prevoyance                                      0.30
4 Bart Aernouts (Bel) Rabobank                                           0.35
5 Bart Wellens (Bel) Fidea Cycling Team                                  1.19
6 Erwin Vervecken (Bel) Fidea Cycling Team                               1.46
7 Klaas Vantornout (Bel) Fidea Cycling Team                              1.52
8 Niels Albert (Bel) Palmans Collstrop                                   2.07
9 Wilant Van Gils (Ned) zzpr.nl                                          2.13
10 Sven Vanthourenhout (Bel) Rabobank                                    2.40
11 Kevin Pauwels (Bel) Fidea Cycling Team                                2.54
12 Gerben De Knegt (Ned) Rabobank
13 Kamil Ausbuher (Cze) Cykloklub Podborany                              3.04
14 Isaac Suarez Fernandez (Spa) Russafa P.C.
15 Zdenek Stybar (Cze) Fidea Cycling Team
16 Petr Dlask (Cze) Fidea Cycling Team                                   3.10
17 Jan Soetens (Bel) Jartazi-7Mobile
18 David Willemsens (Bel) Vos Sportief                                   3.25
19 Jan Verstraeten (Bel) Fidea Cycling Team                              3.54
20 Jorn Van Der Veken (Bel) Profel-Ziegler Continental Team              4.14
21 Maxime Lefebre (Fra) Josan Team                                       4.33
22 Arne Daelmans (Bel) Palmans Collstrop                                 4.44
23 David Meys (Bel) Profel-Ziegler Continental Team                      4.49
24 Wim Jacobs (Bel) Van Der Vorst Cycling Team                           5.33
25 Marek Cichosz (Pol) Entente Cycliste Raismes                          5.47
26 Maarten Nijland (Ned) Procomm-Van Hemert                              5.52
27 Roel Van Houtum (Ned) Het Snelle Wiel                                 7.50
28 Stijn Penne (Bel) Onder Ons Parike                                    5.08
29 Mariusz Gil (Pol) LKS Pom Strzelce                                    8.30
30 Michael Müller (Swi) VC Steinmaur                             1 lap behind
31 Antonio Ortiz Barranco (Spa) Spezialized
32 Lukasz Mudyn (Pol) Bazta Bytow
33 Wim Maes (Bel) Rap Team
34 Frank Van Grootel (Ned) RTC Buitenlust Helmond
35 Johan Van De Ven (Ned) Team Brabant 2000
36 Frederick Vandevivere (Bel) WT Morel En Zoon De Pinte
37 Jorge Rodriguez Garcia (Spa) Airvent Yuste S
38 Johan Mijngheer (Bel) Zilverbergvrienden Rumbeke
39 Ken Smets (Bel) NHT Cycling Team
40 Manuel Martin Jimenez (Spa) Airvent Yuste S
41 Javier Heras Salichs (Spa) CEC Coslada
 
Women

1 Marianne Vos (Ned) Team DSB - Ballast Nedam                           40.33 (22,19 km/h)
2 Reza Hormes-Ravenstein (Ned) Trek                                      0.06
3 Daphny Van Den Brand (Ned) zzpr.nl                                     0.22
4 Birgit Hollmann (Ger) Team Wittig                                      0.27
5 Veerle Ingels (Bel) Vlaanderen - Caprisonne - T Interim                0.31
6 Helen Wyman (GBr) Team Fbuk                                            2.23
7 Susanne Juranek (Ger) Team Wittig                                      2.54
8 Nancy Bollansee (Bel) WC Vos Sportif                                   3.12
9 Hilde Quintens (Bel) Performance Cycling Team                          3.27
10 Christine Vardaros (USA) Lotto-Belisol Ladiesteam                     3.47
11 Linda Van Rijen (Ned) DSB                                             4.00
12 Joyce Vanderbeken (Bel) Lingier Versluys Mtb Team                     4.25
13 Kathy Ingels (Bel) Beneluxteam                                        5.10
14 Ilke Dejongh (Bel) Team2Mega Saeco                                    5.25
15 Gertie Willems (Bel) Jonge Renners Booischot                          3.06
16 Maaike Polspoel (Bel) Scott Cycling Team                              7.01
17 Katrien Thijs (Bel) EBC                                               8.17
18 Katrien Aerts (Bel) Beneluxteam                                       8.23
19 Githa Michiels (Bel) Thompson Team                                    8.27
20 Monika Heuveling (Ned) Rings Renova                           1 lap behind
21 Limke Peeters (Bel) Scott Cycling Team                        2 laps behind
22 Katia Verstaete (Bel) Molenspurters Meulebeke
23 Kim Van Renterghem (Bel) Asfra Racing Team
 
U23

1 Dieter Vanthourenhout (Bel) Wielergroep Beveren 2000                  47.15 (23,73 km/h)
2 Rob Peeters (Bel) Balen BC                                             0.05
3 Lukas Kloucek (Cze) Czech National Team
4 Quentin Bertholet (Bel) AWS Cycling Team Kasterlee                     1.08
5 Kenny Geluykens (Bel) Palmans Collstrop
6 Tom Van Den Bosch (Bel) Palmans Collstrop
7 Maxim Debusschere (Bel) Beveren 2000
8 Kay Van Den Brande (Bel) Scott USA Cycling Team                        1.28
9 Stijn Huys (Bel) Palmans Collstrop                                     1.35
10 Bart Verschueren (Bel) Stoepersclub Leuven
11 Dries Govaerts (Bel) Scott USA Cycling Team
12 Ondrej Bambula (Cze) Czech National Team                              1.40
13 Gianni Denolf (Bel) Brugse Velosport                                  2.05
14 Thomas Vernaeckt (Bel) Asfra Racing Team                              2.20
15 Daan De Jonge (Ned) VC Ardennes
16 Jempy Drucker (Lux) Fidea Cycling Team                                2.33
17 Hans Becking (Ned) Mbc Bar-End
18 Sylwester Janiszewski (Pol) Luks Bizon                                2.40
19 Dawid Romanowski (Pol) LKS Trasa                                      3.10
20 Frantisek Kloucek Jr (Cze) Czech National Team                        3.36
21 Eddy Van Ijzendoorn (Ned) Palmans Collstrop
22 Dries Dewit (Bel) Scott USA Cycling Team
23 Davy Depaepe (Bel) Jonge Renners Booischot                            3.46
24 Kristof Zegers (Bel) Jonge Renners Booischot
25 Johim Ariesen (Ned) De Volharding
26 Jerry Kallenfels (Ned) Willebrord Wil Vooruit                         4.08
27 Rik Van Ijzendoorn (Ned) Palmans Collstrop                            4.20
28 Hugo Rus Martinez (Spa) Cec Coslada
29 Gregory Franckaert (Bel) Asfra Racing Team
30 Dennis Verhoeven (Bel) AWS Cycling Team Kasterlee                     4.33
31 Bart Senders (Ned) Het Snelle Wiel                                    4.50
32 Mitchell Huenders (Ned) Lorini Aa-Drink                               4.55
33 Ivar Hartogs (Ned) WV Eemland
34 Mark Smit (Ned) Trap Met Lust Geldrop
35 David Menger (Cze) Czech National Team                                5.05
36 Brecht Lippens (Bel) Asfra Racing Team
37 Willem Schwaner (Ned) WTC Woerden Team Rietveld                       5.10
38 Dave De Cleyn (Bel) Scott USA Cycling Team                            6.10
39 Ward Demets (Bel) Gentse Velosport                                    6.45
40 Kevin De Meester (Fra) Individueel                                    5.07
41 Jan Verhaegh (Ned) Rtc Buitenlust
42 Harm Vandekerckhove (Bel) Sean Kelly Team                     1 lap behind
43 Pieter Reekmans (Bel) KZLWC St-Truiden
44 Elmer Walraedt (Bel) Asfra Racing Team
45 Tom Lambrechts (Bel) Jonge Renners Booischot
46 Hans Van Den Bogaert (Bel) Rupelspurters Boom
47 Mathias Holvoet (Bel) Asfra Racing Team
48 Tom Clauw (Bel) Cycling Team Wervik
49 Kenneth Van Renterghem (Bel) Asfra Racing Team
50 Kristof Mellemans (Bel) KZLWC St-Truiden
51 Cristian Izquierdo (Bel) Sport En Steun Leopoldsburg
52 Roberto Blas Forns (Spa) Airvent Yuste S
53 Tom Decock (Bel) Brugse Velosport
54 Dries Cauwelier (Bel) Individueel
 
Juniors

1 Sven Verboven (Bel) Galmaarden Sportief                               36.50
2 Joeri Adams (Bel) Avia Wielerteam Waasland                             0.25
3 Bart Hermans (Bel) Balen BC                                            0.55
4 Jordy Beuker (Ned) Team Trek Btz                                       1.04
5 Dimitri Stevens (Bel) Reigerlo Beernem                                 1.30
6 Ramon Sinkeldam (Ned) ZWC DTS
7 Jiri Polnicky (Cze) Czech National Team                                1.40
8 Lubomir Petrus (Cze) Czech National Team                               1.50
9 Rob Van Der Velde (Ned) Twc Pijnenburg
10 Bart Bruyndonckx (Bel) Avia Wielerteam Waasland                       2.05
11 Kaell Pizzy (Bel) Asfra Racing Team
12 Stijn Mortelmans (Bel) WAC Team Hoboken
13 Kristof Cop (Bel) Hand In Hand Baal
14 Marek Benda (Cze) Czech National Team                                 2.20
15 Filip Adel (Cze) Czech National Team
16 Jordy Van Erp (Ned) Pijnenburg Team Aquadraat                         2.30
17 Kenneth Marien (Bel) Thompson Cycling Team
18 Jochen Torfs (Bel) Edegem Bicycle Club
19 Vincent Renaux (Fra) CC Cambrai                                       3.15
20 Sven Beelen (Bel) Scott USA Cycling Team
21 Philippe Hutmacher (Lux) LC Kayl                                      3.38
22 Kristof Scheirs (Bel) Isorex Cycling Team
23 Rudy Kowalski (Fra) VC Roubaix
24 Stefan Limburg (Ned) De Peddelaars Hoogeveen                          3.46
25 Hans Antonissen (Bel) WAC Team Hoboken
26 Thomas Van Calster (Bel) Hand In Hand Baal
27 Dany Lacroix (Bel) VC De l'Espoir Condruzien                          4.17
28 Kenny Maes (Bel) De Toekomstvrienden Baal
29 Jasper Ockeloen (Ned) DRC De Mol                                      4.30
30 Yannick Pauwels (Bel) KWV Turnhout
31 Peter Verstockt (Bel) Asfra Racing Team                               4.40
32 Victor Steelandt (Fra) Armentieres
33 Robby Cobbaert (Bel) Onder Ons Parike
34 Michiel Dieleman (Bel) Avia Wielerteam Waasland                       5.00
35 Zeb Willems (Bel) DGR Cyclingteam Vorselaar                           5.16
36 Ben Remijsen (Bel) DGR Cyclingteam Vorselaar
37 Ruben Veestraeten (Bel) Sport En Steun Leopoldsburg                   5.36
38 Julian Van Dijk (Ned) Noordwesthoek
39 Sylvester Sioen (Bel) Jonge Renners Roeselare                         1.06
40 Jonathan Bervoets (Bel) Sport En Steun Leopoldsburg                   6.10
41 Jochen Despeghel (Bel) Mez Team Belgium                               7.00
42 Stijn Van Driessche (Bel) Demerspurters Haacht
43 Mike Vreys (Bel) Balen BC
44 Lewis Rigaux (Bel) Onder Ons Parike
45 Jeroen Serverius (Bel) WAC Team Hoboken
46 Willem Wauters (Bel) Onder Ons Parike
47 Christian Weitermann (Ger) Team Wittig
48 Steven Van Leijen (Ned) Twc Tempo
49 Kobe Dierckx (Bel) DGR Cyclingteam Vorselaar
50 Mickey Kallenfels (Ned) Breda Knooppunt                       1 lap behind
51 Allan Veenstra (Ned) WSV Emmen
52 Sven De Meyere (Bel) VC Meetjesland
53 Niels Van Craen (Bel) DGR Cyclingteam Vorselaar
54 Jeffrey Dhaeze (Bel) Reigerlo Beernem
55 Hendrik Van Den Bossche (Bel) Balen BC
56 Max Podschun (Ger) OCCP RSG Nordheide
57 Vincent Van Hooste (Bel) Asfra Racing Team
58 Bram De Brouwer (Bel) Onder Ons Parike
59 Dimi Diels (Bel) KWV Turnhout
60 Mathijs Bekaert (Bel) CT Wervend Wervik
61 Maarten Kesteleyn (Bel) Onder Ons Parike
62 Rick Van Deursen (Ned) RTS Buitenlust
63 Maël Bantuelle (Bel) VC Anderlues
64 Cedric Van Damme (Bel) Funny Bikers
65 Loic Dellacherie (Bel) Royale Pedale St-Martin
 
Novices

1 Tijmen Eising (Ned) Hwv Hardenberg                                    27.33
2 Matthias Bossuyt (Bel) Reigerlo Beernem                                0.11
3 Daan Meijers (Ned) Twc Pijnenburg                                      0.15
4 Vinnie Braet (Bel) Cyclingteam Oost West                               0.32
5 Guillaume Van Keirsbulck (Bel) Jonge Renners Roeselare                 0.44
6 Corne Van Kessel (Ned) Olympia Tienen                                  1.00
7 Xandro Meurisse (Bel) De Velovrienden Bavikhove
8 Hendrik Sweeck (Bel) Cycling Team 99 Schriek                           1.05
9 Niels Koyen (Bel) WAC Team Hoboken                                     1.13
10 Niels Wytinck (Bel) Reigerlo Beernem                                  1.21
11 Maxim Danckers (Bel) Hoboken Wac                                      1.41
12 Zeb Veestraeten (Bel) Sport En Steun Leopoldsburg
13 Jelle Cant (Bel) Steeds Vooraan Kontich                               1.52
14 Michael Peeters (Bel) WAC Team Hoboken
15 Jens Adams (Bel) WAC Team Hoboken
16 Gert-Jan Opsomer (Bel) Reigerlo Beernem
17 Bart De Bondt (Bel) Noord West Brabant                                2.23
18 Rinze De Proost (Bel) DGR Cycling Team                                2.40
19 Sieën Veestraeten (Bel) Sport En Steun Leopoldsburg
20 Bert Noterman (Bel) Onder Ons Parike                                  2.51
21 Aloïs Mus (Bel) Reigerlo Beernem                                      2.58
22 Raf Risbourg (Bel) WAC Team Hoboken
23 Niels Meeusen (Bel) WAC Team Hoboken
24 Clint Van Droogenbroeck (Bel) TCH
25 Robin Poelvoorde (Bel) Brugse Velosport                               3.18
26 Simon Declercq (Bel) Avia Wielerteam Waasland
27 James Laureys (Bel) Demerspurters
28 Renzo Van Ree (Ned) WV Ede                                            3.37
29 Jelmer Snoeck (Bel) Oostende Noordzee
30 Karl Peeters (Bel) Dijlespurters
31 Francesco Van Coppernolle (Bel) Isorex Cycling Team                   1.04
32 Glenn Coenen (Bel) KWC Heistzuiderkempen
33 Dieter Peeters (Bel) Dijlespurters                                    4.15
34 Felix Wyns (Bel) Oostende Noordzee
35 Jelle Dejonghe (Bel) Molenspurters Meulebeke
36 Jens Van Den Bosch (Bel) Kempens Wielerverbond
37 Dieter Eyskens (Bel) DGR Cycling Team                                 4.32
38 Jordan Aerts (Bel) Steeds Vooraan Kontich
39 Joeri Hofman (Bel) De Sprinter Malderen                               4.42
40 Dylan Desruelle (Bel) De Zeemeeuw                                     4.49
41 Elias Van Breussegem (Bel) Onder Ons Parike                           5.45
42 Dylan Teuns (Bel) Sport En Moedig Genk
43 Wim Allary (Bel) Brugse Velosport
44 Jens Joosen (Bel) Hoboken Wac
45 Yoeri Bertels (Bel) DCM Cycling Team
46 Christophe Ysenbaardt (Bel) Hoboken Wac
47 Matthias Siracusa (Bel) Olympia Tienen
48 Jeffrey Mellemans (Bel) KZLWC St-Truiden
49 Mathias Van Holderbeke (Bel) Gentse Velosport
50 Martijn Lambrecht (Bel) Brugse Velosport
51 Koen Vandeput (Bel) Olympia Tienen
52 Ybe Van Dorpe (Bel) Jonge Renners Roeselare
53 Rutger La Haye (Bel) Edegem Bicycle Club
54 Jonas De Buyser (Bel) Reigerlo Beernem
55 Ken Ansloos (Bel) WAC Team Hoboken
56 Joris Tips (Bel) Balen BC
57 Dimitri Michielsen (Bel) WAC Team Hoboken
58 Giovanni Jacobs (Bel) KWV Turnhout
59 Kenneth Goossens (Bel) Jonge Rakkers Vollezele
60 Jordy Van Staeyen (Bel) Afdeling Antwerpen
61 Simon Oeyen (Bel) KW Turnhout

Past winners
2005 Sven Nys (Bel) Rabobank