Recently on Cyclingnews.com
Aurora Cross - C2
Aurora, Ontario, Canada, November 5, 2006
Reain and Sin triumph at Aurora cyclo-cross race
By Steven Fleck in Aurora
Mens Podium
Photo ©: Darko Antic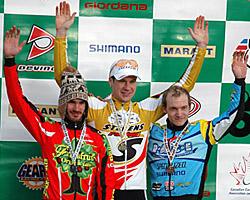 Today, in Aurora, Ontario, Canada's only UCI Cyclo-Cross race took place under ideal conditions. The racing was fast and furious on the technically demanding 3km loop course in Lambert Wilson Park that required impressive cycling fitness, outstanding bike handling ability and the acrobatic skills of a Cirque de Soliel performer to do really well. Putting all of this together and emerging with impressive wins were Greg Reain (Stevens Racing) and Amanda Sin (3 Rox Racing) with the first place spoils in the men's and women's senior elite races respectively.
Ottawa, Ontario native, Reain, was involved in a heated two way battle with Dan Timmerman who was visiting from upstate New York. These two riders quickly separated themselves from the main pack after the first lap of the 60 minute race. Reain and Timmerman were clearly the class of the field as they went wheel to wheel and shoulder to shoulder over hills, barriers, deep sand and mud on the Aurora cross course. On the final lap it appeared to be over for Zimmerman when Reain powered through the deep sand section without having to dismount for the entire stretch - the only rider on the day to do this. This gained the tall and long legged Reain a 20 metre lead, but Zimmerman quickly closed this gap down. Then on the final run up, on a steep hill, Zimmerman slipped and nearly fell, but was still able to gain Reain's wheel for the final sprint, which went in Reain's favour. "This is the best cyclo-cross course in Canada" said Reain after all was over. It was a great race against Dan. I thought I had him a couple of times on the last lap, but he kept coming back on me. Fortunately I had a bit left for a sprint". Taking third place in the men's race was Andrew Watson (Team R.A.C.E.) who was able to gap former Aurora cross champion Peter Morse (Jet Fuel Coffee) on the last lap.
In the women's race, Sin who hails from Sudbury, Ontario, took control for good after the 2nd lap of the 40 minute elite race. This was despite some spirited riding from Jennifer Stephenson (Team Biovail), who was one of the few riders, man or woman, who was able to power her bike up the steepest section on the course, without dismounting for a run-up. Sin was all smiles afterwards echoing Reain's words, "This was an amazing course, but very challenging at the same time. I had to work extremely hard all the way to the finish line". Rounding out the top three was Stephenson's Biovail teammate, Amanda Shaw.
Photography
For a thumbnail gallery of these images, click here
Images by Darko Antic
Results

Elite Male
 
1 Greg Reain (Stevens Racing Team)                                      55.09
2 Dan R. Timmerman Brooklin Center, MN)                                  0.01
3 Andrew Watson (Team R.A.C.E.)                                          0.58
4 Peter Morse (Jet Fuel Coffee)                                          1.16
5 Osmond Bakker (The Cyclery)                                            1.22
6 Aaron Fillion (Ottawa Bicycle Club)                                    2.01
7 David Coughlin (Racer Sportiff)                                        2.08
8 Nathan Chown (Cyclissimo Cycling Club)                                 3.00
9 Mike Garrigan (HB Cycling Club)                                        3.01
10 Derrick St. John (Ride With Rendall)                                  4.15
11 Kyle Douglas (3 Rox Racing)                                           4.41
12 Kevin Hazzard (McMaster CC)                                           6.44
13 Shawn Marshall (Barrie Cycling Club)                                  7.12
14 Cameron Jette (HB Cycling Club)                                       7.19
15 Zachary Winn (Impala Bicycles)                                        7.23
16 Erik Box (The Hub Bicycle Shop)                                           
17 John Roden (Shickluna - NY)                                           8.05
 
1 lap behind
 
18 Dave Brown (BikeSports Racing Team)                                       
19 Wai_Ben Wong (Frank`s Red Hot)                                            
20 Michael DeKelver (Ottawa Bicycle Club)                                    
21 Scott Kelly                                                               
DNF Colin Howard (Cyclissimo Cycling Club)                                   
DNF Gregg Germer                                                             
DNF Marco Li (Aquila Racing/Racer Sportif)                                   
DNF Jonathan Wood                                                            
DNF Badih Schoueri                                                           
DNF Nicholas Vipond (Ottawa Bicycle Club)                                    
DNF Stephane Marcotte (Cycle Solutions)                                      
DNS Robert Vanderwouden (The Hub Bicycle Shop)                               
 
Elite Female
 
1 Amanda Sin (3 Rox Racing)                                             45.42
2 Jennifer Stephenson (Team Biovail)                                     0.51
3 Amanda Shaw (Team Biovail)                                             1.50
4 Natasha Elliott (euro-sports.ca/KompressoKanada Cycling Team)          1.53
5 Laura Bowles                                                           2.56
6 Karen Watson (McMaster CC)                                             6.20
7 Denise Ramsden (TI Racing)                                             7.31
 
1 lap behind
 
8 Celine Dennis (Mississauga Bicycle Racing Club)                            
 
2 laps behind
 
9 Briana Illingworth                                                         
 
Master 30-39 Male
 
1 Neil Ross (McMaster CC)                                               43.02
2 Jon Barnes (Sport Swap Racing)                                         0.04
3 Stephen Heck (Sport Swap Racing)                                       1.43
4 Andrew Croutch                                                         2.01
5 Peter Mogg (The Hub Bicycle Shop)                                      2.30
6 Lorne Anderson (La Bicicletta / J Lindeberg)                           2.41
7 Kris Westwood (The Cyclery)                                            3.14
8 Rodney Merchant                                                        3.26
9 Richard Strong (King Street Cycles)                                    3.27
10 Pavle Stanojevic (BikeZone Racing)                                    3.30
11 Greg Palmer (CoachChris.ca / Ted Velikonja)                           3.34
12 Zachary Steinman (True North Cycles)                                  3.46
13 Chris Wood (True North Cycles)                                        4.21
14 Mike Foster (The Hub Bicycle Shop)                                        
15 Brian Haum (Pieriks / Elite Health)                                   4.46
16 Andrew Stewart (Project Freeride)                                     5.16
17 Cary Moretti (Project Freeride)                                       5.45
18 Chris Kiziak (BikeSports Racing Team)                                 6.36
19 Gary Serra (BikeZone Racing)                                          6.56
20 Jayson Baillie                                                        7.19
21 Joe Layno                                                             7.32
22 Joel Rose (Waterloo CC/The Flying Dogs)                               7.33
23 Darko Antic (Open Access / GRG Road Racing)                           8.17
24 Dave Scott (Waterloo CC/The Flying Dogs)                              8.27
25 Rory McDonagh (Pieriks / Elite Health)                                8.34
26 Donald Smith (Pieriks / Elite Health)                                 8.37
27 Roderick Olliver (Open Access / GRG Road Racing)                      9.17
28 Michael Mandel                                                        9.38
29 Clifford Vanclief (The Hub Bicycle Shop)                             10.36
30 Yohan Chung (BikeZone Racing)                                        12.02
 
1 lap behind
 
31 Sam Babe (Open Access / GRG Road Racing)                                  
32 Alex Sanna (Waterloo CC/The Flying Dogs)                                  
33 Jason May (Cyclissimo Cycling Club)                                       
DNF Doug Hinan (Peterborough Cycling Club)                                   
DNS Don Gain (Chain Reaction)                                                
DNS John McCormick (The Hub Bicycle Shop)                                    
DNS Ben Pye (Peterborough Cycling Club)                                      
 
 
Master 30+ Female
 
1 Carolyne Haill (Chain Reaction)                                       44.12
2 Karina Sacca                                                           0.02
3 Tabitha Ferguson (Waterloo CC/The Flying Dogs)                         1.21
4 Andrea Bacik (Mississauga Bicycle Racing Club)                         2.05
5 Kelly Kavanagh (Mississauga Bicycle Racing Club)                       3.17
6 Heidi Nixdorf (Rocky Mountain Business Objects : True North Cycles)    6.54
7 Prisca Natterer (True North Cycles)                                    7.48
8 Lesley Chown                                                           8.21
9 Maryclare Haley (Hamilton Cycling Club)                                8.44
10 Colleen Golding (Fly Gurlz)                                          12.46
 
1 lap behind
 
11 Catherine Adams                                                           
DNF Lisa Sharpe (Cyclissimo Cycling Club)                                    
DNS Lesley Bowles                                                            
 
Master 40-49 Male
 
1 David Dermont (True North Cycles)                                     44.20
2 Paul Greene (Chain Reaction)                                           0.01
3 Robert Orange (Ride With Rendall)                                      1.27
4 Adrian Jackson (Wheels of Bloor)                                       2.04
5 Mark Pagell                                                            2.22
6 Stuart Green (St. Catharines CC)                                       3.17
7 Peter Hennessy                                                         3.41
8 Roy Andrigo (Team H&R Block)                                           4.56
9 Hugh Hill (HB Cycling Club)                                            5.26
10 Terry Rice (Team H&R Block)                                           5.37
11 Pierre Perrin (D`Ornella`s / Delta Graphics Racing Team)              5.52
12 John Crumlish                                                         6.41
13 Len Harris                                                            8.41
14 Rick Meloff (La Bicicletta / J Lindeberg)                             9.51
15 David Flatman (Cycle Solutions)                                      10.23
 
1 lap behind
 
16 Anthony Whetham (Impala Bicycles)                                         
17 Eric Sanders                                                              
18 Ed Rieckelman                                                             
19 Matthew Vangelisti (Cyclepath Markham)                                    
20 Philip Renaud (Hamilton Cycling Club)                                     
DNF Garnett Abbey (D`Ornella`s / Delta Graphics Racing Team)                 
 
Master 50-59 Male
 
1 James Laird (TI Racing)                                               47.45
 
1 lap behind
 
2 Francis Morrow                                                             
3 Jeffrey Kielley                                                            
DNS Bill Buckley (Midweek CC)                                                
DNS Martin Kohn                                                              
 
Master 60+ Male
 
1 Rob Galbraith                                                         44.41
2 Jan Kocemba                                                            3.53
 
Junior Male
 
1 Zachary Hughes (The Hub Bicycle Shop)                                 47.51
 
Under 17 (15-16)
 
1 Jared Stafford (Cyclissimo Cycling Club)                              28.50
2 Bennett Winn (Impala Bicycles)                                         1.59
3 Charlotte Batty (The Urban Athlete /Sport Swap)                       30.20
DNS Kiernan Orange (Ride With Rendall)                                       
 
Under 15 (13-14)
 
1 Noah Summers (Newmarket Eagles CC)                                    33.07
DNF Luke Winn (Impala Bicycles)                                         12.34