N. American Trophy #7, Whitmore's Landscaping Super Cross Cup 1 - C1
Southampton, New York, USA, November 22, 2008
2007 results Stage List Preview Past winners
The Races
North American Trophy series concludes in the Hamptons
by Kirsten Robbins in Southampton, New York
Trebon looks to defend his series lead against Johnson
Photo ©: Bill McCarrick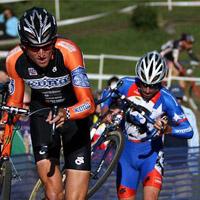 The finale of the North American Cyclo-cross Trophy (NACT) series is drawing near as the nation's top-notch riders prepare for the Whitmore's Landscaping Super Cross Cup held on Saturday and Sunday in Southampton, New York. Ryan Trebon (Kona) is currently leading the series with 270 points while Amy Dombroski (Velo Bella-Kona) leads the women's standings with 182 points. The series titles, however, are far from decided for both the men and women.
"Perhaps the biggest story right now is the number of people that are not mathematically eliminated from winning," said Race Director Myles Romanow regarding a stellar attendance of riders vying for the series title, points and cash. "There are 60 points [for first] per day and it really leaves a lot of room for both the women and men to change the rankings. Also, the trophies are super cool. No one knows what they look like and no one will until Sunday when the start of the women's race occurs. We'll drag it out as a perk to encourage them to grow a set, throw down, and kick some butt."
Strong contenders for the secret trophy include the reigning US national champion Tim Johnson (Cyclocrossworld.com), sitting just ten points behind Trebon, and his teammates Jeremy Powers and Jamey Driscoll. The current USGP leader Todd Wells (Team GT) and his younger brother Troy Wells (ClifBar) had strong performances at the previous weekend's Mercer Cup and will be pushing for another one-two punch. Other notable riders include Jesse Anthony (Jamis), Andy Jacques-Maynes (Specialized), Barry Wicks (Kona), Dan Timmerman (Reynolds) and Nicholas Weighall (Rad Racing).
On the women's side Dombroski has a 62 point lead ahead of the current USGP leader Georgia Gould (Luna), fresh off of double victories in the previous weekend's Mercer Cup. Gould will be accompanied by her teammate Katerina Nash. Other strong contenders include Sarah Kerlin (Rock Lobster), Rachel Lloyd (California Giant Berry), Wendy Simms (Kona), Kathy Sherwin (Velo Bella- Kona), Josie Jacques-Maynes (Specialized) and Sue Butler (Monavie-Cannondale).
Romanow and team have put together a championship-style course that incorporates relentlessly undulating terrain. "Our course is blazingly fast and super hard with long start stretches and hard grass," Romanow said. "Day one is a new course for us and day two will be the traditional course configuration everyone is used to. [There are] lots of places for fast guys to light it up and lots of room to attack."
The double-header weekend will mark the end of an eight-race series offering a $7,000 bonus to the top three men and women who have accumulated the most points over the duration of the series. According to Romanow, it is not just about the cash. "We offer more UCI points than any other series in America," said Romanow regarding the event's back-to-back C1 status. "Also, the Trophy offers more UCI points than any other series in the world outside of Europe."
The series combined eight of the most well-known cyclo-cross races in North America, all sanctioned under the UCI's 2008-09 calendar. It began in September at the FSA Star Crossed and Rad Racing GP and moved on to the Gran Prix of Gloucester, the Boulder Cup, ending with the Whitmore's Landscaping Super Cross Cup.
Start list
Coming!
Past winners
2007 Erwin Vervecken (Bel) Fidea Cycling Team           Katie Compton (USA) Spike
2006 Ryan Trebon (USA) Kona                             Lyne Bessette (Can) Cyclocrossworld.com