USGP of Cyclocross #4 - Mercer Cup - C1
West Windsor, New Jersey, USA, November 16, 2008
Main Page Results Overall standings Previous Race Next Race
Race 3 - November 16: Elite Women
Luna Chix dominate again
By Kirsten Robbins in West Windsor, New Jersey
Georgia Gould (Luna) makes it two wins
Photo ©: Dave McElwaine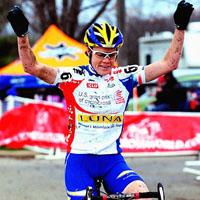 After exchanging the USGP series lead yesterday, Georgia Gould (Luna) and her team-mate Katerina Nash dominated the second day of the Mercer Cup in much the same fashion as the first. Gould made her winning move in the final half-lap to take a solo victory ahead of the Czech rider. Third placed Rachel Lloyd (California Giant Berry) brought her A-game running skills needed to take on the thick mud.
"The course was like glue today and every part of it was tough," said Gould. "It was very difficult and there was no 'just sitting around' today... it felt there was more running. Some of the flat and downhill sections were faster to run than ride this time, and it took a lot of luck and the right line to just plough through it all."
The second day of the Mercer Cup marked found four of the USGP series, with Gould's victory extending her series lead to 13 points. Nash trails her in second with 170 while Lloyd sits in third on 137 points.
Some 50 women lined up to start the women's 40-minute, three-lap event. Cold winds and overcast skies greeted the field ready to embark on a second attempt at conquering the glue-like mud, slipping and sliding or just plain sludging their way along. The mud partially dried much thicker than the day before, making the lines harder to calculate, while the injured list was long and the finishing list short. "I had to run a lot of the course but on the places where I could ride, I had to remember to power out of those sections really fast," said Lloyd. "I'd get a little gap and hold it for a while but then they'd bring me back. Richard kept saying I was the best bike handler here but I sure didn't feel like it today. Maureen and Wendy were riding really well."
The gun went off and familiar riders took their leading positions through the first half. Wendy Simms (Kona), Maureen Bruno Roy (Seven), Natasha Elliott (Stevens), Lloyd, Nash and Gould fought for better position by vying for the better lines through the muck. By the end of the first lap, Nash and Gould were on their way to fight for victory, forcing the remaining riders to compete for third.
Luna's Katerina Nash
Photo ©: Dave McElwaine

It was deja-vu after yesterday's proceedings as Nash and Gould took a sizable lead while Bruno Roy, Simms and Lloyd wrestled one another for third. The three chasers played a vicious game of cat and mouse; Roy using her running strength to gain ground, Simms and Lloyd using their technical strength and power to muscle their way to the front. "Maureen and Wendy were definitely running faster and every time I would pull away from them, they would catch me on the running parts," said Lloyd. "Watching Georgia at different races, I noticed that she takes big steps. In the middle of the race I remember what my boyfriend told me about running, to take bigger steps. So that's what I was thinking all the time - taking bigger steps."
Up ahead however, the leaders from Luna were making the battle for third seem rather distant. That didn't mean that Nash found the going easy, especially on the running sections. "The course involved a lot of running today but all in all it was very similar to yesterday," she said after the finish. "I don't train for running at all so on days like today it would definitely have helped. Georgia and I started a little further back, and it wasn't until the longer section over by the pits that we finally moved up. We worked together and took turns for most of it."
Gould surged multiple times on the second of three laps, forcing Nash to chase. The runner up fought bravely from behind but in the end Gould used her power through the sticky mud to gain a ten second advantage and a solo victory. Meanhile, further back, Lloyd gained the buffer she needed on the other two by picking good lines and taking giant leaps through the long running sections. With Lloyd safely across the line in third, Simms and Bruno Roy headed into a sprint for fourth.
"Maureen, Wendy and I haven't really raced together much," said Lloyd. "I prefer to be by myself so I can make mistakes, not bump into someone and be able to ride my own lines. When every one is together we just get so tangled up sometimes."
Photography
For a thumbnail gallery of these images, click here
Images by Todd Leister/leisterimages.com
Images by Mitch Clinton/www.clintonphoto.com
Images by Dave McElwaine/www.trailwatch.net
Results

1 Georgia Gould (Luna)                                             
2 Katerina Nash (Luna Women's MTB Team)                            
3 Rachel Lloyd (California Giant Berry Farms/Specialized)          
4 Wendy Simms (Kona)                                               
5 Maureen Bruno Roy (MM Racing p/b Seven Cycles)                   
6 Deidre Winfield (Velo Bella - Kona)                              
7 Josie Jacques-Maynes (Specialized/KMC p/b Cal Giant)              
8 Sue Butler (MonavieCannondale.com)                               
9 Natasha Elliot (EMD Serono/ Stevens)                             
10 Laura Van Gilder (C3 Sollay)                                    
11 Meredith Miller (California Giant Strawberries/ Specialized)    
12 Amy Dombroski (Velo Bella - Kona)                               
13 Sarah Kerlin (HRS/ Rock Lobster)                                
14 Kathy Sherwin (Velo Bella - Kona)                               
15 Kristin Wentworth (Planet Bike)                                 
16 Sally Annis (NEBC/Cycle Loft/Devonshire Dental)                 
17 Melanie Swartz                                                  
18 Nikki Thiemann (Human Zoom Pabst Blue Ribbon)                   
19 Anna Young (Planet Bike)                                        
20 Rebecca Wellons (Ridley Factory Team)                           
21 Patty Buerkle (Vanderkitten)                                    
22 Kristin Gavin (Human Zoom/Pabst Blue Ribbon)                    
23 Elizabeth Frye (Boone Velo)                                     
24 Anna Milkowski (Velo Bella-Kona)                                
25 Amy Wallace (Richard Sachs)                                     
26 Kaitlin Antonneau (Nova Cycle Sport Foundation)                 
27 Jennifer Maxwell (team kenda tire)                              
28 Vicki Thomas (Ottawa Cross)                                     
29 Diane Grim (C3-Sollay.com)                                      
30 Lauri Webber (Secret Henry's Team)                              
31 Julie Kuliecza (ALAN North America Cycling)                     
32 Perri Mertens (Embrocation Racing/Cambridge Bicycle)            
33 Kristy Swope (EPS/CSS/Riptide cycling'A')                       
34 Rebecca Blatt (Team Kenda Tire)                                 
35 Kristine Church (Human Zoom/ Pabst Blue Ribbon)                 
36 Marci Titus Hall (DeSalvo Custom Cycles)                        
37 Whitney Kroll (Cane Creek)

USGP standings

1 Georgia Gould (Luna)
2 Katerina Nash (Luna Women's MTB Team)                            
3 Rachel Lloyd (California Giant Berry Farms/Specialized)