N. American Trophy #7, Whitmore's Landscaping Super Cross Cup 1 - C1
Southampton, New York, USA, November 22, 2008
Main Page Results Overall standings Next Race
Race 1 - November 22: Elite Women
2008 Whitmore's Landscaping Super Cross Cup Day 1
Gould victorious in New York, Dombroski holds NACT lead
By Kirsten Robbins in Southampton, New York
Georgia Gould (Luna Women's MTB) took the win
Photo ©: Dave McElwaine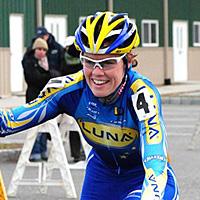 Georgia Gould (Luna) soloed into her third consecutive victory at the Whitmore's Landscaping Super Cross Cup. Second place went to former Canadian national champion, Lyne Bessette (Cyclocrossworld.com) who came out of retirement for one weekend of play. The runner up sprinted ahead of her fellow Canadian Natasha Elliott who placed third.
"I'm excited to support a race like this because it offers equal prize money and I think it's important to support that," said Gould who took on the UCI in 2007 with a petition for equal prize money for female cyclists. Nearly 3,500 supporters signed it. "I also think the NACT is a great series and I would be really happy to win the overall."
Amy Dombroski (Velo Bella- Kona) sits atop the series standings with 198 points, 18 points ahead of Gould's 180. Sue Butler (Manavie-Cannondale) is sitting in third place with 125 points.
"It's so good to have more events taking place," said Gould who missed the first two events due to other obligations. "I couldn't make it to the first couple of events. And then Gloucester weekend conflicted with Cincinnati weekend, an event that offered equal prize money and I wanted to support that one. Plus, Katie [Compton] was there and I don't get to race her that often.
Whitmore's Landscaping Super Cross Cup mark rounds 8 and 9 of the NACT series. Frigid sub zero temperatures and gusting winds might have deterred the nations top 'crossers from lining up. However, C1 points, a secret trophy and a $7,000 bonus (equal to the elite men) were just three of many good incentives that lured the riders out of their heated cars and their blood pumping on the start line.
Some 30 riders lined up to compete in the women's 40 minute event. Race director Myles Romanow, owner of the well-known WildThyme restaurant, bargained with Bessette to consider making a one-time return to the sport in return for some fine wine and a chance to spend time in the kitchen with a gourmet chef.
"I've always liked to cook and I'm always making up recipes and trying new stuff at home," Bessette said. "It always turns out pretty good. When Myles asked if I would come out of retirement for his race, I told him that we were going to have to talk. I don't want to learn anything specifically. I just want to be in the kitchen with a chef and see what goes on."
Butler used her impressive mountain bike skills to take the early lead up the first steep climb and through the tough single track. Elliott tried to bridge across to the solo rider with Maureen Bruno-Roy (Seven) in tow. Butler's initiation caused gaps to open on the first lap and seconds accumulated between riders like Gould, Deidre Winfield (Velo Bella-Kona), NACT leader Dombroski and Bessette.
Bessette out of retirement for a weekend
Lyne Bessette was racing well for a retired athlete
Photo ©: Dave McElwaine

Bessette retired from the sport of cycling after a stellar career in both road racing and cyclo-cross. However, despite taking one year off, the 34-year-old proved to be in tip-top shape moving from the back of the race and into a position to contend the win in just two laps. "I was the very last person to be called to the line," Bessette laughed. "I told the girl beside me I was going to turn around and look behind me, that way it felt like I had a front row start. I don't have pressure here and when you have no stress, the flow is better. I had a really great time out there."
On the second lap, the front of the race started to merge back together to include Elliott, Bruno-Roy and Butler. Elliott attacked the leaders before riders like Gould and Bessette were able to claw their way back up toward the front. "The course was not forgiving at all and the wind was so strong and always in your face today," said Elliott. "I could hear the announcer saying that Lyne was coming and I felt a little star struck for a moment."
Gould admitted that she had a slower start than normal but she was able to successfully make her way back on to Elliott's wheel and nearly simultaneously make her winning move. The chase group lost Bruno-Roy to a mechanical but gained Bessette before the end of the third lap. "I don't know what I was doing or where my brain was at the start because I was chatting with someone and then the gun went off and I was in seventh place. It took me about a lap and half to get back up there and I opened up a gap on the single track stuff."
Gould powered her way off the front and gained several seconds each lap. Her flawless riding style and consistent time accumulation proved unmatched as she rode in with a victory salute. Behind, Bessette took the lead over a steep climb. Her efforts were strong enough to shed Butler from the chase but Elliot held strong until they reached a section of course that suited her ability.
"I think I was riding a little bit better through the technical sections," Elliott said. "I would always open a gap on Lyne down the steep off camber descent but she was able to bring me back on the flat sections. I think her experience really caught me in the end. She got away from me on the last lap and I was working really hard to catch her. She looked back and saw me coming and attacked in that moment. It was fun racing with her. It was a good gage for me to see how far I've come along and she commented on that after the race. It was really nice to hear from her."
The Whitmore's Landscaping Super Cross Cup C1 will return for round two on Sunday November 23rd. The event will mark the final race of the NACT series where Myles Romanow will present a secret trophy to the winner. "The trophies are super cool," said Romanow. "No one knows what they look like and no one will until Sunday when the start of the women's race occurs. We'll drag it out as a perk to encourage them to grow a set, throw down, and kick some butt."
Photography
For a thumbnail gallery of these images, click here
Images by Dave McElwaine/www.trailwatch.net
Results

1 Georgia Gould (USA) Luna Chix                               37.17 (23.33 km/h)
2 Lyne Bessette (Can) Cyclocrossworld.Com                      0.22
3 Natasha Elliot (Can) Emd Serono/Stevens                      0.28
4 Susan Butler (USA) Monaviecannondale.Com                     0.35
5 Laura Van Gilder (USA) C3 Sollay                             0.43
6 Deidre Winfield (USA) Velo Bella - Kona                      1.16
7 Maureen Bruno Roy (USA) Mm Racing P/B Seven Cycles           1.36
8 Amy Dombroski (USA) Velo Bella - Kona                        2.09
9 Barbara Howe (USA) Www.Barbrides.Com                         2.33
10 Kathy Sherwin (USA) Velo Bella - Kona                       2.57
11 Sally Annis (USA) Nebc/Cycle Loft/Devonshire Dental         3.10
12 Rebecca Wellons (USA) Ridley Factory Team                   3.47
13 Sarah Kerlin (USA) Hrs/ Rock Lobster                        4.09
14 Cris Rothfuss (USA) Nebc/Cycle Loft/Devonshire Dental       4.43
15 Anna Milkowski (USA) Velo Bella-Kona                        5.03
16 Kristin Gavin (USA) Human Zoom/Pabst Blue Ribbon            5.08
17 Linnea Koons (USA) International Bicycle/Global             5.44
18 Carolyn Popovic (USA) Team Cicle                                
19 Heidi Von Teitenberg (USA) C3-Sollay.Com                        
20 Jennifer Maxwell (USA) Team Kenda Tire                      6.30
21 Callie Mcdowell (USA) Boston University / Scantily Plaid    6.43
22 Nikki Thiemann (USA) Human Zoom Pabst Blue Ribbon           7.43
23 Kristine Church (USA) Human Zoom/ Pabst Blue Ribbon             
24 Marci Titus Hall (USA) Desalvo Custom Cycles                    
25 Elizabeth Harlow (USA) C3-Sollay.Com                            
DNF Josie Jacques-Maynes (USA) Specialized/Kmc Pb Cal Giant        
DNF Amy Wallace (USA) Rgm Watches - Richard Sachs - Boathouse Inc