N. American Trophy #7, Whitmore's Landscaping Super Cross Cup 1 - C1
Southampton, New York, USA, November 22, 2008
Main Page Results Overall standings Previous Race
Race 2 - November 22: Elite Men
Trebon takes Whitmore's Cup and an early NACT victory
By Kirsten Robbins in Southampton, New York
Ryan Trebon (Kona) wins by a huge margin.
Photo ©: Dave McElwaine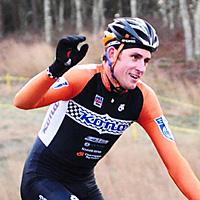 Ryan Trebon (Kona) proved to be back on form when he soloed in to a sizable win at the Whitmore's Lanscaping Super Cross Cup. The race for second place dwindled down to a two-man sprint that saw Jeremy Powers (Cyclocrossworld.com) nip Todd Wells (GT) at the line. Trebon's win earned him enough points to solidify an early overall victory of the North American Cyclo-Cross Trophy (NACT), one day in advance of the series' finale.
"I had been sick for a while and just didn't get a lot of training in the other weeks," Trebon said. "I got four good days of training in this week, which was great. I generally don't feel good unless I'm training during the week before the race. When you get sick you can still race but you just start to go downhill. Even though I had power, I wasn't able to use it. Today I definitely felt better."
Trebon accumulated a total of 330 points, an unbeatable 70 point advantage ahead of Tim Johnson's (Cyclocrossworld.com) 260 and a large 150 points ahead of third placed Powers who has 180. The NACT series' runner up, Johnson was sitting just ten points behind Trebon at the start of the day. However, a knee injury rendered the US national champion unable to start the race and out of contention for the overall series win.
"Tim not starting today meant that I automatically took the series victory," said Trebon. "I'm super happy to have locked up the NACT, it means a lot to me to win a series. But, it's not just about winning a series, it's nice to be actually winning races again."
Whitmore's Landscaping Super Cross Cup marks rounds 7 and 8 of the NACT series. Frigid sub zero temperatures and gusting winds might have deterred the nations top 'crossers from lining up. However, C1 points, a secret trophy and a $7,000 bonus were just three of many good incentives that lured the riders out of their heated cars and their blood pumping on the start line.
Event director, Myles Romanow and his team put together a championship style course that incorporated relentlessly undulating terrain, hard packed and frozen solid. "Our course is blazingly fast, and super hard," Romanow said. "Long start stretches, hard grass. There were lots of places for fast guys to light it up, lots of room to attack."
Andy Jaqcues-Maynes (Specialized) and Jamey Driscoll (Cyclocrossworld.com) were the powerful starters who nabbed the hole shot from the pavement onto the grass. However the eventual race winner, Trebon wasted no time working his way into the front position, causing a heap of damage behind him.
Trebon aggressive early
Jeremy Powers (Cyclocrossworld.com) finished second
Photo ©: Dave McElwaine

Jacques-Maynes was the first to respond to Trebon's aggressive surges and quick bike handling through the technical terrain. It was not long before Powers and Troy Wells (Clifbar) bridged across and another chase group formed from behind that included the elder Wells brother, Driscoll and Jesse Anthony (Jamis).
Trebon took advantage of his good health, after a bout of sickness last week, and continued to apply pressure to the group of riders that clung to his wheel. The 6'4, long limbs powered away from his companions on the third of 10 laps. His effort was timed to perfection, escaping before Todd Wells was able catch back up after a slower than normal start.
"I was really, really cold today," said Powers. "I was trying to keep the pace going as hard as I could. I wanted to avoid racing against Todd and Troy today. Even though it wasn't for the win, it was still important for me to race as hard as I can until nationals. I didn't want to play games. I wanted to ride hard and not waste energy on the windy sections by being on the front."
Trebon's technique looked almost effortless despite the biting cold and sections of ice, laden under grassy and off chamber sections, where other riders bobbled and slowed. He gained a substantial advantage, a safe 30 seconds, ahead of a chase group of five riders behind him. The chase included Jacques-Maynes, the younger Wells and Powers and gained the strength of the elder Wells and Anthony.
Todd Wells (GT)
Photo ©: Dave McElwaine

"We were about evenly matched out there," said Wells, who put forth the effort needed to shatter the chase group on the last laps. "I wasn't feeling very good at the start, maybe because of the cold weather or something. It effects me a little more than some of the other guys. It takes me a while to get going. Trebon was gone before I got up there and we ended up racing each other more than trying to catch him."
The addition on Wells to the chase group added horse power to the bunch but the tactics surrounding who would take charge in the wind may have hindered the overall goal of catching the leader. "I kept pushing the pace through the pavement and in the woods and recovered in the turns," Trebon said. "I was riding flat out in the wind. The other guys were sitting up slightly because they didn't want to pull each other around in those harder parts."
The Whitmore's Landscaping Super Cross Cup C1 will return for round two on Sunday November 23rd. The event will mark the final race of the NACT series where Myles Romanow will present Trebon with the secret trophy. "The trophies are super cool," said Romanow. "No one knows what they look like and no one will until Sunday when the start of the women's race occurs. We'll drag it out as a perk to encourage them to grow a set, throw down, and kick some butt."
Photography
For a thumbnail gallery of these images, click here
Images by Dave McElwaine/www.trailwatch.net
Results

1 Ryan Trebon (USA) Kona/FSA                                         1.00.36 (25.84 kmh)
2 Jeremy Powers (USA) Cannondale/Cyclocrossworld.Com                    0.49
3 Todd Wells (USA) Team GT                                              0.53
4 Andy Jacques-Maynes (USA) Specialized/Kmc Pb Cal Giant                1.00
5 Troy Wells (USA) Tiaa-Cref/Clif Bar                                   2.04
6 Jesse Anthony (USA) Team Jamis                                        2.14
7 Jamey Driscoll (USA) Cannondale/Cyclocrossworld.Com                   3.33
8 Matt White (USA) Bikereg.Com / Joe's Garage                           3.51
9 Erik Tonkin (USA) Kona                                                3.53
10 Derrick St. John (Can) Stevens Cyclocross                            4.26
11 Justin Spinelli (USA) Rgm Watches - Richard Sachs - Boathouse Inc    4.54
12 Brian Matter (USA) Gear Grinder                                      5.10
13 Sean Babcock (USA) Team S&M                                          5.14
14 Adam Myerson (USA) Cycle-Smart/Van-Dessel                            5.22
15 Nathaniel Ward (USA) Bikereg.Com / Joe's Garage                      5.28
16 Andrew Wulfkuhle (USA) C3-Sollay.Com                                 5.41
17 Matt Kraus (USA) Rgm Watches - Richard Sachs - Boathouse Inc         5.55

One lap behind
18 Nicholas Keough (USA) Sonic/ Louis Garneau                               
19 Ryan Iddings (USA) Lapierre Usa                                          
20 Guillaume Nelessen (USA) Van Dessel Factory Team                         

Two laps behind
21 Zoltan Tisza (Hun) Pnivo-Betonexpressz 2000                              
22 Peter Bradshaw (USA) Embrocation/Igleheart/Cambridge/Mad Alchemy         
23 Giancarlo Dalle Angelini (USA) Team Redline                              

Three laps behind
24 Christopher Consorto (USA) Henrys Bikes                                  
25 Nicholas Shaffer (USA) Human Zoom/ Pabst Blue Ribbon                     
26 Patrick Bradley (USA) Rutgers University Cycling Team                    
27 Rickey Visinski (USA) Exodus Road Racing                                 
DNF Davide Frattini (Ita) Colavita Sutter Home P/B Cooking Light            
DNF John Brewer (USA) Haymarket Bicycles P/B Function Drinks                
DNF William Dugan (USA) Rgm Watches - Richard Sachs - Boathouse Inc         
DNF J.P. Partland (USA) Kissena Cycling Club                 

Masters men 55+

1 Steven Kane (East End Cycling Team/Kreb Cycle)                49.38
2 Douglas Adams (MosaicSmalti.com)                                   
3 Richard Sachs (RGM Watches - Richard Sachs - Boathouse Inc)        
4 Robert Perna (Beans Bikes)                                         
5 Michael Holcomb                                                    
6 Keb Abramson