Recently on Cyclingnews.com
Introduction to Track Racing - What's a Wheelrace? - Introduction to Six Day racing - UCI codes
Track World Cup Round 3 - CDM
Moscow, Russia, May 31 - June 2, 2002
Schedule
Day 1 - May 31: May 31: Men's Points Race, Men's 4000m Individual Pursuit, Men's 1000m Team Sprint, Women's 3000m Individual Pursuit, Women's Keirin Qualifying, Men's Keirin Qualifying
Day 2 - June 1: Men's Team Pursuit Men's/Women's Scratch Race, Women's 500 m TT, Men's/Women's Keirin, Men's 4000m Individual Pursuit
Day 3 - June 2: June 2: Men's 1000m TT, Women's Points, Men's Madison, Men's/Women's Sprint
Day 3 - June 2
Men - 1000m time trial

1 Sören Lausberg (Ger)                 1.01.75
2 Andrei Vynokurov (Ukr)               1.02.45
3 Jamie Staff (GBr)                    1.02.53
4 Hervé Gane (Fra)
5 Grzegorz Krejner (Pol)
6 Theo Bos (Ned)
7 Amed Lopez (Cub)
8 Keiichi Omori (Jpn)
9 Martin Polak (Cze)
10 Martial Heer (Swi)
Olga Slioussareva wins the Points Race in the Track World Cup
Report courtesy of Walter Brambilla, Team Itera
Olga on fire in the pointscore at the 2001 Worlds
Photo: © Mike Gladu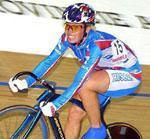 Olga Slioussareva proved her supremacy in the points race on the third day of the Track World Cup in Moscow. The blond Russian athlete, who is the current World Champion in the pointscore, placed second on the first day in the Women's 3000m Individual Pursuit to Leontien Zijlaard-Van Moorsel with a time of 3'33"06.
On Sunday, the third and final day, Slioussareva imposed her authority in her preferred speciality, the points race, ahead of Neringa Raudonyt (Lithuania) Australian Katherine Bates. This reconfirms her world title she won in the points race last year.
Olga Slioussareva's objectives for the rest of the season include her preparation on the road for the world championships in Zolder.

Women's Points Race
 
1 Olga Slioussareva (Rus)                   44 pts
2 Neringa Raudonyte (Ltu)                   18
3 Katherine Bates (Aus)                     18
4 Teodora Ruano Sanchon (Spa)
5 Natalia Karimova (Rus)
6 Lada Kozlikova (Cze)
7 Giorgia Bronzini (Ita)
8 Jianling Wang (Chn)
9 Adrie Visser (Ned)
10 Rochelle Gilmore (Aus)

Men's Madison

1 Austria
2 Switzerland
3 Australia
4 Germany
5 France
6 Kazakhstan
7 Slovakia
8 Czech Republic
9 Venezuela
10 Italy

Men's Sprint

Final rankings

1 René Wolff (Ger)
2 Lukasz Kwiatkowski (Pol)
3 Florian Rousseau (Fra)
4 José Antonio Villanueva Trinidad (Spa)
5 Sean Eadie (Aus)
6 Peter Bazalik (Svk)
7 Pavel Buran (Cze)
8 Jeffrey Labauve (USA)
9 Andrei Vynokurov (Ukr)
10 Matthias John (Ger)

Women's Sprint

Final rankings

1 Natalia Tsylinskaya (Blr)
2 Svetlana Grankovskaia (Rus)
3 Tamilia Abassova (Rus)
4 Irina Janovich (Ukr)
5 Katrin Meinke (Ger)
6 Daniela Larreal (Ven)
7 Jennie Reed (USA)
8 Lyudmyla Vypyraylo (Ukr)
9 Na Li (Chn)
10 Kathrin Freitag (Ger)


World Cup standings after round 3
Coming!