2006 UCI Track Cycling World Championships - CM
France, April 13-16, 2006
Main Page Results Previous Stage Next Stage
Day 2 - April 14: Men's individual pursuit qualifying & finals; Men's keirin 1st round, repechages, 2nd round, 7 to 12 & final; Men's kilometre TT final; Women's points race 10 km qualifying & 25 km final; Women's sprint 200m qualifying, 1/16 final, repechage, 1/8 finals, 1/4 finals & 5th to 8th
Joy for Hoy as Carrara goes back-to-back
By Mal Sawford in Bordeaux
Women's points race
Vera Carrara (Italy)
Photo ©: Mitch Friedman
Vera Carrara (Italy) successfully defended her world title tonight, with a late attack to draw level on points with early leader, four time winner Olga Slyusareva (Russia). Her win in the final sprint gave her the title, although it took a few minutes for officials to confirm the result. The twenty-two rider field raced very aggressively from the outset, with nine riders still in contention until Carrara's winning move.
Adrie Visser (Netherlands) was the first to attack, four laps before the second sprint, and quickly built a half lap lead. After picking up the points for the third sprint, she seemed certain to stay clear for the next before pursuit winner Sarah Hammer (USA) took up the chase and quickly towed the bunch back up to the leader. Gina Grain (Canada) was next to try, but soon after sat up and returned to the bunch. "It was one of those days when you've got to have all of your cards right and I was missing a king and queen! I didn't have the legs for it today," she said afterwards.
Soon after Grain's effort, Carrara rolled off the front, quickly joined by Slyusareva, Maria Calle Williams (Colombia), Yoanka Gonzalez Perez (Cuba), Gema Pascual Torrecilla (Spain) and Pascale Schnider (Switzerland). Lada Kozlikova (Czech Republic) and Elizaveta Bochkaryova (Ukraine) gave chase, with Kate Bates (Australia) and Nikki Harris (Great Britain) also tacking on after solo chases. Schnider couldn't hold the pace, but the other eight riders combined to take a lap out of the field.
Slyusareva was rarely out of the points in the middle stages, and took maximum points at 40 laps to go to move into the lead. Harris jumped away again with twenty-five laps to go, but the effort proved too much, and she was unable to stay with the bunch after Hammer reeled her in, and lost the lap she had gained. When another group tried to go clear soon after, Slyusareva moved to the front to protect her lead, but couldn't respond when Carrara hit out hard at fourteen laps to go.
The Italian's attack was decisive, and she came close to lapping the bunch again, forcing Slyusareva to once again lift the pace to keep her at bay, but nothing could stop Carrara taking the final five points she needed to clinch the win. Both riders finished with 35 points; under current rules no count back applies, ties are broken by the order in which riders cross the line in the final sprint, so the win was a delighted Carrara's. "The first world title was very, very hard; but it was almost impossible to win for a second time," she said through a translator. "It was an emotional moment for me. The President of my first club, who was like a father to me, passed away last week, and my gesture [Carrara raised her arms skywards after she crossed the line] was to dedicate the win to him."
Russia's Olga Slyusareva
Photo ©: Mitch Friedman

Slyusareva saw her second silver medal as another missed opportunity. "It was so close to a win, just like yesterday, the same! It was close all through the race, but then I lost the system of the points, and I could not see the rankings on the scoreboard [the scoreboard results were often a little slow to recognise which group was leading the race at any time], and I was not sure who to watch anymore."
The bronze went to Pascual Torrecilla ahead of Gonzalez Perez courtesy of the Spanish rider's third place in the final sprint. Bates finished just out of the medals in fifth place after showing signs of strength during the race, but was often caught out of position at the back of the bunch when the bunch split. "I think the look you see on my face is me in 'the box'. I'm a bit of a mess right now," she said after her warm down. "I'm a bit frustrated with myself; I mean physically I think I had nothing more tonight, but in saying that I probably could have made more of an opportunity. I guess I should have been prepared to lose the race to win the race, and I don't think I was. I went out there and rode a little bit negatively, I wasn't really confident with how I was feeling and I think that's a really silly way to ride a bike race and I never had a chance. God, I'm committed to hanging around until I win one of these jerseys. I don't know how long it will be, but hopefully before I'm a grandma!"
Bates resolved to be aggressive when she tackles the scratch race on Sunday. "Anything can happen. Maybe I'll take that risk that I didn't take tonight and if I end up last, at least I'll get off the track a little bit more satisfied than I am tonight.
Women's sprint quarter finals
Natallia Tsylinskaya moved into the semi finals after two straightforward rides against Dana Gloess, while Guo was also far too strong for Jennie Reed. Vicky Pendleton won her first ride comfortably against Simona Krupeckaite, and looked to be heading through before Krupeckaite evened the score with an unanswered attack at the bell in the second heat. The final heat was extremely close, with Pendleton fighting hard to come around the outside, and just getting her wheel in front at the line.
The final heat also needed a deciding round, after Guerra and Sanchez split the first two races. Both unfolded in a similar fashion, with the rider forced to lead off unable to match the attack from behind. The decider went Sanchez' way, after she forced Guerra into the lead with a trackstand, and then powered past on the final lap.
Men's individual pursuit finals
Great Britain's Paul Manning took the bronze medal, with a dominant performance against Fabien Sanchez. Manning's time was four seconds quicker than his qualifying ride, and just as Mactier had done in the women's event, the bronze medallists time would have won him the gold. Manning was obviously disappointed not to race for gold, saying "I guess looking at the times I am, but you got to be there, haven't you? I was fairly confident [tonight]. I knew I could address what I did slightly wrong this morning, and that would give me a quicker time, and I always back up well, and I'm really pleased with the way I rode it."
The gold medal match was a neck and neck affair between Jens Mouris (Netherlands) and Robert Bartko (Germany). Only a fraction of a second separated the pair at 3500 metres, but Bartko pulled away in the final few laps to claim his third win – the others coming in 1999 and 2005. Bartko revealed that he had been happy to let Mouris dictate the pace. "I go the first three k's a little bit easier, just to match Mouris, but then I wanted to go faster for the last k and that was ok." While he was confident this was the best tactic, Bartko new he would still have a tough battle on his hands. "I can't go into a race thinking I am going to win. Every rider has a special tactic, and every race is a new race."
Men's keirin
Theo Bos (Netherlands)
Photo ©: Mike Gladu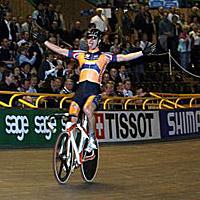 With two riders from France and two from the Netherlands in the six-rider field, the keirin final was expected to be a tight tussle, but Theo Bos had other ideas. He shot from the rear of the pack with two laps to go, and won by a massive margin. "With two French riders to beat, I knew I had to surprise them, and I did, so it was good. I focussed on my jump and it was unbelievable. My plan was to go with two laps to go and I know it was hard to pass the whole group, I hoped to be in third or fourth place when the pacer swung off, then it would have been a little bit easier. But I had to pass four people, so I knew it was going to be very hard, but at the right time I go, and I didn't pace myself anymore, I just go full gas, 100 percent and with one and half laps to go I still go flat out and I didn't expect a huge gap like that, it's a good feeling. The gap was so big, I couldn't believe it, I was so far ahead, I could even look behind me!"
The silver medal went to José Antonio Escuredo, who held off a late charge from Arnaud Tournant. The French star was delighted to pick up his second medal, saying "This brings back memories of the world championships that were here in '98. I got two medals there, and I'm already up to two medals here, so we'll see if tomorrow I can make it three."
Tournant also said he has a lot of respect for Bos. "What he did this evening - simply hats off. It's the best performance I've seen in a very long time. He rode tactically extremely smart: took the right tactic at the right time. The door was open and he went for it." While cooperation with his team mate Mickael Bourgain might have made things harder for Bos, Tournant said that it simply wasn't an option. "We don't ride as team in the final, because it's not our style, it's not the mentality of the French sprinting and because it's an individual sport."
Men's kilometre time trial
Chris Hoy (Great Britain)
Photo ©: Mike Gladu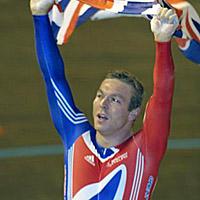 In what may well be his last ever 'kilo', Chris Hoy went out with a bang, claiming his third title only weeks after a lacklustre third place at the Commonwealth Games. Young French rider Francois Pervis had set the early time to beat, with a 1.02.696, all the more impressive given recent injury troubles. "I only started training again on January 2nd. We went to a training camp in Guadeloupe, so I really didn't do any weight training specifically for this" he said.
The phenomenal crowd support all the French riders have received had a big impact on Pervis. "I buried myself, and I gave it all I had. It came from deep down within. I come from a town of only 800 people, and there are 100 of them here tonight, so I really pulled it out for them. It's a better feeling than Athens, because it was here in front of my public."
Pervis' time stood until Australia's Ben Kersten turned in a very respectable 1.02.085, but Kersten knew he hadn't done well enough. 'I'm not happy, not really, but realistically, even if I'd done the best time I could do by the looks of it I still would have come second anyway. I'm just upset I didn't do a good time, but I guess too much energy went into our Games, and I peaked at the right time for that, and Chris peaked at the right time for here, so it's one each I guess."
The final starter, Hoy led at every time check, eventually finishing over half a second clear to a roar from the crowd almost as loud as those reserved for the locals. "It's hard to explain how much this means to me," Hoy said after the medal ceremony. "I've had a really up and down year, and you know the Commonwealth Games was a big disappointment, so to have a second chance here, I didn't want to miss that. I gave it absolutely everything, and I knew if someone was going to beat me here tonight they'd have to go pretty well to do it.
Ben's a fantastic competitor, and he did the best ride in Melbourne, and I knew it would take a special ride to beat him tonight. I just wanted to do myself justice, and my family and the coaches - everybody who has supported me through the hard bits as well as the good bits. I'm absolutely ecstatic." Despite his determination to go out with a bang, Hoy was determined to "treat it like any other race, and not let any distractions creep in and spoil my focus. I just try and break each part of the race down into components: I knew that the problems I had in Melbourne was that I didn't carry the acceleration right through into the second lap, so tonight I just tried to go as hard as I could right through until the end of the 500 and then hang on. The last lap seemed to go for ever, but when I heard the cheer I knew I'd won it."
For both the gold and silver medallists, Bordeaux may well have marked the end of the 'kilo' careers, although neither would categorically rule out climbing into the starting gate again. "My best chance of a gold medal in Beijing is going to be the team sprint, so I'm going to focus 100 percent on that. If it means I've got a little bit of energy left to do a kilo then who knows, but at the moment I don't plan to ride it again" was Hoy's answer, and Kersten is clearly thinking along similar lines. "I guess whole heartedly, if it fits in with the programme, and I'm at a world championships and they still have it then I might have to go for it. But I have to train for other things now to try and go to the Olympics. I can't help riding as many events as I can fit into a program, but I won't focus as much on it."
While the two biggest names were ending their association with one of the toughest tests in cycling, new riders continue to take up the challenge, including young Aussie Joel Leonard, who made his first appearance at a major competition. While a little disappointed with his ninth place finish, Leonard has enjoyed the experience. "It felt good, good build up, we had a good training couple of weeks in Adelaide before we came across here. I'm just excited to go to the worlds full stop! I felt good in the warm up, and also the days leading up. On the line, everything was spot on, felt good all through the kilo, but when I looked up and saw how I went, I was a bit shocked with how I went. It wasn't what I expected, but the experience is just really good."
Morning session wrap-up
Women's sprint qualifying
Natallia Tsylinskaya (Belarus)
Photo ©: Mitch Friedman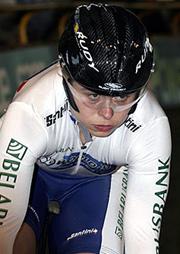 As she had in the 500 metre time trail, first year senior rider Lisandra Guerra Rodriguez (Cuba) belied her ranking, setting an impressive opening qualifying time of 11.428. None of the next nine riders came close to Guerra's time, until Simona Krupeckaite's (Lithuania) 11.365. French star Clara Sanchez and Elisa Frisoni (Italy) both came close to Krupeckaite's time, with China's Shuang Guo more successful with her 11.268. Time trial winner Natallia Tsylinskaya made all the women look sluggish, however, when she came close to breaking the 11 second barrier, stopping the clock in 11.052, a time that neither of Australia's Meares sisters, Tamilia Abassova (Russia) or defending champion Victoria Pendleton (Britain) could get close to.
The top four qualifiers were rewarded with byes, with the remaining riders into the 1/16 rounds. Guerra, Pendleton, Christin Muche (Germany), Dana Gloess (Germany) and Frisoni had relatively easy wins, while Lei Zhang (China), Jennie Reed (USA) and Anna Meares had to work a little harder to come out on top.
In the 1/8 round, of the top seeds, Tsylinskaya was untroubled by Meares, who commented later that "she came past me like a train", and Sanchez rode away from Reed. Also moving into the quarter finals were Guo, who just held off a late charge from Muche; Krupeckaite who came out on top after a last lap drag race with Gloess; Guerra who looked very impressive when she surged past Zhang, and Pendleton who was in a different class to Frisoni.
Reed made amends in the repechage round, riding strongly from the front to hold off Frisoni and Meares to progress. The final rider to move through was Gloess, who just held off her teammate after Zhang had made the early running.
Men's Individual Pursuit qualifying
French rider Damien Monier was the first under four and a half minutes for the four kilometres; his time of 4.27.042 would eventually be good enough for eighth. Next to impress was Mark Jamieson, who lowered his Commonwealth Games performance by an impressive five seconds: but his 4.25.273 saw him miss the medal round in fifth position.
Racing for bronze will be Paul Manning (Britain), who missed the main final by just over a tenth of a second, and local hope Fabien Sanchez. The gold medal match sees world cup overall champion Jens Mouris (Netherlands) take on defending champion Robert Bartko (Germany). Bartko set the fastest time of 4.23.115 and has a chance to claim his third win in the event since 1999.
Men's keirin
Keirin action
Photo ©: Mitch Friedman

Dutch Defending champion Teun Mulder moved easily though to the second round of the keirin, after 2001 champion Ryan Bayley (Australia) was forced to make his move a long way from home in the opening heat. Mulder cruised past in the final bend, with an equally patient Jamie Staff on his wheel, sending the Olympic champion to the repechage.
Theo Bos matched his teammate's effort by winning the second heat, after backing off early leader Mickael Bourgain a lap and a half from home, before making his move just before the final bend. Travis Smith (Canada) held Bos' wheel, and both passed Bourgain in the home straight to move through.
French 'veteran' Arnaud Tournant was awarded the win in the third heat after crossing the line second three lengths behind Jamaican Ricardo Lynch. Lynch fell foul of the commissaires at the Melbourne Commonwealth Games in the sprint rounds, but was relegated here for diving past the bunch on the duck boards, promoting third placed Jose Escuredo into the second round.
The final heat saw lanky Matthew Crampton (Great Britain) lead out strongly once the derny swung off. He wasn't able to hold off Rene Wolff (Germany) in the final bend, but had done enough to claim second and move through.
Roberto Chiappa won the first of four repechage rounds, by keeping Bayley on his hip for the last lap after young Aussie Shane Perkins had set the early pace. Bourgain took the second heat after flying past Shane Kelly (Australia) at the bell. In the third heat, Cedric Stoller (Switzerland) thought the sprinters lane had opened nicely a lap from home and dived underneath to take the win, and unlike Lynch, this time the commissaires agreed. Lukasz Kwiatkowski (Poland) took the final heat by a comfortable margin, opening a two length lead when he hit out in the back straight, and pulled away to the line.
Photography
For a thumbnail gallery of these images, click here
Images by Mitch Friedman/www.mitchophoto.com
Images by Mike Gladu/www.velodrome.com
Images by Mitch Friedman/www.mitchophoto.com
Results
Men's kilometre TT
1 Chris Hoy (Great Britain)                   1.01.361 (58.669 km/h)
2 Ben Kersten (Australia)                     1.02.085
3 François Pervis (France)                    1.02.696
4 Tim Veldt (Netherlands)                     1.02.909
5 Kévin Sireau (France)                       1.03.107
6 Yong Feng (China)                           1.03.314
7 Alois Kankovsky (Czech Republic)            1.03.569
8 Masaki Inoue (Japan)                        1.03.799
9 Joel Leonard (Australia)                    1.04.092
10 Carsten Bergmann (Germany)                 1.04.111
11 Michael Seidenbecher (Germany)             1.04.210
12 Tomasz Schmidt (Poland)                    1.04.619
13 Cam Mackinnon (Canada)                     1.04.720
14 Wilson Meneses Gutierrez (Colombia)        1.04.805
15 Athanassios Mantzouranis (Greece)          1.04.886
16 Benjamin Wittmann (Germany)                1.05.150
17 Saveriano Sangion (Italy)                  1.05.194
18 Hiroyuki Inagaki (Japan)                   1.05.756
19 David Cresswell (New Zealand)              1.06.115
20 Michael Rodriguez Malaret (Puerto Rico)    1.06.200
21 Leonardo Bottasso (Argentina)              1.06.579
22 Yannik Morin (Canada)                      1.06.874
23 Sergio Guatto (Argentina)                  1.06.966
24 Panagiotis Keloglou (Greece)               1.07.066
25 Daniel Kreutzfeld (Denmark)                1.07.647
DNS  Ruben Donet Gregori (Spain)           

Women's Sprint
Qualifying 200m TT
 
1 Natallia Tsylinskaya (Belarus)             11.052 (65.146 km/h)
2 Shuang Guo (China)                         11.268
3 Simona Krupeckaite (Lithuania)             11.365
4 Clara Sanchez (France)                     11.414
5 Lizandra Guerra (Cuba)                     11.428
6 Victoria Pendleton (Great Britain)         11.432
7 Elisa Frisoni (Italy)                      11.444
8 Yvonne Hijgenaar (Netherlands)             11.507
9 Tamilia Abassova (Russia)                  11.558
10 Dana Gloss (Germany)                      11.589
11 Magdalena Sara (Poland)                   11.622
12 Anna Meares (Australia)                   11.625
13 Jinjie Gong (China)                       11.657
14 Christin Muche (Germany)                  11.703
15 Diana Maria Garcia Orrego (Colombia)      11.729
16 Jennie Reed (USA)                         11.755
17 Zhang Lei (China)                         11.777
18 Kerrie Meares (Australia)                 11.805
19 Céline Nivert (France)                    11.869
20 Miriam Welte (Germany)                    12.074
DNS Nancy Contreras (Mexico) 

1/16 finals
 
Heat 1
 
1 Lizandra Guerra (Cuba)                    11.803
2 Miriam Welte (Germany)                          
 
Heat 2
 
1 Victoria Pendleton (Great Britain)        12.373
2 Céline Nivert (France)                          
 
Heat 3
 
1 Elisa Frisoni (Italy)                     12.605
2 Kerrie Meares (Australia)                       
 
Heat 4
 
1 Zhang Lei (China)                         12.387
2 Yvonne Hijgenaar (Netherlands)                  
 
Heat 5
 
1 Jennie Reed (USA)                         12.469
2 Tamilia Abassova (Russia)                       
 
Heat 6
 
1 Dana Gloss (Germany)                      11.936
2 Diana Maria Garcia Orrego (Colombia)            
 
Heat 7
 
1 Christin Muche (Germany)                  12.393
2 Magdalena Sara (Poland)                         
 
Heat 8
 
1 Anna Meares (Australia)                   12.113
2 Jinjie Gong (China)                           

1/8 Finals

Heat 1
 
1 Natallia Tsylinskaya (Belarus)            11.539
2 Anna Meares (Australia)                         
 
Heat 2
 
1 Shuang Guo (China)                        11.917
2 Christin Muche (Germany)                        
 
Heat 3
 
1 Simona Krupeckaite (Lithuania)            11.825
2 Dana Gloss (Germany)                            
 
Heat 4
 
1 Clara Sanchez (France)                    12.120
2 Jennie Reed (USA)                               
 
Heat 5
 
1 Lizandra Guerra (Cuba)                    11.634
2 Zhang Lei (China)                               
 
Heat 6
 
1 Victoria Pendleton (Great Britain)        12.265
2 Elisa Frisoni (Italy)                         

1/8 final repechage

Heat 1
 
1 Jennie Reed (USA)                         12.278
2 Elisa Frisoni (Italy)                           
3 Anna Meares (Australia)                         
 
Heat 2
 
1 Dana Gloss (Germany)                      12.040
2 Christin Muche (Germany)      
3 Zhang Lei (China)     

1/4 Finals

Heat 1

1 Natallia Tsylinskaya (Belarus   11.581    11.623
2 Dana Gloss (Germany)

Heat 2

1 Shuang Guo (China)              12.282    12.052
2 Jennie Reed (USA)

Heat 3

1 Victoria Pendleton (Great Bri   11.991             11.626
2 Simona Krupeckaite (Lithuania)            11.576

Heat 4

1 Clara Sanchez (France)                    11.628   11.788
2 Lizandra Guerra (Cuba)          11.752 

Finals

For 5th-8th
 
5 Simona Krupeckaite (Lithuania)             12.170 (59.161 km/h)
6 Dana Gloss (Germany)                       
7 Jennie Reed (USA)                          
8 Lizandra Guerra (Cuba)  

Men's Individual Pursuit


Qualifying
 
1 Robert Bartko (Germany)                  4.23.115 (54.728 km/h)
2 Jens Mouris (Netherlands)                4.24.045
3 Paul Manning (Great Britain)             4.24.198
4 Fabien Sanchez (France)                  4.24.780
5 Mark Jamieson (Australia)                4.25.324
6 Volodymyr Dyudya (Ukraine)               4.26.076
7 Alexander Serov (Russia)                 4.26.489
8 Damien Monier (France)                   4.27.042
9 Vasily Khatuntsev (Russia)               4.28.106
10 Sergio Escobar Roure (Spain)            4.29.596
11 Dominique Cornu (Belgium)               4.31.098
12 Jason Allen (New Zealand)               4.31.854
13 Jorge Soto (Uruguay)                    4.32.283
14 Zach Bell (Canada)                      4.32.369
15 Levi Heimans (Netherlands)              4.32.396
16 Michael Friedman (USA)                  4.34.424
17 Antonio Tauler Llul (Spain)             4.34.809
18 Vitaliy Shchedov (Ukraine)              4.35.061
19 Ondrej Sosenka (Czech Republic)         4.35.410
20 Ian Stannard (Great Britain)            4.35.422
21 Karl-Christian König (Germany)          4.38.106

Finals

For gold and silver
 
1 Robert Bartko (Germany)                  4.23.473 (54.654 km/h)
2 Jens Mouris (Netherlands)                4.24.480
 
For bronze
 
3 Paul Manning (Great Britain)             4.20.902 (55.193 km/h)
4 Fabien Sanchez (France)                  4.29.014

Men's Keirin


Round 1

Heat 1
 
1 Teun Mulder (Netherlands)                10.764
2 Ross Edgar (Great Britain)                     
3 Ryan Bayley (Australia)                        
4 Jose Alberto Sochon Gudiel (Guatemala)     
5 Andriy Vynokurov (Ukraine)                     
6 Damian Zielinski (Poland)                      
7 Ivan Vrba (Czech Republic)                     
 
Heat 2
 
1 Theo Bos (Netherlands)                   10.751
2 Travis Smith (Canada)                          
3 Mickaël Bourgain (France)                      
4 Cédric Stoller (Switzerland)                   
5 Shane John Kelly (Australia)                   
6 Alvaro Alonso Rubio (Spain)                    
7 Michael Seidenbecher (Germany)                 
 
Heat 3
 
1 Arnaud Tournant (France)                 11.011
2 José Antonio Escuredo Raimondez (Spain)    
3 Kazunari Watanabe (Japan)                      
4 Adam Ptacnik (Czech Republic)                  
5 Shane Perkins (Australia)                      
6 Maximilian Levy (Germany)                      
REL Ricardo Lynch (Jamaica)                      
 
Heat 4
 
1 René Wolff (Germany)                     11.092
2 Matt Crampton (Great Britain)              
3 Lukasz Kwiatkowski (Poland)                
4 Vladimir Kiriltsev (Russia)                
5 Mario Contreras (Mexico)                   
6 Kasper Jensen  (Denmark)                    
7 Josiah Ng On Lam (Malaysia)                
8 Roberto Chiappa (Italy)                    

Round 1 repechage

Heat 1
 
1 Roberto Chiappa (Italy)              10.555
2 Ryan Bayley (Australia)                    
3 Ivan Vrba (Czech Republic)                 
4 Vladimir Kiriltsev (Russia)                
5 Alvaro Alonso Rubio (Spain)                
6 Shane Perkins (Australia)                  
 
Heat 2
 
1 Mickaël Bourgain (France)            10.511
2 Shane John Kelly (Australia)               
3 Adam Ptacnik (Czech Republic)              
4 Damian Zielinski (Poland)                  
5 Josiah Ng On Lam (Malaysia)                
 
Heat 3
 
1 Cédric Stoller (Switzerland)         10.709
2 Ricardo Lynch (Jamaica)                    
3 Kazunari Watanabe (Japan)                  
4 Andriy Vynokurov (Ukraine)                 
5 Kasper Jensen (Denmark)                    
 
Heat 4
 
1 Lukasz Kwiatkowski (Poland)          10.607
2 Michael Seidenbecher (Germany)           
3 Mario Contreras (Mexico)                 
4 Jose Alberto Sochon Gudiel (Guatemala)    
5 Maximilian Levy (Germany)  

Round 2

Heat 1
 
1 Teun Mulder (Netherlands)            10.752
2 Lukasz Kwiatkowski (Poland)                
3 José Antonio Escuredo Raimondez (Spain)    
4 René Wolff (Germany)                       
5 Travis Smith (Canada)                      
6 Roberto Chiappa (Italy)                    
 
Heat 2
 
1 Theo Bos (Netherlands)               11.105
2 Mickaël Bourgain (France)                  
3 Arnaud Tournant (France)                   
4 Ross Edgar (Great Britain)                 
5 Matt Crampton (Great Britain)              
6 Cédric Stoller (Switzerland)                    

Finals

For 1st-6th
 
1 Theo Bos (Netherlands)                     
2 José Antonio Escuredo Raimondez (Spain)    
3 Arnaud Tournant (France)                   
4 Mickaël Bourgain (France)                  
5 Teun Mulder (Netherlands)                  
REL Lukasz Kwiatkowski (Poland)             
 
For 7th-12th
 
7 Roberto Chiappa (Italy)                    
8 Cédric Stoller (Switzerland)               
9 Ross Edgar (Great Britain)                 
10 Matt Crampton (Great Britain)             
11 René Wolff (Germany)                      
12 Travis Smith (Canada)                      
Women's points race


1 Vera Carrara (Italy)                      35 pts
2 Olga Slyusareva (Russia)                  35
3 Gema Pascual Torrecilla (Spain)           32
4 Yoanka Gonzalez (Cuba)                    32
5 Katherine Bates (Australia)               29
6 Lada Kozlikova (Czech Republic)           27
7 Maria Luisa Calle Williams (Colombia)     23
8 Elizaveta Bochkaryova (Ukraine)           20
9 Sarah Hammer (USA)                         9
10 Adrie Visser (Netherlands)                6
11 Elke Gebhardt (Germany)                   5
12 Tatsiana Sharakova (Belarus)              5
13 Gina Grain (Canada)                       3
14 Jianling Wang (China)                     3
15 Pascale Schnider (Switzerland)            3
16 Joanne Kiesanowski (New Zealand)          2
17 Pascale Jeuland (France)                   
18 Maria Tzoumanika (Greece)                  
19 Iona Wynter Parks (Jamaica)                
20 Nikki Harris (Great Britain)               
21 Karen Verbeek (Belgium)                 -19
22 Karolina Janik (Poland)                 -20