2006 UCI Track Cycling World Championships - CM
France, April 13-16, 2006
Main Page Results Previous Stage Next Stage
Day 3 - April 15: Men's sprint 200m qualifying, 1/16 final , 1/8 final, repechages, 1/4 finals & 5th to 8th; Men's team pursuit qualifying & finals; Men's scratch 7.5 km qualifying & 15 km final; Women's sprint 1/2 finals & finals
Upsets galore on day 3
By Mal Sawford in Bordeaux
Men's scratch race
Jerome Neuville (Fra)
Photo ©: Mitch Friedman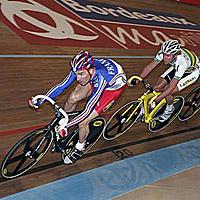 The first action in the 60-lap scratch race came 15 laps in, when France's Jerome Neuville attacked to the delight of the partisan crowd. Miles Olman (Australia), Andreas Muller (Germany) and Taiji Nishitni (Japan) followed, and the four riders began to edge away. Mark Cavendish (Great Britain) tried to jump across the gap, but his acceleration allowed the bunch to latch on with 40 laps remaining.
Almost immediately, Ioannis Tamouridis (Greece) and Martin Gilbert (Canada) counter attacked. Neuville was quick to follow, as were Ivan Kovalev (Russia), Matthew Gilmore (Belgium), Oleksandr Polivoda (Ukraine), Rafal Ratajczyk (Poland), Bobby Lea (USA) and Angel Colla (Argentina). Five laps later, the big break lost rhythm, and the bunch, powered by defending champion Alex Rasmussen (Denmark) came back into contact.
Just as the field regrouped, Neuville kicked again, and raced clear with Tamouridis, Vasilis Kiryienka (Bielorussia) and Colla. The quartet was quickly up by half a lap, but couldn't extend their lead any further. Cavendish made a huge effort and bridged to the leaders with 22 laps remaining, but the effort clearly hurt him. He eventually cracked completely and lost contact ten laps from home.
In the final laps, it was touch and go whether the break could hold on as the bunch wound up. Tamouridis threw in a series of hard turns to give the break breathing space, but a final burst from Danilo Napolitano (Italy) saw the bunch reach the back of the break in the final bend. It was a little too late, however, as Neuville had already wound up his massive gear and was headed for the line. Colla surged into contention in the final metres, with the two hitting the line together. Colla thought he'd just pipped the front runner, saying, "I thought that I had won for a few laps afterwards, because it was so close." When the photo finally confirmed the French rider had triumphed ahead of Tamouridis and Colla, the stadium erupted.
For Neuville; the race went exactly to plan. "I wanted to race at the front, and tried to go in every break. I was trying to take a lap, but it was a surprise to stay out front so long with only four riders and the bunch so close." The French rider also admitted he hadn't been operating at full power. "I felt very tight in my legs, so I tried to take as short turns at the front as possible. I also rode a very big gear today [49x14], much bigger than I normally use. I was a little afraid it would be too big, but I'm under pressure from my team mates to get a result because I'm so old [at 30!]– they call me 'the Master.' I have to get results now; there may not be a later! The crowd was great, they helped, but I'm glad the race finished - one more lap would have been impossible."
Women's sprint finals
Natallia Tsylinskaya (Belarus)
Photo ©: Mitch Friedman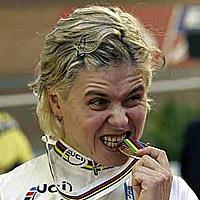 Top seed Natallia Tsylinskaya (Belarus) and defending champion Vicky Pendleton (Great Britain) made it through to the gold medal final, after Tsylinskaya won in 'straight sets' against Clara Sanchez (France), and Pendleton was too good for Guo. The impressive Tsylinskaya simply had too much power for Pendleton in the medal round, winning the first heat with an unanswered surge, and while the second was closer, there was never any doubt that Tsylinskaya would win.
The bronze medal match was a little tighter, but Guo was still able to dictate both races for comfortable wins. Sanchez was still pleased with her fourth place finish, saying, "I have exceeded my expectations in terms of my final position in the sprints. In the past I have reached the top eight, but to reach the top four and be in the chance of a medal was very good. I am disappointed I did not get a medal but to come this far is great for me, it's a real step forward." Tsylinskaya's second win in Bordeaux left her with "a very good feeling. I'm more happy that now I can go home and show my medals to my daughter and husband." She denied it had been an easy win, however, saying, "It was not so easy! It can be easy the first time, but not eight times!"
Silver medallist Vicky Pendleton admitted she had no way of beating the world champion in her current form. "Natallia is phenomenal. When she's on form there's no-one that really comes that close," said the English rider. "I think I did well to end up in the final after qualifying sixth; I was nearly half a second off her, which just shows what great form she's in really."
Pendleton did feel that she would have been closer if not for the disruption to her training caused by the Commonwealth Games. "I didn't think it was going to be that hard - I thought it would be quite easy to maintain the form and the focus, but really that first week back is a real downer. You come out of competition and the athletes' village and in Manchester it's cold, and it's raining...'come on pick it up, we can do this', she said. "It's been quite hard for everyone to try and turn it around in such a short space of time. Give it another week and I'm sure it would have been a different story; three weeks is one week to recover, one week on and one week to taper - it doesn't give you much time. I should be smiling, I've got a silver at the worlds, but today it just wasn't out there for me to take I don't think."
Men's sprint
Craig Maclean (GBr)
Photo ©: Mitch Friedman

Theo Bos continued to make sprinting look effortless, coming around Ryan Bayley in the final bend to win the first heat of the 1/8 finals. Also through were Craig Maclean, Mickael Bourgain, Maximillian Levy and Stefan Nimke. Ross Edgar and Arnaud Tournant hit the line together in the final heat and couldn't be separated, forcing them into a re-ride, which Tournant won. Damian Zielinski and Roberto Chiappa won the two repechage rounds to move into quarter finals, although in a bizarre co-incidence, Chiappa also faced a re-ride after judges declared the second dead heat in a matter of minutes.
In the quarter finals, Bos accounted for Chiappa in straight rides, and Edgar was far too quick for Zielinski. An all French match between Bourgain and Tournant saw Bourgain win in two, but Tournant earned his second warning for irregular riding in the second ride and was disqualified from the fifth to eighth place final. The final heat saw the German team mates do battle, with Nimke a convincing winner of both races.
Men's teams pursuit finals
The Aussie train
Photo ©: Mitch Friedman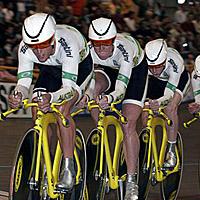 All four finalists recorded significant improvements from their qualifying rides, with the Ukrainian team jumping the Dutch at the start, and holding on narrowly to win the bronze medal in 4.04.695. Most observers expected the gold medal match to go Great Britain's way, with both coaches suggesting the defending champions were likely to continue their recent run of wins. Neither team changed line-ups for the final. At the start, however it was the Aussies who were fastest out of the blocks, leading by half a second after the first kilometre.
The British team gradually increased their tempo from that point, but were still 0.195 down at half way, before hitting the lead with one kilometre remaining. Both teams were down to three riders for the final two laps, and the lead changed at almost every time check. At the bell, it was Australia by a tiny margin, and both teams hit their finish lines together. All eyes turned to the scoreboard, which showed the win for the Aussies, whose third rider had stopped the clock at 4.01.491, compared to Great Britain's 4.01.527.
In the qualifying rides, Australia had had the best time check at 3750 metres, but Britain had picked up almost a second over the final lap; however, in the final the Australians held on. According to Australian coach Ian McKenzie, "it wasn't so much that the English had a mammoth last lap [in qualifying], it was more that we had a really poor last lap, so we put a strategy in place to try and eliminate that" and it clearly worked. Replays indicated that the first rider for the British team actually hit the line before an Australian, but the winners hit the line side by side, while the British trio were still in pursuit formation. 'Macca' was naturally happy to have his squad exceed expectations, "The guys just rode above themselves, just typical Australians; when there's a race on the line and it's that close, nine times out if ten you back the Australians."
Simon Jones admitted to being "a little bit surprised with the result to be honest," saying, "I don't often like to think about the result generally, I like to think about our performance. I was actually more pleased there with our performance than I was at the Commonwealth Games, because we rode a really good pursuit." Jones explained that the British squad were beaten despite everything going to plan. "We didn't come out as quick - that was the plan. And we came home really fast; we were beaten by the better team and I genuinely believe that. Overall I'm really pleased, but it's gutting to lose, particularly to the Aussies! They rode a fantastic race though, it was close. It was a good race," he said.
The British team
Photo ©: Mitch Friedman
The Australian riders put their upset win down to their outstanding team work and self belief. Mark Jamieson said after the finish that, "I think we finally got it together. To me it just felt like we'd finally put it all together; it wasn't confidence coming into the final so close, it was just belief in ourselves and our team mates that made the difference - it's belief in ourselves." Stephen Wooldridge agreed, saying, "What you see is we're just getting better as a team, as a unit, and the unity and the technique is coming together, and that's what you saw today. I think that was a great time tonight." The starting four also singled out Ashley Hutchinson to be included in their success. "There's four guys here, but there's really five involved in this so that's a shame that they don't award five medals anymore. Ashley Hutchinson who's been here the whole time, the last five years, didn't get a ride tonight, but this victory is as much for him anyway," said Wooldridge.
For Rob Hayles, such a narrow loss was tough. "I'm gutted. We did the ride that we thought we needed to do, we did the best we could on the day and we said before the start if we do that and we get beaten then they deserve to win. The Aussie lads did a fantastic ride. Obviously the priority this year was the Commonwealth Games, but that's not to give any excuses for here - you come here and you still want to win."
Hayles still has his eyes firmly set on Olympic Gold in Beijing. "I desperately want to go to Beijing. After that we'll see. I'll be 35 then, it's not too old. We've got some good youngsters coming through – we still haven't got the strength and depth that the Aussie team have got at the moment, but we're getting there. That's the only thing that'll stop me at the moment - younger lads - and that wouldn't be a bad thing all in all."
Morning session wrap up
Men's sprint qualifying and 1/16 finals
On another cool morning at the Bordeaux velodrome, the world's fastest sprinters posted some very impressive times, with the top six all under 10.2 seconds. Fastest of all was 2004 world champion Theo Bos, in 10.100 seconds; but at the other end of the scale was 2005 champion Rene Wolff who recorded the slowest time of all, 11.001. With a mammoth 43 starters, the top 24 progressed through to the 1/16 finals, and apart from Wolff, all the favourites advanced.
The 1/16 finals generally saw the fastest seeded rider advance, the only exception was the defeat of French team sprint star, Gregory Bauge, who was beaten by Italian veteran Roberto Chiappa, much to the disgust of the vocal French crowd. Chiappa seemed to thrive on the crowd's disappointment, however, and let everyone know he was the number one rider on the track.
Men's team pursuit qualifying
The team of Great Britain
Photo ©: Mitch Friedman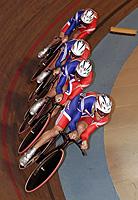 The US team, made up of four members of the TIAA-CREF road team, were first up, and after a messy first kilometre settled into a better rhythm to record a time of 4.14.952. Team manager Jonathan Vaughters had flown in for the day to support the team and although he had hoped for a time around 4.10, was nonetheless pleased with the result.
"You know, it's their first world championships, their second team pursuit ever, so you know it was sloppy as hell, but they went reasonably fast." And Vaughters predicts better things to come. "Pretty much every time they're in competition they're going two seconds faster, so if we can just keep that up for another two years then they'll actually be a real honestly competitive team. It's encouraging enough to continue forward and to keep pushing at it. It's a tough event. Like I said, we've got a lot of horse power, but just no experience. Hopefully by the time we roll around to 2008, the experience and the fluidity will be there."
The first team under the 4.10 barrier was Germany, lead by individual pursuit winner Robert Bartko to a time of 4.07.873, but they were soon pushed from the top spot by the Ukrainian team's 4.07.165. Any chance of a competitive time from the world cup winning Russian team was lost with 500 metres remaining when Serguei Klimov lost contact, and then the three remaining riders split up badly on the final lap.
New Zealand fell just short of Ukraine's time, and they were followed by the Australian team, who matched the Ukrainian time checks to the half way point before lifting the tempo to finish well ahead with a time of 4.04.403. The young Netherlands team moved into second place behind the Aussies, but with the British team still to come, would eventually finish third, and will race for the bronze medal tonight against Ukraine.
The Aussie train
Photo ©: Mitch Friedman

The British team started quicker than the Australians, and were half a second up at the half way point, but lost time steadily, eventually falling almost the same margin behind with 500 metres to ride. Still 0.4 down at the bell, an impressive finishing burst saw them qualify fastest, in 4.04.074.
Both the Australian and British coaches were happy with their teams' rides. Australian endurance coach Ian McKenzie expects the British team to go even quicker in the gold medal match. "I think they have a little bit. They've got another rider that they can bring in, Chris Newton, so yeah, I think they've got a little bit," he said. "I think we go in as underdogs. Realistically, I think we're an outside chance."
British head coach Simon Jones agreed times will be quicker tonight. "Definitely," but where McKenzie expects only minor improvements ("Well, if we do [go faster], it'll be by not much"), Jones is more confident. "I'm not really going to really worry about the time, just going to look at the technique and see where we can improve. There's a couple of areas I've identified where we can improve, might change the order, might change the team around. The first ride is always sort of like a calibrating ride, so I'm confident with what we've done in the past that we can roughly improve three or four seconds in that second ride. There's two teams on the track, and that makes it quicker."
Both teams have the option of bringing fresh legs in tonight. Ashley Hutchinson for Australia, and Chris Newton for Britain, but both coaches are playing their cards close to their chests. Jones will wait until the last moment before finalising his team, saying "I've not decided yet. It's a possibility. We've got options, we'll go back, have a little debrief, a look at the video and then decide what we're going to do. We've got some time; I haven't got to decide until an hour before hand" and 'Macca' had a similar response, "I'll have to look at the data for that ride, and then I'll make a decision."
Photography
For a thumbnail gallery of these images, click here
Images by Mitch Friedman/www.mitchophoto.com
Results
Men's sprint

Qualifying - 200m TT

1 Theo Bos (Netherlands)                      10.100 (71.287 km/h)
2 Craig Maclean (Great Britain)               10.111
3 Lukasz Kwiatkowski (Poland)                 10.116
4 Maximilian Levy (Germany)                   10.149
5 Stefan Nimke (Germany)                      10.177
6 Ross Edgar (Great Britain)                  10.189
7 Arnaud Tournant (France)                    10.230
8 Grégory Bauge (France)                      10.237
9 Damian Zielinski (Poland)                   10.238
10 Mickaël Bourgain (France)                  10.256
11 Teun Mulder (Netherlands)                  10.276
12 Ryan Bayley (Australia)                    10.339
13 José Antonio Escuredo Raimondez (Spain)    10.346
14 Matt Crampton (Great Britain)              10.348
15 Tim Veldt (Netherlands)                    10.377
16 Travis Smith (Canada)                      10.404
17 Kazunari Watanabe (Japan)                  10.427
18 Roberto Chiappa (Italy)                    10.427      
19 Andriy Vynokurov (Ukraine)                 10.506
20 Michael Seidenbecher (Germany)             10.510
21 Ricardo Lynch (Jamaica)                    10.512
22 Tsubasa Kitatsuru (Japan)                  10.542
23 Christian Stahl (USA)                      10.551
24 Qiming Wang (China)                        10.553
25 Zhang Lei (China)                          10.553      
26 Takashi Kaneko (Japan)                     10.589
27 Pavel Noskov (Russia)                      10.591
28 Denis Dmitriev (Russia)                    10.608
29 Sergey Borisov (Russia)                    10.618
30 Lin Feng (China)                           10.648
31 Steven Alfred (USA)                        10.657
32 Adam Ptacnik (Czech Republic)              10.657      
33 Josiah Ng On Lam (Malaysia)                10.666
34 Benjamin Wittmann (Germany)                10.688
35 Kasper Jessen (Denmark)                    10.709
36 Alois Kankovsky (Czech Republic)           10.806
37 Krzysztof Szymanek (Poland)                10.834
38 Ivan Vrba (Czech Republic)                 10.836
39 Vasileros Reppas (Greece)                  10.852
40 Wilson Meneses Gutierrez (Colombia)        10.890
41 Benjamin Barczewski (USA)                  10.924
42 Kostantinos Pentarakis (Greece)            10.977
43 René Wolff (Germany)                       11.001

1/16 Finals

Heat 1
 
1 Theo Bos (Netherlands)                      11.410
2 Qiming Wang (China)                               
 
Heat 2
 
1 Craig Maclean (Great Britain)               11.169
2 Christian Stahl (USA)                             
 
Heat 3
 
1 Lukasz Kwiatkowski (Poland)                 10.906
2 Tsubasa Kitatsuru (Japan)                         
 
Heat 4
 
1 Maximilian Levy (Germany)                   10.755
2 Ricardo Lynch (Jamaica)                           
 
Heat 5
 
1 Stefan Nimke (Germany)                      10.870
2 Michael Seidenbecher (Germany)                    
 
Heat 6
 
1 Ross Edgar (Great Britain)                  10.723
2 Andriy Vynokurov (Ukraine)                        
 
Heat 7
 
1 Arnaud Tournant (France)                    10.864
2 Kazunari Watanabe (Japan)                         
 
Heat 8
 
1 Roberto Chiappa (Italy)                     10.682
2 Grégory Bauge (France)                            
 
Heat 9
 
1 Damian Zielinski (Poland)                   10.929
2 Travis Smith (Canada)                             
 
Heat 10
 
1 Mickaël Bourgain (France)                   10.924
2 Matt Crampton (Great Britain)                     
 
Heat 11
 
1 Teun Mulder (Netherlands)                   10.800
2 Matt Crampton (Great Britain)                     
 
Heat 12
 
1 Ryan Bayley (Australia)                     11.038
2 José Antonio Escuredo Raimondez (Spain)  

1/8 finals

Heat 1

1 Theo Bos (Netherlands)                      10.623
2 Ryan Bayley (Australia)

Heat 2

1 Craig Maclean (Great Britain)               10.978
2 Teun Mulder (Netherlands)

Heat 3

1 Mickaël Bourgain (France)                   10.822
2 Lukasz Kwiatkowski (Poland)

Heat 4

1 Maximilian Levy (Germany)                   10.919
2 Damian Zielinski (Poland)

Heat 5

1 Stefan Nimke (Germany)                      10.692
2 Roberto Chiappa (Italy)

Heat 6

1 Ross Edgar (Great Britain)     dead heat in 10.827
1 Arnaud Tournant (France)

Heat 6 rerun

1 Arnaud Tournant (France)                    10.904
2 Ross Edgar (Great Britain)

1/8 repechage

Heat 1

1 Damian Zielinski (Poland)                   10.869
2 Ryan Bayley (Australia)
3 Ross Edgar (Great Britain)

Heat 2

1 Roberto Chiappa (Italy) dead heat for 1-2 in 10.888
1 Teun Mulder (Netherlands)
3 Lukasz Kwiatkowski (Poland)

Heat 2 rerun for 1-2

1 Roberto Chiappa (Italy)                     10.989
2 Teun Mulder (Netherlands)

1/4 finals

Heat 1

1 Theo Bos (Netherlands)                      10.540  10.778
2 Roberto Chiappa (Italy)

Heat 2

1 Craig Maclean (Great Britain)               10.753  10.691
2 Damian Zielinski (Poland)

Heat 3

1 Mickaël Bourgain (France)                   10.895  10.771
2 Arnaud Tournant (France)

Heat 4

1 Stefan Nimke (Germany)                      11.082  10.468
2 Maximilian Levy (Germany)

For 5th-8th 

5 Damian Zielinski (Poland)                   10.954
6 Maximilian Levy (Germany)            
7 Roberto Chiappa (Italy)              

Women's sprint

Semi-finals

1 Natallia Tsylinskaya (Belarus)              11.445  11.648
2 Clara Sanchez (France)

1 Victoria Pendleton (Great Britain)          12.027  11.882
2 Shuang Guo (China)

Finals

For gold and silver

1 Natallia Tsylinskaya (Belarus)              11.386  11.426
2 Victoria Pendleton (Great Britain)

For bronze

3 Shuang Guo (China)                          11.851  11.643
4 Clara Sanchez (France)


Men's scratch

Final

1 Jérôme Neuville (France)
2 Angel Colla (Argentina)
3 Ioannis Tamouridis (Greece)
4 Wim Stroetinga (Netherlands)
5 Danilo Napolitano (Italy)
6 Rafal Ratajczyk (Poland)
7 Vasil Kiryienka (Belarus)
8 Andreas Muller (Germany)
9 Unai Elorriaga Zubiaur (Spain)
10 Ivan Kovalev (Russia)
11 Hayden Godfrey (New Zealand)
12 Alex Rasmussen (Denmark)
13 Mario Lexmüller (Austria)
14 Carlos Manuel Hernandez (Mexico)
15 Matthew Gilmore (Belgium)
16 Taiji Nishitani (Japan)
17 Jorge Soto (Uruguay)
18 Oleksandr Polivoda (Ukraine)
DNF Jiri Hochmann (Czech Republic)
DNF Mark Cavendish (Great Britain)
DNF Bobby Lea (USA)
DNF Martin Gilbert (Canada)
DNF Franco Marvulli (Switzerland)

Team pursuit


Qualification

1 Great Britain                             4.04.074 (58.998 km/h)
 Stephen Cummings           
 Rob Hayles                 
 Paul Manning               
 Geraint Thomas             
2 Australia                                 4.04.403
 Peter Dawson               
 Matthew Harley Goss        
 Mark Jamieson              
 Stephen Wooldridge         
3 Netherlands                               4.06.494
 Levi Heimans               
 Jens Mouris                
 Peter Schep                
 Niki Terpstra              
4 Ukraine                                   4.07.165
 Volodymyr Dyudya           
 Lyubomyr Polatayko         
 Maksym Polyshchuk          
 Vitaliy Shchedov           
5 New Zealand                               4.07.530
 Sam Bewley                 
 Hayden Godfrey             
 Timothy Gudsell            
 Marc Ryan                  
6 Germany                                   4.07.873
 Robert Bartko              
 Robert Bengsch             
 Guido Fulst                
 Leif Lampater              
7 Spain                                     4.08.542
 Carlos Castano Panadero    
 Sergio Escobar Roure       
 Carlos Torrent Tarres      
 David Muntaner Juaneda     
8 Russia                                    4.09.954
 Mikhail Ignatiev           
 Serguei Klimov             
 Alexander Serov            
 Nikolai Trussov            
9 France                                    4.10.162
 Mathieu Ladagnous          
 Jonathan Mouchel           
 Nicolas Rousseau           
 Fabien Sanchez             
10 Denmark                                  4.10.174
 Casper Jørgensen           
 Jens-Erik Madsen           
 Michael Mørkøv             
 Alex Rasmussen             
11 Belgium                                  4.11.989
 Dominique Cornu            
 Ingmar De Poortere         
 Tim Mertens                
 Steve Schets               
12 USA                                      4.14.952
 Michael Creed              
 Michael Friedman           
 Charles Bradley Huff       
 Danny Pate                 
13 Italy                                    4.17.276
 Gianpaolo Biolo            
 Angelo Ciccone             
 Claudio Masnata            
 Roberto Traficante         
14 Poland                                   4.20.892
 Dawid Glowacki             
 Rafal Ratajczyk            
 Jakub Sredzinki            
 Wojciech Ziolkowski        

Finals
 
For gold and silver
 
1 Australia                                 4.01.491 (59.629 km/h)
 Peter Dawson (Australia)            
 Matthew Harley Goss (Australia)     
 Mark Jamieson (Australia)           
 Stephen Wooldridge (Australia)      
2 Great Britain                             4.01.527
 Stephen Cummings (Great Britain)    
 Rob Hayles (Great Britain)          
 Paul Manning (Great Britain)        
 Geraint Thomas (Great Britain)      
 
For bronze
 
3 Ukraine                                   4.04.695 (58.848 km/h)
 Volodymyr Dyudya (Ukraine)          
 Roman Kononenko (Ukraine)           
 Maksym Polyshchuk (Ukraine)         
 Lyubomyr Polatayko (Ukraine)        
4 Netherlands                               4.05.305
 Levi Heimans (Netherlands)          
 Jens Mouris (Netherlands)           
 Peter Schep (Netherlands)           
 Niki Terpstra (Netherlands)