2006 UCI Track Cycling World Championships - CM
France, April 13-16, 2006
Main Page Results Overall standings Next Stage
Stage 1 - April 13: Women's individual pursuit qualifying & final; Men's points race 15 km qualifying & 40km final; Men's team sprint qualifying& final; Women's 500m TT final
Day 1 wrap: Plenty to cheer about in Bordeaux
By Mal Sawford in Bordeaux
A very happy Gregory Bauge
Photo ©: Mitch Friedman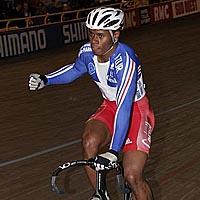 Of the four medals decided on the first day of the 2006 world track championships, only one had the crowd on its feet, as the French team of Gregory Bauge, Mickael Bourgain and Arnaud Tournant came from behind to overhaul a new look team from Great Britain. While the wins by Natallia Tsylinskaya (Belarus) in the 500 metre time trial, Sarah Hammer (USA) in the pursuit and Peter Schep (Nederlands) in the 40km points race received were applauded, the reaction whenever French riders took to the boards was deafening.
Women's 500 metre time trial
Young French rider Sandie Clair was first off, and posted a respectable time of 35.114. Her time survived the next six challengers, including one of the medal chances, Australia's Kerrie Meares. The first to lower the time was 18-year-old Cuban Lisandra Guerra Rodriguez, who stormed through the opening lap in 19.218, which eventually proved to be the best start of all the women. She stopped the clock in 34.609, a time which stood until the final two riders. Shuang Gao (China) Simona Krupeckaite (Lithuania) and Victoria Pendleton (Britain) were all less than a tenth of a second slower, but Anna Meares ended the debutants dream of a world title when she took the top position in 34.332.
While Guerra's time surprised many, the rider herself had high hopes. When asked if she expected to do so well, she replied "Yes, actually I was training in the [UCI] world cycling centre, and with my times in training and after getting focussed for the world championships and how I was going in the training, I knew I was going to take a medal."
Natallia Tsylinskaya (Belarus)
Photo ©: Mitch Friedman
Tsylinskaya has dominated the time trial since 2002, only missing 2004 when Meares took the win. The powerfully built 30-year-old was once again up to the pressure, beating Meares' start time by a tenth, and pulling further away in the second lap to win in an impressive 34.152. Spectators could have been excused for thinking it was Tsylinskaya's first win as she jumped for joy on the podium. "This is my seventh title," she said through an interpreter later, "but each time is like the first time! I really wanted to win it. I didn't really have a doubt that I could, but you never know until the race is over." The champion has no plans to stop at seven rainbow jersey's either. "I am 30 years old, but I will keep going at least until Beijing, and then we'll see…"
Meares was all smiles after her race, but admitted to being "a little bit stuffed now, but I'm very happy with that. I had the Comm Games a couple of weeks ago and one thing I bought out of that was, 'cos I haven't ridden time trials much this year, was that I really needed to emphasise my lines; riding on the black. I did that really well I think, and I'm very happy with my time."
The slow times in the morning session left many riders pondering gear selections, but Meares eventually opted to leave things unchanged. "I wasn't sure how the track was. This morning it was slow because it's cold and the things with the times [tonight] was you couldn't really tell if the track was fast or not. So I really couldn't get a good judge on it - I thought 'ah, bugger it, just get out and do what you normally do'". With the sprint and keirin to follow, Meares is on track for a successful campaign, and has had no trouble with her back in recent weeks. "It's been really good, and that's a good sign for next season as well. I really want to get a good twelve months of solid training under my belt, and I'm looking forward to it."
Guerra may have looked a little lost during the presentation ceremony, but expects to get a lot more practice in years to come. <i>Cyclingnews</i> asked if she could see herself on the top step in the future; she had no hesitation in answering, "I think so, yes." As to the timing: "Next year! I hope so, I will be better by then."
Women's Individual Pursuit
World champ Sarah Hammer
Photo ©: Mitch Friedman
The gold medal final between Sarah Hammer and Olga Slyusareva (Russia) was an exciting affair. Hammer started quickly, and was over a second clear after the first kilometre, but the vastly experienced Russian smoothly began to reel in the deficit after the half way mark. With three laps to go, Slyusareva was within half a second, and only a fraction of a second down at the bell. With the crowd roaring as the result looked like coming down to the wire, Hammer found that little bit extra and kicked away to take the win in 3.37.227. "I didn't come here to lose by a tenth of a second," said Hammer after the finish. "I could tell by the cheers of the crowd she was coming back. I gave everything and more. I still can't believe I am wearing this! [the gold medal]."
Although the fastest qualifier, Hammer had said after her impressive qualifying race that a win probably wouldn't come so soon. "I knew from the world cup times; when the times I did were faster than last years' worlds I knew it was possible, but I didn't want to put too much pressure on myself. That's how it's been all year. I know what I can achieve, and I don't put levels on myself. And neither does my boyfriend or my family and I think that's a big part of my success. I dream, but I dream of what I know I can achieve, not what I think is fantasy."
Hammer had tasted success at junior level, but walked away from the sport in 2002, burnt out after 'racing my bike since I was nine". But a few years in the work force, including early starts in a Bagel shop led her to realise that cycling wasn't so tough after all and she returned to racing in 2005. "I'm blown away," Hammer said after winning. "It's not so hard going to training after I know what it's like to go to a job at 5am that you hate."
Hammer's win could be a big boost for US cycling, according to Colby Pearce, US track endurance coach. "I don't even know the last time the US won a gold medal! I hope this is the start of a new chapter for track cycling in the US, and it'll be in her locker for a long time." Hammer agreed, saying, "Hopefully, this is a kind of a step up for American cycling. Every country needs that - just a bit of a jump start."
Pearce believes the new world champion will be harder to beat in the years to come, and can see room for improvement in her technique. "Sarah's always been a rider who's just been about raw power. Different riders come from different places and I think she comes from a place of a lot of natural strength, so we'll definitely be looking to hone her into a more complete package as a rider. Fortunately we've got a lot of raw power to work with!"
USA's Sarah Hammer
Photo ©: Mitch Friedman

After a disappointing qualifying ride, defending champion Katie Mactier showed she is made of tough stuff with a fast and evenly-paced race to claim the bronze medal in her match against Karen Thurig. Mactier's time would have been good enough for gold had she found that extra fraction of a second in the morning, but the Australian baulked at suggestions that she had made a good recovery since her opening ride. "I don't know if you recover from having missed out on the gold/silver ride off; it's left a big dent, because for twelve months I'm going to have to remember it - I'm no longer the world champion any more. But having said that, it's only made me hungrier to come back next year and try to dominate the race. I was happy with my time in the final - disappointing on one hand that it possibly could have won me the title, but having said that it was probably more of a confidence ride. This morning didn't go as planned, and it's just one of those things," she said.
"I don't know if it's just a combination of having such a massive race only three weeks ago in Melbourne. I wouldn't give it away for the world, but think I kind of came here just a bit emotionally flat. I always give it my best, and unfortunately it wasn't quite there this year," she said, before adding, "I was devastated after that first ride. Let's look at the times; there was like a tenth of a second in it - that's gutting. But you've got to be a professional athlete and I really firmly believe if there was ever a year I was going to make a balls up, it was going to be this year. I don't want it to happen in 2008 when it really is going to count."
Men's team sprint
France on their way
Photo ©: Mitch Friedman

The French team of Bauge, Bourgain and Tournant set a blistering time in qualifying, courtesy of one of the fastest standing laps on record. Bauge's 17.402 lead off had set the home team up for their 44.194, and in the final he backed up again with an offering of 17.477. On the other side of the track, however, Jamie Staff recorded his personal best effort of 17.420, putting the team from Great Britain marginally in front.
With the noise of the crowd already drowning out the commentator, the roar became even louder when the scoreboard showed Bourgain had put the French back in front; it was simply deafening when Tournant crossed the line to take the win in a sensational time of 43.969. The French superstar attributed part of the team's success to the wonderful crowd support. "It was huge. I'd already lived it in '98, but when we were on the start line and we had to wait for the Brit's for a while, that lapse of time is enough to make you start thinking and doubting. The crowd realised it and really pushed us on. It was a huge factor and got us over the hump. It's very satisfying to win at home because this team is very young and no one expected much of us," Tournant added. "This will boost the morale for the team for the rest of the weekend."
Jamie Staff, Britain's new lead off rider, was delighted with the new look team's efforts. "I was happy with the first ride; to come out and do a 17.6, but then to come out in the final and do a 14.42 I think it was...I was as amazed as anyone. I mean I really did grit my teeth, and put my back out too!" And Staff plans to go even faster, saying, "I still think a 17.0 is possible - that's my goal, anyway."
The preceding bronze medal match between Australia and the Netherlands was anticlimactic in comparison. The Dutch dipped under the 18 second barrier, but Tim Veldt, their number three rider never got on the wheel in front, and had to ride a virtual 750 metre time trial against the more polished Australians, with obvious results. Shane Perkins has slotted in well as the starter for the Aussies. "I'm pretty happy with my start times," he said. "I did a 17.8 in Melbourne [at the Commonwealth Games], and I was hoping to go a bit faster than that tonight. I want to be the fastest Australian ever, but I guess Sean Eaddie's still got that title."
A 17.4 second lap might be a few years away for the youngster, though. "I don't know, that's pretty freaky. I've got plenty of time to do it, I'm still only 19, so hopefully next season I can go 17.7 and maybe we'll be in the gold medal ride off soon."
Men's points race
Chris Newton
Photo ©: Mike Gladu

Peter Schep set up his win very early in the 160 lap race. Typically, that would mean attacking and taking a lap, but in a race that refused to be split apart, Schep's foundation was built on his wins in the second and third sprints. A well timed solo move saw him clear to earn maximum points, but without company he wisely eased back and allowed the field to catch him.
Greek rider Ioannis Tamouridis was the other rider in contention early, after winning the opening and fourth sprints, but he faded as the race continued, and was unable to pick up any points in the second half. Schep maintained good position in the bunch, and collected points in all bar five of the sixteen sprints, and was never really in any danger despite attacks from Vasili Kiryienka (Belarus), Kam Po Wong (Hong Kong), Joan Llaneras (Spain), Sean Finning (Australia), Kazuhiro Mori (Japan) and Mikhail Ignatiev (Russia) as the race continued.
With a six point buffer before the final sprint, Schep could not be beaten, but capped his dominant ride by joining a last gasp break by Mori, Kiryienka, and Sebastian Cancio (Argentina) and then beating them all to take out the final five points on offer. Rafal Ratajczyk (Poland) claimed silver after three late sprint wins, with fourth to the aggressive Kiryienka.
After a lengthy delay for Schep to answer a barrage of questions from a huge contingent of Dutch media, Cyclingnews had the chance to ask the winner to sum up his ride. "The qualifications were quite good, and after that I became a little bit nervous because I knew I had good legs, and I had to try a get a gold medal. Most of the riders in the end tried to attack, but I could react just in time, every time."
Schep agreed it was unusual for the bunch to stay together for the entire race. "It's not usual. It was a really tough race though, and after half race, I was really sure it would finish as a bunch and I had taken enough points in the beginning to control the race from there. Winning the last sprint was a great way to finish. Today, everything was good, and mentally I was very strong."
Morning session
Women's individual pursuit qualifying
Sarah Hammer (USA)
Photo ©: Mike Gladu
In something of an upset, defending World Champion Katie Mactier will not feature in tonight's gold medal ride off for the women's individual pursuit. On a cool ten degree morning, Mactier started in the final heat, with the time to beat set by the USA's Sarah Hammer at 3.37.194. The men's points race heats were much more predictable in contrast, with all the favourites moving into the evening final.
Mactier produced her usual typical fast start, blitzing the opening kilometre in 1.12.657 – over a second quicker than the previous best time set by her teammate Kate Bates. The Australian was still in front at the second kilometre, but faded noticeably over the final laps to finish a disappointing third in 3.37.520, just over a tenth of a second behind Olga Slioussareva (Russia). Joining Mactier in the bronze medal ride off will be Karin Thürig (Switzerland), who qualified two seconds slower.
For the young American at her first world championships, tonight's final offers a chance to win the first track gold for the US women since Rebecca Twigg in 1995. Hammer says she feels no pressure to end the drought, however, "not this year, maybe in the future, like I said, I'm only 22. When we set out the goals at the beginning of the year, me and my boyfriend, my goal was just to get in the medal rides. Fourth place, I would have been satisfied. Although, doing my times at the World Cups, I had a little taste of it, but I never thought I'd have to think about it. But now, I guess I have to think about it!"
Hammer expects to ride much faster in the final; provided the temperature rises. "Yesterday in training, it felt like a different track. Seven degrees is what makes the difference. I definitely didn't feel fast. The track is not fast now, and when I saw my time I didn't think it would be anything spectacular."
Aussie Katherine Bates
Photo ©: Mitch Friedman

It wasn't a great start by the Aussie women. Mactier wouldn't speak to the media after her ride, while Bates, who had finished second to her teammate at the '05 World's and the Commonwealth Games also faded badly and finished in eleventh place. Bates had no explanation for her performance, saying, "I can give you a million excuses, but I was just bad, really bad – not a little bit bad. It's disappointing, but I just didn't have anything today and I don't know why. I'll go back to my room and bang my head against a wall for a while, but I've got a couple more races [at the championships] and a lot more years, that's the nature of the sport. You have to take the lows with the highs and you learn a lot more about getting what you want and where you're at and from these moments.
"I've got the flu from hell, it's cold in here and we're coming off the Commonwealth Games. I sort of have to laugh, that's how bad I was. I don't think it was any one of those things. I just had a shocker!"
Bates doesn't think her rivals in the points or scratch races should read too much into today's times. "If I'd only been a couple of seconds off I'd be more worried," she said. "I always say that when I'm mediocre I get worried. I'm not super consistent: I have really good days or I have really bad days. So I'm not confident I have bad form! After the Commonwealth Games I certainly had pretty high expectations of myself [in the pursuit]. I don't think they were unrealistic, it just didn't happen. So it's back to the drawing board, we'll come back a year later and see if I can get it all together."
In contrast, Thürig was very happy with her ride. "For me it was my goal, just the small final. I didn't do so much, just three weeks of specific training because for me this year is also a year which my main goal is the Ironman. But I just wanted to participate here, it's a great experience for Beijing, if you can race against the girls it's very important; after, you know where you stand."
Thürig was shocked to discover she would not be riding against Slioussareva in her final, and was comparing her splits against the Russian's when Cyclingnews told her her opponent would be Mactier. "Oh really? Oh, oh, really? I didn't know that, OK – against the world champion! I will just do my race. I have to do my race, and really try to fight the last k, because that's the hardest."
Men points race qualifying
Chris Newton
Photo ©: Mike Gladu

Chris Newton (Britain) won the opening sprint of the first heat, comprising six sprints over sixty laps, with the next two sprints taken by Alexander Aeschbach (Switzerland) and Andreas Muller (Germany). An attack from Vasili Kiryienka and Ioannis Tamouridis saw them gain a lap just after the half way mark and the final two sprints went to Kazuhiro (Japan) and Mikhail Ignatiev (Russia) with solo attacks. Also qualifying were Martin Blaha (Czechoslovakia), Mathieu Ladagnous (France), with Brad Huff (USA) the final qualifier ahead of Martin Gilbert (Canada).
The second heat saw young Australian sensation Sean Finning take the first sprint with a solo attack, but then swing up and wait for the chasing bunch. Holland's Peter Schep took the second sprint, after an attack had split the bunch. Former world champion Juan Llaneras started the move, joined also by Rafal Ratajczyk (Poland), Sebastian Cancio (Argentina) and Finning. The five leaders held the bunch at bay until the final few laps, and racked up enough points to all qualify, with the final sprint taken by Angelo Ciccone (Italy) ahead of Kam Po Wong (Hong Kong), Iljo Keisse (Belgium), and Volodymir Rybin (Ukraine). The final qualifier was New Zealand's Timothy Gudsell; the only rider in the heat to not win any points, but also not lose a lap to the bunch.
Photography
For a thumbnail gallery of these images, click here
Images by AFP Photo
Images by Mitch Friedman/www.mitchophoto.com
Images by Mike Gladu/www.velodrome.com
Images by Mitch Friedman/www.mitchophoto.com
Results
Men's Points

Qualification

Heat 1
 
1 Vasil Kiryienka (Belarus)                      25 pts
2 Ioannis Tamouridis (Greece)                    23
3 Mikhail Ignatiev (Russia)                       8
4 Chris Newton (Great Britain)                    8
5 Kazuhiro Mori (Japan)                           7
6 Martin Blaha (Czech Republic)                   6
7 Alexander Aeschbach (Switzerland)               6
8 Mathieu Ladagnous (France)                      6
9 Andreas Muller (Germany)                        6
10 Charles Bradley Huff (USA)                     5
 
Did not qualify
 
11 Martin Gilbert (Canada)                        4
12 Carlos Manuel Hernandez (Mexico)               3
13 Andrew Bradley (Austria)                        
 
Heat 2
 
1 Juan Llaneras Rossello (Spain)                 14 pts
2 Peter Schep (Netherlands)                      11
3 Sean Finning (Australia)                       10
4 Rafal Ratajczyk (Poland)                        8
5 Sebastian Cancio (Argentina)                    8
6 Angelo Ciccone (Italy)                          6
7 Iljo Kiesse (Belgium)                           5
8 Kam Po Wong (Hong Kong)                         3
9 Volodymyr Rybin (Ukraine)                       1
10 Timothy Gudsell (New Zealand)                   
 
Did not qualify
 
11 Daniel Kreutzfeld (Denmark)                  -20
12 Jozef Zabka (Slovakia)                       -20
13 Andras Berkesi (Hungary)                     -40

Final

1 Peter Schep (Netherlands)                      31 pts
2 Rafal Ratajczyk (Poland)                       18
3 Vasil Kiryienka (Belarus)                      15
4 Chris Newton (Great Britain)                   13
5 Alexander Aeschbach (Switzerland)              13
6 Ioannis Tamouridis (Greece)                    13
7 Kazuhiro Mori (Japan)                          12
8 Ilzo Keisse (Belgium)                          11
9 Mikhail Ignatiev (Russia)                       9
10 Andreas Muller (Germany)                       8
11 Joan Llaneras Rosello (Spain)                  7
12 Sebastian Cancio (Argentina)                   6
13 Angelo Ciccone (Italy)                         5
14 Mathieu Ladagnous (France)                     5
15 Martin Blaha (Czech Republic)                  3
16 Timothy Gudsell (New Zealand)                  3
17 Kam Po Wong (Hong-Kong)                        2
18 Volodymyr Rybin (Ukraine)                      1
19 Sean Finning (Australia)                       1
20 Charles Bradley Huff (USA)                   -20


Women's Individual Pursuit


Qualification

1 Sarah Hammer (USA)                      3.37.194
2 Olga Slyusareva (Russia)                3.37.398
3 Katie Mactier (Australia)               3.37.520
4 Karin Thürig (Switzerland)              3.39.521
5 Wendy Houvenaghel (Great Britain)       3.39.834
6 Emma Davies (Great Britain)             3.41.102
7 Maria Luisa Calle Williams (Colombia)   3.41.442
8 Verena Joos (Germany)                   3.41.760
9 Alison Shanks (New Zealand)             3.44.820
10 Larissa Kleinmann (Germany)            3.45.155
11 Katherine Bates (Australia)            3.45.217
12 Elizaveta Bochkaryova (Ukraine)        3.46.105
13 Kristin Armstrong (USA)                3.46.202
14 Lisa Gatto (Italy)                     3.48.489
15 Gema Pascual Torrecilla (Spain)        3.49.266
16 Jarmila Machacova (Czech Republic)     3.49.379
17 Li Wang (China)                        3.49.940
18 Adrie Visser (Netherlands)             3.50.645
19 Sara Peeters (Belgium)                 3.51.004
20 Leire Olaberria Dorronsoro (Spain)     3.51.488
21 Li Meifang (China)                     3.51.716
22 Yulia Aroustamova (Russia)             3.52.687
23 Tatsiana Sharakova (Belarus)           3.55.897
24 Marina Jaunatre (France)               3.56.621

Finals
 
For gold and silver
 
1 Sarah Hammer (USA)                      3.37.227
2 Olga Slyusareva (Russia)                3.37.544
 
For bronze
 
3 Katie Mactier (Australia)               3.36.123
4 Karin Thürig (Switzerland)              3.42.439

Men's Team Sprint

Qualifying

1 France                                    44.194
 Grégory Bauge
 Mickaël Bourgain
 Arnaud Tournant
2 Great Britain                             44.407
 Chris Hoy
 Jason Queally
 Jamie Staff
3 Australia                                 44.591
 Ryan Bayley
 Shane John Kelly
 Shane Perkins
4 Netherlands                               44.747
 Theo Bos
 Teun Mulder
 Tim Veldt
5 Germany                                   45.050
 Robert Forstemann
 Maximilian Levy
 Stefan Nimke
6 Poland                                    45.269
 Lukasz Kwiatkowski
 Tomasz Schmidt
 Damian Zielinski
7 Spain                                     45.692
 Alvaro Alonso Rubio
 Ruben Donet Gregori
 Salvador Melia Mangriñan
8 China                                     45.708
 Lin Feng
 Yong Feng
 Zhang Lei
9 Japan                                     45.773
 Masaki Inoue
 Takashi Kaneko
 Kazunari Watanabe
10 USA                                      46.146
 Benjamin Barczewski
 Giddeon Massie
 Christian Stahl
11 Russia                                   46.152
 Denis Dmitriev
 Vladimir Kiriltsev
 Sergey Borisov
12 Canada                                   46.409
 Cam Mackinnon
 Yannik Morin
 Travis Smith
13 Ukraine                                  46.557
 Vitaliy Kulachkovskiy
 Yuriy Tsyupyk
 Andriy Vynokurov
14 Greece                                   46.742
 Athanassios Mantzouranis
 Vasileros Reppas
 Panagiotis Voukelatos
15 Czech Republic                           46.912
 Alois Kankovsky
 Michal Prokop
 Adam Ptacnik
DNS Venezuela

Finals
 
For gold and silver
 
1 France                                    43.969
 Grégory Bauge                                    
 Mickaël Bourgain                                 
 Arnaud Tournant                                  
2 Great Britain                             44.194
 Chris Hoy                                        
 Jason Queally                                    
 Jamie Staff                                      
 
For bronze
 
3 Australia                                 44.600
 Ryan Bayley                                      
 Shane John Kelly                                 
 Shane Perkins                                    
4 Netherlands                               45.999
 Theo Bos                                         
 Teun Mulder                                      
 Tim Veldt                                        

Women's 500m Time Trial

1 Natallia Tsylinskaya (Belarus)             34.152
2 Anna Meares (Australia)                    34.352
3 Lizandra Guerra (Cuba)                     34.609
4 Victoria Pendleton (Great Britain)         34.614
5 Jens Mouris (Netherlands)                  34.668
6 Shuang Guo (China)                         34.717
7 Sandie Clair (France)                      35.114
8 Céline Nivert (France)                     35.187
9 Tamilia Abassova (Russia)                  35.262
10 Yvonne Hijgenaar (Netherlands)            35.330
11 Elisa Frisoni (Italy)                     35.384
12 Nancy Contreras (Mexico)                  35.399
13 Dana Gloss (Germany)                      35.510
14 Kerrie Meares (Australia)                 35.551
15 Miriam Welte (Germany)                    35.665
16 Magdalena Sara (Poland)                   36.005
17 Diana Maria Garcia Orrego (Colombia)      36.060