Introduction to Track Racing - What's a Wheelrace? - Introduction to Six Day racing
Tasmanian Christmas Carnivals
Tasmania, December 26, 2005 - January 1, 2006
Devonport Carnival December 29-30 - Day 1
Chief Judge Noel Pearce paces Ben Kersten
Photo ©: Shane Goss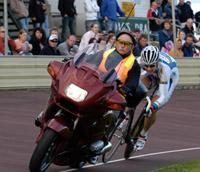 Chills, thrills, thankfully no spills
By Anthony Tan in Devonport
Day three of the Tasmanian Christmas Carnivals moved to Devonport, home of the Spirit of Tasmania, the boat that takes customers and their cars from Melbourne to Tassie in around 12 hours, depending on weather conditions. Speaking of the weather, skies turned cloudy and seas turned choppy as strong coastal breezes blew in across the multi-purpose Devonport Oval Thursday afternoon. But as the Lightning Handicap heats got underway around 5:00pm, mother nature's temperament had calmed, allowing for an uninterrupted albeit chilly evening of first-class track racing, athletics and this being Tasmania, wood-chopping. Yes, you heard correctly!
Midas Car Systems Lightning Handicap
Out of ten heats, only one scratch marker made it to the final - in-form superstar and defending champion Ben Kersten, who won the penultimate heat ahead of Tom Robinson and Aiden McInerney. The rest comprised an interesting mix of frontmarkers and middle-markers, with 10-metre man Joel Leonard making the final by the skin of his chinny chin-chin being one of the two fastest thirds - the rest were the top two placegetters in each heat.
Ben Kersten
Photo ©: Shane Goss

The 1000 metre final looked set to be an all Benny K affair as the powerhouse New South Welshman got himself onto the back of the first group with just over a lap to go; however as he worked his way on the outside around the back straight, he encountered a wayward frontmarker that put paid to his chances. Soon afterwards on the second last corner, 27 year-old New Zealander Hamish Wright, off 65 metres, shot out of the front group and held off Aiden McInerney and Adam Hartley for first place, with Kersten doing well to salvage fourth.
"I glanced around and could see it all close up at the back, but I just waited, came out of the wind a bit and went for it. I went from about the second last corner; it's not so bad if you can stay out of the wind until there. It's good to have a win," said the smiling Kiwi.
Defending champ Kersten admitted he didn't get off to the best of starts, but was less than satisfied with the events that transpired in the final lap. "There was this idiot on the outside of me who look's like he's never ridden a bike before and was moving left to right in increments and yelling at everyone, going, 'Out the way, you're too close!'
"I was two metres away and he was yelling!" said the bemused 24 year-old. "People like that shouldn't be allowed going into races like that if they're scared of people [riding] next to them."
C.J. Broun P/L Women's Lightning Handicap
The first eight women from two heats saw 16 out of 35 competitors make their way into the final of the women's handicap. Heat 1 saw Latrobe wheelrace winner Emma Heynes, off 115 metres, come good once more, beating Sarah Cure and Adele Gee, while 15 metre marker Jessica Berry took out Heat 2 ahead of scratchie Belinda Goss and Peta Mullens.
But as seen in previous days, the backmarkers didn't have the combined HP (that's short for horsepower, not that spicy English barbecue sauce) necessary to reel in those pesky women enjoying 80 or more metres head-start. In the end, it was Janelle Smith, off 85 metres, who outsprinted frontmarkers Karissa Ling and Adele Gee (both 115 metres) for 200 bucks and a place on the top step of the podium. Smith was so quick, in fact, that she escaped the Cyclingnews tape recorder and the local reporters on duty!
Motors Devonport Invitation Cycling Sprint Derby
Josh Kerhof (L) and Elliot Gaunt
Photo ©: Shane Goss

"I lost 270 dollars so it's not the end of the world... now I know not to hesitate."
Kersten's words from the previous race he contested turned out to be fortuitous in the Motors Devonport Invitation Cycling Sprint Derby, letting his legs do the talking in the four-lap event to beat Western Australia's Scott Sunderland and Victorian Institute of Sport rider Joel Leonard in a time of 11.92 seconds.
"It's always hard when you look at the start list and you see all those good names, but you sort of get to the stage [in the carnivals] where you realise it's not the end of the world and if you lose, you lose," he said pragmatically.
"When you're doing 10 races a day, every race isn't that important, so you hope it works out; if it doesn't, you move on and you go to the next race. I guess losing races is more important than winning races - sometimes you win a race doing the wrong thing - but you always learn something if you lose."
C.J. Broun P/L A Grade Women's Scratch Race
It was a case of being Berry Berry good as winner in Latrobe, Jessica Berry, backed up her win on Monday in tonight's C.J. Broun P/L A Grade Women's Scratch Race. Halfway through the race, the TIS/Cyclingnews duo of Belinda Goss and Grace Sulzberger attempted to split the field, but when it came back together the very next lap, a lull in speed set up final proceedings for a bunch sprint.
Unexpectedly in the final lap, however, Berry hit out very early down the back straight, cleverly kept the inside line and surged once more to hold off a fast-finishing field all the way to the finish line. Second was Goss and third Peta Mullens.
Asked what her intentions were, the young blonde smiled before revealing her only thought: "I've got to get out of here!
"I was in the worst position ever. I had Belinda Goss' wheel; she went through the bunch, so I went with her and then around her at the right time. I thought, 'Oh, I've gone too soon' but I attacked, eased the pace off and then attacked again - and it worked out!" said a jubilant Berry.
Toll Tasmania Mersey Wheel Race Kym Smoker Memorial
Evan Oliphant (C)
Photo ©: Shane Goss

Six hotly-contested heats decided the start list for the signature cycling event of the night, with the first three riders across the line setting up a class field of 18 riders in the Toll Tasmania Mersey Wheel Race Kym Smoker Memorial. Heats 4 and 6 saw at least one star rider make the final, with the names of Kersten, Howard and Goss making the cut - Aaron Jones (off 180 metres), Tom Robinson (150 metres), Travis Meyer (120m), Leigh Howard (30m), Toby Lennon (100m), and Adrian Hanson winners of their respective heats.
The cold weather may have been biting, but final was electric. As all bar the backmarkers Kersten, Howard and Goss converged, the stage was set for a sprint royale, and it was Scottish veteran Evan Oliphant, off 35 metres, who saved his best for last, a comfy winner over Tom Robinson and Toby Lennon.
Explained the victorious Oliphant: "There were three guys in front of me and I knew if I got onto them, they'd try and guys in front. I actually put on a bigger gear than I've been using all day just because I knew it was going to be a lot faster - I more or less got a free ride right to the front, went past them at the end, and it worked out perfect."
It's the flying Scotsman's first attempt at this format of carnival-style racing, and for 23 year-old from the far northeast coast town of Lick, it's clearly a successful one. However Oliphant, like a number of world-class competitors at the Christmas Carnivals, is here only to tune his engine for the upcoming Commonwealth Games, where he'll compete on both the track and road.
"I'm probably going better I've gone at this time of year, but I've had a long season this year compared to normal - [this year] I started full-time on the bike," he said. "After this, I'll do a few endurance rides just to get some more base miles and hopefully peak just in time for the [Commonwealth] Games.
"I'm going to Melbourne to do some crits, then I'm going to a stage race in New Zealand, then Langkawi - all racing [in preparation] for the Games. I'll only go back to cold Scotland in April," Oliphant said with a grin, the chilly Devonport evening probably beach weather in Lick.
Men's A Grade scratch race
Joel Leonard from Victoria
Photo ©: Shane Goss

Victorian rider Joel Leonard showed his ever-increasing endurance ability with a win in night's final race, the men's A Grade scratch. Staying with the fast-moving bunch for the entire race, Leonard had the goods over the final half lap to cement his place as one of the best riders of this year's carnivals. Starting just in front of scratchmen Ben Kersten and Matt Goss Leonard was able to bide his time and hang on, saying after the race that he knew his chances were good if he was "amongst it in the last ten laps." The national keirin made the most of his opportunity, taking the win ahead of TIS rider Goss and fellow Tasmanian Stephen Rossendell.
It was action aplenty from the gun as Mark Jamieson and Nathan Clarke showed few ill-effects from Wednesday night's hectic schedule at Launceston's Silverdome to break away early in proceedings, staying out front until 13 laps from the finish, having led for 19 of the 32 laps in the race. Jamieson showed all his pursuiting skills with the brave attack, and Clarke's support enabled the two to take many of the cash ssprints on offer. Attacks on the duo from German rider Christian Lademann and Argentinian Sebastian Cancio helped bring the field back Clarke and Jamieson, and from theree it was anyone's race.
Mersey wheel race winner Evan Oliphant positioned himself amongst the leading group over the final laps, and with a group of 11 going clear during the final seven laps, a winner was sure to come from this selection. Goss was doing the lion's share of work on offer with some big turns, but after a huge effort earlier in the race it was Jamieson who made a run for it with two laps remaining. His move wasn't successful, and over the final half lap it was Leonard's superior sprinting skills that came to the fore, taking him to a well-deserved win. The 24-year-old was surprised with his win, saying post-race that he just tried to stay in it. "I knew that if I was there in the last ten laps I was in with a shot," he said. "I used to ride the road and the endurance showed tonight."
Photography
For a thumbnail gallery of these images, click here
Images by Shane Goss/www.licoricegallery.com
Results
Men's lightning handicap final
 
1 H Wright (NZl)                     
2 A Stewart (Vic)                    
3 A Hartley (Tas)                    
 
Women's lightning handicap final
 
1 J Smith (Tas)            1.16.40              
2 K Ling (Tas)                       
3 A Gee (Tas)                        

Sprint derby
 
1 B Kersten (NSW)            11.92              
2 S Sunderland (WA)                  
3 J Leonard (Vic)                    

A Grade women's scratch race
 
1 J Berry (Vic)            5.17.46              
2 B Goss (Tas)                       
3 P Mullens (Vic)                    
 
Mersey wheel race final
 
1 Evan Oliphant (GBr)      2.11.70        
2 T Robinson (Tas)                   
3 T Lennon (Vic)                     
4 A Hanson (Vic)                     

A Grade men's scratch race
 
1 J Leonard (Vic)         21.13.30           
2 M Goss (Tas)                       
3 S Rossendell (Tas)                 
 
Complete results