Introduction to Track Racing - What's a Wheelrace? - Introduction to Six Day racing
Tasmanian Christmas Carnivals
Tasmania, December 26, 2005 - January 1, 2006
Burnie Carnival - January 1, 2006
Main Results Men's wheelrace Women's races Complete results
Other men's races
By Anthony Tan in Burnie
The Advocate Lightning Handicap, 1000m
Ryan Innes
Photo ©: Shane Goss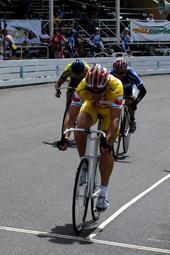 The name said it all. A warp-speed handicap - just over two laps of the Burnie Oval or a thousand metres - caught the back-markers off guard, as front-markers Ryan Innes, Dwayne Smith (both off 100m) and John Forrest (80m) took advantage of a monster tailwind down the back straight to distance themselves from the stronger riders and claim the first three places.
23 year-old Innes, only last year an AFL player and a local with the Launceston City Cycle Club, was naturally delighted with the win, saying he knew he was up for a good ride after winning his earlier heat. "I surprised myself a little bit, just how much I got away from them when I hit away on the downhill section," he said. "Really in Burnie, if you get away on the downhill [section], the uphill [to the line] you can keep the power on and hold them off.
"Because it was so quick [in the final], it was pretty much go straight away. We were pretty much right near the front, so it was pick 'em [the front-markers] up as quick as we can and try and punch on through the headwind on the last lap," added a smiling Innes, clad in the outfit of ProTour team Saunier Duval-Prodir - although he'll need to win a few more races to attract that sort of attention!
Lone scratch marker Ben Kersten finished out of the placings, telling Cyclingnews he found it difficult to motivate himself after yesterday's postponement of the Burnie Carnival. "I was pretty much ready to go home today, so I found it a bit hard to get going again; my body's a bit exhausted," said Kersten. "I didn't warm up at all for the first race; I got dressed and hopped out there," he said.
The New South Welshman believed the conditions were clearly in favour of the first three placegetters, but added it may be a different story for subsequent races, where the longer events may work to the stronger riders' advantage.
"I think coming down the back straight back, there's a big downhill with the tailwind, so everyone got so fast and spread out, there was room to go and I wasn't going to risk going around the outside again. The other day, I nearly crashed, and lucky because the guy in front of me I was going to go around nearly hit the fence himself. So there was no room, so I just had to wait until there was a gap and unfortunately it was too late."
"But it's going to be difficult [in the next races]; every race is going to be different, so it's going to be strange," he said. Sure enough, Kersten's group got up 10 minutes later in his heat of Top of The Town Pharmacy Handicap over 2000 metres.
Top of The Town Pharmacy Handicap, 2000m
Aaron Jones
Photo ©: Shane Goss

17 year-old Burnie local Aaron Jones found himself on top of the world after he and youngster Ben Laskey held off the imposing figure of Ben Kersten at full speed in the Top of The Town Pharmacy Handicap.
With one-and-a-half-laps to go in the four-and-a-half lap race, it was five back-markers versus four front-markers and the odds were in favour of the former, but one by one, each fell by the wayside until only Kersten was left to chase down the two whipper-snappers, who came up metres short. Strong Canberra local John Forrest finished fourth to add to his impressible victory in the D grade scratch race earlier in the day.
"The wind isn't the best for us small front riders, but sometimes it can pay off," said a jubilant Jones. I train on this track twice, three times a week, so I knew where I had to go around. Us front guys, we've been riding together for a while, so it was a team effort all up."
Asked what was going through his mind what he saw five back-markers coming at him at 60 kilometres an hour on the bell lap, he said: "I'm thinking, 'Geez, are they gonna get us...' I didn't think we were going to hold out when we heard they were only just behind us with the tailwind, but we stayed out there and it's good.
"Actually," grinned Jones after a little reflection, "it feels awesome!"
When quizzed what does a 17 year-old do with 900 dollars in his back pocket, the gracious boy from Burnie said he'd give a little of his earnings to the other front-markers who helped him out. "The rest of it will go towards the bike."
Russell Smith Electrical Invitation Series Keirin Final, 1500m
Riders in the final of the keirin
Photo ©: Shane Goss

One with heat apiece, the keirin decider was tipped to be a match between Ben Kersten and Joel Leonard. And as the moto peeled off with four laps to go, the Victorian slyly moved onto the wheel of the New South Welshman within the next lap, indicating that he would challenge Kersten from behind...
Kersten, bravely clad in a mostly white skinsuit on an ice-cold afternoon (now don't get me wrong, he's one of about three people in the world who can pull this off), may have said he was feeling shabby late this morning, but as the day wore on, he was definitely getting better, though he didn't want to admit it - even after making the final of the Burnie Wheelrace.
"At the start of the day, I felt like I wanted to die; I was having a sleep before [the opening handicap heat over 1000 metres] and didn't get a warm-up. I've missed out on every handicap here. Every final I get in, scratch doesn't get up," Kersten said, clearly playing down his chances for the main event.
"I was thinking about that [the Burnie Wheel], not using too much petrol, so I let everyone sort of do what they wanted. Thankfully, Joel wanted my wheel; if he really put it on, I'm not sure if I would of had the commitment there, because the pressure's on now for the [wheelrace] final in forty minutes."
Ben Kersten (L)
Photo ©: Shane Goss

At the bell lap, things were pretty much status quo until Jon Norfolk hit out on turn two, today's favoured attacking ground. For a while, it looked as if the Englishman was about to pull off a surprise win as the big names hesitated, but Duane Johansen's reaction closed down the 'situation' right on the final bend before big Benny K made it look so easy, using his incredible strength to power to the line into a block headwind, a comfortable winner over Sebastian Donadio and Todd Wilksch, with Joel Leonard fourth.
"It's quite handy here," said Kersten, now sounding and looking a little more confident. "You can leave it quite late; when someone pulls away down the back straight, they're going to stay there."
Still, it was clear there was a bigger fish to fry. A fish called the Burnie Wheel.
Bruce Gowans Toyota A Grade Scratch Race
The field in the A Grade scratch race
Photo ©: Shane Goss

An animated race marked the final cycling event of the evening, a 33 lap men's points race. Already by the end of the first lap, Daniel Cutting had broken away - comically after almost being left behind at the start - but it was the counter by Sebastian Cancio that got the bunch moving.
The Argentine rider spent almost ten laps out on his own before he was caught with 22 laps remaining, albeit a little richer with generous sprint primes on offer. It was then time for Cancio's team-mate Sebastian Donadio and T.I.S./Cyclingnews' Darren Young to have a go, but that too came to nought three laps on.
Unsurprisingly, Ben Kersten pulled the pin at 13 to go, content has was already $3,500 richer from his victory in the Burnie Wheel. A group of five then tried their chances, lasting just a lap, before it was Cancio again at the head of affairs, this time tagging onto the wheel of Germany's Christian Lademann.
When that was brought back, Jayco/V.I.S. rider Simon Clarke took off after a prime with five laps remaining, and later decided to make a go of it. "I saw there was 100 bucks up, so that was my goal to see if I could get that sprint, but then I looked under my arm and there was no one there, so with five to go, I would see how hard I could go," he said.
Simon Clarke (Jayco/VIS)
Photo ©: Shane Goss

The aggressive 19 year-old Victorian, without a win so far at the Tassie Carnivals, took full advantage of a dwindling bunch behind him, and pure guts and determination was rewarded in the form of a $2,170 cheque. Ker-ching, ker-ching!
"I haven't had such a good Christmas carnivals here and I've been off a hard handicap mark, so I've always had to try and get some results in the scratch races," said Clarke. "This is the last one of the night and I'd thought I'd go out there and give it a crack. I knew they'd [the bunch] be going flat-out, so I just tried not to look back.
"I started to get back into training now, just out of the off-season, so I've been getting better and better since the first race in Latrobe, and yeah, it's good to have a win on the last night."
(Note: Although the Burnie Carnival was postponed to January 2, 2006, due to rain, the weather did hold out long enough for a series of street criteriums to be held on New Year's Eve - see full results, report & photos.)
Photography
For a thumbnail gallery of these images, click here
Images by Shane Goss/www.licoricegallery.com
Results

Event 15: The Advocate Lightning Handicap, 1000m - Final
 
1 Ryan Innes                                1.05.77
2 Dwayne Smith
3 John Forrest
 
Event 38: Motors International Match Race Derby - Race 1
 
1 Ben Kersten                                 12.75 (final 200m)
2 Joel Leonard
3 Jon Norfolk
 
Event 49: Top of The Town Pharmacy Handicap, 2000m - Final
 
1 Aaron Jones                               2.16.18
2 Ben Laskey
3 Ben Kersten
4 John Forrest
 
Event 59: Russell Smith Electrical Invitation Series Keirin, 1500m - Heat 1
 
1 Anthony Rix
2 Joel Leonard
 
Event 60: Russell Smith Electrical Invitation Series Keirin, 1500m - Heat 2
 
1 Ben Kersten
2 Leigh Howard
 
Event 61: Russell Smith Electrical Invitation Series Keirin, 1500m - Heat 3
 
1 Christian Lademann
2 Jon Norfolk
 
Event 62: Russell Smith Electrical Invitation Series Keirin, 1500m - Heat 4
 
1 Sebastian Donadio
2 Duane Johansen
DQ Jarrod Harmon
 
Event 74: Motors International Match Race Derby - Race 2
 
1 Joel Leonard                                12.75 (final 200m)
2 Ben Kersten
3 Jon Norfolk
4 Evan Oliphant
 
Event 109: Russell Smith Electrical Invitation Series Keirin, 1500m - Final
 
1 Ben Kersten
2 Sebastian Donadio
3 Todd Wilksch
4 Joel Leonard
 
Event 112: Motors International Match Race Derby - Race 3
 
1 Joel Leonard
2 Evan Oliphant
3 Ben Kersten
 
Overall standings after three races
 
1 Joel Leonard
2 Ben Kersten
3 Evan Oliphant (on count back)
 
Event 127: Bruce Gowans Toyota A Grade Scratch Race
 
1 Simon Clarke                             19.48.12
2 Nathan Clarke
3 Todd Wilksch
 
Complete results