Introduction to Track Racing - What's a Wheelrace? - Introduction to Six Day racing
Tasmanian Christmas Carnivals
Tasmania, December 26, 2004 - January 1, 2005
Burnie Carnival - January 1, 2005
Main Results Other men's races Women's races Complete results
Wheelrace
Brown blasts to Wheel win
By John Stevenson in Burnie
Graeme Brown takes his second successive win in the Burnie Wheel
Photo ©: Shane Goss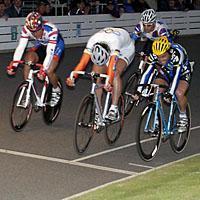 Graeme Brown took the victory that mattered most to him of these carnivals when he won the Burnie wheel race by half a wheel from Darren Young and Jame Carney this evening. The scratchman podium sweep came after a series of heats that delivered another wide and deep field of backmarkers. It was a race where the midfield riders should be afraid. Very afraid.
But at West Park Oval noone can hear you scream, though they might hear you shiver as the mercury plummeted in the closing hours of New Year's Day. The scratchmen and Matt Goss rounded up Michael ford and Tommy Nankervis and Goss put in a massive surge to begin closing the gap to the midfield. Mission accomplished, Goss dropped off, and Stephen Rossendell took the lead of the chase group. Rossendell delivered a massive turn, powering the scratch chase for a lap and a half of the six-lap race, and looked as delighted at the end of the race as if he'd won himself.
Then it was Nathan Clarke's turn and if his Latrobe wheelrace win was a gift from Brown, he paid it back tonight, charging through the shreds of the midfield in pursuit of the only remaining threat, a four-man lead group powered by Karl Menzies.
At the bell, Clarke had dealt with that problem and peeled off to let the contenders battle it out. With half a lap to go Darren Young made his move and got a gap on Brown and Carney. Brown responded and we saw the trademark Brown hammertime that's been a bit absent until today. Neverthless, the sprinter from southern Sydney almost left it too late, only managing to get half a wheel ahead of Young with a final huge bike throw.
Brown summed up the race in two words. "Really quick," he said. "we had a few problems with riders getting in the way, but we overcame then and got the win."
And today Brown finally hit form and felt, "awesome actually. I've been gee-ed all day. I've been feeling sluggish all through the carnivals but I think the criterium last night here in Burnie gave me a bit of a leg opener and made me feel really good."
You don't win a wheelrace without working with your peers and brown credited the scratchmen with working together throughout the series, echoing Jame Carney's remarks at Launceston that there had been "no squabbling" this year. "The scratchmarkers have worked awesome all week actually. They've just committed themselves 100 percent to getting the win and we've only missed out on one of the wins. It's definitely been a strong back mark and Rossendell was really good today, very impressive."
Once scratchmen like Rossendell had sacrificed themselves, though, a genuine, tight finish developed between Brown, Darren Young and Jame Carney.
"I only just rolled Youngie," said Brown, "and I wasn't sure if I was going to get him there at the finish. I had to give it a good throw for the line and Jame was coming too. It was really tight, but a wins a win and I'm happy for that. I had to win one."
Next up for Brown, as for so many of the carnival riders who mix track and road, are the Bay crits and the national championships, then, "Tour Down Under and Tour of Langkawi. This is the end of the first week of the next five weeks. I've got a solid month ahead."
As he said earlier in the day, Brown isn't as well prepared for that month as he'd usually be, after losing much of 2004 to injury. But the Achilles tendon problem that wiped out much of his year seems to have responded well to physiotherapy.
"I think it's sorted," said Brown. "It's been without any problems for a good month now I stepped into training as soon as it started to feel really good and I haven't had a problem since. I just went out one day and said, 'I'm going to nail it and if it's good it's good and if not it's back to square one.'"
Wheelrace heats
The length of the Burnie wheel and its heats favours strong riders who can maintain the rage for long enough to catch and pass their weaker rivals. And so it was in most of the wheelrace heats as hard-charging scratch groups made the running to the midpack riders and set the scene for yet another wheelrace final scratchfest later in the evening.
In the first heat the scratch trio of Graeme Brown, Todd Wilksch and Nathan Clarke, plus de facto scratchman Matt Goss off 15m, picked up Michael Ford (60m) and put the pedal not just to the metal but right through the floor to catch the midfield after just a lap and a half. While Kharne Hammersley and Wes Sulzberger led a desperate escape attempt at the front, the scratchies came after them like a flock of avenging b-movie clichés and the entire back group crossed the line in fighter information.
The second heat didn't go the scratchies' way as, with a huge gap to cross, Christian Lademann, Mark Jamieson and Ashley Hutchinson toiled to make contact but lacked the strength in numbers to close the 120m margin of Gui Nelesson. Matthew Atkins powered the midfield up and through the front group. The midfield effort seemed to falter with three to go, but as Mark Jamieson tried to get across to the leaders in the second-last lap, Tim Walker, Adam Hartley, and Atkins puched hard for the line. Jamo got within striking distance at one to go but couldn't quite close the gap as the seven-man front pack powered away from him.
In the third heat a five-man chase group soon formed, made up of scratchmen Darren Young, Stephen Rossendell, Jame Carney plus Bobby Lea (30) and Grant Irwin (50). They had a big gap to make up even with six laps to do it in. They scooped up Koji Youshii and the six worked together. Irwin fell off the pace as Lea took a huge turn and brought them up to the leaders. Irwin redoubled his efforts and caught the field. With a lap and a half to go the whole field was together, with Jame Carney taking the front at the bell. Cameron Wise came round Carney and Young and Rossendell countered the threat from the 135m upstart pushing him back into third.
Heat four didn't involve any scratchmen, providing a chance for some strong midfield riders to get up to the final. Riding off 90 and 105 metres, Ben Price, Gareth Atkins and Tommy Nankervis soon combined with the midfield to get after a small but defiant group of frontmen who were determined to stay away. With a lap and a half to go four riders including Czech paralympian Jiri Jezek and Simon Van der Aa still had a gap, but as the bell went they were reeled in and the stage set for Freidman and Menzies to take a powerful one-two.
Photography
For a thumbnail gallery of these images, click here
Images by Shane Goss/www.licoricegallery.com
Results
Burnie Wheel heat 1
 
1 Nathan Clarke (scr)
2 Todd Wilksch (scr)
3 Graeme Brown (scr)
4 Michael Ford (60)
5 Matthew Goss (15)
 
Burnie Wheel heat 2
 
1 Tim Walker (210)
2 Adam Hartley (210)
3 Matthew Atkins (150)
4 Ben Laskey (270)
5 Stuart Keep (225)
 
Burnie Wheel heat 3
 
1 Darren Young (scr)
2 Stephen Rossendell (scr)
3 Cameron Wise (165)
4 John Forrest (225)
5 Jame Carney (scr)
 
Burnie Wheel heat 4
 
1 Mike Freidman (135)
2 Karl Menzies (150)
3 Gareth Atkins (90)
4 Tommy Nankervis (45)
5 Daniel Vogels (165)
 
Burnie Wheel race field
 
Graeme Brown (scr)
Jame Carney (scr)
Nathan Clarke (scr)
Darren Young (scr)
Stephen Rossendell (scr)
Todd Wilksch (scr)
Matthew Goss (15)
Tommy Nankervis (45)
Michael Ford (60)
Gareth Atkins (90)
Mike Freidman (135)
Karl Menzies (150)
Matthew Atkins (150)
Daniel Vogels (165)
Cameron Wise (165)
Tim Walker (210)
Adam Hartley (210)
John Forrest (225)
Stuart Keep (225)
Ben Laskey (270)
 
Burnie Wheel race final
 
1 Graeme Brown (scr)
2 Darren Young (scr)
3 Jame Carney (scr)
4 Mike Freidman (135)
5 Tim Walker (210)
 
Complete results