Recently on Cyclingnews.com
Introduction to Track Racing - What's a Wheelrace? - Introduction to Six Day racing - UCI codes
US National Track Championships - CN
Frisco Superdome, TX September 7-11, 2004
Day 1 - September 7: Women Pursuit, Men Pursuit, Men Keirin
Elite Track Nationals heat up opening night
By USA Cycling
Marty Nothstein
Photo ©: Mike Gladu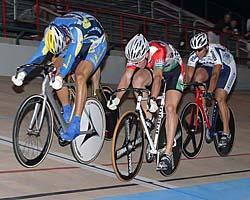 Bobby Lea (Taneytown, Md.) and Annette Hanson (Kirkland, Wash.) claimed the gold medals in last night's individual pursuit finals, while Marty Nothstein (Orefield, Pa.) took the top honor in the men's keirin at the USCF Elite Track National Championships. After posting the fastest time in yesterday's qualifying round, Bobby Lea successfully defended his 2003 national title by besting Kenneth Williams for the win, while Curtis Gunn (Tuscon, Ariz.) defeated 2004 Olympian Colby Pearce (Boulder, Colo.) to take the bronze.
The top qualifier also took the victory in the women's event, as Hanson beat Nancy Lux (Clyde, N.C.) for her top spot on the podium. In the bronze medal race, it was 2003 Junior World Champion Larssyn Staley (Beaverton, Ore.) who posted the win over Natalie Klemko (Bristol, Wis.)
2004 Olympian Marty Nothstein claimed top honors in the men's keirin last night, by defeating silver medalist Andy Lakatosh (Trexlertown, Pa.) and bronze medalist Robert Lindstrom (St. Paul, Minn.). Annette Hanson claimed gold in the women's pursuit.
Photos
Images by Mike Gladu/www.velodrome.com
Morning Session
Men Pursuit Qualification
Women Pursuit Qualification
Evening Session
Men Keirin Heats
Women Pursuit Final
Men Keirin Repechage
Women Sprint Qualification (Top 12)
Men Keirin Round 2
Women Sprint Round 1
Men Pursuit Final
Women Sprint Repechage
Men Keirin
Results
Men's Pursuit qualifications and final results

1 Robert Lea (T.E.A.M. Fuji)                             04:44.5
2 Kenneth Williams (First Rate Morgage)                  04:47.5
3 R Curtis Gunn (Veloworx Racing)                        04:48.6
4 Colby Pearce (TIAA-CREF/5280)                          04:51.3
5 Michael Friedman (NERAC.COM)                           04:56.3
6 Douglas Beck (Unattached)                              04:58.2
7 David Wenger (Sharper Image/Mathis Brothers)           04:59.8
8 Joshua Kerkhof (Team Rubicon/United)                   05:03.0
9 Marcus Black (Cody Racing)                             05:06.3
10 K Benjamin Richter (University of Minnesota)          05:07.6
11 Zachary Ford (Team Biycles Inc.)                      05:08.6
12 Randy Smargiassi (Gotham Cyclists)                    05:09.1
13 Kevin Anderberg (TREK/VW/RBM)                         05:14.7
14 Jimmy Tart (Cole Sport)                               05:23.4
15 Jason Romain (People's Burn Foundation)               05:23.6
16 John Wright (Wolf Pack Bicycle Club)                  05:47.0

Women Pursuit qualifications and final results
1 Annette Hanson (Team Rubicon/United)                   03:59.4
2 Nancy Lux (Asheville Women's Cycling)                  04:02.2
3 Larssyn Staley (Hot Tubes Development)                 04:05.8
4 Natalie Klemko (ABD Cycling Team)                      04:09.5
5 Shannon Koch (Team LaS'port)                           04:10.5

Men's Keirin final
1 Marty Nothstein
2 Andrew Lakatosh
3 Robert Lindstrom
4 Kevin Belz
5 Christian Stahl
6 James Carney
7 Ryan Nelman
8 Aaron Kacala
9 Julian Cushing
10 Joel Kelly