Introduction to Track Racing - What's a Wheelrace? - Introduction to Six Day racing - UCI codes
Los Angeles Time Trials - NE
Los Angeles, CA, USA, November 19-20, 2004
Main Page Results Previous Day
Day 2 - November 20: Standing 500m TT - Women, Standing 1km TT - Men, Standing 4km Team Pursuit
Gunn establishes ADT Hour benchmark
By Mitch Friedman
Curtis Gunn
Photo ©: Dana Ross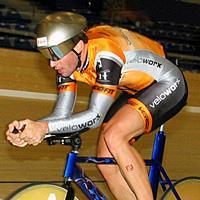 After winning the 4K Individual Pursuit Talent Pool time trial on Friday with a time of 4:44, Curtis Gunn went out to set a world record for 'Best Performance Record' (hour record with aero equipment allowed) at the ADT Event Center Velodrome, Los Angeles, on Saturday afternoon.
Gunn, 33, didn't have time to do specific training because only a few weeks ago he was busy competing in the Tour of Southland (UCI 2.5) in New Zealand where he won the Harcourt Sprint Ace jersey. He and his teammate and advisor Eddie Monnier (Velo-Fit, a Cyclingnews Form & Fitness Contributor) took advantage of the L.A. Time Trials event, as USA and UCI Cycling officials would be on hand to verify his record.
Gunn rode 47.764km, setting a new world record for a non-pro rider in the 30-34 age group. This is the inaugural attempt on this category, so Gunn has set the standard for others to break.
Gunn, who rides for Veloworx Racing thanked Eddie Monnier and Veloworx Racing for all their help this season. He said that while he knew it would hurt, it was even harder than he expected, and if he ever tried it again, he would train for it specifically! He found that every time he took a sip of water (he used a Camelbak drinking system) the next lap seemed a bit slower, so he had had to pick up the pace. Actually, he was remarkably consistent in his pacing with less than a second between his fastest and slowest laps (aside from the starting lap, of course). Gunn hopes to turn pro next season so he wanted to set this age-graded record for the 30-34 age group before he became ineligible.
Event report
By USA Cycling
The second day of the Los Angeles Time Trials featured the men's kilometer time trial and the women's 500m time trial.
2004 USCF Junior National Champion, Aaron Kacala (Racine, Wis.) clocked a time of 1.07.00 to win the kilo and Martha Dunne (San Diego, Calif.) rode a 38.90 to win the women's 500m time trial.
For the second consecutive day, athletes failed to meet the time standards that would have resulted in automatic nominations to the USA Cycling talent pool.
At the end of the day, Curtis Gunn (Tucson, Ariz.) who captured the 4km time trial on Friday, established a one hour record for the facility, riding 47.78km. The result will be submitted to the UCI as an age-graded record for the 30-34 age group.
The complete USA Cycling Track Talent Pool will be named next week.
Photography
Images by Mitch Friedman Photography
Images by Dana Ross/www.danarossphoto.com
Results
Women's standing 500m time trial

1 Martha Dunne                          18.90

Men's standing kilometer time trial

1 Aaron Kacala                        1.07.00