Introduction to Track Racing - What's a Wheelrace? - Introduction to Six Day racing - UCI codes
Australian Junior Track Championships - CN
Australia, March 5-8, 2004
Day 1 - March 5: 1 lap Time Trial (JM15, JW15, JW17, jm17), Teams Pursuit (JM17), Individual Pursuit (JW17), Scratch Race (JM15, JW15)
Day 1 wrap up
By Rod Morris in Launceston
The gold medal winning West Australian Men's U17 Pursuit Team (L to R):
Photo ©: Lynne Ryan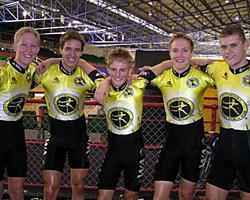 Victoria and Western Australia were the star players on the opening day of the 2004 Australian Junior Track Cycling Championships in Tasmania. Victoria scored a return of eight medals, including four golds, whilst the WA team picked up five medal, including three cherished gold.
WA also won its first ever Men's Under 17 Team Pursuit over 3000 m. The Meyer brothers, Cameron and Travis combined with Duane Johansen and Byron Page to defeat the reigning champions, Victoria in the final. WA's best rider, Scott Sunderland was omitted from the gold medal ride after earlier playing a solid role in qualifying.The WA unit was clocked at 3.31.05 in the final against the Victorians, who registered 3.34.49.
Sunderland enjoyed success in the new 1 Lap Time Trial Championship, which has replaced the old Flying 200 m. Sunderland stopped the clock at 21.22 seconds for the 285 m journey around the Launceston Silverdome track. WA's other gold medal performance came in the Women's Under 17 Individual Pursuit, when Josephine Tomic defeated Victorian Peta Mullens.
Josephine Tomic
Photo ©: Lynne Ryan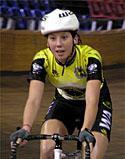 Victoria's four gold medals came from Sarah Humphreys (Women's Under 17 1-Lap Time Trial), Georgina Freeland (Women's Under 15 1-Lap Time Trial and 5 km Scratch) and Michael Downing (Men's Under 15 5 km Scratch). Unfortunately for Freeland, she also suffered an injury and is now likely to miss the remainder of the championships.
New South Wales also enjoyed gold medal success on Day 1, with Luke Davison claiming victory in the Men's Under 15 1-Lap Time Trial.
The Championships continue through till Monday.
Photography
Images by Lynne Ryan/redbackdesign.com.au
Results
U17 Men 3000m Team Pursuit
 
Qualification
 
1 WA                              3.33.98
 Travis Meyer
 Cameron Meyer
 Duane Johansen
 Scott Sunderland
2 VIC                             3.37.08
 Leigh Howard
 Lee Houssaye
 Sean Bourke
 Alexander Smyth
3 SA                              3.37.65
 Edward Petney
 Craig Mattingly
 Jack Rhodes
 Christos Winter
4 NSW                             3.39.72
 Luke Barrett
 Angus Morton
 Matthew Pettit
 Nicholas Spratt
5 QLD                             3.40.01
 Hayden Josefski
 Benjamin Phillips
 Joshua Edwards
 Jeremy Hogg
6 TAS                             3.41.73
 Thomas Robinson
 William Robinson
 Clay Murfet
 Ben Fielding
 
Semi-Finals
 
Heat 1
 
1 VIC                             3.34.64  (50.32 km/h)
 Leigh Howard
 Lee Houssaye
 Luke Gooley
 Alexander Smyth
2 SA                              3.40.17
 Edward Petney
 Craig Mattingly
 Benjamin Young
 Christos Winter
Heat 2
 
1 WA                              3.33.98  (50.47 km/h)
 Travis Meyer
 Cameron Meyer
 Duane Johansen
 Scott Sunderland
2 NSW                             3.41.79
 Luke Barrett
 Angus Morton
 Matthew Pettit
 Nicholas Spratt
 
Finals
 
Race for Bronze
 
3 NSW                             3.34.49  (50.35 km/h)
 Luke Barrett
 Gregory Beer
 Matthew Pettit
 Nicholas Spratt
4 SA                              3.37.64
 Edward Petney
 Craig Mattingly
 Jack Rhodes
 Christos Winter
Race for Gold
 
1 WA                              3.31.05  (51.17 km/h)
 Travis Meyer
 Cameron Meyer
 Duane Johansen
 Byron Page
2 VIC                             3.32.63
 Leigh Howard
 Lee Houssaye
 Luke Gooley
 Sean Bourke
 
U17 Women 1 lap time trial
 
1 Sarah Humphreys (VIC)              23.48
2 Laura Battista (SA)                24.11
3 Emily Wood (WA)                    24.34
4 Lisa Friend (VIC)                  24.37
5 Rebecca Macpherson (WA)            24.69
6 Josephine Butler (WA)              24.70
7 Jessica Hume (NSW)                 24.84
8 Haley Russell (QLD)                24.96
9 Samsiah Rice (WA)                  24.97
10 Erin Peoples (VIC)                25.10
11 Grace Sulzberger (TAS)            25.23
12 Courtney Le Lay (QLD)             25.23
13 Deena-Maree Faulkner (NSW)        25.26
14 Emma Sonerson (NSW)               25.42
15 Laura Meisel-Dennis (ACT)         25.49
16 Natalie Macfarlan (SA)            25.65
17 Kailee Goodwin (TAS)              25.87
18 Gracie Elvin (ACT)                25.91
19 Sarah Eaves (TAS)                 26.05
20 Dahra Bugg (TAS)                  26.05
21 Peta Mullens (VIC)                26.06
22 Terese Mcauliffe (QLD)            26.26
23 Tiffany Manion (TAS)              26.88
 
U17 Men 1 lap time trial
 
1 Scott Sunderland (WA)              21.22
2 Leigh Howard (VIC)                 21.36
3 Gregory Beer (NSW)                 21.76
4 Mark Glowacki (SA)                 21.93
5 Byron Page (WA)                    21.99
6 Daniel Ellis (ACT)                 22.09
7 Byron Davis (QLD)                  22.16
8 Jack Rhodes (SA)                   22.24
9 Lachlan Plane (QLD)                22.37
10 Joel Lewis (NT)                   22.39
11 Matthew Wood (VIC)                22.40
12 Nicholas Spratt (NSW)             22.50
13 Oliver Saare (WA)                 22.54
14 Lee Houssaye (VIC)                22.62
15 Abe Hastwell (VIC)                22.66
16 Gareth Coffee (SA)                22.68
17 Thomas Robinson (TAS)             22.82
18 Geoff Hopkins (NSW)               22.84
19 Jack Rassie (QLD)                 23.19
20 Clay Murfet (TAS)                 23.27
21 William Robinson (TAS)            23.34
22 Angus Morton (NSW)                23.56
23 Luke Barrett (NSW)                23.57
24 Sean Oliver (TAS)                 23.73
25 Glenn O'shea (VIC)                23.80
26 Alexander Holden (TAS)            23.94
27 Daniel Jamieson (TAS)             24.13
28 Matthew Pettit (NSW)              24.47
 
U15 Women 1 lap time trial
 
1 Georgina Freeland (VIC)            24.49
2 Sarah Jane Edwards (QLD)           25.26
3 Sarah Kent (WA)                    25.50
4 Megan Dunn (NSW)                   25.53
5 Sophie Ootes (SA)                  25.58
6 Philippa Hindmarsh (QLD)           25.59
7 Karissa Ling (TAS)                 25.61
8 Netasha Pearse (NSW)               25.78
9 Carly Mccoombe (VIC)               25.80
10 Chloe Hosking (ACT)               25.81
11 Naomi Pinto (NSW)                 26.09
12 Courtney Dutton (QLD)             26.35
13 Jessica Ellis (ACT)               26.37
14 Sinead Cosgrove (NSW)             26.41
15 Anna Humphries (TAS)              26.73
16 Brittany Foster (VIC)             26.78
17 Melissa Barnes (TAS)              26.95
18 Bethany Coleman (TAS)             26.96
19 Alitta Laskey (TAS)               27.15
20 Fiona Hansen (WA)                 28.53
 
U15 Men 1 lap time trial
 
1 Luke Davison (NSW)                 23.30
2 Edward Van Hooff (QLD)             23.44
3 Thomas Palmer (ACT)                23.60
4 Trevor Griffiths (VIC)             23.63
5 Luke Jones (VIC)                   23.70
6 Michael Downing (VIC)              23.87
7 Matthew Meisel-Dennis (ACT)        23.92
8 Sean Caskey (QLD)                  23.94
9 Joseph Northey (NSW)               23.94
10 Matthew Guillan (NSW)             23.97
11 Liam Hodge (NT)                   24.01
12 Peter Johnstone (VIC)             24.19
13 Sean Boyle (SA)                   24.32
14 Samuel Lee (QLD)                  24.34
15 Daniel Peach (QLD)                24.50
16 Simon Thorsen (VIC)               24.53
17 Paul Fellows (NSW)                24.53
18 Brenden Sutton (TAS)              24.79
19 Ben Grenda (TAS)                  25.12
20 Andrew Dolan (TAS)                25.40
DSQ Edward Robinson (TAS)
 
U17 Women 2000m individual pursuit
 
Qualification
 
1 Lisa Friend (VIC)               2.44.91
2 Josephine Tomic (WA)            2.45.26
3 Grace Sulzberger (TAS)          2.45.84
4 Peta Mullens (VIC)              2.46.78
5 Lizzi Clements (QLD)            2.47.22
6 Tess Downing (VIC)              2.47.42
7 Dahra Bugg (TAS)                2.47.86
8 Rebecca Macpherson (WA)         2.49.35
9 Angela Klyne (QLD)              2.49.96
10 Josephine Butler (WA)          2.50.05
11 Kailee Goodwin (TAS)           2.50.43
12 Courtney Le Lay (QLD)          2.50.55
13 Gracie Elvin (ACT)             2.51.23
14 Tiffany Cromwell (SA)          2.51.24
15 Carlee Taylor (SA)             2.51.40
16 Emma Sonerson (NSW)            2.51.53
17 Terese Mcauliffe (QLD)         2.52.63
18 Laura Meisel-Dennis (ACT)      2.54.33
19 Tiffany Manion (TAS)           2.56.16
20 Erin Peoples (VIC)             2.56.26
21 Jessica Hume (NSW)             2.56.99
22 Lara Dyus (SA)                 3.01.77
23 Deena-Maree Faulkner (NSW)     3.02.63
 
Round 1
 
Heat 1
 
1 Peta Mullens (VIC)              2.44.91  (43.66 km/h)
2 Lizzi Clements (QLD)            2.46.13
 
Heat 2
 
1 Grace Sulzberger (TAS)          2.45.84  (43.42 km/h)
2 Tess Downing (VIC)              2.46.87
 
Heat 3
 
1 Josephine Tomic (WA)            2.43.70  (43.98 km/h)
2 Dahra Bugg (TAS)                2.46.71
 
Heat 4
 
1 Lisa Friend (VIC)               2.45.16  (43.59 km/h)
2 Angela Klyne (QLD)              2.47.90
 
Finals
 
Bronze Medal
 
3 Grace Sulzberger (TAS)          2.48.18  (42.81 km/h)
4 Lisa Friend (VIC)               2.50.84
 
Gold & Silver Medal
 
1 Josephine Tomic (WA)            2.46.27  (43.30 km/h)
2 Peta Mullens (VIC)              2.48.63
 
U15 Men 5km scratch race
 
Heat 1
 
1 Simon Thorsen (VIC)             7.06.28
2 Thomas Palmer (ACT)
3 Paul Fellows (NSW)
4 Peter Johnstone (VIC)
5 Daniel Peach (QLD)
6 Joseph Northey (NSW)
7 Brenden Sutton (TAS)
8 Andrew Dolan (TAS)
9 Liam Hodge (NT)
10 Sean Caskey (QLD)
 
Heat 2
 
1 Michael Downing (VIC)           7.27.00
2 Trevor Griffiths (VIC)
3 Samuel Lee (QLD)
4 Edward Van Hooff (QLD)
5 Luke Davison (NSW)
6 Ben Grenda (TAS)
7 Matthew Meisel-Dennis (ACT)
8 Matthew Guillan (NSW)
9 Sean Boyle (SA)
10 Edward Robinson (TAS)
 
Final
 
1 Michael Downing (VIC)           7.20.43
2 Thomas Palmer (ACT)
3 Trevor Griffiths (VIC)
4 Simon Thorsen (VIC)
5 Peter Johnstone (VIC)
6 Luke Davison (NSW)
7 Samuel Lee (QLD)
8 Paul Fellows (NSW)
9 Ben Grenda (TAS)
10 Daniel Peach (QLD)
11 Edward Van Hooff (QLD)
DNF Joseph Northey (NSW)
 
U15 Women 5km scratch race
 
Heat 1
 
1 Netasha Pearse (NSW)            7.50.85
2 Lucy Moseley (QLD)
3 Georgina Freeland (VIC)
4 Carly Mccoombe (VIC)
5 Sarah Kent (WA)
6 Sinead Cosgrove (NSW)
7 Jessica Ellis (ACT)
8 Philippa Hindmarsh (QLD)
9 Bethany Coleman (TAS)
10 Alitta Laskey (TAS)
 
Heat 2
 
1 Chloe Hosking (ACT)             7.27.55
2 Sarah Jane Edwards (QLD)
3 Zoe Appel (QLD)
4 Brittany Foster (VIC)
5 Megan Dunn (NSW)
6 Melissa Barnes (TAS)
7 Karissa Ling (TAS)
DNF Naomi Pinto (NSW)
DNF Fiona Hansen (WA)
DNF Sophie Ootes (SA)
 
Final
 
1 Georgina Freeland (VIC)         7.38.25
2 Chloe Hosking (ACT)
3 Lucy Moseley (QLD)
4 Zoe Appel (QLD)
5 Sarah Jane Edwards (QLD)
6 Melissa Barnes (TAS)
7 Sinead Cosgrove (NSW)
8 Carly Mccoombe (VIC)
DNF Megan Dunn (NSW)
DNF Netasha Pearse (NSW)
DNF Brittany Foster (VIC)
DNF Sarah Kent (WA)