Introduction to Track Racing - What's a Wheelrace? - Introduction to Six Day racing - UCI codes
Results and Reports for Australia
Promoters wishing to submit results should send them to cyclingnews
Friday Night Winter Track Racing #18
Dunc Gray Velodrome, Sydney, September 26, 2003
A fitting Grand Finale
By Paul Craft
Shaun Hopkins takes the victory in the 1500m wheelrace
Photo ©: Ernie Smith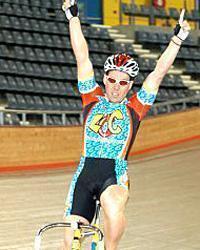 Well it was a fitting end to what has been a great series of fast, furious and fun racing. A large number of spectators and competitors showed their support to FNWTR and everyone enjoyed the racing as well as the Redbulls, which were supplied throughout the night by the Redbull energy station. The crew from cyclingnews.com were also on hand to practice their track photography and see grass roots racing at its best.
The feature race for the night was the 1.5km wheelrace final. With riders spread all round the 250m track for this handicap, it promised to be a beauty.
There was a lot of wheeling and dealing before the start as riders tried to acquire help for this prestigious race. This is not uncommon; riders will often form a pact to deliver one of their mates to the victory and consequently split the prize.
On the night one such team was Greg McFarlane and Shaun Hopkins. Between them over the years they must have accumulated at least 20 state or Australian titles. Greg McFarlane's sole job for the race was to tow Shaun up to the leaders as fast as he could. Greg succeeded with 1.5 laps to go leaving Shaun to launch his lethal sprint to take the victory.
Ivan Colig and Michael Mellish did well to claim the minor placings, however there was no denying who the star was, as Shaun Hopkins saluted the crowd with his victory bouquet. Many thanks to Jade Kitchens who supplied the cash prize, Ride Cycling Review presented the top three place-getters with a one year subscription and Redbull gave Shaun a full case of... you guessed it, Redbull.
The post race presentation in the Handle Bar Tavern was well received by about 100 guests who enjoyed a meal and a drink in this fabulous venue. The top five riders were rewarded for their consistent effort with a final prize pool to the value of $3500. Turrumurra Cyclery was a late inclusion to the prize pool as they supplied $500 worth of gift vouchers.
We all enjoyed a music video of the highlights of FNWTR and had a lot of fun in anticipation to the big prize draw of the Velocraft track frame which was won by division 2b champion Michael Leach.
I would like to thank all who helped with this year's winter series through their support as sponsors or contributing with their time and help. I would also like to thank all of the riders - your competitive but fun-loving attitude helped make the series a success.
Photos
Images by Ernie Smith
Results

Warm up scratch race winners
 
Jnr's - Ardriano Maradini
Div 1 - Phil Stokes
Div 2 - Ivan Colig
Comb  - Michael Leache
 
Group Handicap Miss 'n' Out
 
1 Brenton Crawley
2 Stuart Miller
3 Phil Dixon
 
Group Handicap Miss 'n' Out
 
1 Chad Sneider
2 Dan O'Callaghan
3 Brad Craft
 
Jade Kitchens/RIDECycleReview 1500m Wheelrace final
 
1 Shaun Hopkins
2 Ivan Colig
3 Micheal Mellish
4 Geoff Hopkins
 
Group Handicap Wom
 
1 Cameron Simpson
2 Skye Armstong
3 Mike Tremaine
 
Group Handicap Wom
 
1 Chey Howard
2 Camden Howard
3 Cat Croghan
 
Win 'n' Out
 
1 Greg McFalane
2 Phil Stokes
3 Benton Crawley
 
Win 'n' Out
 
1 Chad Scheider
2 Michael Mellish
3 Dan O'Callighan
 
Win 'n' Out
 
1 Camron simpson
2 Kelly Furey
3 Skye Armstrong
 
Win 'n' Out
 
1 Peter Rafferty
2 Garry Hines
3 Deena Faulkner
 
Point a Lap
 
1 Kevin Aurbrey
2 Phil Dixon
3 Richard Chap
 
Point a Lap
 
1 Micheal Mellish
2 Brad Craft
3 Ivan Colig
 
Point a Lap
 
1 Michael Leach
2 Geoff Worthington
3 Michael Tremaine
 
Point a Lap
 
1 Lorin Jurd
2 Mark Burges
3 Peter Rafferty
 
Div 1 + Div 2 Combine Scratch, 35 laps
 
1 Phil Stokes
2 Phil Dixon
3 Brett Johnston
 
Div 2b + Div 3 + Wom Combine Scratch, 25 laps
 
1 Dan O'Callaghan
2 Dale Scarfe
3 Justin Tomlinson