Interbike show
Las Vegas, Nevada, USA, September 22-26, 2008
Main Page Previous Part Next Part
Part 7 - September 26, 2008: Bikes, bikes and more bikes
By James Huang in Las Vegas, Nevada
Titus line undergoes near-complete overhaul
The Racer-X Carbon now becomes the X Carbon
Photo ©: James Huang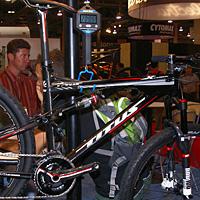 My, how the landscape has changed at Titus.
After a long run as one of the most popular full-suspension cross country rigs around, the venerable Racer-X is now replaced by a lighter and fancier model simply dubbed X. Hydroformed aluminum tubing up front sheds about 100g and adds fork crown clearance while a completely new rear end drops another 175g.
The asymmetrical chain stays are now hydroformed as well, while the 'Light Rail' seat stay assembly now becomes a one-piece carbon construct with a reinforcing bridge placed ahead of the seat tube instead of behind it for more tire clearance. The rocker link is now a stiffer one-piece carbon bit as well. Rear wheel travel gets a modest bump to 105mm but the suspension kinematics have been adjusted for a more linear feel.
Suggested retail for the X frame is US$2,295 with a Fox RP23 rear shock. Last year's Racer-X will still be offered but it now occupies the 'entry position' in the Titus full-suspension lineup with a retail price of just US$1,695 with a Fox RP2 shock. An extra US$100 will also net Racer-X buyers their choice of 14 different powdercoat colors and customizable decals.
Last year's Racer-X Carbon gets nixed completely, though, in favor of a new X Carbon. Though the main triangle bears a nearly identical appearance to its predecessor (clearly most of the mould was reused), frame weight has now dropped about 220g to a more competitive 2.22kg (4.9lb).
The previous cast aluminum bottom bracket-main pivot assembly has been replaced by a more advanced all-carbon piece with aluminum inserts and the front end sprouts a beefier head tube complete with integrated headset. The rear end is shared with the standard X.
In addition to the X and X Carbon, Titus will also offer and X Exogrid and X Ti.
The Motolite trail bike sees similar changes with the introduction of the FTM. The hydroformed 6000-series front triangle and asymmetrical chain stays, one-piece carbon seat stay assembly and one-piece carbon rocker link yield about 300g of weight savings while travel actually increases from 127mm to 135mm. The seat post grows to 30.9mm and the seat tube is correspondingly bigger and stiffer, too.
The curved tubes on the FTM
Photo ©: James Huang

Suggested retail on the FTM is US$2,295; last year's Motolite will stay in the lineup but drops in price to just US$1,695. An extra US$100 earns the same Titus Signature Paint options as on the Racer-X.
Titus applies the tube shaping formula to the aluminum 155mm-travel El Guapo, too, but in this case manufacturing partner Kinesis uses pressurized gas instead of fluid to push the tube walls out against the die. The curvy ATF (Advanced Thermo Forming) tubes shed 150g from last year's bike and the '09 version now even sprouts ISCG05 tabs, too. As was introduced on the El Guapo Ti, a 1.5" head tube will now come standard.
Adding yet more ammunition that hardtails aren't dead, last year's Fireline expands with a steel Exogrid model that will be offered in both 26" and 29"-wheeled versions.
Road-wise, the stellar Ligero sadly doesn't make the cut into 2009 but the Solera gets upgraded with an Isogrid top tube to supplement its Isogrid down tube. The Exogrid-tubed Vuela is unchanged and the Estrella carries the torch as the sole all-titanium road model.
Jamis adopts the 'bigger is better' philosophy
The Jamis Xenith SL now uses a tapered steerer tube
Photo ©: James Huang

Jamis Bicycles is among the latest to adopt the tapered front end concept with the latest iteration of its top-end Xenith road line. In addition to the greater steering precision and braking performance that the bigger diameter affords, Jamis also says that the additional real estate allowed it to make the fork completely hollow from top to tips for virtually zero net weight gain. The lower end grows in size as well with the addition of a BB30 bottom bracket shell.
The top-end Xenith SL retains its speedy Zipp 404 carbon tubulars, SRAM Red group and FSA K-Force Light crankset but last year's Easton bits have been replaced with ones from 3T including a traditional-bend Rotundo LTD carbon bar.
Not too much has changed on the Xenith time trial variant, the Xenith T, though more rounded trailing edges are said to improve aerodynamic performance in crosswinds. An extra-small size with 650c wheels has also been added.
Time trialists and triathletes on more of a budget might also consider the revised Trilogy. For US$2,400, you get an aero-shaped aluminum frame with carbon seat stays, a Windshield fork similar to that used on the Xenith T with its shrouded, reverse-mounted brake, and a bottom bracket-mounted rear brake as well.
'Cross season is upon us yet again and the Jamis Supernova seems ready for the challenge with a revised top tube shape whose flattened portion has now been moved towards the middle of the tube closer to where it's actually used. The new top tube is a bit lighter, too, as are the new chain stays and dropouts; total weight saved amounts to about 100g.
The Jamis Sonik track bike
Photo ©: James Huang

If track is more your style, the 2009 Sonik might be what you're looking for. The newly hydroformed seat tube now curves sharply around the rear wheel and makes for much shorter chain stays (now just 370mm long). Aero profiles are used for the down tube, seat tube and seat stays and the competition-ready spec includes an FSA Carbon Track crankset, American Classic 420 Track wheels and a Deda Zero100 stem and Pista bar. Tasty.
For the off-road crowd, the race-ready 100mm-travel carbon fiber Dakar XCR Team and Pro models receive a carbon shock link for 2009 and bigger 10mm hardware for better stiffness all around. Spec on the top-shelf Team model gets even more race-specific: last year's XTR crank and RockShox Reba World Cup are now swapped for a two-ring FSA K-Force Light carbon crank and RockShox SID World Cup.
2009 will also bring a new 5"-travel Dakar XCT. A light and curvy Kinesium main triangle is joined to 7005 stays and arranged in Jamis' usual mp3 suspension linkage design with 130mm of rear wheel travel. Maximum front wheel travel is 130-140mm, depending on model, and the top two offerings in the range will also come equipped with 15mm thru-axle forks from either Fox Racing Shox or Marzocchi.
Van Dessel gears up for 'cross season
Van Dessel's Gin & Trombones is so popular
Photo ©: James Huang

Van Dessel has earned a bit of a cult following for its Gin & Trombones cyclo-cross frame. So much so, in fact, that the company is apparently already sold out of some sizes for the year, meaning that whatever is on hand at your local dealer might be all there is.
This year's edition gets a big upgrade in the form of a tapered 1 1/8"-to-1 1/2" front end complete with a Van Dessel-branded all-carbon fork. The added beef offers more steering precision but also substantially cuts down on brake chatter and thus improves control as well, according to company founder Edwin Bull.
Otherwise, the comfy 7005-series aluminum frame with carbon seat stays is mostly unchanged and claimed frame weight remains essentially unchanged at around 1450g.
A Gin & Trombones frame, fork and headset (if you can find one) is just US$999; complete bikes with SRAM Rival will go for US$2,299.
'Cross riders looking for even more rigidity can turn to the Van Dessel Hole Shot. Though it uses a standard straight-walled 1 1/8" front end, Bull says the Hole Shot offers a more solid ride feel, particularly for bigger and stronger riders. The all-aluminum triple-butted construction adds just 100g to the Gin & Trombones but frameset price drops to just US$599. Complete bikes with SRAM Rival will retail for US$1,899.
The carbon fiber Rivet road racer gets the tapered 1 1/8"-to-1 1/2" treatment as well but also gains an optional BB30 bottom bracket to produce better responsiveness at both ends. The thin-walled, large-diameter tube-to-tube carbon construction is claimed to provide excellent stiffness, too, while still remaining comfortable enough for long days in the saddle. Claimed frame weight is a reasonable 1050g.
Suggested retail on a Rivet frame, fork and headset is US$1,899. The BB30 version will fetch US$2,499 with an included FSA K-Force Light crankset with ceramic bearings and complete bikes with SRAM Red and Easton EA90 wheels will also be on tap for US$5,799.
The loveable Country Road Bob gets some tweaks, too, in the form of an eccentric bottom bracket, vertical dropouts, and disc brakes at both ends while the Drag Strip Courage track bike gets a bit heavier but also markedly more rigid with a bigger aluminum tubeset.
The 29"-wheeled Jersey Devil HT and Ramble Tamble carry over unchanged.
Photography
For a thumbnail gallery of these images, click here
Images by James Huang/Cyclingnews.com