On Show 2004
What will be the next big thing?
By the Cyclingnews staff
Look at this one.
Photo: © Robert Gilbreath/Cyclingnews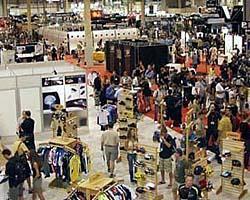 The last four months of every year are jam-packed full of the latest cycling bikes, frames, parts and widgets, all rolled out and shown off at the main trade-shows of the year. Eurobike, EICMA, and especially Interbike, all attract the cycling world like bees to a honey-pot, with the major companies keeping their next-year's products tightly under wraps until at least one of these shows.
As we do every year, Cyclingnews will have our reporters scouring the aisles of the shows on the lookout for the newest, best, shiniest and silliest products on display. Photographs, reports, and even a few interviews are in store, so keep your eyes peeled, and your bank-managers at the ready, as we go On Show for 2004.
Show dates
Eurobike Friedrichshafen: Sept 2-5
EICMA Milano: Sept 17-20
International Cycle Show UK: Sept 23-26
Interbike Las Vegas: Oct 4-8
Bicycling Australia show: Oct 20-24
Japan International Cycle Show: Nov 19-21