Tech feature: Cannondale 2010 road launch, May 12, 2009
Cannondale roll out a new SuperSix Hi-Mod flagship
By James Huang in Cison di Valmarino, Italy
The new Cannondale SuperSix Hi-Mod frame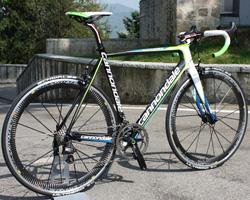 Cannondale revealed details just before the Giro d'Italia on the new SuperSix Hi-Mod frame that Ivan Basso and his Liquigas teammates have been racing on at least since the Tour of California. Though its appearance closely resembles the existing version, it's much closer to an all-new bike than just a collection of minor changes and offers some very marked improvements.
Lighter and stiffer - of course!
The new frame sheds 150g from last year's version courtesy of an upgraded carbon fiber content throughout, a wholly revised construction process, a more evolved shape, newly carbon fiber headset bearing cups and cable housing stops, and the elimination of the mostly cosmetic woven top sheet.
Though still not quite in the realm of true featherweights at a claimed weight of 900g for a painted 56cm frame, its fantastic stiffness, surprisingly good comfort and refined handling make it a superbly balanced machine overall.
Liquigas rising star Roman Kreuzinger rolls out Cannondale's new SuperSix Hi-Mod.

Cannondale claim a 17 percent increase in bottom bracket stiffness-to-weight - a modest improvement in absolute figures when the weight loss is factored in but still impressive nonetheless given that the old bike was already anything but far from a noodle. Front-end stiffness has apparently improved as well - there's still the same tapered steerer tube but the massive head tube surrounding it is now nearly twice as deep as before. A more finely tuned lay-up on the revised fork, also reportedly increases side-to-side rigidity while still adding a bit of comfort from last year, too.
Moreover, Cannondale also say their in-house testing shows the new SuperSix Hi-Mod to post superior stiffness-to-weight figures than the Cervélo R3, Scott Addict, and Specialized S-Works Tarmac SL2 while also posted better vertical deflection numbers as well - heady claims considering each of those are proven stiff-yet-comfy machines.
A new way of doing things
Interestingly, Cannondale have abandoned the previous version's one-piece chain stay and bottom bracket assembly in favor of a more conventional monocoque front triangle and separately molded stay assemblies. Exactly how those sections are added on is rather novel, though.
The 'Beat Box' is basically a fancy term

The left and right seat stays and left and right chain stays are molded as single units, and both feature large integrated concave plates whose curvatures mirror their mounting points on the front triangle. Cannondale then butt the surfaces together, bond them in place, and wrap the joint with long carbon strips - all the way around the seat tube and top tube for the seat stay joint and around the seat tube and down tube for the chain stays.
The process differs from tube-to-tube construction in that it's more analogous to how the line guides are attached to a fishing rod. According to Cannondale engineer Chris Peck, the SuperSix Hi-Mod process makes more efficient use of material (read: lighter) than tube-to-tube or typical sleeved-and-overwrapped joints but it's also stiffer by virtue of the increased joint surface area and because the chain stays and seat stays are molded as pairs, thus minimizing seams.
The chain stays themselves have also grown significantly in size and are now asymmetrical, with the driveside stay being taller and thinner and the non-driveside fatter and more round. Cannondale's usual pencil-thin hourglass seat stays are still just that but now take on a bit of a teardrop profile in the lateral orientation for better directional stiffness.
In search of prosecco…
Cannondale say the new deeper head tube

Cannondale's performance claims are undoubtedly bold but test rides around our Northern Italy setting were certainly reassuring. Though the smooth and grippy pavement admittedly didn't lend much information on the comfort comparisons, our SuperSix Hi-Mod tester was definitely exceptionally responsive when on the gas - well in keeping with expectations from the enormous bottom half of the frame and BB30 shell and crankset.
On the whole there's quite a tangible difference in terms of chassis rigidity in comparison to more average rigs and it isn't necessary to flog the SuperSix Hi-Mod about for it to be noticeable, either.
The most overwhelming aspect, however, was the new SuperSix Hi-Mod's handling, which has been carried over from the current model. On fast, tight switchback turns we were able to lean the bike over with barely the flick of our thumbs and quick transitions from side to side were similarly smooth. Those more apt to let their attention wander may find the bike's personality to be a bit too eager to change direction but for everyone else, this is about as sorted as it gets.
Cannondale will also offer a complete bike with Shimano Dura-Ace Di2.

Cannondale will offer the SuperSix Hi-Mod in four build kits: Campagnolo Super Record, Shimano Dura-Ace 7900 or Di2, or SRAM Red. The Di2 version will also feature a specific frame with internal routing for the wires plus minimal paint for the lightest possible weight (other frames will be 50-80g heavier than the claimed 900g figure, according to Cannondale). Delivery is currently slated for July.
Never too much of a good thing
One final note: skeptical readers will assuredly read this as yet another 'Mad Libs'-style commentary on a company's new bike. But the pleasant reality is that Cannondale's new bike is simply the latest addition to the new guard of carbon fiber superbikes that are quickly changing the landscape of bicycle desgn. If the result is a bit of homogeneity, that's perfectly ok - there's nothing wrong with all of them being fantastic rides.
Either way, we'll be sure to conduct a proper long-term test as soon as possible but in the meantime, it seems that Basso and company are currently in good hands and we'll see if their legs can do the talking come the Giro's arrival at the end of this month. Ciao!
Photography
For a thumbnail gallery of these images, click here
Images by James Huang/Cyclingnews.com