Results and Reports for May 4-10, 2002
Australia
Promoters wishing to submit results should send them to cyclingnews
Randwick Botany Cycling Club - Snowy Wilson Memorial
Top Riders Race In Snowy Wilson Memorial Race
Heffron Park, May 5, 2002
By Tony Horneman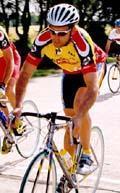 'Spurge' just can't get enough (of Heffron Park that is)
Photo: © Tony Horneman
Perfect weather and excellent riding conditions greeted over 100 riders and spectators from all over NSW and ACT for the annual Snowy Wilson Memorial Criterium at Heffron Park on Sunday, 5 May 2002. The race is dedicated to the memory of A.E. Wilson, who joined the Randwick Botany Cycling Club in 1917. Snowy was a member of the club for much of his lifetime and was the longest serving Secretary of the club, holding the position for 30 years.
Twenty-seven A and B Grade riders lined up for the premier event of the day. Bart Hickson from Team Caravello rode an aggressive race, making several strong attacks during the 50 minute plus 3 laps of the challenging 2km Heffron Park circuit. Team tactics where evident during the race with Caravello riders working together. Eastern Suburbs Club and Trek team riders also stuck together.
In an exciting bunch sprint, Anthony Spurgeon, from Team Caravello led the charge to the line and crossed first, just ahead of Liam Kelly from the Eastern Suburbs club. Hickson finished in a well-earned third place. Fourth went to Jose Rodriguez also from the Eastern Suburbs club followed by Chris Sutton from St George. Sutton is also a member of the NSWIS/La Francaise des Jeux squad. The first B Grader home was Eric Allas, followed by Luis Trueba from the Marconi Fairfield club. There were four primes (intermediate sprints) contested during the race, which were won by Daniel Rutherford (Sydney), Shaun Hopkins (Parramatta), Chris Sutton and Brian Appleyard (Sydney).
Nearly thirty C Grade riders raced for 30min plus 3 laps, with Charles Toffler from the Penrith winning in a time of 39min 13sec. Second place went to Grant Law from Illawarra, followed by Matthew Hooker (Marconi Fairfield), Michael Cory (North Sydney) and Brendon Ingram (Macarthur).
South African Olympian and Randwick Botany Cycling Club member Sean Bloch won the twenty-six rider D Grade race. Twenty-eight-year-old Bloch represented South Africa in the 1992 Barcelona Olympic Games in the 1km Track Time Trial and Match Sprint. He also competed at the World Championships in Norway in 1993 and Columbia in 1995. Bloch won the D Grade 20min plus 3 lap race in a time of 31min 12sec. Second place went to Mario Machado from the Hinchinbrook club. Third was David Watkinson from Manly Warringah. Craig Dempsey from Eastern Suburbs and Timothy Kingston from Marconi Fairfield filled the other places.
E Grade riders raced for 15min plus 3 laps. The winner was Kevin Crowie from the Sydney club in a time of 25min 40sec. Matthew Tabone from host club Randwick Botany was second with Peter Foulsham from North Sydney third. Minor place getters were John Edmondson (Randwick Botany), Paul Baker (Randwick Botany) and Stephen McMillan (Sydney).
Junior champion Natalie Bates led a strong women's field in the 30min plus 3 laps race. Randwick Botany riders Janelle Lindsay and Leanne Koh put in a creditable performance. In an explosive final sprint to the line, riders were 4-abreast across the track, traveling at speeds approaching 60kph. In a difficult judging decision, final placings were Terri Moore from Canberra first in the time of 40min 9sec, Natalie Bates (Parramatta) second and Kate Nichols (St George) third. The first unplaced B Grader was Tanya Newton (Bicisport). First unplaced Masters Woman was Karen Dutton (Sutherland).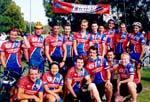 "Say cheese please" - Randwick Botany CC group photo
Photo: © Tony Horneman
A 20km Handicap race was conducted for C, D and E Grade riders. In a well handicapped race, E Grade was caught by D Grade at the 8km mark. B Grade gained 10 seconds per lap on the lower grades. It wasn't until the last lap that all riders came together for an exciting sprint which was won by Grant Law from the Illawarra club. Second was Mario Machado (Hinchinbrook), third was Mark Harris (Canberra) followed by Walter Machado (Hinchinbrook). The C Grade prime was won by Patrick Jones (Randwick Botany). D Grade prime: Dave Mackey (Randwick Botany) and E Grade Prime: Kevin Crowie (Sydney).
Randwick Botany Cycling Club would like to thank the following businesses for sponsoring the event: DS Labels Marrackville, Maroubra Cycles, Velo-Vita Cycling Accessories Matraville and the Newington Inn Hotel Petersham. Thanks also to Randwick City Council for preparing Heffron Park for the event. Kate Rowe and seven volunteers from the Sydney Gay Games (to be held 2-9 November 2002) assisted with track setup, registration and spectator marshalling.
Results

Men
 
A/B Grade Men/Masters/U19, 50min + 3 laps
 
1 Anthony Spurgeon (Caravello)
2 Liam Kelly (Eastern Suburbs)
3 Bart Hickson (Caravello)
4 Jose Rodriguez (Eastern Suburbs)
5 Chris Sutton (St George)
 
First B Grader: Eric Alias
Second B Grader: Luis Trueba (Marconi Fairfield)
 
Prime 1: Daniel Rutherford (Sydney)
Prime 2: Shaun Hopkins (Parramatta)
Prime 3: Chris Sutton (St George)
Prime 4: Brian Appleyard (Sydney)
 
C Grade Men/Masters, 30min + 3 laps
 
1 Charles Toffler (Penrith), 39.13
2 Grant Law (Illawarra)
3 Matthew Hooker (Marconi Fairfield)
4 Michael Cory (North Sydney)
5 Brendon Ingram (Macarthur)
 
D Grade Men/Masters/U19, 20min + 3 laps
 
1 Sean Bloch (Randwick Botany), 31.12
2 Mario Machado (Hinchinbrook)
3 David Watkinson (Manly Warringah)
4 Craig Dempsey (Eastern Suburbs)
5 Timothy Kingston (Marconi Fairfield)
 
E Grade Men/Masters/U19, 15min plus 3 laps
 
1 Kevin Crowie (Sydney), 25.40
2 Matthew Tabone (Randwick Botany)
3 Peter Foulsham (North Sydney)
4 John Edmondson (Randwick Botany)
5 Paul Baker (Randwick Botany)
6 Stephen McMillan (Sydney)
 
Women
 
Women, 30min plus 3 laps
 
1 Terri Moore (Canberra), 40.9
2 Natalie Bates (Parramatta)
3 Kate Nichols (St George)
 
1st unplaced B Grader - Tanya Newton (Bicisport)
1st unplaced Masters Woman - Karen Dutton (Sutherland)
 
Handicap
 
Handicap C/D/E Grades, 20km
 
1 Grant Law (Illawarra)
2 Mario Machado (Hinchinbrook)
3 Mark Harris (Canberra)
4 Walter Machado (Hinchinbrook)
 
C Grade Prime: Patrick Jones (Randwick Botany)
D Grade Prime: Dave Mackey (Randwick Botany)
E Grade Prime: Kevin Crowie (Sydney)