Results and Reports for July 13-19, 2002
Australia
Promoters wishing to submit results should send them to cyclingnews
Randwick Botany Cycling Club
July 13, 2002
Men In Black Race At Heffron Park
By Tony Horneman
MIB - the riders, not the movie
Photo: © Tony Horneman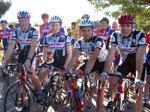 Dressed in their new black elite uniforms, Randwick Botany A-Grader riders Shaun Higgerson, Chris Jenkins and Robbie Cater lined up with eight other top A-Grade riders for the 36km criterium race at Heffron Park on Saturday 13 July 2002. A cracking pace was established by the second lap, with riders taking only 2min 50sec to complete the 2km circuit at nearly 43km/h. At the half way mark, a 4-rider breakaway comprising John Kenny and David Stewart from the Eastern Suburbs club, Anthony Spurgeon from Team Caravello and Shaun Higgerson powered away with Higgerson doing most of the work. Spurgeon led out in the final sprint and was victorious in a time of 54min 32sec and an average speed of 40km/h. Higgerson was second followed by Stewart and Kenny. Jerzy Sowa from the T.K. Masters Gizycko team in Poland was the first home in the second A-Grade bunch followed by Chris Jenkins and Tony Ianacito from the Harliquin club.
Starting one minute after the A Graders and one minute before the C Graders, B Grade set an easy pace early in their 32km race. They were passed by the C Grade bunch before the half way mark. A three-rider breakaway that included Gary Oliver from the Manly Warringah club, Phil McKnight from the Sydney club and Dale McCormack from St. George lifted the pace and passed C Grade to put some order back in the race. The three stayed away and fought out an exciting sprint. Oliver was first across the line in a time of 53min 47sec, followed by McKnight, McCormack, Randwick Botany's David McPherson, Dean Preddy from Eastern Suburbs and Simon Kenny from the Sydney club.
A large C-Grade group, including new club members Tim du Tempe and Stephen Stute, set a quick pace from the gun and managed to pass B Grade as mentioned earlier. After much confusion mixing with B-Graders during the race, the C-Grade group was back together again by the last lap for the mass race to the line. 6-abreast across the track, it was anyone's race, with some strong riders boxed-in behind the front-runners. First across the line was Alex Krawchuk from Waratah Veterans in a time of 50min 6sec with Randwick Botany's Joseph Sorby second and Alex Simmons from the Sydney club third.
The 17-rider D Grade bunch raced for 20km, with Randwick Botany's Janelle Lindsay applying excellent sprinting skills by tactically following David Jenkins-Flint's wheel down the final sprint, but just missed out of a victory. Jenkins-Flint won in a time of 35min 40sec and an average speed of 34km/h. Third home was long-time club member Roy O'Toole. Fourth was Beth Bowen from the Sydney club with Ernesto Adithya fifth. The E Grade 14km race was won by Kevin Blanchfield in a time of 40min 51sec.
Seven junior riders competed in two junior events, starting with the 6km Time Trial. Chris Jenkins recorded the best time of 9min 49sec. Michael Murdoch's time was 10min 35sec and his brother Thomas Murdoch's time was 11min 05sec. In the 6km Criterium race, Michael Murdoch won just ahead of Mark Woodhouse and Thomas Murdoch.
Randwick Botany Cycling Club conducts racing at Heffron Park, Maroubra NSW each Saturday throughout the year. Juniors start at 1.00pm and Seniors 2.30pm. For more information please contact the club secretary Helen Vella on 02 9667 3307 or website www.randwickbotanycc.com.
Results
Seniors
A Grade, 36km
 
1 Anthony Spurgeon (Caravello)                54.32 (40km/h)
2 Shaun Higgerson (Randwick Botany CC)
3 David Stewart (Eastern Suburbs)
4 John Kenny (Eastern Suburbs)
5 Jerzy Sowa (T.K. Masters Gizycko, Poland)
6 Chris Jenkins (Randwick Botany CC)
7 Tony Ianacito (Harliquin)
 
B Grade, 32km
 
1 Gary Oliver (Manly Warringah)               53.47
2 Phil McKnight (Sydney)
3 Dale McCormack (St. George)
4 David McPherson (Randwick Botany CC)
5 Dean Preddy (Eastern Suburbs)
6 Simon Kenny (Sydney)
 
C Grade, 28km
 
1 Alex Krawchuk (Waratah Veterans)            50.06
2 Joseph Sorby (Randwick Botany CC)
3 Alex Simmons (Sydney)
 
D Grade, 20km
 
1 David Jenkins-Flint (Randwick Botany CC)    35.40
2 Janelle Lindsay (Randwick Botany CC)
3 Roy O'Toole (Randwick Botany CC)
4 Beth Bowen (Sydney)
5 Ernesto Adithya (Randwick Botany CC)
 
E Grade, 14km
 
1 Kevin Blanchfield (Randwick Botany CC)      40.51
Juniors
Time Trial, 6km
 
1 Chris Jenkins (Randwick Botany CC)           9.49
2 Michael Murdoch (Randwick Botany CC)        10.35
3 Thomas Murdoch (Randwick Botany CC)         11.05
 
6km Criterium
 
1 Michael Murdoch (Randwick Botany CC)
2 Mark Woodhouse (Randwick Botany CC)
3 Thomas Murdoch (Randwick Botany CC)