News Feature, March 21, 2009
Sanremo: Cavendish came and conquered
By Gregor Brown
Mark Cavendish wins Milano-Sanremo
Photo ©: Sirotti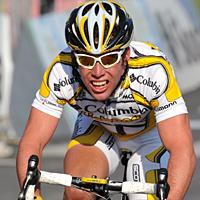 Mark Cavendish made magic on Saturday with a sprint win in front of the world's best in his first ever appearance in Italy's grandest Classic, Milano-Sanremo. The Brit from the Isle of Man was the third youngest winner in the race's history – Ugo Agostoni in 1914 and Eddy Merckx in 1966 were both 20.
Question: You won Milano-Sanremo at the first attempt. It took Mario Cipollini 13 times before he got the win. What did he say to you at the finish?
Mark Cavendish: "He came and congratulated me. He is a nice guy. I nearly made a mistake in California last year, but we worked it out over the winter when we trained together a few times. He is a nice guy. I know it [took him 13 years to win]. I know, I know. But I am sorry."
Q: What did Erik Zabel say to you at the end? You trained with him a lot in the days leading up to the race.
MC: "Erik came up to me and said he got this [a silver bracelet] as a gift when he won his first Milano-Sanremo. He gave it to me today. I can say that without his help I would not have won today. We did reconnaissance twice and I knew where I had to be at what time in the race's finale. You could see from the team's emotions that we knew it could work, and it did. It is a real special day for us both."
Cavendish had the help of the entire Columbia-Highroad team to achieve his win in one of only cycling's five monuments. Thomas Lövkvist, winner of Eroica Toscana a couple of weeks ago, led Cavendish and George Hincapie to the base of the Cipressa with 28 kilometres remaining. Hincapie took care of him through the finale, similar work to what he did in the final stage of the Tirreno-Adriatico.
"I knew it would be hard, but I thought if I could play some poker in the last weeks I would be in with a chance. I played along with the others and it worked in my favour."
-Cavendish outlines his plan leading into the race..
MC: "Both of those guys could have won on their own. I think each race is special, each time you cross the line. Stages and one-day races are different types of races. I wanted to prove I am more than just a sprinter, but a great rider, that is what I did today.
Q: Before the race you said you couldn't win but did you have hope in your hear that you could pull it off?
MC: "Maybe I said I couldn't win today, but I never said it was impossible. I knew it would be hard, but I thought if I could play some poker in the last weeks I would be in with a chance. I played along with the others and it worked in my favour.
Cav and mentor Erik Zabel
Photo ©: Sirotti

Q: Were you in good position on Le Mànie climb?
MC: "I was delivered perfectly to the climb. I started in the top ten and I went well. It was hard but not too hard and when I went over that I knew I could get over I Capi [the three smaller climbs before the Cipressa and Poggio] and the Poggio in good condition."
Cavendish on...
Britain: "In Britain they follow football, Olympics and the Tour de France, but that is it. At the end of the day I don't care, I am doing it because I love to ride my bike. I am doing it for myself and my teammates."
Italy: "I first came here in 2006. I came and stayed part of the year in Quarrata with Max Sciandri, and we became good friends.
I eventually bought an apartment, which I will get the key to tomorrow. It makes perfect sense to train in Tuscany for the Grand Tours. I love the lifestyle down there; the people there treat me great."
Q: What did you think of the jump by Heinrich Haussler?
MC: "When he went it took us all by surprise. I waited for a moment and then I had to close the gap along the barrier. It was touch and go and I did not know if I was going to get him. I was just concentrating on getting over the line first. It does not matter if you get the win by a kilometre or by a centimetre."
Q: You were very emotional on the podium and you are very emotional now. Can you explain what your feelings are?
MC: "I have just won a Monument. It is my first Monument I have ever ridden. I won Milano-Sanremo; it is one of the races you watch growing up. I took a lot of pleasure by winning it when a lot of people had written me off.
Cavendish descends from the Poggio
Photo ©: Sirotti

There are three moments when I cried after winning. When I won the World Championships on the track for the first time; my first stage in the Tour de France and today. Everything had to go right on those days, and it did. All of them were different, but they all worked out.
Q: Were you frustrated by some riders saying you could not do it, because you are not a strong climber?
MC: "Yes. Absolutely. I knew that is what they were saying. Tom Boonen said I am alwaysdropped when the road go up. In Tirreno, I only got dropped once. The sweet thing was to win, but the second sweetest thing was to see Tom Boonen pass me backwards on the climbs."
Q: You have won stages in Tour de France, the Giro d'Italia, and now the one-day Classic Milano-Sanremo. Where do you go from here?
MC: "More wins. When I get on the bike I want to be first over the line. I have to set new targets now. I hope to keep progressing. I have the right team around me. I want to keep going, and try to win this race again and again.
See also:
Mark Cavendish: Cavendish the first
Mark Cavendish: Can anybody challenge Cavendish in the 2009 sprints?
Mark Cavendish: Cavendish uses acceleration to grab second Giro d'Italia win
Photography
For a thumbnail gallery of these images, click here
Images by Sirotti/www.sirotti.it