An interview with Mark Cavendish, January 3, 2009
Can anybody challenge Cavendish in the 2009 sprints?
Cavendish dominated the 2008 sprints and scored 17 wins
Photo ©: Roberto Bettini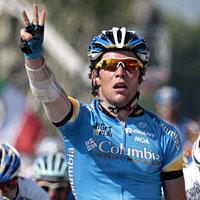 "Cocky", "brash", "arrogant" – you can say what you like about Mark Cavendish, but the statistics don't lie, and those statistics back up the Manxman's repeated assertions that he's merely stating a fact when he calls himself the fastest man in road racing. At the end of a winter break which turned out a little more restful than he expected or wanted, on his return from his team's first training camp of the winter in December, Cavendish spoke to Procycling's Daniel Friebe about some of the challenges which await him in 2009.
Cavendish won more major races than anyone else in 2008, no fewer than 17. The 23-year-old now begins the 2009 season with arguably the strongest team in the sport at his behest, time very much in his favour and the road to yet more success laid invitingly before him. Cavendish's sprint rivals needed no more ominous warning than Bouygues Telecom manager Jean-Renι Bernaudeau's recent prediction that the Team Columbia man is "set to win everything in [the sprinting] department for the next five years."
Procycling: Mark, the one thing everyone seems to know about your winter is that you injured your left calf muscle playing on the Nintendo Wii...
Mark Cavendish: It wasn't necessarily the Wii! I got on my bike, after my break at the end of last season, and after an hour I started to feel a little niggle. Normally you get a little niggle and you ride on, but I couldn't pedal with this – I couldn't stand up on the bike. I was in a lot of pain. Then the next day was same, and the day after that. This was mid-October, and I'd had four weeks off the bike. I kept trying to go out for a week, and it kept happening, so I finally said to myself that something was wrong. I called the physio and he asked me if I'd done anything which could have hurt it. The only thing I could think of was the Wii. I'd been caning this snowboard game, where your knees move laterally, so maybe it was that, but now everyone's like "Mark Cavendish fell off the Wii and injured himself." I honestly don't know – the Wii's just one possible explanation.
Procycling: How much did the injury set back your training for 2009?
MC: It may actually have been a good thing. It just meant that I had a bit longer off the bike, which, funnily enough, may have helped me to keep my weight down. Normally at this time of year, it's so cold on the Isle of Man that you comfort-eat when you're training hard. You tend to put on quite a bit of weight. With the injury, though, I wasn't eating much, and now I'm in my best shape ever for this time of year.
"I should have won at least one stage, but it didn't happen."
- Cavendish hopes for a better Tour of California in 2009
The directeurs at our training camp in Majorca were delighted with me. In theory, I'm a couple of weeks behind in my training, but I'm young and I've got a long season ahead of me, so it shouldn't really matter. I was looking at a picture from the Tour of California last year, of me riding next to Mario Cipollini, and I was fat!
If that was me in February last year, and I went on to achieve what I did in 2008, I don't think I've got anything to worry about. I'm actually surprised how good I've been feeling. Usually, for a couple of weeks after a long lay-off, everything feels bad – your legs, your breathing, your bike – and I'm amazed how quickly I've started to feel OK this year.
Procycling: Talk to us a little bit about your race programme in 2009.
MC: I start with the Tour of Qatar, then I go straight into one of the big goals for our team – the Tour of California. Our manager Bob Stapleton is from San Luis Obispo, in California, so for him, it's the next biggest race after the Tour de France. It's also the biggest stage race in the States, so it's a big, big race.
Cavendish inches past an overconfident Tom Boonen in the Scheldeprijs
Photo ©: Roberto Bettini

In 2008, I should have won at least one stage, but it didn't happen. I knew straight away on the first day last year that I was lacking something. It took me four days to find my groove. That's why I want to do Qatar this year. That race is good because it's a shock to the system – 150km stages and you're smashing a big gear, in crosswinds the whole time.
[Team Columbia's new sprint coach] Erik Zabel is coming along and we're going to ride for an extra 50 or 60 kilometres behind the car every day, to make it up to 200 or 210 kilometres. By the time I get to California, I aim to be in decent form – not the best form, because I don't have to aim for GC, but still good enough to compete for some stage wins.
Procycling: Then back to Europe, right?
MC: Yep. I'll do the Eroica in Italy, then the Tirreno-Adriatico. This is all with a view to Milano-Sanremo. I told the team last year that I wanted to ride Sanremo in 2009, maybe not to win it straight away, but at least to start getting some experience. It was Gerald Ciolek's race before, but now he's left the team, so it makes sense for me to try.
Cavendish celebrates a 1-2 in the Giro with Greipel
Photo ©: Roberto Bettini

It also makes sense for me to go to Tirreno first, because there's a certain structure to Italian racing which it's good to get attuned to before Sanremo. If Sanremo's the same course as in 2008, with the climb they added because of roadworks, then it's bloody hard – probably too hard for me to have any ambitions for now.
Procycling: Have you ever ridden the Sanremo route?
MC: No, but between the Eroica and Tirreno, Erik and I are going to recee the last 100 or 120 kilometres, the Cipressa and the Poggio. I've heard it's hard. Hard and long. It's all about positioning. I've already planned to do some derny work with [British Cycling coach] Rod Ellingworth on climbs that replicate the Cipressa and the Poggio near where I live in Italy. I'll do them back to back, to simulate the race as accurately as possible.
Procycling: Would you rule yourself out for the win this year?
MC: No. It's like the Tour in 2007 – I want to go in for experience, and there's a chance I'll get a result. If I get a result, it's a bonus, but I think it's going to be great experience, because I'll be able to guarantee that I can get a result in 2010.
Procycling: And after Sanremo?
Cavendish knows he owes his teammates
Photo ©: Roberto Bettini

MC: After Sanremo, I'll do GP Harelbeke, the Three Days of De Panne, Gent-Wevelgem... I love racing in Belgium. I'd rather race in Belgium than anywhere in the world, especially west Flanders. I was the favourite in Gent-Wevelgem last year but I messed up. I was good enough to win but I messed up. I need to make amends this year. I need to win a Belgian Classic – not so much for myself as for the Belgian people. They give me such a brilliant reception when I'm there.
Procycling: What about Paris-Roubaix, your dream race?
MC: I've always dreamed of Flanders and Roubaix. Obviously Flanders is too hard for me, and it's too much, coming in the same week as Gent-Wevelgem. Last year I said to [Team Columbia directeur sportif] Allan Peiper that I wanted to do Roubaix, and he said that I could as long as I won two stages of De Panne and Gent-Wevelgem.
He knew he was setting me an impossible task but I almost pulled it off: I won two stages of De Panne then wasn't good enough in Gent-Wevelgem. The night of Gent-Wevelgem, I still asked about Roubaix, but Allan said a deal was a deal. I was gutted, so I was on at Allan all last year: 'I want to ride Roubaix in 2009.' Fortunately, it looks like it's going to happen this year.
Procycling: And Flanders?
MC: It's still too hard for me. I definitely want to ride it in the future, but it probably won't be next year.
"It's going to be bloody hard."
- The Giro route's early Dolomite visit doesn't favour Cavendish
Procycling: What's the plan after Roubaix?
MC: I didn't plan to do the GP Scheldeprijs, but I think I will now. Only one other person has won it three times, and no-one has won it three times in a row, which is what I'll have the chance to do. No one in Britain knows the history of that race, but in Belgium it's massive. It's a proper semi-classic, like Kuurne-Brussels-Kuurne.
After the Classics, I'll take it easy for a week, then train hard right up to Romandy, will probably struggle there, then do some more hard days before tapering down for the Giro. Romandy's the only stage race in 2009 where I think I'll find it hard to get results, purely because of the training I'm doing before and afterwards.
Procycling: How do you feel about the Giro visiting the Dolomites after four days?
MC: It's going to be bloody hard [laughs].
Procycling: So presumably you try to finish the Giro, then start your build-up to the Tour...
MC: Exactly. For the past two years, I've done the Ster Elektrotoer before the Tour, but I'll change this year, because it's too easy for me to get carried away and sucked into fighting for the GC in that race. It's easy for me to go too deep there. I think I'd rather do some climbing and carry on losing weight at the Tour of Switzerland.
It's another one of those paradoxes: when I'm riding in the mountains, riding in the gruppetto, I tend to eat less than when I'm going hard, looking for results. That's why I went into the Giro lighter than at the Tour in 2008 – because I'd been riding in the gruppetto at Romandy.
Procycling: And the big objective at the Tour is the green jersey?
A familiar spot of Cavendish
Photo ©: Roberto Bettini

MC: The prime objective is to reach Paris. I think that if I do that, I've got a good chance of winning the green jersey. There were a few days in 2008 when a lot of sprinters got to the finish and I was dropped, but in 2009, the stages are either hilly or completely flat – if the other sprinters are there then I will be, too.
Overall, the Tour will be harder to finish than last year, but my chances of winning the green jersey will be better. I don't think I have to focus too much on the green jersey; hopefully, if I get to Paris, it'll just come quite naturally. I'll aim for stage wins, just like I did this year, and the green should just be a consequence of that.
Procycling: There'll be at least one change to the Columbia Tour team in 2009: Gerald Ciolek has left for Milram, as has Linus Gerdemann. How did you feel about them leaving?
MC: When there was speculation about Milram's parent company, Nordmilch, pulling out, I thought for a second we might get them back. I wouldn't just have welcomed them back, I'd have lasso-ed them back. That's how much I think of those guys. We've also lost Roger Hammond and Andreas Klier, both to Cervιlo, and Servais Knaven to Milram. Those three guys were pretty much my saviours when I started.
When I joined T-Mobile, I was pretty much this unknown British guy in a German team, who no one gave a shit about. From the first day of the first training camp, those guys looked after me. I'm gutted to see them leave. There's also Brad Wiggins, whose a big loss in the humour department. The guy is a genius. You can't deny that. His jokes and impressions will be a big loss to the atmosphere on the team bus...
Procycling: How is your relationship with Brad now, nearly half a year on from the Madison in Beijing?
MC: We're not doing the Madison together any more, so it's inevitable we're not going to speak that much. We've spoken a couple of times, but just because I'm not on the phone to the guy every day, it doesn't mean I don't like him. I don't have contact with my old teammates from Sparkasse [Cavendish's former, German-based team], either, but it doesn't mean I don't like them. Beijing stuck in my throat for a while but it's not on my mind any more.
Cavendish won two stages in De Panne
Photo ©: Roberto Bettini

Procycling: On the subject of track racing, what do you make of the news that Theo Bos, the Dutch sprinter, is about to embark on a career on the road?
MC: I don't know if he'll be a threat to me. He won some kermesses when he was younger. But you have to remember: the big races on the road are 250km long. You also have to bear in mind that, on the road, you're not sprinting for 250 metres – you're doing 700 watts for three kilometres before the finish...
He's definitely built more like a road sprinter than a track sprinter. It'll be interesting to see. I think he's a great guy, so I'll be happy to race against him. It could be the best thing that's ever happened to sprinting on the road, but it could just be a lot of media hype. I'll say one thing – it'll be hard for him to be as good as me and my team.
Procycling: Finally, Mark, what's your reaction to your team's announcement that Don Catlin will be overseeing your team's anti-doping programme in 2009?
MC: We had a talk about it at the training camp in Majorca in December. I'm really excited. Bob had been trying to get Catlin in from the beginning, but Catlin was too busy with other things. I'm just really proud to be part of a team with such stringent procedures, which allow you to look your teammates in the eye and be confident that they're clean.
I think it's a measure of how important it is that, as riders, we have to pay quite a big chunk of our salary to pay for this testing, yet I, for one, am very happy to do it. It also shows how serious our management is about anti-doping that they're constantly looking for ways to advance the programme; if someone came along with more stringent tests than Don Catlin, they'd go with them, because what they're interested in is having the most transparent team anywhere in the world.
Related articles:
Cavendish equals Cipollini stage wins
Mark Cavendish: The late birthday celebration
High Road's Stapleton on Columbia future

Photography
For a thumbnail gallery of these images, click here
Images by Roberto Bettini/www.bettiniphoto.net
For more great in-depth features and interviews, subscribe to Procycling and find out more details about a free two-hour DVD featuring the best stages of the last 20 years of the Tour de France!