Jayco Bay Cycling Classic - NE
Geelong, Australia, January 2-6, 2009
Main Page Results Overall standings Previous Stage Next Stage
Stage 1 - January 2: Williamstown - Elite men
Gerrans storms to win
McEwen's flight delays cancel his warm-up
By Malcolm Sawford in Williamstown
Simon Gerrans (O2 Reflections) beat Dean Windsor (Mazda) and Joel Person (Savings and Loans) in the sprint
Photo ©: CJ Farquharson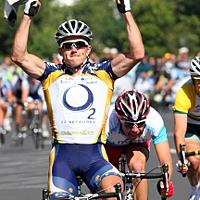 Tour de France stage winner Simon Gerrans claimed the win at the opening stage of the 2009 Jayco Bay Cycling Classic in Williamstown. Gerrans rides for the O2 Reflections Group during the five-day event.
The start of the elite men's race was delayed by over an hour and a half to allow the event's main draw card, Robbie McEwen, to arrive after the Queenslander suffered flight cancellations at both the Gold Coast and Sydney airports. McEwen, who finished sixth, quipped after the race that he "was expecting a phone call from Sir Richard [Branson] this evening!"
Gerrans was delighted with the win saying "last year I had to wait until about March to get my first win, so to get one on the second of January – I'm pretty happy with that!" He admitted struggling with the pace early on. "I warmed up and cooled down about four times. By the time the race started I'd just about had enough for the day. I actually felt really bad for the first few laps of the race, starting absolutely cold like that."
Gerrans broke from the field ten minutes into the 45-minute event along with domestically based professionals Dean Windsor (Mazda), Joel Pearson (Savings & Loans) and reigning Australian criterium champion Bernie Sulzberger (Virgin Blue). The quartet opened a maximum lead of 26 seconds on the chasers, who closed to within a single second on the final lap, but Gerrans opened the sprint early and held off Windsor and Pearson for the win.
Most observers expected Gerrans to attack his companions in the closing stages, but he was confident in his sprint. "The other three guys I was with were pulling strong turns and so I thought I'd use them for as long as I could to hold the bunch off, then I opened the sprint up in the back straight. Dean Windsor is a force to be reckoned with at the Bay Series, obviously Bernie won the Aussie Champs a few weeks ago and Joel Person is a pretty well recognised sprinter here in Australia so I was keeping a pretty close eye on them and knew what I was up against."
Gerrans was full of praise for his teammates who had helped control the chasing bunch. "We've got such a strong team here. The four guys I'm racing with; [Matt Wilson, Jeremy Hunt, Chris Tymms and Baden Cooke] you'd be happy to go to any race in the world with this caliber of team. Any one of us could have potentially won the race today."
Stuart O'Grady pulls on the levers as he steps on the pedals
Photo ©: CJ Farquharson

Windsor won two of the three intermediate sprints and will wear the green sprinters jersey into stage 2 in Geelong, a classification he won in 2008. "It's one of my favourite races, and one of the best ways to kick off the New Year with a green jersey and second place. Unfortunately I was obviously riding for a win, but to come second to Simon Gerrans, you've got to be happy with that."
Windsor is riding as a teammate of 2008 series winner Mark Renshaw, and was honest about his own chances at the overall title. "I'd like to back up and maybe take a win later in the week, and try to defend the green jersey, but I've got Mark in the team and I could end up having to help him for the yellow, that's our main aim."
Despite starting the race straight out of a taxi without any warm up, McEwen managed sixth place to remain in contention for the overall series. "We landed in Melbourne at about 3:15, left the airport at 3:45. I was hoping for a limo but had to settle for a maxi taxi – the driver did a great job and got us here really quickly.
Jacob Sutherland wins the support race sprint
Photo ©: CJ Farquharson

"Normally I'd ride for an hour, hour and a half in the morning, then before the race I'd end up doing another hour on the bike before the start - I had literally three minutes before the start today! My body was absolutely hating me – my legs were killing me, my back felt like I was going to burst a disc or something – I was in big trouble.
"I knew I just had to try and ride myself into it, start easy and just try to hold position. I hung in there and once that group got away it was still fast but it was a constant tempo and I was able to find a little bit of rhythm. I sort of overcooked the last corner, came in first into the last corner but didn't pick a good line and Baden [Cooke] came back underneath me. It's a good result considering the day I've had!"
Support Men
The Support Men's race was dominated by a five-rider breakaway, with Jacob Sutherland proving fastest in the dash to the line. Total Rush teammate Cameron Carlyle took a close second ahead of Shaun McCarthy (Decked Out Coaching), Shaun Lewis (Louis Garneau) and Scott Liston (Felt), with the chasing bunch led home by Samuel Spokes (Real Aussie Kids).
Photography
For a thumbnail gallery of these images, click here
Images by CJ Farquharson/WomensCycling.net
Images by Brenton Logan
Images by Peter Feraud/www.peterferaud.com
Results

1 Simon Gerrans (O2 Reflections Group)        
2 Dean Windsor (Mazda)                        
3 Joel Pearson (Savings & Loans)              
4 Bernie Sulzberger (Virgin Blue)             
5 Baden Cooke (O2 Reflections Group)          
6 Robbie McEwen (Bike Hub/Ridley)             
7 Graeme Brown (Urban Hotel)                  
8 Mark Renshaw (Mazda)                        
9 Jono Cantwell (Virgin Blue)                 
10 Brett Aitken (Savings & Loans)             

Sprints

Sprint 1
1 Dean Windsor (Mazda)                        
2 Bernie Sulzberger (Virgin Blue)             
3 Joel Pearson (Savings & Loans)              

Sprint 2
1 Joel Pearson (Savings & Loans)              
2 Bernie Sulzberger (Virgin Blue)             
3 Dean Windsor (Mazda)                        

Sprint 3
1 Dean Windsor (Mazda)                        
2 Joel Pearson (Savings & Loans)              
3 Bernie Sulzberger (Virgin Blue)             

General classification after stage 1
 
1 Simon Gerrans (O2 Reflections Group)      12 pts
2 Dean Windsor (Mazda)                      10
3 Joel Pearson (Savings & Loans)             8
4 Bernie Sulzberger (Virgin Blue)            7
5 Baden Cooke (O2 Reflections Group)         6
6 Robbie McEwen (Bike Hub/Ridley)            5
7 Graeme Brown (Urban Hotel)                 4
8 Mark Renshaw (Mazda)                       3
9 Jono Cantwell (Virgin Blue)                2
10 Brett Aitken (Savings & Loans)            1
 
Points classification

1 Dean Windsor (Mazda)                       7 pts
2 Joel Pearson (Savings & Loans)             6
3 Bernie Sulzberger (Virgin Blue)            5
 
Teams classification

1 O2 Reflections Group                      18 pts
2 Mazda                                     13
3 Savings & Loans                            9
4 Virgin Blue                                9
5 Bike Hub/Ridley                            5
6 Urban Hotel                                4
 
Support Men

1 Jacob Sutherland                            
2 Cameron Carlyle                             
3 Shaun McCarthy                              
4 Shaun Lewis                                 
5 Scott Liston                                
6 Samuel Spokes                               
7                                          
8 Adam Trewin                                 
9 Lachlan Morton                              
10 Dale Parker                                
 
General classification after stage 1
 
1 Jacob Sutherland                          12 pts
2 Cameron Carlyle                           10
3 Shaun McCarthy                             8
4 Shaun Lewis                                7
5 Scott Liston                               6
6 Samuel Spokes                              5
7                                            4
8 Adam Trewin                                3
9 Lachlan Morton                             2
10 Dale Parker                               1