An interview with Mark Cavendish, April 7, 2009
Gent-Wevelgem: Cavendish out for another Classic
Cavendish talks Classics prior to Gent-Wevelgem
Photo ©: Gregor Brown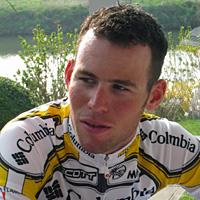 Mark Cavendish made all the headlines with his win in Milano-Sanremo, but the 23-year-old of Columbia-Highroad isn't finished yet and has more objectives for the remaining Classics. Gregor Brown spoke with the Briton in Sint-Martens-Leerne, Belgium, about Gent-Wevelgem, Tour of Flanders and Paris-Roubaix.
Cavendish first burst onto the scene when he won the 2007 Scheldeprijs. The then 21-year-old beat Robbie McEwen and Gert Steegmans that day and he went on to the Tour de France later that year. Unfortunately he abandoned early on.
The following year was different story. He lined up in Brest for the start of the 2008 Tour de France with two stage wins from the Giro d'Italia under his belt. He ruled the sprints over the subsequent three-week race and took four wins – the most number of stages by a single rider in that edition.
The ball hasn't stopped rolling since and this season is going better thanks to early season wins in the Tour of Qatar, Tour of California, Tirreno-Adriatico, and of course Milano-Sanremo. In that race he surprised many of the naysayers by surviving the long distance of 298 kilometres, which included several difficult climbs and he was the only one able to respond to the last-minute surge by Heinrich Haussler (Cervélo TestTeam).
Set for Gent-Wevelgem
"I have to be positioned better at the finish."
-Cavendish doesn't want to repeat his 2008 Gent-Wevelgem error.
He is ready to add another Classic victory to his palmarès, tomorrow, in Gent-Wevelgem. The 203-kilometre race will take in two ascents of the Kemmelberg prior to the finish. He headed into the race last year with two season wins, but this year an additional seven wins could give him the confidence to change last year's 17th placing into a win.
Mark Cavendish (Columbia) describes his desire to win a Northern Classic
Photo ©: Gregor Brown

"It [season so far] gives me confidence against my competitors. Having a successful year shows I am on good form. It also gives my teammates confidence, they know that they can ride 100 per cent for me.
"Last year's Gent-Wevelgem changed how I approached my sprinting. I could always afford to sit back in the pack and then do my sprint, but at that race I couldn't. In a stage race you have a designated sprinter and he has his chances over the different stages, but in a one-day everyone is out to get that trophy on that day. You can't afford to sit back, you have to keep fighting. I have been doing that since last year and I will do it next week."
Last year, his Highroad team supported him over the two closing circuits, which include the steep Kemmelberg, and then rode to capture the escape of Philippe Gilbert and Filippo Pozzato.
"I have to be better positioned at the finish. I hope it is the same as last year, but I won't sit back and relax before the finish, I will be constantly fighting for position so I can start the sprint at the front."
Cavendish says there are a few favourites who will contend for the win. If he gets the victory he will focus his Classics' goals on another race, Paris-Tours, October 11.
The Classics future
Cavendish knows what a good team is worth
Photo ©: AFP

Cavendish refuses to limit his potential as a rider to sprints, and he has ideas for the future in some of the typical hard man Classics: the Ronde van Vlaanderen and Paris-Roubaix. The team originally scheduled him to race Paris-Roubaix this year for experience, but the plan changed after what has already a hectic Spring for the youngster.
"Flanders? I don't want to think too far into the future. However, when you grow up watching Flanders it is a dream to win that race. I have to have realistic targets and it won't be in the next couple of years.
"I am not the type of rider for it. I win all my races in bunch sprints and Flanders doesn't normally end in a bunch sprint. I could change to become that rider, though.
"[Johan] Museeuw started off as a sprinter, even though he was a different type of sprinter. I am similar to Robbie [McEwen], who never quite did it, but there is no reason why... At the moment I am happy winning sprints, that is what the team pays me for and I have made my career this way. Just like I would want to win the yellow jersey at the Tour, but that is not a realistic possibility."
Cavendish will travel from Gent-Wevelgem to France this year with the Paris-Roubaix team. He plans to preview the parcours with the eight-man squad.
"If I did not put so much into Sanremo and Gent-Wevelgem then may be it would have been okay for Paris-Roubaix. I sacrificed a hell of a lot for Sanremo: I was so careful with my training and my diet, I had never been so careful before. That concentration took a lot of energy out of me, and it is the same for Gent-Wevelgem.
"I will miss Roubaix, which is a shame. I want to ride it because I love these types of races."
Early memories
Mark Cavendish (Columbia-Highroad, r) takes Milano-Sanremo
Photo ©: AFP
Cavendish is just like every cycling fan, and grew up watching the big races on television. He watched the Ronde van Vlaanderen on Sunday from his home on the Isle of Man after he completed a pre-Gent-Wevelgem training ride. He showed his age when he recalled his earliest memories of Paris-Roubaix.
"It was of Servais Knaven winning Paris-Roubaix [in 2001]. I was already a fair way into cycling, but I was not really following the pro races that much. It is not very big in England and you don't get into it at a young age as you do here [in Belgium].
"When I joined T-mobile in 2007 the first teammates I met at the Mallorca training camp were Andy [Andreas] Klier and Servais Knaven. I spent the week with them and I can tell you it was a little bit surreal."
"My first memory was of Servais Knaven winning Paris-Roubaix in 2001."
-Cavendish's cycling history memories shows his age.
Now Cavendish is the rider youngsters are tuning in to watch. "That is a nice feeling to have. I think I can encourage. People do come up to me and say, 'My son wears his socks long like you.' That makes me smile."
Celebrate good times
Cavendish's monk-like lifestyle will end this Wednesday night. He will award himself a few beers for his Spring campaign, whether he wins or loses. The delayed Sanremo victory celebration was put on ice after he went to the Track World Championships in Poland, where he raced the Madison (with Peter Kennaugh) and the Scratch.
"I hope to celebrate after Gent-Wevelgem. I had my first glass of wine since Sanremo the other night, and one glass only because I am focused on Gent-Wevelgem. Even after Sanremo, I had to keep focused because there were the World Championships. If I had enjoyed the Sanremo win then I would have ruined our chances for Worlds."
Related articles:
Photography
For a thumbnail gallery of these images, click here
Images by AFP Photo
Images by Gregor Brown/Cyclingnews.com