Jayco Bay Cycling Classic - NE
Geelong, Australia, January 2-6, 2008
Main Page Results Overall standings Next Stage
Stage 1 - January 2: Williamstown - Elite men
Cooke opens affairs with victory
By Malcolm Sawford in Williamstown
Baden Cooke (detour-themovie.com)
Photo ©: CJ Farquharson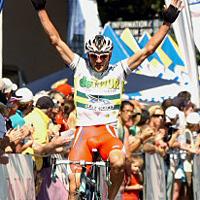 Baden Cooke, the overall winner of the 2004 Bay Classic, kicked off the 2008 Classic with an emphatic win on the technical circuit around Williamstown's café district. Cooke spent most of the final thirty minutes ahead of the peloton: not the way he generally wins races. "It's fantastic. I didn't plan to spend half an hour out there just suffering like that, but as it turned out the race was splitting apart and everyone was being quite aggressive so I though the best form of defence would be to attack," noted the Aussie post-race.
He credited his success to going back to basics with his pre-season training. "I haven't done any extra training than usual; I've just been training a bit smarter. John Kennedy [leading Melbourne cycle fit specialist and former world professional flying 200m world record holder - ed.] has been helping me a bit, just teaching me things that I already knew from when I was a kid, you need to go over things again. We've done some specialist training and he's adjusted my position on the bike a bit – I feel like I've got an extra leg!" Cooke also revealed he had taken delivery of his new 2008 Team Barloworld Bianchi just two days earlier.
How it unfolded
Stuart O'Grady (Skilled)
Photo ©: CJ Farquharson

Like the women's race, the opening laps of the men's race were run at a frantic pace, before Matt King (Jayco VIS - Sally's Paddock) launched the first attack. His effort was short lived, but set the tone for a succession of unsuccessful moves before Aaron Kemps (A&I Helicopters), Dean Windsor (Drapac Porsche - Sofitel Mansion Spa), Cooke (detour-themovie.com) and Will Walker (FRF Couriers - NSWIS) combined. The quartet was clear at the first sprint, taken by Cooke, before a chase group led by Simon Gerrans (Portfolio Partners) and Graeme Brown (FRF Couriers - NSWIS) made contact, with the bunch hot on their heels.
Another small group escaped approaching the half way sprint. Matt Wilson (detour-themovie.com) took maximum points ahead of Allan Davis (FRF Couriers - NSWIS) and Stuart Shaw (Drapac Porsche - Sofitel Mansion Spa), with Koen de Kort (A&I Helicopters) also contributing to the pace making. With twenty-five minutes, the field once again regrouped momentarily, before Cooke, the recently crowned Australian Criterium champion, counter-attacked with Australian Road Champion Darren Lapthorne.
A chase group containing Brown, Hilton Clarke (Portfolio Partners), Shaw and Zak Dempster (A&I Helicopters) almost got on terms, before the two leaders began to open the gap.
Mark Renshaw (Portfolio Partners)
Photo ©: CJ Farquharson

The pair worked smoothly, with Cooke saying later "he's a huge young talent. We didn't say a word to each other for the first twenty minutes – just swapped well and worked hard." Lapthorne led each time over the finish line and consequently took an uncontested third and final intermediate sprint, while Cooke's second place was enough to give him the lead in the green jersey competition.
Despite the Skilled team sending Stuart O'Grady, Trent Wilson and Jono Cantwell to lead the chase, the two leaders were able to maintain an advantage hovering around the ten-second mark until the closing laps. At three to go, the bunch closed to within five seconds, before Cooke "found I had another two gears left, went down the two gears and pulled it back out again."
The lead was back to ten seconds at two to go, but halved again after a big effort by Brown leading into the bell. In the back straight, the chasers almost made contact, despite Kemps crashing out on corner two, before Cooke shot away from Lapthorne to charge to the win. "We didn't really fox much," was Cooke's take, "but just on the hill going up in the head wind they got really close, maybe about five metres, so I attacked with about 500 metres to go and held them off."
Lapthorne was overhauled by three riders, led by defending champion Mark Renshaw (Geelong Mazda) in the final dash home. Renshaw admitted later he expected to be sprinting for the win. "I knew the entire race we could get across, but on the last lap we didn't quite there. We were only just fifteen metres short! It was a bit hectic there at the finish with the crash, and when I looked around I saw Rory [Sutherland] there and screamed at him to go but it was just a tad too late."
Support race
The forty-five minute support race was dominated by breakaways, kicked off with an escape by Douglas Repacholi (Cyclemania/WAIS) and Daniel Braunsteins (Drapac Porsche). The pair were joined by Cam Carlyle (ProMotion Bicycles) and Joel Pearson (Savings and Loans), before Repacholi faded in the final minutes leaving the remaining three to fight out the win.
Pearson had little trouble sprinting to the win ahead of Braunsteins and Carlyle.
Photography
For a thumbnail gallery of these images, click here
Images by WomensCycling.net
Results
1 Baden Cooke (detour-themovie.com)                     12 pts
2 Mark Renshaw (Geelong Mazda)                          10
3 Hilton Clarke (Portfolio Partners)                     8
4 Allan Davis (FRF Couriers)                             7
5 Rory Sutherland (Geelong Mazda)                        6
6 Darren Lapthorne (A&I Helicopters)                     5
7 Stuart O'Grady (Skilled)                               4
8 Dean Windsor (Drapac Porsche)                          3
9 Richard England (Jayco Bianchi)                        2
10 Matt King (Jayco VIS)                                 1
 
Sprints
 
1 Baden Cooke (detour-themovie.com)                      5 pts
2 Darren Lapthorne (A&I Helicopters)                     3
3 Dean Windsor (Drapac Porsche)                          3
 
General classification after stage 1
 
1 Baden Cooke (detour-themovie.com)                     12 pts
2 Mark Renshaw (Geelong Mazda)                          10
3 Hilton Clarke (Portfolio Partners)                     8
4 Allan Davis (FRF Couriers)                             7
5 Rory Sutherland (Geelong Mazda)                        6
6 Darren Lapthorne (A&I Helicopters)                     5
7 Stuart O'Grady (Skilled)                               4
8 Dean Windsor (Drapac Porsche)                          3
9 Richard England (Jayco Bianchi)                        2
10 Matt King (Jayco VIS)                                 1

Back to top