Jayco Bay Cycling Classic - NE
Geelong, Australia, January 2-6, 2008
Main Page Results Overall standings Previous Stage Next Stage
Stage 2 - January 2: Williamstown - Elite women
Rhodes rides to victory
By Malcolm Sawford in Williamstown
Time for a long salute from the breakaway winner.
Photo ©: CJ Farquharson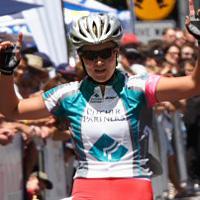 Alexis Rhodes, a dual stage winner in 2007, kicked off the 2008 Classic with an emphatic win on the technical circuit around Williamstown's café district. Rhodes was pleased to start the Pitcher Partners defence of both the overall win and team's competition in the perfect way, admitting "after last year's success, we were all a bit nervous coming into this year, but we've come back with a good team, and we're quite happy now! Team unity is the key to out success."
She put the win down to two key factors. "Making sure I was up the front looking after myself, 'cause the key to Bay Crits is to be up the front. It's a lot harder down the back! And I was also making sure there was a Pitcher Partners representative in everything that went."
How it unfolded
The women approach the first corner.
Photo ©: CJ Farquharson

The women's race started fast, and the pace quickly had a number of the less experienced riders in difficulty. With the favourites keeping a close on each other, the first attack came from a relative unknown, Leonie Burford (NSWIS/Degani Café). Her attack spurred a quick reaction, but the lift in pace proved to be the perfect launching pad for Burford's team leader, Olivia Gollan, to jump away to claim the first of the two intermediate sprints ahead of Peta Mullens (Jayco VIS).
16 year-old Megan Dunn (CBD/NSWIS Development Team) attacked strongly a lap later and rode alone for the next seven minutes. Her effort probably should have lasted longer, but the diminutive youngster had her run checked trying to overtake a group of tailed off riders, allowing the main bunch to regain contact.
The most dangerous move soon followed, when Oenone Wood (Geelong Mazda) and Lauren Kitchen (NSWIS/Degani Café) countered. Rhodes (Pitcher Partners), who had never been far from the front chased across, followed a lap later by Olympic champion Sara Carrigan (Rapido Cycles). A big turn of pace a couple of laps later by Emma Rickards allowed team mate Mullens to jump across in time to contest the second sprint, which was taken out by Carrigan, but Mullen's second place gave her the lead in the sprinter's competition.
Belinda Goss (Volvo)
Photo ©: CJ Farquharson

With eleven minutes to race, and the bunch poised to make contact, Rhodes attacked again and quickly built up an impressive advantage. Within two laps, she was clear by the length of the finishing straight, and churning a big gear, built her lead to a maximum of twenty-five seconds. "I wasn't doing terribly much in the break because of the people I was with, Sara and Oenone, I didn't want to do too much because they're such class bike riders, but then the break nearly got caught so I went, and my team was so great controlling the bunch, and I stayed away. I was sort of concentrating on keeping my cadence nice and high, but that wasn't really happening – you probably saw I was only at about 85 cadence."
Rhodes powered to the win some twenty seconds clear, with the bunch led home by Belinda Goss (Volvo) three lengths ahead of the impressive debutante Dunn and defending champion Kate Bates (Pitcher Partners), after a late solo effort from Burford was overhauled on the final lap.
Goss suffered a frustrating 2007 campaign, forced to try to cover a multi-pronged Pitcher Partners attack almost single-handedly but has brought a much stronger team with her this year. "The Volvo girls did a great job for me today. I wasn't really feeling the best, but Katie [Jones] did a fantastic job to bring that break back, then Gina [Grain] and Kirsty [Broun] led me out in the final sprint.
Photography
For a thumbnail gallery of these images, click here
Images by WomensCycling.net
Results

 
1 Alexis Rhodes (Pitcher Partners)            12 pts
2 Belinda Goss (Volvo)                        10
3 Megan Dunn (CBD/NSWIS)                       8
4 Kate Bates (Pitcher Partners)                7
5 Jenny Macpherson (Rapido Cycles)             6
6 Teressa Cliff Ryan (Geelong Mazda)           5
7 Peta Mullins (Jayco VIS)                     4
8 Gina Grain (Volvo)                           3
9 Olivia Gollan (NSWIS Degani Café)            2
10 Oenone Wood (Geelong Mazda)                 1
 
Sprints
 
1 Peta Mullins (Jayco VIS)                     4 pts
2 Olivia Gollan (NSWIS/Degani Café)            3
3 Sara Carrigan (Rapido Cycles)                3
 
General classification after stage 1
 
1 Alexis Rhodes (Pitcher Partners)            12 pts
2 Belinda Goss (Volvo)                        10
3 Megan Dunn (CBD/NSWIS)                       8
4 Kate Bates (Pitcher Partners)                7
5 Jenny Macpherson (Rapido Cycles)             6
6 Teressa Cliff Ryan (Geelong Mazda)           5
7 Peta Mullins (Jayco VIS)                     4
8 Gina Grain (Volvo)                           3
9 Olivia Gollan (NSWIS Degani Café)            2
10 Oenone Wood (Geelong Mazda)                 1