Jayco Bay Cycling Classic - NE
Geelong, Australia, January 2-6, 2008
Bay series ready to rumble
By Malcolm Sawford
While Melbourne Docklands won't be in this year's race, the star-studded field will return
Photo ©: Shane Goss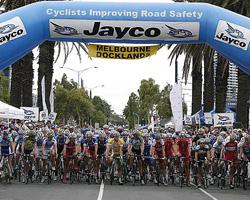 Billed as the 'World's Fastest' street race series, the Jayco Bay Cycling Classic (and its erstwhile promoter John Trevorrow) is renowned for attracting a star-studded line up of Australia's leading professional riders all keen to kick off the year with a bang. This year, three of the five stages will be held in Geelong, the city which will host the 2010 World Road Championships.
Stage 1 kicks off in Williamstown on Wednesday, with the tortuous Port Arlington circuit on Thursday, before the final three stages in Geelong. Stage 3 is a twilight hot dog circuit on the waterfront, while Stage 4 is a new circuit to the Classic. The course is entirely within Eastern Park, around the Botanical Gardens, and at two kilometers in length with long straights it should allow strong riders a chance to shine.
The final stage also covers roads within Eastern Park, but is much shorter and features two technical corners and a nasty climb to the finish line outside the entrance to the Botanical Gardens.
Melbourne's weather is predicted to be fine throughout. A near perfect 25 degrees for Stage 1, but steadily increasing to the high of 37 on Saturday before a cooler day for the thousands of recreational riders who are expected to join the professionals for Amy's Ride, the Amy Gillett Memorial ride, which proceeds the final stage.
O'Grady returns for bite at Bay Classic cherry
The men's field features 16 teams of five and boasts no less than four Olympic gold medalists: Stuart O'Grady, Graeme Brown, Brett Aitken and Brett Lancaster. Of these, Aitken not only has two classic wins under his belt, in 1998 and 2000, but the advantage of riding with four of his regular Savings & Loans team-mates, which will no doubt be an advantage in any stage that comes down to a bunch sprint.
Baden Cooke will be one to watch
Photo ©: Shane Goss

Brown has featured in some close and often controversial stage finishes at the classic, but has so far been denied the overall win. This year he will ride as part of the FRF Couriers - NSWIS team, along side Rabobank team mate Will Walker and former Discovery Channel rider Allan Davis. Brown showed great form on the boards at Revolution 2 earlier this month; could this be the year he finally takes the series?
The return of Stuart O'Grady to the Jayco Bay Cycling Classic is guaranteed to boost crowd numbers at what is already a very well supported event. There may be no pavé for O'Grady to repeat his Paris - Roubaix heroics, but the first corner at Williamstown does feature a cobble stoned roundabout, and the back straight on the final stage at Eastern Park could do with a bit of maintenance!
At the event launch, O'Grady said the Bay Classic was the ideal preparation for the tough European season to follow. "The Bay Crits are the fastest crits anywhere in the world and the depth of talent in this series is quite staggering," he said. "The adrenalin starts pumping when I think about how that first day is going to go with so many quality criterium riders all trying to gain an advantage. It will be awesome."
"The Bay Crits are an important stepping stone for the European season," added O'Grady. "I really need to keep knuckling down to get the good training in, both before and after the event, as I'm still a long way behind where I'd like to be, but there is only one way to get back to the form where I'd like to be and that's hard work." O'Grady will have regular CSC team mate Matt Goss and 2006 Sprint King Trent Wilson among his domestiques on the Skilled team.
Other riders to watch include defending champion Mark Renshaw, riding as the captain of the Geelong Mazda team; Leigh Howard, the young star of Jayco Bianchi VIS team; and 2004 winner Baden Cooke, the new Australian Criterium Champion, who will ride with 2007 Unibet team-mates Matt Wilson and Jeremy Hunt in the deTourMovie colours. If hours logged on Melbourne's famous beach road are anything to go by, 'Cookie' is definitely one to watch.
Bates the one to back
Kate Bates (Pitcher Partners)
Photo ©: Shane Goss

The women's field comprises 10 teams and includes Olympic champion Sara Carrigan, and past winners Kate Bates and Oenone Wood. Bates, the defending champion, looks the clear-cut favourite. She will ride for the Pitcher Partners 'All Star' team, alongside her sister and Commonwealth Games road race winner Natalie, Alexis Rhodes, Olivia Gollan and Amanda Spratt.
Leading the local charge will be the Jayco VIS team. Katie Mactier has chosen to sit out the series in order to focus on the Beijing Olympics, elevating Emma Rickards into the number one saddle cloth, but she will no doubt receive strong support from Helen Kelly, Peta Mullens, Jessica Berry and up and coming mountain biker Kath O'Shea.
Carrigan heads the Rapid Cycles team, which includes former AIS rider Jenny Macpherson. Macpherson won the tough Botanical Gardens stage in 2005, and while she has stepped back from full time cycling, her regular hit outs (and wins!) against local B Grade men's fields means she cannot be discounted, either.
Two other women to watch are Belinda Goss (Volvo) and Oenone Wood (Geelong Mazda). Goss rode brilliantly in the '06 Classic, but did not have the team support needed to match Pitcher Partners over all five days. Goss has new Australian Crit champion Kirsty Broun and experienced Canadian pro Gina Grain for support this year, giving her a much needed boost.