U.S. National Criterium Championships - NE
Downers Grove, Illinois, USA, August 16-17, 2008
Main Page Results Overall standings Race Details Previous Race
Race 5 - August 17: USPRO National Criterium Championships
Bahati delivers on promise to win criterium nationals
By Mark Zalewski in Downers Grove, Illinois
Rahsaan Bahati (Rock Racing) delivered on his season
Photo ©: Mark Zalewski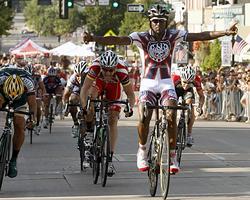 Back in June during Philly week Rahsaan Bahati (Rock Racing) told Cyclingnews that his main goal for the season was to win the professional criterium nationals in Downers Grove, despite suffering from an injury that caused him to consider pausing his career for surgery. While the races he targeted to lead-up to nationals did not all go his way, he was on top when it counted, making it to the final turn safely near the front and blowing past everyone for the stars and stripes today.
"I have one more goal which is to win the first stage of the Tour of Britain, but if my career were to stop now it would be perfect," he said. "The last lap was from good position to bad position, being behind Kayle to being behind Menzies. It was pretty tough fighting for positions but I've done this course since 2000 and I know the places where I can move up."
As is the case most years in the 22-year history of this race, the downhill second-half of the figure eight course was a fight to turn seven, in order to set-up for the final turn just 150 meters from the finish. Off the top of the hill and into the second of two right turns, turn five, it was Kelly Benefits Strategies-Medifast in control with Kevin Lacombe and Jake Keough trying to put Alex Candelario into position. "Kevin hit it with half-lap to go with me and Jake on his wheel," said Candelario. "Menzies got in between me and Jake and caused some disruption going into the last corner."
Heading into turns seven and eight former criterium champion Brad Huff (Jelly Belly) jumped the Kelly Benefits train on the outside. Unluckily he unclipped and lost all his speed, while the disrupted field shuffled past him. "Huff jumped on the outside of us but then came unclipped which caused some chaos into the last corner," Candelario said. "I went through but didn't have as much speed as Rahsaan coming behind me."
Bahati's momentum advantage was all he needed to finish off the race. "Second-to-last turn I was far back," he said. "I was like seventh and I just started sprinting, weaving in between guys. Then going into the last turn we were three deep with Candelario and Hekman. We didn't crash and I said thank you. I was in the middle and just told myself to make it through. I knew if I could stay up I could out-sprint them."
A lot of teams put their American riders at the top of their strategies, even though they had other fast sprinters. Toshiba-Santo's Mark Hekman was the team's shot at the jersey with his team-mate setting the pace into the final lap. Colavita-Sutter Home usually has a whole host of options with riders like Sebastian Haedo, but they were working for Kyle Wamsley who, along with Hekman, both made it onto the podium.
"It's criterium nationals and everyone is slicing and dicing," said Wamsley. "We were trying to move up but in some inopportune spots, and there was a crash in the second-to-last corner. Everything was all jumbled and when I got my head up I was seventh wheel coming into the last turn and a little too far back. But I have all my skin and made it into the top five.
"Being the only American for the jersey it is something we're not used to, working for just one guy," he said. "We usually have so many weapons and play the numbers game."
For Bahati, who won the amateur version of this race eight years ago as a junior, the wait to finally with the professional version is finally over. "I am just happy because I had better legs yesterday and today I started to cramp with 20 laps to go," he said. "I kept telling myself to hang in there because these guys did such a great job for me."
Just to show he was focused on winning it all, he forced himself to stay patient the entire race and not waste any energy. "It was hard holding back like that because I usually like to do a couple of efforts to open up the legs," he said. "But there was really no time for me to do that."
As well Bahati gave a little nod to the history books. "Justin Williams won and I won, so I'm sure there is some history right there."
How it unfolded
The tempo of the race was much different than in past year, likely due in some part to the significantly smaller field - just over 75 riders. The racing started early with some predictable attacks by the smaller teams, but big teams like Rock Racing and Colavita-Sutter Home looked keen on keeping it together. Without big representations from Health Net-Maxxis or Toyota-United, four and one riders respectively, the few large teams had their way.
That is until a certain fifth place Tour de France finisher shook the tree. Christian Vande Velde (Garmin-Chipotle), who lives in nearby Lemont, took a solo flyer off the front with 14 laps to go and held his lead for a few laps before some teams got tired of looking at each other to chase.
"It was for the crowd," said Vande Velde. "I was hoping I didn't have a shot at staying away because that was a long way to go. I didn't train at all this week, but a lot of people came out here so I did some training here. I'm going on vacation tomorrow to Wisconsin, then USPRO and Missouri."
Bahati said he was not too worried about that move. "It's a hard course to hold it and who knows how motivated he was to be the criterium national champion," he said. "I was actually happy because it made the others chase."
But a few laps before the finish an actual threat surfaced with Dan Bowman (Kelly Benefits Strategies-Medifast) taking a solo flyer and building a lead. He lasted close to the end, but was brought back by a combined chase of Jittery Joe's, Colavita-Sutter Home and Toshiba-Santo. All that remained was the final lap and the ensuing field sprint.
Photography
For a thumbnail gallery of these images, click here
Images by Mark Zalewski/Cyclingnews.com
Images by
Images by Vero Image
Results
1 Rahsaan Bahati (USA) Rock Racing                                   2.21.21
2 Alex Candelario (USA) Kelly Benefit Strategies - Medifast                 
3 Mark Hekman (USA) Toshiba - Santo Pro Cycling p/b Herbalife               
4 Antonio Cruz (USA) BMC Racing Team                                        
5 Kyle Wamsley (USA) Colavita Sutter Home p/b CookingLight                  
6 Kayle Leogrande (USA) Rock Racing                                         
7 Jonathan Cantwell (Aus) Jittery Joe's Pro Cycling Team                    
8 Hilton Clarke (Aus) Toyota - United Pro Cycling Team                      
9 Jake Keough (USA) Kelly Benefit Strategies/Medifast                       
10 Stephen Kincaid (USA) Rite Aid Pro Cycling p/b Shebell & Shebell         
11 Daniel Holloway (USA) Garmin-Chipotle p/b H3O                            
12 Maxime Vives (Can) Calyon Pro Cycling Team                               
13 Adam Myerson (USA) Time Pro Cycling                                      
14 Owen Nielsen (USA) DLP Racing                                            
15 Robbie King (USA) Rite Aid Pro Cycling p/b Shebell & Shebell             
16 Tommy Nankervis (Aus) Toshiba - Santo Pro Cycling p/b Herbalife          
17 Scott Jackson (USA) DLP Racing                                           
18 Matt Rice (Aus) Jelly Belly Cycling Team                                 
19 Chad Hartley (USA) Jittery Joe's Pro Cycling Team                        
20 Timothy Henry (USA) Jittery Joe's Pro Cycling Team                       
21 Bradley Huff (USA) Jelly Belly Cycling Team                              
22 Scott Zwizanski (USA) Bissell Pro Cycling                                
23 Nick Frey (USA) Time Pro Cycling                                         
24 Kirk O'Bee (USA) Health Net p/b Maxxis                                   
25 Josh England (NZl) Team Inferno Pro Cycling                   
26 Davide Frattini (Ita) Colavita Sutter Home p/b CookingLight              
27 Morgan Schmitt (USA) Bissell Pro Cycling                                 
28 Jake Rytlewski (USA) Rite Aid Pro Cycling p/b Shebell & Shebell          
29 Mike Sayers (USA) BMC Racing Team                                        
30 John Murphy (USA) Health Net p/b Maxxis                                  
31 Shawn Milne (USA) Team Type 1                                            
32 Luis Amaran (Cub) Colavita Sutter Home p/b CookingLight                  
33 Evan Elken (USA) Jittery Joe's Pro Cycling Team                          
34 Alejandro Alberto Borrajo (Arg) Colavita Sutter Home p/b CookingLight    
35 Kevin Lacombe (Can) Kelly Benefit Strategies - Medifast                  
36 William Elliston (USA) Rite Aid Pro Cycling p/b Shebell & Shebell        
37 Hayden Godfrey (NZl) Team Inferno Pro Cycling                            
38 Ben King (USA) Kelly Benefit Strategies - Medifast                       
39 Bernard Van Ulden (USA) Jelly Belly Cycling Team                         
40 Nicholas Reistad (USA) Jelly Belly Cycling Team                          
41 Jeremy Powers (USA) Jelly Belly Cycling Team                             
42 Steven Howard (USA) Bissell Pro Cycling                                  
43 Stirling Magnell (USA) Rock Racing                                       
44 Scott Jackson (USA) DLP Racing                                           
45 Gustavo Artacho (Arg) Colavita Sutter Home p/b CookingLight              
46 Kari Menzies (Aus) Health Net p/b Maxxis                                 
47 Sergio Hernandez (USA) Rock Racing                                       
48 Jonathan Erdelyi (USA) Rite Aid Pro Cycling p/b Shebell & Shebell        
49 Daniel Holt (USA) Team Type 1                                            
50 Kyle Gritters (USA) Health Net p/b Maxxis                                
51 Emile Abraham (Tri) Team Type 1                                          
52 Graham Howard (USA) Bissell Pro Cycling                                  
53 Reid Mumford (USA) Kelly Benefit Strategies - Medifast                   
54 Christian Vande Velde (USA) Team Garmin-Chipotle p/b H30                 
55 Lucas Sebastian Haedo (Arg) Colavita Sutter Home p/b CookingLight        
56 Dan Bowman (USA) Kelly Benefit Strategies - Medifast                     
57 Jonathan Sundt (USA) Kelly Benefit Strategies - Medifast