5th Women's Ronde van Vlaanderen - CDM
Belgium, April 6, 2008
Main Page Results Live report ProTour standings
Arndt takes the Flanders High Road
By Ben Atkins and Brecht Decaluwé in Meerbeke
Judith Arndt (High Road)
Photo ©: AFP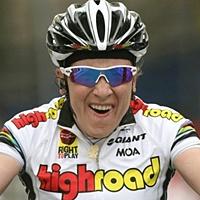 German former world champion Judith Arndt (Team High Road) has won the fifth Ronde Van Vlaanderen in a two-up sprint from American Kristin Armstrong (Cervelo Lifeforce Pro Cycling Team). The pair arrived at the finishing line together, but the former world time trial champion was no match for the German veteran, and Arndt crossed the line two bike lengths clear. In a race dominated by the High Road and Cervelo Lifeforce teams, it was no surprise that a rider from each team would end up contesting the final victory.
The sprint for third was taken by Omloop Het Wolk winner Kristen Wild (AA Drink Cycling Team) from Arndt's team-mate Oenone Wood and newly crowned world points race champion Marianne Vos (DSB Bank). They led home a group of fourteen riders that included defending champion Nicole Cooke (Halfords Bikehut) and world champion Marta Bastianelli (Italian National Team) twenty-one seconds behind the leading pair.
Arndt's first thought was to credit her team for a job well done. "It was some great team-work," she told Cyclingnews straight after the finish. "We were always in the breakaway: with Chantal [Beltmann] and Luise [Keller], and it was just a perfect race."
Asked about her confidence of beating Armstrong as they arrived on the finishing straight together, she revealed that she had not been too confident about being able to out-sprint the American. "I was not sure, but usually I'm not so bad in sprinting.
"When you win, you can party," she continued. "I don't know how we'll celebrate. We'll do it with the whole team."
Fourth place finisher, Arndt's team-mate Oenone Wood reflected Arndt's sentiments. "It was great;" she told Cyclingnews as she caught her breath. "We've done this race so many times as a team and had bad luck. I think in this race you have to have everything fall into place and you can't afford any mistakes. I think we rode really well as a team today. Chantal [Beltman] was in that break early on, then Luise [Keller] got across to her, and that allowed the rest of us to really look after ourselves and stay in good positions."
Last year's World and World Cup Champion
Photo ©: CJ Farquharson

Emphasising the fact that High Road are celebrating this as very much a team victory, team representative Petra Rossner spoke to Cyclingnews after the race. She specifically praised the work of Australian Kate Bates who worked tirelessly for team captain Arndt, protecting her on the numerous cobbled sections and climbs.
On finishing third, Kirsten Wild was disappointed not to get the victory, but satisfied overall to have made the podium. "I'm happy enough with this result," she said. "We had a team-mate [Emma Johansson] in the front group [early on], but I wouldn't have minded if everything had come together."
Wild's team-mate Emma Johannson was in the leading group that formed on the Molenberg after just 33km, but only managed to finish ninth in the group behind Arndt and Armsrtong. "Of course I'm disappointed." she said. "The whole day away; I felt good in there as well. People were starting to come back and were attacking, but you can't react to everything. I really did have a chance for a top-three, because on the Bosberg we were only with the four of us. But that's what happens.
"We were going too slow, they were going too fast." she continued "On the Muur I was really suffering. On the Muur she [Chantal Beltman] was so much stronger, but we chased back to Chantal. So, Just before the Bosberg we caught back up with them. During the climb we just sat on her wheel. I didn't realize they were so close behind."
Surprised that the forecast rain – some of which fell on the men's race – stayed away, Johannson explained, "It was ok. It was dry. It wasn't bad. It wasn't cold. I was really warm - we were lucky there. When we did the Valkenberg I noticed that it was really dark above Oudenaarde, but we then turned around and didn't get it. It was good."
Jana Süß (Germany) takes on cyclo-cross tactics
Photo ©: CJ Farquharson

Also part of the early break, Giorgia Bronzini (Italian National Team) was unlucky with mechanicals and finally finished in 78th place, 2:43 behind Arndt. Nevertheless, she remained upbeat about her race. "Bene, bene," she told Cyclingnews, "it went really well, but unfortunately I punctured on the hardest climb."
Last year's winner Nicole Cooke (Halfords Bikehut) finished in the leading group for her second World Cup race in succession, and despite showing some form with a late attack, finished last in the sprint for the line.
"I just looked to see what was going on," she said after the race. "Armstrong and Arndt got away. I followed some moves; then with about a kilometre and a half to go, I followed Brandli. There was a bit of a gap because she swung off, so I put my head down and went. I got about 100m, 150m, not much choice: I could only commit, otherwise if I got caught by the bunch I'd get beaten in the sprint anyway, so I went like crazy, but got passed with 150m to go."
Cooke was also quick to praise the tactics employed by the teams of the two leading riders – something she herself had the luxury of in last year's race. "Cervelo and High Road both rode very well with their strong riders," she continued, "putting them in the front group and then having chasers come across, so both riders had three in the front group and they used that to their advantage"
British rider Emma Pooley (Specialized Designs for Women) was defending her lead in the World Cup that she gained by virtue of her victory in last month's Trofeo Alfredo Binda. Asked if her first experience of the Ronde had been good, she told Cyclingnews."Hard, not good, hard."
Unfortunately, Pooley did not find that the World Cup jersey gave her any extra boost to her performance, quite the opposite in fact. "It really didn't make any difference," she said, "it was just horrible. It was just even more embarrassing, frankly, wearing this jersey."
How it unfolded
Chantal Beltman (Team High Road)
Photo ©: CJ Farquharson

188 women from 32 teams took the start of the fifth Ronde Van Vlaanderen for women, in Oudenaarde just before midday. Despite predictions of bad weather – even heavy snow – they set off under almost unbroken sunshine, in fact the many showers that fell on the men's race stayed away from the women and they enjoyed dry roads for the entire race. Temperatures were well down on last year's unseasonable heat however, and many riders began the race with leg or knee warmers.
The first serious attack of the day came just before the Molenberg – the first climb of the day – where seven riders broke clear of the peloton. The break, consisting of Chantal Beltman and Luise Keller (both Team High Road), Marianne Vos (DSB Bank), Noemi Cantele (Team Bigla), Sarah Düster (Cervelo Lifeforce), Emma Johansson (AA Drink) and Giorgia Bronzini (Italian National Team). They quickly gained twenty seconds on the peloton.
A group of around fifteen riders detached from the front of the peloton, containing the entire rest of the High Road team. Bronzini suffered a puncture at this point, and she and Keller were dropped. Despite working together, they failed to regain the front group. By the mid point of the race, the gap reached a maximum of one minute and ten seconds.
Judith Arndt (Team High Road) opens up a gap
Photo ©: CJ Farquharson

On the climb of the Muur-Kapelmuur, the front five were caught by the chasing group which included defending champion Nicole Cooke (Halfords Bikehut) and also Kristin Armstrong and Christiane Soeder (both Cervelo Lifeforce), Judith Arndt and Oenone Wood (both High Road), Canele's Bigla team-mate Nicole Brandli, Suzanne De Goede (Equipe Nürnberger Versicherung) and world champion Marta Bastianelli (Italian National Team).
The leading riders stayed together for the next few kilometres, and after the Bosberg, there were sixteen riders in the lead with the remainder of the peloton now out of contention.
On the fast rolling roads between the Bosberg and the finish, Armstrong put in a powerful attack that only Arndt managed to follow and the pair quickly pulled away with no one in the rest of the group attempting to chase.
Armstrong and Arndt rounded the final corner with 500 metres to go with a lead of around twenty seconds on the rest and the German easily out sprinted the American to take her first victory in this race.
A late attack from Cooke was neutralised by the chasing pack and Kirsten Wild led them home, out sprinting Arndt's team-mate Wood, and former world champion Vos took fifth. De Goede finshed in sixth place and takes the lead in the World Cup standings.
Photography
For a thumbnail gallery of these images, click here
Images by AFP Photo
Images by CJ Farquharson/WomensCycling.net
Images by Ben Atkins/Cyclingnews.com
Results
1 Judith Arndt (Ger) Team High Road Women                    3.01.00 (37.79 km/h)
2 Kristin Armstrong (USA) Cervelo Lifeforce Pro Cycling Team        
3 Kirsten Wild (Ned) AA-Drink Cycling Team                      0.21
4 Oenone Wood (Aus) Team High Road Women                            
5 Marianne Vos (Ned) Team DSB Bank                                  
6 Suzanne De Goede (Ned) Equipe Nürnberger Versicherung             
7 Julia Martisova (Rus) Gauss RDZ Ormu                              
8 Marta Bastianelli (Ita) Team Ista                                 
9 Emma Johansson (Swe) AA-Drink Cycling Team                        
10 Christiane Soeder (Aut) Cervelo Lifeforce Pro Cycling Team       
11 Noemi Cantele (Ita) Bigla Cycling Team                           
12 Nicole Brändli (Swi) Bigla Cycling Team                          
13 Regina Bruins (Ned) Netherlands                                  
14 Sarah Düster (Ger) Cervelo Lifeforce Pro Cycling Team            
15 Chantal Beltman (Ned) Team High Road Women                       
16 Nicole Cooke (GBr) Team Halfords Bikehut                         
17 Monica Holler (Swe) Bigla Cycling Team                       0.44
18 Angela Brodtka (Ger) Team DSB Bank                               
19 Grete Treier (Est) Gauss RDZ Ormu                                
20 Martine Bras (Ned) Vrienden Van Het Platteland                   
21 Anita Valen De Vries (Nor) Team Flexpoint                        
22 Lorian Graham (Aus) Vrienden Van Het Platteland                  
23 Irene Van Den Broek (Ned) AA-Drink Cycling Team                  
24 Monia Baccaille (Ita) Fenixs                                     
25 Diana Ziliute (Ltu) Lithuania                                    
26 Liesbeth De Vocht (Bel) Vrienden Van Het Platteland              
27 Alona Andruk (Ukr) USC Chirio Forno d'Asolo                      
28 Elodie Touffet (Fra) Gauss RDZ Ormu                              
29 Jennifer Hohl (Swi) Bigla Cycling Team                           
30 Grace Verbeke (Bel) Lotto-Belisol Ladiesteam                     
31 Emma Rickards (Aus) Cervelo Lifeforce Pro Cycling Team           
32 Priska Doppmann (Swi) Cervelo Lifeforce Pro Cycling Team         
33 Lieselot Decroix (Bel) Lotto-Belisol Ladiesteam                  
34 Daiva Tuslaite (Ltu) S.C. Michela Fanini Record Rox              
35 Vicki Whitelaw (Aus) Australia                                   
36 Loes Sels (Bel) Topsport Vlaanderen Thompson Ladies Team         
37 Carissa Wilkes (NZl) Team Pro Feminin Les Carroz                 
38 Susanne Ljungskog (Swe) Menikini - Selle Italia                  
39 Sofie Goor (Bel) Lotto-Belisol Ladiesteam                        
40 Monika Schachl (Aut) Team Uniqa                                  
41 Kori Kelley Seehafer (USA) Menikini - Selle Italia               
42 Emma Pooley (GBr) Team Specialized Designs For Women             
43 Andrea Graus (Aut) Bigla Cycling Team                            
44 Fabiana Luperini (Ita) Menikini - Selle Italia                   
45 Zulfiya Zabirova (Kaz) Bigla Cycling Team                        
46 Amber Neben (USA) Team Flexpoint                                 
47 Luise Keller (Ger) Team High Road Women                          
48 Rasa Leleivyte (Ltu) S.C. Michela Fanini Record Rox          1.50
49 Kelly Druyts (Bel) Topsport Vlaanderen Thompson Ladies Team      
50 Sara Mustonen (Swe) Team Cmax Dila                               
51 Sophie Creux (Fra) France                                        
52 Catherine Hare (GBr) Team Halfords Bikehut                       
53 Christel Ferrier-Bruneau (Fra) France                            
54 Sara Carrigan (Aus) Lotto-Belisol Ladiesteam                     
55 Catherine Delfosse (Bel) Lotto-Belisol Ladiesteam                
56 Jolanta Polikeviciute (Ltu) USC Chirio Forno d'Asolo             
57 Edita Pucinskaite (Ltu) Equipe Nürnberger Versicherung           
58 Romy Kasper (Ger) Germany                                        
59 Saskia Elemans (Ned) Team Flexpoint                              
60 Lauren Franges (USA) United States Of America                    
61 Alison Powers (USA) United States Of America                     
62 Jessica Allen (GBr) Team Halfords Bikehut                    2.42
63 Sjoukje Dufoer (Bel) Topsport Vlaanderen Thompson Ladies Team    
64 Nathalie Lamborelle (Lux) Team Uniqa                             
65 Adrie Visser (Ned) Team DSB Bank                                 
66 Carmen Mcnellis (USA) United States Of America                   
67 Jocelyn Loane (Aus) Australia                                    
68 Rasa Polikeviciute (Ltu) USC Chirio Forno d'Asolo                
69 Andrea Bosman (Ned) Team DSB Bank                                
70 Mirjam Melchers-Van Poppel (Ned) Team Flexpoint                  
71 Verónica Leal Balderas (Mex) Gauss RDZ Ormu                      
72 Laure Werner (Bel) AA-Drink Cycling Team                         
73 Dorte Lohse Rasmussen (Den) Team Cmax Dila                       
74 Oxana Kozonchuk (Rus) Menikini - Selle Italia                    
75 Karen Steurs (Bel) Topsport Vlaanderen Thompson Ladies Team      
76 Hannah Verhaeghe (Bel) Belgium                                   
77 Linda Villumsen Serup (Den) Team High Road Women                 
78 Giorgia Bronzini (Ita) Team Ista                                 
79 Francesca Tognali (Ita) Team Ista                                
80 Arenda Grimberg (Ned) Netherlands                                
81 Loes Gunnewijk (Ned) Team Flexpoint                              
82 An Van Rie (Bel) Vrienden Van Het Platteland                 4.50
83 Daniela Pintarelli (Aut) Team Uniqa                              
84 Kathleen Sterckx (Bel) Belgium                                   
85 Corine Hierckens (Bel) Vienne Futuroscope                        
86 Tina Liebig (Ger) Team DSB Bank                              6.38
87 Helen Wyman (GBr) Swift Racing                               7.20
88 Rosane Kirch (Bra) S.C. Michela Fanini Record Rox                
89 Annemiek Van Vleuten (Ned) Vrienden Van Het Platteland           
90 Vera Koedooder (Ned) Lotto-Belisol Ladiesteam                    
91 Sanne Van Paassen (Ned) Netherlands                              
92 Karin Thürig (Swi) Cervelo Lifeforce Pro Cycling Team            
93 Marta Vila Josana Andreu (Spa) Team Cmax Dila                    
94 Sharon Van Essen (Ned) Team DSB Bank                             
95 Iosune Murillo Elkano (Spa) Bizkaia - Durango                    
96 Alessandra D'ettorre (Ita) Team Ista                             
97 Amanda Spratt (Aus) Australia                                    
98 Maryline Salvetat (Fra) France                                   
99 Ludivine Henrion (Bel) AA-Drink Cycling Team                     
100 Nadejda Vlasova (Rus) Fenixs                               11.15
101 Emmanuelle Merlot (Fra) Vienne Futuroscope                      
102 Toni Bradshaw (NZl) Swift Racing                                
103 Martina Ruzickova (Cze) Elk Haus                                
104 Rochelle Gilmore (Aus) Menikini - Selle Italia                  
105 Tanja Hennes (Ger) Team Specialized Designs For Women           

World Cup standings
1 Suzanne De Goede (Ned) Equipe Nürnberger Versicherung          98 pts
2 Judith Arndt (Ger) Team High Road Women                        75
3 Emma Pooley (GBr) Team Specialized Designs For Women           75
4 Katheryn Curi Mattis (USA) Webcor Builders Cycling Team        75
5 Oenone Wood (Aus) Team High Road Women                         57
6 Kristin Armstrong (USA) Cervelo Lifeforce Pro Cycling Team     50
7 Emma Rickards (Aus) Cervelo Lifeforce Pro Cycling Team         50
8 Julia Martisova (Rus) Gauss RDZ Ormu                           45
9 Miho Oki (Jpn) Menikini - Selle Italia                         40
10 Emma Johansson (Swe) AA-Drink Cycling Team                    36
11 Marta Bastianelli (Ita) Safi - Pasta Zara Manhattan           36
12 Kirsten Wild (Ned) AA-Drink Cycling Team                      35
13 Diana Ziliute (Ltu) Safi - Pasta Zara Manhattan               35
14 Ina Teutenberg (Ger) Team High Road Women                     35
15 Rochelle Gilmore (Aus) Menikini - Selle Italia                30
16 Marianne Vos (Ned) Team DSB Bank                              27
17 Regina Schleicher (Ger) Equipe Nürnberger Versicherung        27
18 Tiffany Cromwell (Aus) Australia                              21
19 Nicole Brändli (Swi) Bigla Cycling Team                       19
20 Charlotte Becker (Ger) Equipe Nürnberger Versicherung         18
21 Sarah Düster (Ger) Cervelo Lifeforce Pro Cycling Team         18
22 Noemi Cantele (Ita) Bigla Cycling Team                        17
23 Lorian Graham (Aus) Vrienden Van Het Platteland               15
24 Gina Grain (Can) Webcor Builders Cycling Team                 15
25 Regina Bruins (Ned) Netherlands                               14
26 Christiane Soeder (Aut) Cervelo Lifeforce Pro Cycling Team    11
27 Trixi Worrack (Ger) Equipe Nürnberger Versicherung            11
28 Priska Doppmann (Swi) Cervelo Lifeforce Pro Cycling Team      10
29 Joanne Kiesanowski (NZl) Cervelo Lifeforce Pro Cycling Team    9
30 Peta Mullens (Aus) Australia                                   9
31 Jolanta Polikeviciute (Ltu) USC Chirio Forno d'Asolo           8
32 Carly Hibberd (Aus)                                            8
33 Chantal Beltman (Ned) Team High Road Women                     6
34 Vicki Whitelaw (Aus)                                           6
35 Nicole Cooke (GBr) Team Halfords Bikehut                       6
36 Alison Powers (USA) United States Of America                   5
37 Lang Meng (Chn) Giant Pro Cycling                              5
38 Monica Holler (Swe) Bigla Cycling Team                         4
39 Carissa Wilkes (NZl) New Zealand                               4
40 Edita Pucinskaite (Ltu) Equipe Nürnberger Versicherung         4
41 Angela Brodtka (Ger) Team DSB Bank                             3
42 Carlee Taylor (Aus)                                            3
43 Grete Treier (Est) Gauss RDZ Ormu                              2
44 Sofie Goor (Bel) Lotto-Belisol Ladiesteam                      2
45 Tina Mayolo Pic (USA) Vrienden Van Het Platteland              2
46 Martine Bras (Ned) Vrienden Van Het Platteland                 1
47 Yong Li Liu (Chn) Giant Pro Cycling                            1