4th Women's Ronde van Vlaanderen - CDM
Belgium, April 8, 2007
Main Page Results Live report ProTour standings
Cooke Invincible!
By Ben Atkins in Meerbeke
Cooke wins the sprint
Photo ©: AFP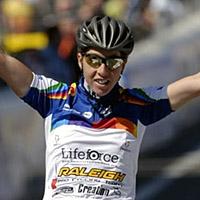 Nicole Cooke (Raleigh-Lifeforce) has continued her seemingly unbeatable form by winning a the Womens' Tour of Flanders in a two-up sprint with 2003 Winner, Zoufila Zabirova (Bigla Cycling Team). The two of them escaped a six woman break in the last five kilometres to finish clear of a fast finishing and visibly disappointed World Champion, Marianne Vos (DSB Bank).

Cooke has finally won the race she has dreamed of winning since it became part of the Women's World Cup in 2003 - on some of the roads she raced on as a young girl, and now has a 100% record in the 2007 World Cup after two rounds.

Cooke's Raleigh Lifeforce team rode a near perfect race, taking control early on, then placing two riders in the deciding group of six after the Muur. Together, Cooke and her teammate Karin Thurig were able to play their tactics perfectly to allow Cooke to take a comfortable victory.

The World Cup leader was quick to emphasise that this was a team victory and praised the efforts of the other Raleigh-Lifeforce riders, "I'm so happy with the girls... I'm hoping that pretty soon one of them will have a chance to get a win to show how good they are in their own right as well." Placing two riders in the break proved to be decisive for the British Champion "we had a numerical advantage in the Raleigh team, so we had to be as careful as we could and choose our moment so that's what we did."

World Champion Marianne Vos, who came in five seconds behind Cooke was visibly disappointed, but spoke to Cyclingnews Brecht Decaluwè after receiving a few words of encouragement from her team-mates; "We were coming up towards the finish with a group of six and with five kilometres to go we started looking at each other whilst attacking whenever we could. With two kilometres to go Zabirova and Cooke got away but it didn't look too dangerous. I'm so disappointed now that it was the decisive attack."

Cooke already looks a very strong bet to retain her World Cup Crown after only two rounds, and the rest of the women's peloton must be wondering how they are going to beat her this season.
How it unfolded
Nicole Cooke (Raleigh-Lifeforce Creation)
Photo ©: AFP

164 Riders from 28 teams took the start in Oudenaarde this morning in the fourth running of the womens' Tour of Flanders. The early morning mist cleared, and unseasonably warm temperatures and sunshine along with very little wind meant perfect racing conditions.

The early tempo was very high as Cooke put her Raleigh-Lifeforce team to work, and succeeded in splitting the peloton to pieces before they had even reached the Wolvenberg - the second climb of the day. The only major incident of these early stages was a serious crash from Belgian National Team rider Kimberly Buyl on the Lippenhovestraat cobbles - she was taken to hospital with an injury to her calf.

On the Valkenberg, with 39km to go, Cooke's teammate, former World Time Trial Champion Karin Thürig went clear and managed to get a gap of 50 seconds. Cooke made her way up to her at the Muur and the two worked together until the final climb of the Bosberg where Cooke continued alone. She was unable to stay away as a group containing Zabirova, Suzanne Ljungskog (Team Flexpoint), Trixi Worrack, (Nurnberger Versicherung), World Champion Marianne Vos (DSB Bank) and Thurig caught up with her on the winding roads. In the final kilometres, Raleigh-Lifeforce were able to make their numerical superiority count, as Thürig attacked with four to go, and the others were forced to chase her, giving Cooke a free ride.

As Thürig was caught, Cooke put in a devastating attack of her own which only Zabirova could follow, and by the time any of the others could react, the pair had consolidated their advantage and were uncatchable. Marianne Vos, realising that this was the winning break, tried to bridge on her own, but was unable to make any ground as Cooke and Zabirova contested the sprint together, with Cooke coming out an easy winner. Vos came in alone - and disappointed - to take third place.

Trixi Worrack escaped to take fourth place and Thürig beat Ljungskog in the sprint for fifth place. Monia Bastianelli (Safi-Pasta Zara Manhattan) led a sizeable bunch home 28 seconds back.
Photography
For a thumbnail gallery of these images, click here
Images by CJ Farquharson/WomensCycling.net
Images by AFP
Images by Ben Atkins/Cyclingnews
Results

1 Nicole Cooke (GBr) Raleigh Lifeforce Pro Cycling Team            3.11.00 (38.325 km/h)
2 Zoulfia Zabirova (Kaz) Bigla Cycling Team                           0.02
3 Marianne Vos (Ned) Team DSB Bank                                    0.05
4 Trixi Worrack (Ger) Equipe Nürnberger Versicherung                  0.07
5 Karin Thürig (Swi) Raleigh Lifeforce Pro Cycling Team                   
6 Susanne Ljungskog (Swe) Team Flexpoint                              0.09
7 Monia Baccaille (Ita) Saccarelli EMU Marsciano                      0.28
8 Marta Bastianelli (Ita) Safi - Pasta Zara Manhattan                     
9 Sofie Goor (Bel) Vlaanderen - Capri Sonne - T Interim                   
10 Lorian Graham (Aus) Australian National Team                           
11 Nikki Egyed (Aus) Australian National Team                             
12 Andrea Graus (Aut) Equipe Nürnberger Versicherung                      
13 Gunn-Rita Dahle Flesja (Nor) Safi - Pasta Zara Manhattan               
14 Annette Beutler (Swi) Team Flexpoint                                   
15 Priska Doppmann (Swi) Raleigh Lifeforce Pro Cycling Team               
16 Emma Rickards (Aus) Raleigh Lifeforce Pro Cycling Team           
17 Grace Verbeke (Bel) Lotto - Belisol Ladiesteam                         
18 Svetlana Bubnenkova (Rus) Fenixs - HPB                                 
19 Amber Neben (USA) Team Flexpoint                                       
20 Marina Jaunatre (Fra) Vienne Futuroscope                               
21 Loes Sels (Bel) Vlaanderen - Capri Sonne - T Interim                 
22 An Van Rie (Bel) AA-Drink Cycling Team                                 
23 Joanne Kiesanowski (NZl) Raleigh Lifeforce Pro Cycling Team            
24 Eva Lutz (Ger) Equipe Nürnberger Versicherung                          
25 Elsbeth Vink (Ned) Dutch National Team                                 
26 Loes Gunnewijk (Ned) Team Flexpoint                                    
27 Kristin Armstrong (USA) USA National Team                                  
28 Suzanne De Goede (Ned) T-Mobile Professional Cycling                   
29 Sabine Spitz (Ger) Team Getränke-Hoffmann                              
30 Nicole Brändli (Swi) Bigla Cycling Team                                
31 Sarah Düster (Ger) Raleigh Lifeforce Pro Cycling Team                  
32 Chantal Beltman (Ned) T-Mobile Professional Cycling                    
33 Fabiana Luperini (Ita) Menikini - Selle Italia - Gysko                 
34 Noemi Cantele (Ita) Bigla Cycling Team                                 
35 Judith Arndt (Ger) T-Mobile Professional Cycling                   0.58
36 Adrie Visser (Ned) Team DSB Bank                                       
37 Grete Treier (Est) S.C. Michela Fanini Record Rox                      
38 Jocelyn Loane (Aus) Australian National Team                           
39 Evy Van Damme (Bel) Vlaanderen - Capri Sonne - T Interim               
40 Eleonora Van Dijk (Ned) Dutch National Team                            
41 Ludivine Henrion (Bel) Team DSB Bank                                   
42 Martine Bras (Ned) Lotto - Belisol Ladiesteam                          
43 Silvia Parietti (Ita) Italian National Team                            
44 Catherine Delfosse (Bel) Lotto - Belisol Ladiesteam                    
45 Alessandra D'ettorre (Ita) Saccarelli EMU Marsciano                    
46 Karen Steurs (Bel) AA-Drink Cycling Team                           1.10
47 Andrea Thürig (Swi) Bigla Cycling Team                                 
48 Andrea Bosman (Ned) Team DSB Bank                                      
49 Irene Van Den Broek (Ned) AA-Drink Cycling Team                        
50 Alison Powers (USA) USA National Team                                  
51 Kirsten Wild (Ned) AA-Drink Cycling Team                               
52 Oenone Wood (Aus) T-Mobile Professional Cycling                        
53 Olivia Gollan (Aus) Menikini - Selle Italia - Gysko                    
54 Sissy Van Alebeek (Ned) Dutch National Team                            
55 Emma Johansson (Swe) Vlaanderen - Capri Sonne - T Interim           
56 Stephanie Pohl (Ger) Team Getränke-Hoffmann                             
57 Daniela Fusar Poli (Ita) Safi - Pasta Zara Manhattan                   
58 Birgit Hollmann (Ger) Team Getränke-Hoffmann                           
59 Marta Vilajosana Andreu (Spa) Team Cmax Dila - Guericiotti - Cogeas    
60 Charlotte Becker (Ger) Equipe Nürnberger Versicherung                  
61 Elisabeth Braam (Ned) Therme Skin Care                                 
62 Sigrid Corneo (Ita) Menikini - Selle Italia - Gysko                    
63 Tatiana Guderzo (Ita) AA-Drink Cycling Team                            
64 Edwige Pitel (Fra) Team Uniqa                                          
65 Monika Schachl (Aut) Team Uniqa                                        
66 Brooke Miller (USA) USA National Team                                  
67 Rasa Leleivyte (Ltu) Lithuanian National Team                      3.35
68 Helen Wyman (GBr) Global Racing Team                                   
69 Lieselot Decroix (Bel) Lotto - Belisol Ladiesteam                     
70 Daniela Pintarelli (Aut) Team Uniqa                                    
71 Laure Werner (Bel) Vlaanderen - Capri Sonne - T Interim                
72 Arenda Grimberg (Ned) Dutch National Team                              
73 Debby Van De Berg (Ned) Global Racing Team                             
74 Tanja Hennes (Ger) Bigla Cycling Team                                  
75 Dolores Rupp (Swi) Swiss National Team                                 
76 Veronica Andreasson (Swe) Bigla Cycling Team                           
77 Alessandra Borchi (Ita) Safi - Pasta Zara Manhattan                       
78 Iris Slappendel (Ned) Team Flexpoint                                   
79 Mie Bekker Lacota (Den) Team Flexpoint                             7.35
80 Alessia Quarta (Ita) Saccarelli EMU Marsciano                          
81 Sharon Van Essen (Ned) Team DSB Bank                                   
82 Liesbeth De Vocht (Bel) Lotto - Belisol Ladiesteam                     
HD  Sabine Fischer (Ger) German National Team                         9.40
HD  Regina Schleicher (Ger) Equipe Nürnberger Versicherung           11.40