5th Geelong World Cup - CDM
Australia, March 3, 2007
Nicole Cooke wins Geelong World Cup
World Cup Champion triumphs at season opener
By John Michael Flynn in Geelong, Australia
Nicole Cooke (Raleigh Lifeforce Creation)
Photo ©: John Flynn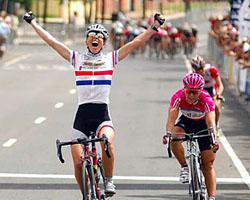 World Cup Champion Nicole Cooke today backed up her overall victory at this week's Geelong Women's Tour with a triumph in the opening race of the 2007 UCI Women's World Cup series. Put simply, Cooke was the strongest rider on the day - attacking the bunch five kilometres from race end on the final climb, then holding off T-Mobile's Oenone Wood in a sprint finish.
"I think the way it all panned out, holding off the bunch, beating such a fantastic sprinter like Oenone Wood, who was a past winner here, I think yeah it was one of the most fantastic wins of my career," Cooke said. "As good victories go, it was incredible."
The feeling in the peloton was best summed up by T-Mobile's Kate Bates - who, along with team-mates Alexis Rhodes and Judith Arndt, did much of the work to haul in a breakaway which had persisted for much of the race.
"I think we got beaten today because Nicole Cooke's just better," Bates told Cyclingnews. "We rode really well as a team and we're really pleased with what we did, we just have to figure out a new strategy to knock Cookie off her perch."
How the race unfolded
The 2007 running started in less
Photo ©: John Veage

There was action from the start this morning. As rain fell on the first of eight laps on the fifteen kilometre street circuit, Australian Time Trial Champion Carla Ryan attacked the bunch. It was a bold move from the Queensland Academy of Sport Cyclist - and one which quickly built momentum.
"From lap two I attacked and initially I thought no-one was coming with me and then a couple of girls come across and then Nat Bates and I thought this is a pretty strong group," Ryan said.
Eight more cyclists soon joined the attack group, forming a solid breakaway of eleven, including Ryan, Bates, Kate Nichols, Sarah Düster, Linda Villumsen, Loes Markerink, Edita Pucinskate, Sigrid Corneo, Alison Powers, Melissa Holt and Jessie Maclean.
The peloton passes Corio bay.
Photo ©: John Veage

"It was good that we had a rider from each team, made it a bit more likely that it would stick," Ryan said. "In the end T-Mobile was working pretty hard to bring it back - I'm happy, I gave it my all."
There were signs of disintegration in the breakaway on lap six, when Ryan and Nichols attacked their rivals, realising not everyone was pulling even turns.
"I got in an early break because of the rain and once it dried up a few teams were less willing to work," Nichols said of the breakaway effort.
Carla Ryan also realised the game was up. "Kate and I went away (from the breakaway), only got thirty second at one stage," Ryan said. "Kate, myself and Nat bates, we worked harder out of the riders that went away. The other girls had better sprinters back in the bunch."
Those better sprinters included Ina Teutenberg, whose T-Mobile team-mates rallied to reel in the attackers. In the process the magenta girls used up Kate Bates, Alexis Rhodes and Judith Arndt.
"It was Alex, Judith and I and we had a job to do, we wanted to win the race," an exhausted Bates said when it was all over.
For a time, it was looking promising for T-Mobile, which had gambled with Linda Villumsen in the breakaway, then played another hand to set up the race for Teutenberg.
Riders attack on the second last lap.
Photo ©: John Veage

"We had Linda in the breakaway and it was good to have her sitting on mostly," team director Anna Wilson said of the race tactics. "We sort of sacrificed Kate and Alex and Judith to close the gap to the break."
Once the break was caught, several attacks followed, the first coming from T-Mobile's Oenone Wood.
The move of the race, an attack from Nicole Cooke of the Raleigh Lifeforce team, came on the final climb, with Wood the first to respond - ensuring the finish would be a dogfight.
"I had to do two or three attacks before I actually went," Cooke said of the race winning move. "It was just a case of attacking and keeping on going and keeping on believing."
Nichols fights on to set up Egyed
Nicole Cooke attacks
Photo ©: John Veage

Responding to the uphill attack from the World Cup Champion was the Australian National Team - and it was the rider who had featured in the breakaway for most of the day and pulled more than her share of turns - that sacrificed herself again.
Kate Nichols found something when it mattered most, to pull team-mate Nikki Egyed across to the Cooke's move.
"I came back from quite a bit back and gave it everything," Nichols said. "Then after I saw Nicole go and Nikki go after her, I thought 'oh no I've got to manage to get over that hill myself!'"
Egyed, who hung onto the wheels of Cooke and Wood and eventually finished with her first World Cup podium, had nothing but praise for her young team-mate.
"On that last lap when Nicole went and suddenly realised that no-one was going to work with her, suddenly Kate came up and pulled this massive turn which meant I could just jump on Nicole's wheel again," Egyed said.
The former world class triathlete was ecstatic with her best ever road result.
"Yeah definitely, even for triathlon, my World Championship was actually as an under 23, so for me this rates higher than that," Egyed said. "It was almost like a win for me."
The Queenslander is not strong enough yet to contest a sprint against the likes of Cooke and Wood, who battled it out in the finishing straight, with the peloton looming just five seconds back.
Ultimately it was Cooke who triumphed, with Wood outgunned by the World Cup Champion.
"I definitely thought I could (beat Cooke in a sprint)," Wood said at race end. "I was looking after myself as much as I could coming into the finish, but obviously she had better legs on the day."
Podium (L-R): Oenone Wood, Nicole Cooke and Nikki Egyed.
Photo ©: John Veage

But ultimately the day belonged to the 23 year old Welsh cyclist, who has spent more than a month in Australia preparing for this race. The trip hasn't been all cycling, with Cooke also taking scenic flights over the Melbourne region with her pilot brother Craig, who is in Australia completing a Masters degree.
Cooke was certainly flying today - the youngest ever World Cup Champion, taking the first step towards another series win in 2007. The tactics of the Raleigh Lifeforce team helping set-up the victory, with the presence of one of their riders, including Sarah Düster in the breakaway, playing a significant part.
"We had Sarah Düster from Germany in it (the breakaway), so we thought fantastic, she's a strong rider, very clever, strong on the sprint, strong on the climb, so we actually thought that's actually a good move for us," Cooke said. "The pressure and the responsibility fell to the other teams and we were able to just watch while they put the work in to make the race go the way they wanted it to go."
The elite women's peloton now heads across the Tasman for the women's Tour of New Zealand. The second race of the World cup series will be the Tour of Flanders on April eighth.
Photography
For a thumbnail gallery of these images, click here
Images by John Veage
Images by John Flynn/Cyclingnews.com
Results
1 Nicole Cooke (GBr) Raleigh Lifeforce Creation                        3.07.42
2 Oenone Wood (Aus) T-Mobile Women                                            
3 Nikki Egyed (Aus) Australian National Team                                  
4 Ina-Yoko Teutenberg (Ger) T-Mobile Women                                0.06
5 Angela Brodtka (Ger) German National Team                                   
6 Joanne Kiesanowski (NZl) Raleigh Lifeforce Creation                         
7 Regina Schleicher (Ger) Equipe Nürnberger Versicherung                      
8 Trixi Worrack (Ger) Equipe Nürnberger Versicherung                          
9 Annette Beutler (Swi) Team Flexpoint                                        
10 Emma Rickards (Aus) Raleigh Lifeforce Creation                             
11 Tina Pic (USA) Colavita/Sutter Home presented by Cooking Light             
12 Madeleine Sandig (Ger) Team Flexpoint                                      
13 Laura Van Gilder (USA) Cheerwine                                           
14 Karin Aune (Swe) Menikini Gysko                                            
15 Miho Oki (Jpn) Menikini Gysko                                              
16 Tiffany Cromwell (Aus) NSW Institute of Sport                              
17 Catherine Cheatley (NZl) Cheerwine                                         
18 Sarah Düster (Ger) Raleigh Lifeforce Creation                              
19 Priska Doppmann (Swi) Raleigh Lifeforce Creation                           
20 Lorian Graham (Aus) Queensland Academy of Sport                            
21 Loes Gunnewijk (Ned) Team Flexpoint                                        
22 Peta Mullens (Aus) NSW Institute of Sport                                  
23 Edita Pucinskaite (Ltu) Equipe Nürnberger Versicherung                     
24 Emma Pooley (GBr) Great Britain National Team                              
25 Dotsie Bausch (USA) Colavita/Sutter Home presented by Cooking Light        
26 Leigh Hobson (Can) Cheerwine                                               
27 Susanne Ljungskog (Swe) Team Flexpoint                                     
28 Toni Bradshaw (NZl) BikeNZ New Zealand National Team                       
29 Andrea Graus (Aut) Equipe Nürnberger Versicherung                          
30 Melissa Holt (NZl) BikeNZ New Zealand National Team                        
31 Kate Nichols (Aus) Australian National Team                                
32 Charlotte Becker (Ger) Equipe Nürnberger Versicherung                      
33 Judith Arndt (Ger) T-Mobile Women                                          
34 Rochelle Gilmore (Aus) Menikini Gysko                                      
35 Olivia Gollan (Aus) Menikini Gysko                                     0.32
36 Natalie Bates (Aus) NSW Institute of Sport                             0.52
37 Gina Waibl (NZl) Team Kiwi                                                 
38 Betina Hold (Can) Cheerwine                                                
39 Tanja Slater (GBr) Great Britain National Team                             
40 Alex Wrubleski (Can) Colavita/Sutter Home presented by Cooking Light       
41 Linda Villumsen (Den) T-Mobile Women                                       
42 Loes Markerink (Ned) Team Flexpoint                                        
43 Alexis Rhodes (Aus) T-Mobile Women                                         
44 Amanda Spratt (Aus) Australian National Team                               
45 Sarah Ulmer (NZl) BikeNZ New Zealand National Team                         
46 Larissa Kleinmann (Ger) German National Team                               
47 Eva Lutz (Ger) Equipe Nürnberger Versicherung                              
48 Alison Powers (USA) Colavita/Sutter Home presented by Cooking Light    1.12
49 Sigrid Corneo (Ita) Menikini Gysko                                     2.02
50 Carla Ryan (Aus) Queensland Academy of Sport                           2.30
51 Amber Jenkins (Aus) Landlink Cycling Team                              4.00
52 Janine Ridsdale (Aus) Team South Coast - raceconcept.net                   
53 Clemilda Fernandes (Bra) Brazilian National Team                           
54 Helen Kelly (Aus) NSW Institute of Sport                                   
55 Rachel O'connell (Aus) Cheerwine                                           
56 Uenia Fernandes (Bra) Brazilian National Team                              
57 Patricia Schwager (Swi) Raleigh Lifeforce Creation                         
58 Brooke Ourada (USA) Cheerwine                                              
59 Janildes Fernandes (Bra) Brazilian National Team                           
60 Annelies Basten (NZl) Team Kiwi                                            
61 Louise Kerr (Aus) Queensland Academy of Sport                              
62 Brei Gudsell (NZl) Team Kiwi                                               
63 Sara Carrigan (Aus) Queensland Academy of Sport                            
64 Jocelyn Loane (Aus) Australian National Team                               
65 Patricia Palmer (Aus) MB Coaching                                          
66 Liz Young (Aus) MB Coaching                                                
67 Kathryn Watt (Aus) Kathy Watt Cycling                                  4.28
68 Jemma O'brien (Aus) Team South Coast - raceconcept.net                     
69 Jenny Macpherson (Aus) Australian National Team                            
70 Kerri-Anne Torckler (NZl) Team Kiwi                                        
71 Rachel Rademaker (Aus) Kathy Watt Cycling                              5.11
72 Virgina Henning (Ger) German National Team                                 
73 Anneliese Heard (GBr) Great Britain National Team                          
74 Kerryn Charman (Aus) Landlink Cycling Team                                 
75 Nina Köhn (Ger) German National Team                                       
76 Liz Hayman (Aus) Team South Coast - raceconcept.net                        
77 Maryam Rogers (GBr) Great Britain National Team                        7.43
78 Niki Fisher (Aus) Team South Coast - raceconcept.net                   8.26
79 Jessie Maclean (Aus) Landlink Cycling Team                             9.43
80 Stephanie Frawley (Aus) Kathy Watt Cycling                             9.46
 Marina Duvnjak (NZl) BikeNZ New Zealand National Team                        
 Naomi Williams (Aus) NSW Institute of Sport                                  
 Toireasa Gallagher (Aus) NSW Institute of Sport                              
 Sarah Murdoch (NZl) Team Kiwi                                                
 Deborah Fagg (Aus) Landlink Cycling Team                                     
 Sheree Richmond (Aus) MB Coaching                                            
 Leeanne Manderson (Aus) MB Coaching                                          
 Emma Lovelock (Aus) Team South Coast - raceconcept.net                       
 Camila Rodrigues (Bra) Brazilian National Team                               
 Katherine Bates (Aus) T-Mobile Women                                         
 Candice Sullivan (Aus) Australian National Team                              
 Michelle Hyland (NZl) BikeNZ New Zealand National Team                       
 Hannah Banks (Aus) Queensland Academy of Sport                               
 Vicki Whitelaw (Aus) Landlink Cycling Team                                   
 Belinda Goss (Aus) Landlink Cycling Team                                     
 Gail Johnston (Aus) Team South Coast - raceconcept.net                       
 Monique Hanley (Aus) Kathy Watt Cycling                                      
 Dorte Rasmussen (Den) Menikini Gysko                                         
 Rushlee Buchanan (NZl) BikeNZ New Zealand National Team                      
 Nicole Whitburn (Aus) Kathy Watt Cycling