4th Geelong World Cup - CDM
Australia, February 26, 2006
Wood Predicting sprint finish at Geelong World Cup
By John Michael Flynn in Geelong
2005 winner Rochelle Gilmore
Photo ©: John Veage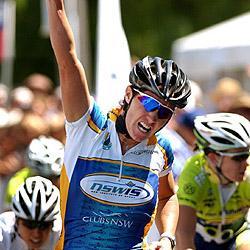 Geelong Tour winner and two-time World Cup road race champion Oenone Wood is predicting a sprint finish in Sunday's UCI. Geelong World Cup as the largest field yet assembled for the opening race of the series takes shape. And the news for followers of elite women's cycling just gets better, with several of the big name riders involved in crashes at this week's Geelong Tour expected to make it to the the start-line.
Defending Geelong World Cup Champion, Australia's Rochelle Gilmore, is a confirmed starter in tomorrow's race. The Safi-Pasta Zara Manhattan sprinter suffered severe bruising to her right knee after crashing near the finish of Wednesday's Geelong Tour stage in Barwon Heads.
Canadian Lyne Bessette (T-Mobile), who hit the deck hard in Thursday's final stage of the Geelong Tour is also likely to start, with her shoulder injury not as serious as first thought.
Joining the best field yet assembled for a UCI women's World Cup race in Australia will be Olympic Champion Sara Carrigan (Q.A.S.) and Britain's Nicole Cooke (Univega), both of whom chose not to take part in this week's three day stage race.
Oenone Wood, The Equipe NürnbergerVersicherung team leader is familiar with the Geelong circuit, which the peloton will need to complete eight laps of during tomorrow's 119.2 kilometre World Cup event.
The three road stages of this week's Geelong Tour event each ended in sprint finishes, with Rochelle Gilmore (Safi-Pasta Zara Manhattan), Tina Mayolo-Pic (USA), and Ina Teutenberg (T-Mobile) recording stage wins. Wood featured in the placings in all of the sprint finishes, along with taking several intermediate sprints during the Geelong Tour, and is confident the profile of the World Cup course will be to her liking.
"I like the World Cup course, it's got a power climb in it which definitely suits me," Wood told Cyclingnews. "It's usually a bunch sprint, but it's the sort of course where there's the potential there for a group to go away. It just depends on the teams who have sprinters, whether they're motivated for it to be a sprint finish or whether there are teams that are going to work hard in the early parts of the race to get a breakaway."
The two-time World Cup champion can expect strong support from her teammates, in particular Nürnberger's 2006 recruit, Australian Road Champion Kate Bates. Bates is carrying excellent form into the World Cup race, having won three national jerseys on the road and track in the space of a month. Her role in the opening World Cup event will be to set up the win for her teammate.
"I feel fantastic on my bike at the moment, I feel really strong," Bates told Cyclingnews ahead of the World Cup series opener. I feel really glad that I can use that to help Oenone and between us we can sort of challenge anybody and tackle any challenge that is thrown at us. If an attack goes you know I'm there to pull it back, if it comes down to a sprint, I'm there to take Oenone to the front."
Teutenberg T-Mobile's Hope
The Nürnberger team knows T-Mobile's Ina Teutenberg will be one of the riders to watch tomorrow. The many times German champion arrived in Australia back in October and has found form at the Geelong Tour, winning the final stage.
But much will depend on the fitness of her teammates with Canadian Lyne Bessette having taken a battering in Thursday's crash and Judith Arndt well short of her best at this early stage of the season. "Judith, she's always good, but she's not where she can be," Teutenberg admitted at the close of the Geelong Tour.
"My teammates are going to get me in the right positions and there's going to be a couple of lead-out trains. Univega, Nürnberger, the U.S. team, I think there are a lot of sprinters."
USA Looks to Mayolo-Pic
The U.S.A. women's road team will look to in-form sprinter Tina Mayolo-Pic, if the circumstances prevail. The U.S. criterium champion, another of the form riders heading into the World Cup event.
"She's always good in the early season, it seems like February in Australia she always has good legs," team Directeur Sportif Jim Miller said. "She comes from Georgia in America which is a little bit better climate than most of the rest of the girls, I think she gets a few more kilometres in her legs before she comes here."
Team New Zealand ready to swarm
With the Commonwealth Games just around the corner, the early season fitness of the Australian and New Zealand cyclist has been noticeable this week in Geelong. The black and white jerseys of Team New Zealand and Bike New Zealand have been prominent on the front of the peloton and the kiwis would appear to have plenty of options for the World Cup race, including world champion track pursuitist Sara Ulmer and seasoned sprinter Michelle Holt.
"I think we've got a good chance, everyone in the team is really performing well so there's no one person that we could pinpoint," Holt said of the Kiwis' chances in tomorrow's race. "There's a group of six riders, twelve with both teams, so we've got plenty of options."
The Geelong UCI World Cup is scheduled for a 10.00a.m. start Sunday (Australian Eastern Summer Time), with the race beginning and finishing at Geelong's Transvaal Square.