3rd Geelong World Cup - CDM
Australia, February 27, 2005
Women's World Cup kicks off in Geelong
Preview by Kristy Scrymgeour
Oenone Wood wins in 2004
Photo ©: John Veage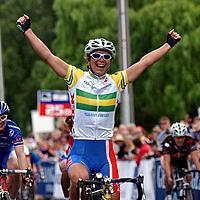 With Het Volk kicking off the men's spring classics in Belgium this weekend, the Southern hemisphere welcomes the start of the big women's races, with the first round of the 2005 Women's World Cup being held once again in Geelong, Australia. Following the three-day Geelong Tour, the women now have a couple of days rest before lining up once again to the World Cup jersey.
The course is a circuit race made up of relatively flat roads but featuring a steep 1km power climb each lap. It could very well be a breakaway course, but the weather will certainly determine the chances of that. Last year a very aggressive race was forced back to a bunch sprint of 30 riders die to the strong winds around the course.
Defending champion Oenone Wood, now riding for Equipe Nurnberger has started the year in fine form once again winning the Australian National Time Trial and the Bay Series in January and backing up to win the Geelong Tour for the second consecutive year. Aided by a well qualified team including current world champion Judith Arndt, Trixi Worrack and Olivia Gollan, among others, Wood also has the benefit of former World Cup winner Petra Rossner, who has laid her bike to rest and is now putting her tactical skills to work as team director. With Wood in form she is definitely a favourite, but of course the team has the riders to keep their options open. With the world Cup something that the Nurnberger team will be aiming to win overall this year, they will certainly have in their minds an overall player but can play their cards with Wood, Arndt and Worrack.
Despite being favourites for the event, Nurnberger will have their work cut out for them and their strongest competition is likely to come from the Ton Van Bemmelen AA Drink team. After a very successful week, Natalie and Kate Bates along with their teammate and Olympic Champion Sara Carrigan will be out to make a stand in this first round. In an interview with Cyclingnews earlier this year, Kate Bates said that the World Cup was certainly one thing the team wanted to concentrate on, especially with their top sprinter Angela Brodtka. With Brodtka sitting out the first round and staying in Germany, the pressure lies on the Aussies.
As usual in World Cups, another to watch is Miriam Melchers-Van Poppel who has always been extremely consistent in the World Cup series. This year she will be even stronger in the early season as she has just come of an intense cyclocross season. Joining her on the Buitenpoort-Flexpoint team is former world champion Suzanne Ljungskog and another great sprinter Tanja Hennes. They will be a team to watch.
Also making the venture to Australian shores is the Nobili Rubinetterie - Menikini Cogeas team, who bring with them Olympic Bronze medallist Olga Slyusareva who will be aiming for a bunch sprint as will the Lloyd Morgan Recruitment team with Tina Mayolo-Pic, who has proved her form by taking stage three of the Geelong Tour on Wednesday.
Cyclingnews caught up with Australian National Coach Warren McDonald today who led his 2004 team to the World Cup win with Oenone Wood. This year, with Wood, Gollan, Bates, Carrigan and Hemsley moving on to pro teams and retirement in the case of Hemsley, the Australian National Team is made up of younger development riders. "I expect that if it comes down to a bunch sprint, we are a chance of getting a top ten," explained McDonald, "but our chances lie in a breakaway ride so we'll be making sure we go with the moves."
Despite a strong international field of ten teams, the odds are with the Australians this weekend. With the weather on their side over the off season, the Aussies are in good form and can put the pressure on the riders coming from a European and North American winter.