2nd Geelong Women's World Cup - CDM
Geelong, Australia, February 29, 2004
Another one for Wood
By Karen Forman in Geelong
Oenone Wood crosses the line
Photo ©: John Veage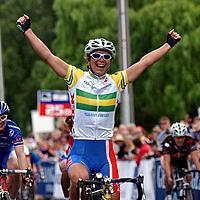 Australian rider Oenone Wood topped off a brilliant 11-race early season winning spree on home turf - and left no doubts about her intentions for the rest of the Olympic year - with a faultless win in the first round of the UCI Road Cycling World Cup at Geelong today.
The personable rider from Canberra backed up her Geelong Women's Tour win of last week to beat German Petra Rossner and Japanese Miho Oki in a bunch sprint involving around 30 of the 174 competitors who came from 16 countries to bid for World Cup leadership - and possible Olympic selection. While Wood, whose recent results include the Australian road time trial and road race crowns, said she had had a couple of nervous moments, Rossner told Cyclingnews later that she had not had a chance against the in-form Wood, but was happy with her second place given that she had not raced since crashing out of the Tour of Holland in September with a serious hip injury.
With riders the caliber of Australians Sara Carrigan (2003 winner), Olivia Gollan, Lorian Graham, Amy Safe, Naomi Williams, Wood, Emma James, Kate Bates, Kathy Watt, Emma Rickards and Katie Mactier, Rossner's Nurnberger colleagues Margaret Hemsley, Judith Arndt, and Madeleine Lindberg, New Zealander Sarah Ulmer, national Japanese champion Oki and the American T Mobile squad, this World Cup round boasted more than its fair share of the world's top female cycling talent.
Add to that an improved course starting and finishing on the picturesque water front and looping through suburban areas which included the newly introduced climb (organisers said the UCI had asked for the course to be toughened up this year and Victorian police had assisted with its development to ensure safe traffic handling throughout) plus the support of the residents and cycling enthusiasts who gathered around the course to watch the race as it unfolded and enjoy the carnival atmosphere for the presentation afterwards and it was a world class production.
Olivia Gollan (AIS) leads
Photo ©: John Veage

The famous Victorian weather gods provided a typically changeable weather pattern throughout the three-hour, 10-minute (119.2km) event, allowing the riders to set off in warm sunshine, but battle chilly headwinds up the 1km Hyland St climb and enjoy a tailwind on the downhill section to the finish line.
Those headwinds were probably the main reason why the round was decided with a bunch sprint. The strong wind, combined with the steep 1km climb meant most riders were intent on saving their energy. A number of breakaway attempts were made, but nobody got more than a 23 second gap.
Former Australian Institute of Sport women's coach, James Victor, who has recently moved to the Queensland Academy of Sport in Brisbane, said it hadn't been the most exciting race and not as aggressive as he had hoped, but he was happy with the Australian girls' performance and Woods' win.
"She did well at world level last year and now she has shown us she can sprint. Hopefully we can keep her going well up to the Olympics. I am confident she will do well in Europe. I think the Olympics will be our focus for her now, although it would be good for her to defend her World Cup jersey, but the Olympics will be her priority. She is a clever girl."
He said with her World Cup wins on top of other recent victories including the nationals, the Geelong women's tour, the Jayco Bay Classic criterium series and the Canberra tour, she would clearly be marked once she hit Europe.
Japanese Rider Miyoko Karami
Photo ©: John Veage

"There were teams chasing her last year and this certainly has enhanced her as a target," he said. "A win in Australia is great, but she has bigger fish to fry in Europe. Certainly she has got it in her to keep the leaders jersey, she is in good form and has a level head on her shoulders. She is doing everything that is being asked of her and hasn't put a foot front. If I had to pick a team for the Olympics now, I wouldn't be able to keep her off it."
How it unfolded
One hundred and seventy four riders set off in 18 teams to contest the event at 10am, finishing three hours 10 minutes and 49 seconds later after a relatively uneventful race.
Australian Katie Mactier spent most of the race on the front, showing her strength as a track pursuiter. The first attack came from Helen Kelly, who managed to string the peloton out. Another attack came at the top of the climb on the first lap, but didn't take. Hemsley easily towed the bunch up to the leader.
The field completed the first lap in 24.02. The second lap saw Leonie Aisbett attack and get a 20 second gap. Mactier and Kelly were up there as well. The NSW riders showed some early aggression, with Christine Riakos and Stacey Peters being particularly strong.
And this was how it went for the rest of the event, until the final lap when the bunch of about 30 remaining riders formed up for the sprint.
Wood was obviously delighted with her win and attributed it to the hard work of her Australian team. "They looked after me, all season," she said. "It has been great to do so well. This is the year where it really counts, I am ecstatic. I won the first round of the World Cup in Australia and I get this brilliant jersey to wear. It's fantastic."
Oenone Wood on the last lap
Photo ©: John Veage

Wood said she had been conscious of having to look out for a number of riders today, including Nurnberger and T Mobile. "A lot of girls were looking for opportunities," she said, "It's an Olympic year and everybody wants to do well. This year is a pressure year whichever way you look at it. These races are selection races for the Olympics."
Last year, Wood worked for teammate Olivia Gollan, but this year it was the other way round. "At the moment I am sprinting well, so obviously the team is working for me, but it depends on who is doing what. We have a terrific atmosphere in our team now. Everybody is going well. That's the beauty of such a good team."
Wood's move came on the final lap. "I saw Petra and Margaret lining up and I knew I had to be there. I was tucked in four or fifth wheel, I got in next to Petra and went with her at 150 to go
She said the headwind in the uphill sections had made it hard to get away. "We had a couple of goes but nothing seemed to get away today," she said. "The course was challenging with that little hill in there. It wasn't really long enough to break up the bunch but it was challenging."
Having performed so well so early in the season, Wood said she was now aware of the importance of taking great care with her health and fitness in the leadup to Athens.
"I will be leaving for Italy on March 8 and will spend the next week at home in Canberra resting and packing my bags. I will have some recovery then we have four more World Cups. I will have a break at the end of April."
Like all of the other top riders, Wood had spent most of the race out of the wind, with much of the work at the front being done by Katie Mactier, Alison Wright, Leonie Aisbett, Stacey Peters (T Mobile), Joanne Buick (New Zealand) and Margaret Hemsley. Barcelona Olympic gold medallist Kathy Watt showed some form in the latter laps with a breakaway, but did not figure in the results.
Oenone Wood celebrates with her team-mates
Photo ©: John Veage

All in all, it was a tough race. Wood's teammate, Lorian Graham, said: "We were hoping a break would go away, but the bunch wouldn't let anything get away - the hills and the wind halfway around the course." She said she went for the intermediates because she was in a good spot. It wasn't part of her deliberate plan.
Rossner, meanwhile, was happy enough with her second place. "The thing about cycling is that only one person can win and today that was Oenone Wood," she said. "There was no doubt, I was not even close. I didn't have a chance."
Like Wood, she paid tribute to her team. "It's a team sport and most of the time the public don't see that. Everyone plays a role, it is very important," she said.
The 37-year-old German said she did not believe enough was written in the cycling media about the importance of the team effort. She added she was happy with her performance considering she had not ridden since her accident in September.
Rossner says she is looking to the Olympics on the road. "I stopped the track after I won the Worlds and the Olympics and I don't want to go there again. It's hard enough as a German because there are only three spots and 10 serious contenders," she said.
Rossner intends to retire at the end of the season. "I don't know what I will do - something in cycling - perhaps I will push a pram. Maybe in Australia," she joked, as a young mother pushes a baby past.
The Japanese third place getter Miho Oki said through an interpreter she was happy with her win. She changed from speed skating to cycling eight years ago and is now the top Japanese female rider. She said she was looking forward to the Olympics.
Photography
Images by John Veage
Results

1 Oenone Wood (Aus)                                       3.10.49 (37.481 km/h)
2 Petra Rossner (Ger) Nürnberger Versicherung
3 Miho Oki (Jpn) Farm Frites-Hartol
4 Alison Wright (Aus) Nobili Rubinetterie-Guerciotti         0.01
5 Rochelle Gilmore (Aus) Team S.A.T.S.
6 Hayley Rutherford (Aus) S.C. Michela Fanini Record Box
7 Rachel Heal  (GBr) Farm Frites-Hartol
8 Priska Doppmann (Swi)
9 Sara Carrigan (Aus)
10 Tanja Hennes (Ger) Next 125                               0.02
11 Joanne Kiesanowski (NZl)
12 Sara Symington (GBr) Team S.A.T.S.
13 Nicole Freedman  (Isr) Basis-Aude
14 Cathy Marsal (Fra) Nobili Rubinetterie-Guerciotti
15 Tina Mayolo-Pic (USA)
16 Katie Mactier (Aus)
17 Olivia Gollan (Aus)                                       0.03
18 Tetyana Stiajkina (Ukr)
19 Frances Newstead (GBr)
20 Deirdre Barry (USA) T-Mobile
21 Bettina Kuhn (Swi)
22 Mirjam Melchers (Ned) Farm Frites-Hartol
23 Margaret Hemsley  (Aus) Nürnberger Versicherung
24 Akemi Morimoto (Jpn)                                      0.05
25 Lorian Graham (Aus)
26 Amber Neben (USA) T-Mobile
27 Ayumu Otsuka (Jpn)
28 Iryna Chuzhynova (Ukr)
29 Alexis Rhodes (Aus)
30 Bridget Evans (Aus)
31 Emma James (Aus) Team S.A.T.S.
32 Christine Riakos (Aus)                                    0.06
33 Jessica Ridder (Aus)
34 Valentyna Karpenko (Ukr)
35 Stacey Peters (USA) T-Mobile                              0.07
36 Susie Wood (NZl)
37 Katie Brown (Aus)
38 Katherine Bates (Aus) Ton Van Bemmelen Sports
39 Michelle Hyland (NZl)                                     0.08
40 Manon Jutras (Can) Team S.A.T.S.
41 Sarah Ulmer (NZl)
42 Kimberly Bruckner (USA) T-Mobile                          0.09
43 Oxana Kashchyshyna (Ukr)
44 Kristin Armstrong (USA) T-Mobile
45 Lynn Gaggioli (USA) T-Mobile
46 Sarah Grab (Swi)                                          0.10
47 Julie Pekarkova (Cze)
48 Meredith Miller (USA) Team S.A.T.S.
49 Miyoko Karami (Jpn)
50 Kym Shirley (Aus) Nobili Rubinetterie-Guerciotti
51 Amy Safe (Aus)                                            0.11
52 Kathryn Watt (Aus)
53 Jessica Phillips (USA) Nürnberger Versicherung            0.16
54 Trixi Worrack (Ger) Nürnberger Versicherung               0.19
55 Madeleine Lindberg  (Swe) Nürnberger Versicherung         0.41
56 Judith Arndt  (Ger) Nürnberger Versicherung
57 Naomi Williams (Aus)                                      1.12
58 Charlotte Goldsmith (GBr)
59 Caroline James (GBr)
60 Emma Rickards (Aus) Victory Brewing
61 Natalie Bates (Aus)
62 Michelle Kiesanowski (NZl)                                1.49
63 Kirsty Bortolin (Aus)
64 Hiroko Shimada (Jpn)                                      0.50
65 Johanna Buick (NZl) Victory Brewing                       0.51
66 Toni Bradshaw (NZl)                                       2.24
67 Emma Davies (GBr)                                         0.29
68 Kate Nichols (Aus)                                        3.28
69 Kateryna Krasova (Ukr)
70 Helen Kelly (Aus) Cycliste Rona                           3.49
71 Rosalind Reekie-May (NZl)                                 3.50
72 Kirsty Robb (NZl)
73 Melissa Holt (NZl)                                        4.05
74 Jenny Macpherson (Aus)                                    4.06
75 Louise Yaxley (Aus)                                       6.11
OTL Jennifer Finlay (Aus)
OTL Anna Perrin (Aus)
OTL Liz Young (Aus)
OTL Karina Sorensen (Den) Team S.A.T.S.
OTL Nina Davies (GBr)
OTL Iryna Simonova (Ukr)
OTL Laura Bortolozzi (Aus)
OTL Natasha Harrigan (Aus)
OTL Zoe Southwell (Aus)
OTL Leonie Aisbett (Aus)
OTL Jessie Maclean (Aus)
OTL Caitlin Fraser (Aus)
OTL Nadene Boyle (NZl)
OTL Linda Cappello (Aus)
OTL Kerryn Charman (Aus)
OTL Cristine Foster (Aus)
OTL Karen Hopkinson  (Aus)
OTL Narrelle Peterson (Aus)
OTL Louisa Judd (Aus)
OTL Belinda Goss (Aus)
OTL Emi Onoyama (Jpn)
OTL Desiree Schuler (Ger)
OTL Alexandra Born (Swi)
 
Starters: 98; Finishers: 75
 
OTL = outside time limit
 
World Cup Rankings after Round #1
 
1 Oenone Wood (Aus)                                            75 pts
2 Petra Rossner (Ger) Nürnberger Versicherung                  50
3 Miho Oki (Jpn) Farm Frites-Hartol                            35
4 Alison Wright (Aus) Nobili Rubinetterie-Guerciotti           30
5 Rochelle Gilmore (Aus) Team S.A.T.S.                         27
6 Hayley Rutherford (Aus) S.C. Michela Fanini Record           24
7 Rachel Heal  (GBr) Farm Frites-Hartol                        21
8 Priska Doppmann (Swi)                                        18
9 Sara Carrigan (Aus)                                          15
10 Tanja Hennes (Ger) Next 125                                 11
11 Joanne Kiesanowski (NZl)                                    10
12 Sara Symington (GBr) Team S.A.T.S.                           9
13 Nicole Freedman  (Isr) Basis-Aude                            8
14 Cathy Marsal (Fra) Nobili Rubinetterie-Guerciotti            7
15 Tina Mayolo - Pic (USA)                                      6
16 Katie Mactier (Aus)                                          5
17 Olivia Gollan (Aus)                                          4
18 Tetyana Stiajkina (Ukr)                                      3
19 Frances Newstead (GBr)                                       2
20 Deirdre Barry (USA) T Mobile                                 1