Nature Valley Grand Prix - NE
Minnesota, USA, June 20-24, 2007
Main Page Results Overall standings Stage Details Previous Stage Next Stage
Stage 3 - June 22: St Paul Time Trial, 4.5 miles
O'Neill wins time trial, Stevic back in yellow
By Kirsten Robbins in St. Paul, Minnesota
Nathan O' Neill (Health Net)
Photo ©: Frank Rowe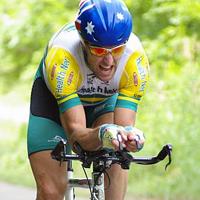 Time trial specialist Nathan O'Neill (Health Net-Maxxis) brought his best form to the Nature Valley Grand Prix river front time trial this morning, winning the five mile stage in 9.29, three seconds ahead of Ben Jacques-Maynes (Priority Health) and nine seconds ahead of current race leader Ivan Stevic (Toyota-United).
"It's hard for me to do that [kind of race]," O'Neill said. "I don't have explosiveness to ride like that normally - it's not my kind of race. But, things are looking pretty good for us. Stevic was the big surprise for us. He's going to be the one to beat now because he's got the jersey back. That's cool. Personally I didn't really want the jersey right now if it was going to be who was going to take it so I'm sort of glad he's got the jersey - that's good for us."
The time trial, which formally served as the event's opening stage, was relocated to a more subdued and scenic road on the opposite side of the Mississippi River for this year's event. Beginning at the River Front Yacht Club, the riders set off one by one on a chicaned out and back effort.
Race leader Kirk O'Bee (HealthNet-Maxxis)
Photo ©: Matthew Moses

Second placed Jacques-Maynes has been representing his Priority Health team on the podium in nearly every time trial he's started. "I expected it to go well and being on the podium was a great result for me," Jacques-Maynes said. "I can't complain with how the legs went. The pacing went well and I was actually surprised by how little wind I felt. It was a pretty even pace the whole way; I was expecting it to be a big headwind the whole way back so I surprised myself by how well I was able to roll on the way back."
The yellow jersey has been flip flopping between Toyota-United and Health Net since Stage 1's St. Paul Criterium, when Stevic won the bunch sprint only to be taken over by Kirk O'Bee after Stage 2's bunch sprint in Cannon Falls. Stevic has regained the lead but this time a precious six seconds lays between himself and runner up Nathan O'Neill.
Stevic was pleased and relieved to bring the leader's jersey back into his Toyota-United team after the time trial. "The course wasn't made for me - it's not technical at all," Stevic said. "It was just a power one, a short one, and I was trying to lose as little time as possible because I know that on this kind of course I'm not the best kind of rider. But I was really motivated. I saw the team pretty down because we lost the jersey yesterday after they had worked hard."
Rising rainbow
Kristin Armstrong (TEAm Lipton)
Photo ©: Kurt Jambretz

Current world time trial champion Kristin Armstrong (TEAm Lipton) meant business when she stepped onto the starting ramp in her rainbow skin suit. Armstrong was prepared to win her prized event and didn't disappoint, taking the yellow leader's jersey back in the process.
Just as you thought the times couldn't get faster, Armstrong came through with a jaw-dropping time of 10.24, a massive 20 seconds ahead of Value Act Capital's Katie Mactier, while Webcor's Katheryn Curi was a further nine seconds behind.
"The three times I've had this rainbow skin suit on there have been a lot of expectation and it is like a target for me," Armstrong said. "The nerves are higher now that I have the world championship jersey. We all come here really fit and it can be anyone's day out there. I never take it for granted that I am the world champion because even today there was a lot of raw power on the course. It was an awesome course for Catherine Cheatley because I know her track back ground."
Cheatley (Cheerwine) is leading the best young rider competition and wore the leader's jersey in the first two stages. Armstrong now moves into a 27 second lead over Cheatley and Mactier a further 15 seconds behind.
"I think Cheatley and I are both all round riders who come from similar teams, teams that are very cohesive and work as a unit," Armstrong said. "I see a lot of similarities between Lipton and Cheerwine in that sense and both of our teams have a lot of work cut out for us in the next stages. But that's my favourite part about bike racing - to have fun, stay fit and race our bikes."
Photography
For a thumbnail gallery of these images, click here
Images by Matthew Moses/www.moses-images.com
Images by Frank Rowe
Images by Kurt Jambretz/www.actionimages.cc
Results
Pro men
 
1 Nathan O'Neill (Aus) Health Net p/b Maxxis                                 9.29 (45.819 km/h)
2 Ben Jacques-Maynes (USA) Priority Health Cycling Team p/b Bissell          0.03
3 Ivan Stevic (SCG) Toyota - United Pro Cycling Team                         0.09
4 Christopher Baldwin (USA) Toyota - United Pro Cycling Team                     
5 John Murphy (USA) Health Net p/b Maxxis                                    0.14
6 Phil Zajicek (USA) Navigators Insurance Cycling Team                       0.18
7 Edward King (USA) Priority Health Cycling Team p/b Bissell                 0.19
8 Rory Sutherland (Aus) Health Net p/b Maxxis                                0.20
9 Darren Lill (RSA) Navigators Insurance Cycling Team                        0.22
10 Garrett Peltonen (USA) Priority Health Cycling Team p/b Bissell           0.24
11 Frank Pipp (USA) Health Net p/b Maxxis                                    0.25
12 Doug Swanson (USA) Nature Valley Racing Team                              0.26
13 Roman Kilun (USA) Health Net p/b Maxxis                                   0.27
14 Jeff Louder (USA) Health Net p/b Maxxis                                   0.28
15 Kirk O'Bee (USA) Health Net p/b Maxxis                                        
16 James Meadley (Aus) Jelly Belly Cycling Team                              0.29
17 Anthony Colby (USA) Colavita - Sutter Home p/b Cooking Light              0.30
18 Peter Hatton (Aus) Colavita - Sutter Home p/b Cooking Light                   
19 Henk Vogels (Aus) Toyota - United Pro Cycling Team                        0.31
20 Kristian House (GBr) Navigators Insurance Cycling Team                    0.32
21 Jarred Berger (USA) Team Einstein's Cycling                                   
22 David Veilleux (Can) The Jittery Joe's Pro Cycling Team                   0.33
23 Jose Serpa (Col) Colombian National Team                                  0.34
24 Corey Collier (USA) Team Einstein's Cycling                                   
25 Tim Johnson (USA) Health Net p/b Maxxis                                   0.35
26 Adrian Hegyvery (USA) Hagens Berman, LLP                                  0.36
27 Sam Johnson (USA) Hagens Berman, LLP                                      0.37
28 Cesar Augusto Grajales (Col) The Jittery Joe's Pro Cycling Team           0.38
29 Bryce Mead (USA) Jelly Belly Cycling Team                                     
30 Ken Hanson (USA) BMC Professional Cycling Team                            0.39
31 Ryan Roth (Can) Kelly Benefit Strategies - Medifast                           
32 Martin Gilbert (Can) Kelly Benefit Strategies - Medifast                      
33 Caleb Manion (Aus) Toyota - United Pro Cycling Team                       0.40
34 Morgan Schmitt (USA) Priority Health Cycling Team p/b Bissell                 
35 Scott Zwizanski (USA) Priority Health Cycling Team p/b Bissell            0.41
36 Jaior Perez (Col) Colombian National Team                                 0.42
37 Graham Howard (USA) Priority Health Cycling Team p/b Bissell              0.43
38 David Mc Cann (Irl) Colavita - Sutter Home p/b Cooking Light                  
39 Carlos Alzate (Col) Colombian National Team                                   
40 Andy Bajadali (USA) Jelly Belly Cycling Team                                  
41 Richard England (Aus) Priority Health Cycling Team p/b Bissell            0.44
42 Mike Olheiser (USA) Nature Valley Racing Team                                 
43 Matthew Shriver (USA) The Jittery Joe's Pro Cycling Team                      
44 Neil Shirley (USA) The Jittery Joe's Pro Cycling Team                     0.45
45 Ray Uthman (USA) BPG/ Montano Velo                                        0.46
46 James Stangeland (USA) Kelly Benefit Strategies - Medifast                0.47
47 Bjorn Sealander (USA) VMG Racing                                              
48 Mike Sayers (USA) BMC Professional Cycling Team                           0.48
49 Jonathan Sundt (USA) Kelly Benefit Strategies - Medifast                      
50 David Rodriquez (USA) Navigators Insurance Cycling Team                   0.50
51 Stefan Rothe (USA) Nature Valley Racing Team                              0.51
52 Adam Bergman (USA) Colavita - Sutter Home p/b Cooking Light                   
53 Jacob Rosenbarger (USA) BMC Professional Cycling Team                         
54 Scott Stewart (USA) VMG Racing                                                
55 Brian Jensen (USA) HRRC / Trek Stores                                     0.52
56 Dan Bowman (USA) Kelly Benefit Strategies - Medifast                      0.53
57 Arles Castro (Col) Colombian National Team                                0.55
58 Austin King (USA) The Jittery Joe's Pro Cycling Team                          
59 Matt Cianciulli (USA) Team Einstein's Cycling                             0.57
60 Evan Elken (USA) The Jittery Joe's Pro Cycling Team                       0.58
61 Sheldon Denny (USA) VMG Racing                                                
62 Brice Jones (USA) Jelly Belly Cycling Team                                0.59
63 Matt Cooke (USA) Navigators Insurance Cycling Team                            
64 Ryan Hamity (USA) Team Einstein's Cycling                                 1.00
65 Brian Dziewa (USA) Jelly Belly Cycling Team                                   
66 Ryan Baumann (USA) ABD Cycling Team                                       1.01
67 Michael Cody (USA) Jelly Belly Cycling Team                               1.02
68 Alex Boyd (USA) VMG Racing                                                1.03
69 Jack Seehofer (USA) Team Einstein's Cycling                                   
70 Walker Savidge (USA) VMG Racing                                               
71 Dale Sedgwick (USA) Bianchi / Grand Performance                           1.08
72 Benjamin Bradshaw (USA) VMG Racing                                        1.09
73 David Galvin (USA) BMC Professional Cycling Team                              
74 Andrew Fischer (USA) Hagens Berman, LLP                                   1.10
75 Jonathan Parrish (USA) Team Waste Management                              1.12
76 Daniel Vaillancourt (USA) Colavita - Sutter Home p/b Cooking Light            
77 Matt Brandt (USA) Wheel and Sprocket                                          
78 Ronald Jensen (USA) Team Waste Management                                     
79 Ulrich DeYoung (USA) Hagens Berman, LLP                                   1.13
80 Bernard Van Ulden (USA) Navigators Insurance Cycling Team                     
81 Whitey DeBroux (USA) Team Einstein's Cycling                              1.14
82 Andy Guptill (USA) Colavita - Sutter Home p/b Cooking Light               1.15
83 Steve Tilford (USA) HRRC / Trek Stores                                        
84 Omer Kem (USA) Priority Health Cycling Team p/b Bissell                   1.18
85 Terry Beenken (USA) All9Yards.com Cycling Team                            1.20
86 Lane Anderson (USA) All9Yards.com Cycling Team                                
87 Dan Schmatz (USA) BMC Professional Cycling Team                               
88 Justin England (USA) Toyota - United Pro Cycling Team                     1.21
89 Juan Pablo Forero Carreno (Col) Colombian National Team                   1.22
90 Jeff Hopkins (Aus) The Jittery Joe's Pro Cycling Team                     1.23
91 Joby Siciliano (USA) Team Einstein's Cycling                              1.24
92 David Pierce (USA) Nature Valley Racing Team                              1.25
93 Bill Stolte (USA) HRRC / Trek Stores                                      1.29
94 Heath Blackgrove (NZl) Toyota - United Pro Cycling Team                       
95 Chad Hartley (USA) BMC Professional Cycling Team                          1.30
96 Nick Clayville (USA) Hagens Berman, LLP                                       
97 Josh Carter (USA) ABD Cycling Team                                        1.33
98 Jesse Mendonca (USA) BPG/ Montano Velo                                    1.35
99 Alexander Gonzalez (Col) Colombian National Team                          1.36
100 Peter Salon (USA) VMG Racing                                                 
101 Pat Lemieux (USA) Bianchi / Grand Performance                            1.38
102 Alex Sharon (USA) ABD Cycling Team                                       1.39
103 Clark Priebe (USA) All9Yards.com Cycling Team                            1.40
104 David Zimmerman (USA) MBRC/Flanders                                          
105 Frankie Dierking (USA) Abercrombie & Fitch Pro Development               1.42
106 Pete Hanna (USA) Bianchi / Grand Performance                                 
107 Matthew Willinger (USA) BPG/ Montano Velo                                1.44
108 Michael Jones (USA) Jelly Belly Cycling Team                             1.45
109 Luke Winger (USA) MBRC/Flanders                                          1.47
110 Cole House (USA) Wheel and Sprocket                                      1.48
111 Derek Goerke (USA) Team Einstein's Cycling                               1.49
112 Shane Braley (USA) Wheel and Sprocket                                    1.55
113 Evan Lawrence (USA) BPG/ Montano Velo                                    2.09
114 Nick Waite (USA) Kelly Benefit Strategies - Medifast                     2.28
115 Sean Sullivan (Aus) Toyota - United Pro Cycling Team                     2.36
116 Eric Marcotte (USA) Bianchi / Grand Performance                          2.39
117 Christian Kearney (USA) BPG/ Montano Velo                                2.40
118 Jackson Stewart (USA) BMC Professional Cycling Team                      2.46
119 John Acker (USA) Wheel and Sprocket                                      2.57
120 Jonathan Page (USA) Nature Valley Racing Team                            3.27
121 Chris Doig (USA) MBRC/Flanders                                           5.34
122 David McCook (USA) Kelly Benefit Strategies - Medifast                   6.30
123 Ian Stanford (USA) Abercrombie & Fitch Pro Development                  12.38
DNF Chris Wherry (USA) Toyota - United Pro Cycling Team                          
DNF Matt Rice (Aus) Jelly Belly Cycling Team                                     
 
Pro women
 
1 Kristin Armstrong (USA) TEAm Lipton                                       10.24 (41.781 km/h)
2 Katie Mactier (Aus) ValueAct Capital Cycling Team                          0.20
3 Katheryn Curi (USA) Webcor Builders                                        0.29
4 Rachel Heal (GBr) Webcor Builders                                          0.36
5 Amber Rais (USA) Webcor Builders                                           0.41
6 Kristin Sanders (USA) Aaron's Pro Cycling Team                             0.42
7 Leigh Hobson (Can) Cheerwine                                               0.43
8 Lauren Franges (USA) TEAm Lipton                                               
9 Helen Kelly (Aus) Webcor Builders                                              
10 Kori Seehafer (USA) TEAm Lipton                                           0.44
11 Moriah MacGregor (Can) Colavita-Sutter Home presented by Cooking Light    0.46
12 Laura Van Gilder (USA) Cheerwine                                          0.48
13 Heather Labance (USA) Advil ChapStick                                         
14 Catherine Cheatley (NZl) Cheerwine                                            
15 Alex Wrubleski (Can) Colavita-Sutter Home presented by Cooking Light      0.49
16 Meredith Miller (USA) TEAm Lipton                                         0.51
17 Shelley Olds (USA) PROMAN/Paradigm                                        0.56
18 Felicia Gomez (Can) Aaron's Pro Cycling Team                              0.58
19 Nichole Wangsgard (USA) Team Group Health                                     
20 Mara Abbott (USA) Webcor Builders                                         0.59
21 Beverley Harper (USA) Webcor Builders                                         
22 Jill McLaughlin (USA) ValueAct Capital Cycling Team                           
23 Heather Sborz (USA) Arizona State University                              1.01
24 Betsy Galenti (USA) America's Dairyland                                       
25 Anna Milkowski (USA) Targetraining Womens Team                            1.02
26 Kim Geist (USA) TEAm Lipton                                                   
27 Iona Wynter (Jam) Colavita-Sutter Home presented by Cooking Light         1.06
28 Marisa Asplund (USA) Team TIBCO                                               
29 Tricia Bailey (USA) Team Group Health                                     1.08
30 Rushlee Buchanan (NZl) Jazz Apple Cycling Team                            1.09
31 Brooke Miller (USA) Team TIBCO                                                
32 Teresa Moriarty (USA) Flanders/MBRC                                       1.10
33 Betina Hold (USA) Cheerwine                                               1.11
34 Robin Farina (USA) Targetraining Womens Team                                  
35 Carmen McNellis (USA) Aaron's Pro Cycling Team                            1.14
36 Alison Shanks (NZl) Jazz Apple Cycling Team                                   
37 Lisa Dunnwald (USA) Team Group Health                                     1.16
38 Leah Guloien (Can) Team Group Health                                      1.22
39 Abby Lyn Cooper (USA) PROMAN/Paradigm                                         
40 Kristin Wentworth (USA) Team Kenda Tire                                       
41 Courtenay Brown (USA) ValueAct Capital Cycling Team                       1.24
42 Kelly Benjamin (USA) Cheerwine                                                
43 Julie Bishop (USA) Harris Teeter Naturals                                 1.27
44 Rebecca Larson (USA) Aaron's Pro Cycling Team                                 
45 Alison Littlefield (USA) Contender Bicycles                               1.28
46 Kathleen Billington (USA) Targetraining Womens Team                           
47 Jadine Riley (USA) Team Group Health                                          
48 Susan Peithman (USA) ABD Cycling Team                                     1.29
49 Catherine Powers (USA) Aaron's Pro Cycling Team                           1.30
50 Martina Patella (USA) ValueAct Capital Cycling Team                       1.31
51 Debbie Dust (USA) Team Kenda Tire                                         1.32
52 Victoria Bastide (USA) Team TIBCO                                             
53 Annie Lux (USA) Harris Teeter Naturals                                    1.37
54 Tiffany Cromwell (Aus) Colavita-Sutter Home presented by Cooking Light    1.39
55 Andrea Luebbe (USA) Ryan Collegiate                                       1.41
56 Stacy Marple (USA) Team TIBCO                                                 
57 Natalie Klemko (USA) Advil ChapStick                                          
58 Virginia Perkins (USA) PROMAN/Paradigm                                    1.44
59 Holly Borowski (USA) PROMAN/Paradigm                                          
60 Anne Guzman (Can) Team Kenda Tire                                         1.46
61 Lara Kroepsch (USA) TEAm Lipton                                               
62 CarrieAnn Kopernik (USA) Nova Cycle Sports Foundation                     1.47
63 Tamyra Barnard (USA) Team Kenda Tire                                      1.48
64 Christina DeKraay (USA) Harris Teeter Naturals                                
65 Brenda Lyons (USA) TEAm Lipton                                            1.49
66 Katie Lambden (USA) Team TIBCO                                                
67 Kate Ligler (USA) PROMAN/Paradigm                                         1.50
68 Corie Berrigan (USA) Team Kenda Tire                                          
69 Marjan Huizing (USA) Team Kenda Tire                                      1.51
70 Casey Cessna (USA) Nova Cycle Sports Foundation                           1.52
71 Kristin McGrath (USA) Ryan Collegiate                                     1.53
72 Rachel O'Connell (Aus) Cheerwine                                          1.54
73 Andrea Myers (USA) Targetraining Womens Team                              1.56
74 Kathryn Clark (USA) Harris Teeter Naturals                                1.57
75 Marni Hambleton (Can) ValueAct Capital Cycling Team                       2.01
76 Sharon Allpress (USA) ValueAct Capital Cycling Team                           
77 Erica Allar (USA) Ryan Collegiate                                         2.02
78 Heidi Goldberg (USA) Team Kenda Tire                                          
79 Catherine Walberg (USA) Team Kenda Tire                                   2.04
80 Devon Haskell (USA) Ryan Collegiate                                       2.05
81 Kirsten Robbins (Can) Advil ChapStick                                     2.08
82 Jennifer Bodine (USA) Ryan Collegiate                                     2.09
83 Carrie Cash (USA) XPlane/Team Revolution                                  2.10
84 Laura Yoisten (Can) Webcor Builders                                       2.20
85 Michelle Kiesanowski (NZl) Aaron's Pro Cycling Team                       2.21
86 Laura Charameda (USA) Advil ChapStick                                     2.23
87 Madeleine Puissant (USA) Nova Cycle Sports Foundation                     2.27
88 Rebecca Much (USA) Targetraining Womens Team                              2.29
89 Susannah Pratt (USA) Ryan Collegiate                                      2.33
90 Liza Rachetto (USA) Team TIBCO                                            2.36
91 Sarah Caravella (USA) Aaron's Pro Cycling Team                            2.51
92 Katharina Weber (USA) XPlane/Team Revolution                              2.52
93 Megan Elliott (USA) Unattached                                            2.54
94 Arielle Filiberti (USA) Targetraining Womens Team                         3.02
95 Maria Luisa Calle Williams (Col) Colombia National Team                   4.56
96 Patria Lanfranchi (USA) Team Group Health                                 5.20
97 Sarah Bamberger (USA) Cheerwine                                           6.35
98 Liza Rachetto (USA) Team TIBCO                                       299.50.14
 
Team
 
Pro men
 
1 Health Net p/b Maxxis                                                     29.01
2 Priority Health p/b Bissel                                                 0.12
3 Toyota-United Pro Cycling Team                                             0.15
4 Navigators Insurance Cycling Team                                          0.38
5 Colavita-Sutter Home p/b Cooking Light                                     1.09
6 Jelly Belly Cycling Team                                                   1.16
7 The Jittery Joe's Pro Cycling Team                                         1.21
8 Colombian National Team                                                    1.25
9 Nature Valley Racing Team                                                  1.27
10 Team Einstein's Cycling                                                   1.29
11 Kelly Benefit Strategies-Medifast                                         1.31
12 BMC Professional Cycling Team                                             1.44
13 Hagens Berman, LLP                                                        1.49
14 VMG Racing                                                                2.02
15 HRRC / Trek Stores                                                        3.02
16 BPG                                                                       3.31
17 ABD Cycling Team                                                          3.39
18 All9Yards.com Cycling Team                                                3.46
19 Bianchi / Grand Performance                                               3.54
20 Wheel and Sprocket                                                        4.21
21 MBRC/Flanders                                                             8.27
 
Pro women
 
1 TEAm Lipton                                                               32.39
2 Webcor Builders                                                            0.19
3 Cheerwine                                                                  0.52
4 Colavita-Sutter Home presented by Cooking Light                            1.14
5 ValueAct Capital Cycling Team                                              1.16
6 Aaron's Pro Cycling Team                                                   1.27
7 Team Group Health                                                          1.55
8 Targetraining Womens Team                                                  2.14
9 Team TIBCO                                                                 2.20
10 PROMAN/Paradigm                                                           2.35
11 Advil ChapStick                                                           3.10
12 Team Kenda Tire                                                           3.13
13 Harris Teeter Naturals                                                    3.25
14 Ryan Collegiate                                                           4.09
15 Nova Cycle Sports Foundation                                              4.39
 
General Classification after Stage 3
 
Pro men
 
1 Ivan Stevic (SCG) Toyota - United Pro Cycling Team                      3.30.18
2 Nathan O'Neill (Aus) Health Net p/b Maxxis                                 0.06
3 Kirk O'Bee (USA) Health Net p/b Maxxis                                     0.09
4 Ben Jacques-Maynes (USA) Priority Health Cycling Team p/b Bissell              
5 Christopher Baldwin (USA) Toyota - United Pro Cycling Team                 0.15
6 John Murphy (USA) Health Net p/b Maxxis                                    0.20
7 Phil Zajicek (USA) Navigators Insurance Cycling Team                       0.24
8 Edward King (USA) Priority Health Cycling Team p/b Bissell                 0.25
9 Rory Sutherland (Aus) Health Net p/b Maxxis                                0.26
10 Darren Lill (RSA) Navigators Insurance Cycling Team                       0.28
11 Garrett Peltonen (USA) Priority Health Cycling Team p/b Bissell           0.30
12 Frank Pipp (USA) Health Net p/b Maxxis                                    0.31
13 Roman Kilun (USA) Health Net p/b Maxxis                                   0.33
14 Jeff Louder (USA) Health Net p/b Maxxis                                   0.34
15 James Meadley (Aus) Jelly Belly Cycling Team                              0.35
16 Anthony Colby (USA) Colavita - Sutter Home p/b Cooking Light              0.36
17 Peter Hatton (Aus) Colavita - Sutter Home p/b Cooking Light                   
18 Henk Vogels (Aus) Toyota - United Pro Cycling Team                        0.37
19 Jarred Berger (USA) Team Einstein's Cycling                               0.38
20 David Veilleux (Can) The Jittery Joe's Pro Cycling Team                   0.39
21 Jose Serpa (Col) Colombian National Team                                  0.40
22 Corey Collier (USA) Team Einstein's Cycling                                   
23 Cesar Augusto Grajales (Col) The Jittery Joe's Pro Cycling Team           0.44
24 Ken Hanson (USA) BMC Professional Cycling Team                            0.45
25 Martin Gilbert (Can) Kelly Benefit Strategies - Medifast                      
26 Caleb Manion (Aus) Toyota - United Pro Cycling Team                       0.46
27 Scott Zwizanski (USA) Priority Health Cycling Team p/b Bissell            0.47
28 Jaior Perez (Col) Colombian National Team                                 0.48
29 Graham Howard (USA) Priority Health Cycling Team p/b Bissell              0.49
30 David Mc Cann (Irl) Colavita - Sutter Home p/b Cooking Light                  
31 Carlos Alzate (Col) Colombian National Team                                   
32 Andy Bajadali (USA) Jelly Belly Cycling Team                                  
33 Richard England (Aus) Priority Health Cycling Team p/b Bissell            0.50
34 Neil Shirley (USA) The Jittery Joe's Pro Cycling Team                     0.51
35 Mike Sayers (USA) BMC Professional Cycling Team                           0.54
36 Adam Bergman (USA) Colavita - Sutter Home p/b Cooking Light               0.57
37 Scott Stewart (USA) VMG Racing                                                
38 Brian Jensen (USA) HRRC / Trek Stores                                     0.58
39 Dan Bowman (USA) Kelly Benefit Strategies - Medifast                      0.59
40 Arles Castro (Col) Colombian National Team                                1.01
41 Evan Elken (USA) The Jittery Joe's Pro Cycling Team                       1.04
42 Sheldon Denny (USA) VMG Racing                                                
43 Matt Cooke (USA) Navigators Insurance Cycling Team                        1.05
44 Ryan Hamity (USA) Team Einstein's Cycling                                 1.06
45 Alex Boyd (USA) VMG Racing                                                1.09
46 Ryan Roth (Can) Kelly Benefit Strategies - Medifast                       1.14
47 Jonathan Sundt (USA) Kelly Benefit Strategies - Medifast                  1.15
48 Andrew Fischer (USA) Hagens Berman, LLP                                   1.16
49 Matt Brandt (USA) Wheel and Sprocket                                      1.18
50 Ulrich DeYoung (USA) Hagens Berman, LLP                                   1.19
51 Dan Schmatz (USA) BMC Professional Cycling Team                           1.20
52 Andy Guptill (USA) Colavita - Sutter Home p/b Cooking Light               1.21
53 Steve Tilford (USA) HRRC / Trek Stores                                        
54 Chad Hartley (USA) BMC Professional Cycling Team                          1.36
55 Alexander Gonzalez (Col) Colombian National Team                          1.42
56 Juan Pablo Forero Carreno (Col) Colombian National Team                   1.49
57 Tim Johnson (USA) Health Net p/b Maxxis                                   1.52
58 Brian Dziewa (USA) Jelly Belly Cycling Team                               1.54
59 Daniel Vaillancourt (USA) Colavita - Sutter Home p/b Cooking Light        1.57
60 Morgan Schmitt (USA) Priority Health Cycling Team p/b Bissell                 
61 Bryce Mead (USA) Jelly Belly Cycling Team                                 2.03
62 Austin King (USA) The Jittery Joe's Pro Cycling Team                      2.12
63 Adrian Hegyvery (USA) Hagens Berman, LLP                                  2.27
64 Josh Carter (USA) ABD Cycling Team                                            
65 Jonathan Parrish (USA) Team Waste Management                              2.29
66 Omer Kem (USA) Priority Health Cycling Team p/b Bissell                   2.35
67 Jackson Stewart (USA) BMC Professional Cycling Team                       2.52
68 David Galvin (USA) BMC Professional Cycling Team                          3.14
69 Ray Uthman (USA) BPG/ Montano Velo                                        3.31
70 Doug Swanson (USA) Nature Valley Racing Team                              3.44
71 Alex Sharon (USA) ABD Cycling Team                                            
72 Nick Waite (USA) Kelly Benefit Strategies - Medifast                      3.45
73 Ronald Jensen (USA) Team Waste Management                                 3.54
74 Michael Cody (USA) Jelly Belly Cycling Team                               4.05
75 Eric Marcotte (USA) Bianchi / Grand Performance                           5.04
76 David Pierce (USA) Nature Valley Racing Team                                  
77 Stefan Rothe (USA) Nature Valley Racing Team                              5.24
78 Sam Johnson (USA) Hagens Berman, LLP                                      5.44
79 Justin England (USA) Toyota - United Pro Cycling Team                     5.54
80 Jacob Rosenbarger (USA) BMC Professional Cycling Team                     6.12
81 Shane Braley (USA) Wheel and Sprocket                                     6.28
82 Cole House (USA) Wheel and Sprocket                                       6.31
83 Brice Jones (USA) Jelly Belly Cycling Team                                6.40
84 Sean Sullivan (Aus) Toyota - United Pro Cycling Team                      6.57
85 Frankie Dierking (USA) Abercrombie & Fitch Pro Development                7.03
86 John Acker (USA) Wheel and Sprocket                                       8.18
87 Benjamin Bradshaw (USA) VMG Racing                                        8.30
88 Jesse Mendonca (USA) BPG/ Montano Velo                                    9.03
89 Kristian House (GBr) Navigators Insurance Cycling Team                   10.32
90 Matthew Shriver (USA) The Jittery Joe's Pro Cycling Team                 10.44
91 Bjorn Sealander (USA) VMG Racing                                         10.47
92 David Rodriquez (USA) Navigators Insurance Cycling Team                  10.50
93 Matt Cianciulli (USA) Team Einstein's Cycling                            10.57
94 Bernard Van Ulden (USA) Navigators Insurance Cycling Team                11.13
95 Whitey DeBroux (USA) Team Einstein's Cycling                             11.14
96 Jeff Hopkins (Aus) The Jittery Joe's Pro Cycling Team                    11.23
97 Heath Blackgrove (NZl) Toyota - United Pro Cycling Team                  11.29
98 James Stangeland (USA) Kelly Benefit Strategies - Medifast               11.35
99 Terry Beenken (USA) All9Yards.com Cycling Team                           12.08
100 Pete Hanna (USA) Bianchi / Grand Performance                            12.25
101 Matthew Willinger (USA) BPG/ Montano Velo                               12.32
102 Ian Stanford (USA) Abercrombie & Fitch Pro Development                  12.44
103 Evan Lawrence (USA) BPG/ Montano Velo                                   12.57
104 Chris Doig (USA) MBRC/Flanders                                          12.58
105 Michael Jones (USA) Jelly Belly Cycling Team                            14.06
106 David Zimmerman (USA) MBRC/Flanders                                     14.19
107 David McCook (USA) Kelly Benefit Strategies - Medifast                  19.04
108 Jack Seehofer (USA) Team Einstein's Cycling                             30.27
109 Walker Savidge (USA) VMG Racing                                         31.37
110 Dale Sedgwick (USA) Bianchi / Grand Performance                         31.51
111 Pat Lemieux (USA) Bianchi / Grand Performance                           32.26
112 Nick Clayville (USA) Hagens Berman, LLP                                 32.35
113 Mike Olheiser (USA) Nature Valley Racing Team                           33.14
114 Ryan Baumann (USA) ABD Cycling Team                                     33.31
115 Bill Stolte (USA) HRRC / Trek Stores                                    33.59
116 Clark Priebe (USA) All9Yards.com Cycling Team                           34.10
117 Peter Salon (USA) VMG Racing                                            34.49
118 Christian Kearney (USA) BPG/ Montano Velo                               35.10
119 Jonathan Page (USA) Nature Valley Racing Team                           35.51
120 Lane Anderson (USA) All9Yards.com Cycling Team                          36.21
121 Joby Siciliano (USA) Team Einstein's Cycling                            36.56
122 Luke Winger (USA) MBRC/Flanders                                         37.08
123 Derek Goerke (USA) Team Einstein's Cycling                              37.17
124 Derek Goerke (USA) Team Einstein's Cycling                              25.59
125 Joby Siciliano (USA) Team Einstein's Cycling                            26.03
 
Pro women
 
1 Kristin Armstrong (USA) TEAm Lipton                                     3.57.52
2 Catherine Cheatley (NZl) Cheerwine                                         0.27
3 Katie Mactier (Aus) ValueAct Capital Cycling Team                          0.42
4 Leigh Hobson (Can) Cheerwine                                               0.43
5 Shelley Olds (USA) PROMAN/Paradigm                                         0.46
6 Alex Wrubleski (Can) Colavita-Sutter Home presented by Cooking Light       0.49
7 Felicia Gomez (Can) Aaron's Pro Cycling Team                               0.58
8 Rachel Heal (GBr) Webcor Builders                                              
9 Amber Rais (USA) Webcor Builders                                           1.03
10 Kristin Sanders (USA) Aaron's Pro Cycling Team                            1.04
11 Teresa Moriarty (USA) Flanders/MBRC                                           
12 Lauren Franges (USA) TEAm Lipton                                          1.05
13 Helen Kelly (Aus) Webcor Builders                                             
14 Kori Seehafer (USA) TEAm Lipton                                           1.06
15 Laura Van Gilder (USA) Cheerwine                                          1.10
16 Heather Labance (USA) Advil ChapStick                                         
17 Meredith Miller (USA) TEAm Lipton                                         1.13
18 Brooke Miller (USA) Team TIBCO                                            1.16
19 Nichole Wangsgard (USA) Team Group Health                                 1.20
20 Mara Abbott (USA) Webcor Builders                                         1.21
21 Anna Milkowski (USA) Targetraining Womens Team                            1.24
22 Iona Wynter (Jam) Colavita-Sutter Home presented by Cooking Light         1.28
23 Betina Hold (USA) Cheerwine                                               1.33
24 Robin Farina (USA) Targetraining Womens Team                                  
25 Carmen McNellis (USA) Aaron's Pro Cycling Team                            1.36
26 Stacy Marple (USA) Team TIBCO                                             1.41
27 Beverley Harper (USA) Webcor Builders                                     1.42
28 Leah Guloien (Can) Team Group Health                                      1.44
29 Kelly Benjamin (USA) Cheerwine                                            1.46
30 Rebecca Larson (USA) Aaron's Pro Cycling Team                             1.49
31 Catherine Powers (USA) Aaron's Pro Cycling Team                           1.52
32 Victoria Bastide (USA) Team TIBCO                                         1.54
33 Virginia Perkins (USA) PROMAN/Paradigm                                    2.06
34 Lara Kroepsch (USA) TEAm Lipton                                           2.08
35 Christina DeKraay (USA) Harris Teeter Naturals                            2.10
36 Brenda Lyons (USA) TEAm Lipton                                            2.11
37 Marni Hambleton (Can) ValueAct Capital Cycling Team                       2.23
38 Catherine Walberg (USA) Team Kenda Tire                                   2.26
39 Marisa Asplund (USA) Team TIBCO                                           2.34
40 Betsy Galenti (USA) America's Dairyland                                   2.39
41 Kirsten Robbins (Can) Advil ChapStick                                     2.51
42 Alison Littlefield (USA) Contender Bicycles                               2.58
43 Lisa Dunnwald (USA) Team Group Health                                     3.05
44 Rushlee Buchanan (NZl) Jazz Apple Cycling Team                            3.06
45 Tiffany Cromwell (Aus) Colavita-Sutter Home presented by Cooking Light    3.12
46 Sarah Caravella (USA) Aaron's Pro Cycling Team                            3.13
47 Katharina Weber (USA) XPlane/Team Revolution                              3.14
48 Natalie Klemko (USA) Advil ChapStick                                          
49 Jadine Riley (USA) Team Group Health                                      3.17
50 Courtenay Brown (USA) ValueAct Capital Cycling Team                           
51 Katheryn Curi (USA) Webcor Builders                                       3.21
52 Kathleen Billington (USA) Targetraining Womens Team                       3.31
53 Debbie Dust (USA) Team Kenda Tire                                         3.35
54 Katie Lambden (USA) Team TIBCO                                            3.38
55 Laura Yoisten (Can) Webcor Builders                                       3.50
56 Kim Geist (USA) TEAm Lipton                                               3.54
57 Tricia Bailey (USA) Team Group Health                                     4.11
58 Kristin Wentworth (USA) Team Kenda Tire                                   4.14
59 Moriah MacGregor (Can) Colavita-Sutter Home presented by Cooking Light    4.16
60 Julie Bishop (USA) Harris Teeter Naturals                                 4.19
61 Andrea Luebbe (USA) Ryan Collegiate                                       4.33
62 CarrieAnn Kopernik (USA) Nova Cycle Sports Foundation                     4.39
63 Jennifer Bodine (USA) Ryan Collegiate                                     4.40
64 Kate Ligler (USA) PROMAN/Paradigm                                         4.42
65 Marjan Huizing (USA) Team Kenda Tire                                      4.43
66 Megan Elliott (USA) Unattached                                                
67 Erica Allar (USA) Ryan Collegiate                                         4.44
68 Devon Haskell (USA) Ryan Collegiate                                       4.57
69 Michelle Kiesanowski (NZl) Aaron's Pro Cycling Team                       5.13
70 Heidi Goldberg (USA) Team Kenda Tire                                      5.22
71 Jill McLaughlin (USA) ValueAct Capital Cycling Team                       5.32
72 Heather Sborz (USA) Arizona State University                              5.34
73 Carrie Cash (USA) XPlane/Team Revolution                                  5.48
74 Kristin McGrath (USA) Ryan Collegiate                                     5.54
75 Susannah Pratt (USA) Ryan Collegiate                                      6.03
76 Martina Patella (USA) ValueAct Capital Cycling Team                       6.04
77 Holly Borowski (USA) PROMAN/Paradigm                                      6.17
78 Tamyra Barnard (USA) Team Kenda Tire                                      6.21
79 Casey Cessna (USA) Nova Cycle Sports Foundation                           6.25
80 Rachel O'Connell (Aus) Cheerwine                                          6.27
81 Andrea Myers (USA) Targetraining Womens Team                              6.29
82 Kathryn Clark (USA) Harris Teeter Naturals                                6.30
83 Abby Lyn Cooper (USA) PROMAN/Paradigm                                     6.53
84 Laura Charameda (USA) Advil ChapStick                                     6.56
85 Madeleine Puissant (USA) Nova Cycle Sports Foundation                     7.00
86 Rebecca Much (USA) Targetraining Womens Team                              7.02
87 Annie Lux (USA) Harris Teeter Naturals                                    7.04
88 Sarah Bamberger (USA) Cheerwine                                           7.25
89 Alison Shanks (NZl) Jazz Apple Cycling Team                               7.54
90 Anne Guzman (Can) Team Kenda Tire                                         8.11
91 Maria Luisa Calle Williams (Col) Colombia National Team                   8.30
92 Corie Berrigan (USA) Team Kenda Tire                                      8.52
93 Sharon Allpress (USA) ValueAct Capital Cycling Team                       9.03
94 Susan Peithman (USA) ABD Cycling Team                                     9.54
95 Arielle Filiberti (USA) Targetraining Womens Team                        10.04
96 Patria Lanfranchi (USA) Team Group Health                                11.02
97 Liza Rachetto (USA) Team TIBCO                                           19.06
98 Liza Rachetto (USA) Team TIBCO                                            6.06
 
Amature rider classification
 
Pro men
 
1 Jarred Berger (USA) Team Einstein's Cycling                             3.30.56
2 Jose Serpa (Col) Colombian National Team                                   0.02
3 Corey Collier (USA) Team Einstein's Cycling                                    
4 Jaior Perez (Col) Colombian National Team                                  0.10
5 Carlos Alzate (Col) Colombian National Team                                0.11
6 Scott Stewart (USA) VMG Racing                                             0.19
7 Brian Jensen (USA) HRRC / Trek Stores                                      0.20
8 Arles Castro (Col) Colombian National Team                                 0.23
9 Sheldon Denny (USA) VMG Racing                                             0.26
10 Ryan Hamity (USA) Team Einstein's Cycling                                 0.28
11 Alex Boyd (USA) VMG Racing                                                0.31
12 Andrew Fischer (USA) Hagens Berman, LLP                                   0.38
13 Matt Brandt (USA) Wheel and Sprocket                                      0.40
14 Ulrich DeYoung (USA) Hagens Berman, LLP                                   0.41
15 Steve Tilford (USA) HRRC / Trek Stores                                    0.43
16 Alexander Gonzalez (Col) Colombian National Team                          1.04
17 Juan Pablo Forero Carreno (Col) Colombian National Team                   1.11
18 Adrian Hegyvery (USA) Hagens Berman, LLP                                  1.49
19 Josh Carter (USA) ABD Cycling Team                                            
20 Jonathan Parrish (USA) Team Waste Management                              1.51
21 Ray Uthman (USA) BPG/ Montano Velo                                        2.53
22 Doug Swanson (USA) Nature Valley Racing Team                              3.06
23 Alex Sharon (USA) ABD Cycling Team                                            
24 Ronald Jensen (USA) Team Waste Management                                 3.16
25 Eric Marcotte (USA) Bianchi / Grand Performance                           4.26
26 David Pierce (USA) Nature Valley Racing Team                                  
27 Stefan Rothe (USA) Nature Valley Racing Team                              4.46
28 Sam Johnson (USA) Hagens Berman, LLP                                      5.06
29 Shane Braley (USA) Wheel and Sprocket                                     5.50
30 Cole House (USA) Wheel and Sprocket                                       5.53
31 Frankie Dierking (USA) Abercrombie & Fitch Pro Development                6.25
32 John Acker (USA) Wheel and Sprocket                                       7.40
33 Benjamin Bradshaw (USA) VMG Racing                                        7.52
34 Jesse Mendonca (USA) BPG/ Montano Velo                                    8.25
35 Bjorn Sealander (USA) VMG Racing                                         10.09
36 Matt Cianciulli (USA) Team Einstein's Cycling                            10.19
37 Whitey DeBroux (USA) Team Einstein's Cycling                             10.36
38 Terry Beenken (USA) All9Yards.com Cycling Team                           11.30
39 Pete Hanna (USA) Bianchi / Grand Performance                             11.47
40 Matthew Willinger (USA) BPG/ Montano Velo                                11.54
41 Ian Stanford (USA) Abercrombie & Fitch Pro Development                   12.06
42 Evan Lawrence (USA) BPG/ Montano Velo                                    12.19
43 Chris Doig (USA) MBRC/Flanders                                           12.20
44 David Zimmerman (USA) MBRC/Flanders                                      13.41
45 Jack Seehofer (USA) Team Einstein's Cycling                              29.49
46 Walker Savidge (USA) VMG Racing                                          30.59
47 Dale Sedgwick (USA) Bianchi / Grand Performance                          31.13
48 Pat Lemieux (USA) Bianchi / Grand Performance                            31.48
49 Nick Clayville (USA) Hagens Berman, LLP                                  31.57
50 Mike Olheiser (USA) Nature Valley Racing Team                            32.36
51 Ryan Baumann (USA) ABD Cycling Team                                      32.53
52 Bill Stolte (USA) HRRC / Trek Stores                                     33.21
53 Clark Priebe (USA) All9Yards.com Cycling Team                            33.32
54 Peter Salon (USA) VMG Racing                                             34.11
55 Christian Kearney (USA) BPG/ Montano Velo                                34.32
56 Lane Anderson (USA) All9Yards.com Cycling Team                           35.43
57 Joby Siciliano (USA) Team Einstein's Cycling                             36.18
58 Luke Winger (USA) MBRC/Flanders                                          36.30
59 Derek Goerke (USA) Team Einstein's Cycling                               36.39
59 Joby Siciliano (USA) Team Einstein's Cycling                             25.25
 
Young rider classification
 
Pro men
 
1 Jarred Berger (USA) Team Einstein's Cycling                             3.30.56
2 Jose Serpa (Col) Colombian National Team                                   0.02
3 Corey Collier (USA) Team Einstein's Cycling                                    
4 Jaior Perez (Col) Colombian National Team                                  0.10
5 Carlos Alzate (Col) Colombian National Team                                0.11
6 Scott Stewart (USA) VMG Racing                                             0.19
7 Brian Jensen (USA) HRRC / Trek Stores                                      0.20
8 Arles Castro (Col) Colombian National Team                                 0.23
9 Sheldon Denny (USA) VMG Racing                                             0.26
10 Ryan Hamity (USA) Team Einstein's Cycling                                 0.28
11 Alex Boyd (USA) VMG Racing                                                0.31
12 Andrew Fischer (USA) Hagens Berman, LLP                                   0.38
13 Matt Brandt (USA) Wheel and Sprocket                                      0.40
14 Ulrich DeYoung (USA) Hagens Berman, LLP                                   0.41
15 Steve Tilford (USA) HRRC / Trek Stores                                    0.43
16 Alexander Gonzalez (Col) Colombian National Team                          1.04
17 Juan Pablo Forero Carreno (Col) Colombian National Team                   1.11
18 Adrian Hegyvery (USA) Hagens Berman, LLP                                  1.49
19 Josh Carter (USA) ABD Cycling Team                                            
20 Jonathan Parrish (USA) Team Waste Management                              1.51
21 Ray Uthman (USA) BPG/ Montano Velo                                        2.53
22 Doug Swanson (USA) Nature Valley Racing Team                              3.06
23 Alex Sharon (USA) ABD Cycling Team                                            
24 Ronald Jensen (USA) Team Waste Management                                 3.16
25 Eric Marcotte (USA) Bianchi / Grand Performance                           4.26
26 David Pierce (USA) Nature Valley Racing Team                                  
27 Stefan Rothe (USA) Nature Valley Racing Team                              4.46
28 Sam Johnson (USA) Hagens Berman, LLP                                      5.06
29 Shane Braley (USA) Wheel and Sprocket                                     5.50
30 Cole House (USA) Wheel and Sprocket                                       5.53
31 Frankie Dierking (USA) Abercrombie & Fitch Pro Development                6.25
32 John Acker (USA) Wheel and Sprocket                                       7.40
33 Benjamin Bradshaw (USA) VMG Racing                                        7.52
34 Jesse Mendonca (USA) BPG/ Montano Velo                                    8.25
35 Bjorn Sealander (USA) VMG Racing                                         10.09
36 Matt Cianciulli (USA) Team Einstein's Cycling                            10.19
37 Whitey DeBroux (USA) Team Einstein's Cycling                             10.36
38 Terry Beenken (USA) All9Yards.com Cycling Team                           11.30
39 Pete Hanna (USA) Bianchi / Grand Performance                             11.47
40 Matthew Willinger (USA) BPG/ Montano Velo                                11.54
41 Ian Stanford (USA) Abercrombie & Fitch Pro Development                   12.06
42 Evan Lawrence (USA) BPG/ Montano Velo                                    12.19
43 Chris Doig (USA) MBRC/Flanders                                           12.20
44 David Zimmerman (USA) MBRC/Flanders                                      13.41
45 Jack Seehofer (USA) Team Einstein's Cycling                              29.49
46 Walker Savidge (USA) VMG Racing                                          30.59
47 Dale Sedgwick (USA) Bianchi / Grand Performance                          31.13
48 Pat Lemieux (USA) Bianchi / Grand Performance                            31.48
49 Nick Clayville (USA) Hagens Berman, LLP                                  31.57
50 Mike Olheiser (USA) Nature Valley Racing Team                            32.36
51 Ryan Baumann (USA) ABD Cycling Team                                      32.53
52 Bill Stolte (USA) HRRC / Trek Stores                                     33.21
53 Clark Priebe (USA) All9Yards.com Cycling Team                            33.32
54 Peter Salon (USA) VMG Racing                                             34.11
55 Christian Kearney (USA) BPG/ Montano Velo                                34.32
56 Lane Anderson (USA) All9Yards.com Cycling Team                           35.43
57 Joby Siciliano (USA) Team Einstein's Cycling                             36.18
58 Luke Winger (USA) MBRC/Flanders                                          36.30
59 Derek Goerke (USA) Team Einstein's Cycling                               36.39
59 Joby Siciliano (USA) Team Einstein's Cycling                             25.25
 
Pro women
 
1 Catherine Cheatley (NZl) Cheerwine                                      3.58.19
2 Alex Wrubleski (Can) Colavita-Sutter Home presented by Cooking Light       0.22
3 Lauren Franges (USA) TEAm Lipton                                           0.38
4 Mara Abbott (USA) Webcor Builders                                          0.54
5 Rushlee Buchanan (NZl) Jazz Apple Cycling Team                             2.39
6 Tiffany Cromwell (Aus) Colavita-Sutter Home presented by Cooking Light     2.45
7 Natalie Klemko (USA) Advil ChapStick                                       2.47
8 Laura Yoisten (Can) Webcor Builders                                        3.23
9 Kim Geist (USA) TEAm Lipton                                                3.27
10 Andrea Luebbe (USA) Ryan Collegiate                                       4.06
11 Jennifer Bodine (USA) Ryan Collegiate                                     4.13
12 Kate Ligler (USA) PROMAN/Paradigm                                         4.15
13 Megan Elliott (USA) Unattached                                            4.16
14 Erica Allar (USA) Ryan Collegiate                                         4.17
15 Heather Sborz (USA) Arizona State University                              5.07
16 Kristin McGrath (USA) Ryan Collegiate                                     5.27
17 Susannah Pratt (USA) Ryan Collegiate                                      5.36
18 Holly Borowski (USA) PROMAN/Paradigm                                      5.50
19 Casey Cessna (USA) Nova Cycle Sports Foundation                           5.58
20 Andrea Myers (USA) Targetraining Womens Team                              6.02
21 Abby Lyn Cooper (USA) PROMAN/Paradigm                                     6.26
22 Madeleine Puissant (USA) Nova Cycle Sports Foundation                     6.33
23 Rebecca Much (USA) Targetraining Womens Team                              6.35
24 Alison Shanks (NZl) Jazz Apple Cycling Team                               7.27
25 Arielle Filiberti (USA) Targetraining Womens Team                         9.37
 
Teams classification
 
Pro men
 
1 Health Net p/b Maxxis                                                  10.31.46
2 Priority Health p/b Bissel                                                 0.12
3 Toyota-United Pro Cycling Team                                             0.15
4 Navigators Insurance Cycling Team                                          0.38
5 Colavita-Sutter Home p/b Cooking Light                                     1.09
6 Jelly Belly Cycling Team                                                   1.16
7 The Jittery Joe's Pro Cycling Team                                         1.21
8 Colombian National Team                                                    1.25
9 Team Einstein's Cycling                                                    1.29
10 Kelly Benefit Strategies-Medifast                                         1.31
11 BMC Professional Cycling Team                                             1.44
12 VMG Racing                                                                2.02
13 Hagens Berman, LLP                                                        3.34
14 Nature Valley Racing Team                                                 6.39
15 Wheel and Sprocket                                                       11.06
16 BPG                                                                      19.28
17 HRRC / Trek Stores                                                       35.26
18 ABD Cycling Team                                                         38.02
19 Bianchi / Grand Performance                                              47.27
20 MBRC/Flanders                                                          1.00.42
21 All9Yards.com Cycling Team                                             1.21.47
 
Pro women
 
1 TEAm Lipton                                                            11.55.47
2 Cheerwine                                                                  0.30
3 Webcor Builders                                                            0.41
4 Aaron's Pro Cycling Team                                                   1.27
5 Team TIBCO                                                                 2.20
6 Colavita-Sutter Home presented by Cooking Light                            2.25
7 ValueAct Capital Cycling Team                                              3.09
8 Team Group Health                                                          3.28
9 Targetraining Womens Team                                                  4.17
10 Advil ChapStick                                                           5.04
11 PROMAN/Paradigm                                                           5.05
12 Team Kenda Tire                                                           6.05
13 Harris Teeter Naturals                                                   10.28
14 Ryan Collegiate                                                          10.34
15 Nova Cycle Sports Foundation                                             15.53
15 Nova Cycle Sports Foundation                                                  
16 Jazz Apple Cycling Team