2nd Wellington World Cup - CDM
New Zealand, March 5, 2006
Main Page Results World Cup standings
Powerful attack delivers Ulmer's first World Cup win
By Nick Warren in Wellington
Sarah Ulmer crosses the line
Photo ©: Mike Heydon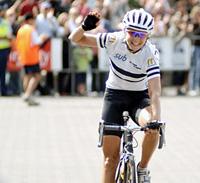 It couldn't have panned out better for New Zealand's round of the Women's World Cup as Sarah Ulmer (New Zealand National Team) produced a terrific solo win in Wellington.
Ulmer attacked just six laps into a 20 lap 6.5km race and quickly built up a huge lead of nearly five minutes which proved too much for the chasing pack to overhaul. She cruised across the finish line with plenty of time for celebration in front of an ecstatic local crowd.
Oenone Wood (Equipe Nurnberger) out-sprinted Ina Teutenberg (T-Mobile) and Jo Kiesanowski (Univega) for second place 4min 24sec later.
"I thought it was a suicidal move really," Ulmer said. "I wanted at least one of the other girls from another team to come with me, but my team did a wicked job stopping any chases. I think that was one of the most enjoyable races of my career."
Clear skies and a brisk breeze greeted competitors for the 124km outing. A large number of spectators lined the course which wound its way around Wellington's central business district, stopping and starting in front of New Zealand's Beehive parliament building. It was a tight, multi-cornered course with two tough climbs up Boulcott and Bowen streets, providing plenty of prime positions for spectators to watch the racing.
120 riders took the start and attacks came thick and fast in the opening five laps, although none gained more than about 20 seconds over the pack. There was plenty of action at the rear however, as large chunks of riders were regularly ejected from the peloton. British national champion Nicole Cooke (Univega) saw her chances disintegrate as she crashed at speed coming out of a corner on lap six. While not seriously hurt she withdrew from the race.
Ulmer's burst off the front that same lap, surprisingly did not provoke a reaction from her rivals despite her reputation and the good form she had shown during the previous week's Trust House Tour. Her lead rapidly grew as she settled into time-trial mode and two laps into her effort she held a two minute lead, rising to 4min 38sec with eight circuits remaining at which point a small chasing group had formed.
Natalie Bates (Chase Smart-Mercedes Benz), Sarah Duester (Univega) and Barbel Jungmeier (Elk Haus NO) gained a maximum of 40 seconds over the peloton but failed to make serious inroads on Ulmer. Jungmeier was soon dropped but Bates and Duester pushed on, only to be caught in the final two laps.
Ulmer was slowing, but she maintained her steady, high cadence riding style she is so well known for. Entering the final lap she had it in the bag, although the commentator insisted on tempting fate saying, "She has won this race, ladies and gentlemen. Only a terrible crash or misfortune can stop her now…" Luckily no such mishap occurred and Ulmer was all smiles as she crossed the line for the last time.
"Thank you!" she told the crowd after collecting her winner's bouquet. "It's great to race in New Zealand. So often we have to go to race overseas, so it's great that everyone comes here to race in our home country."
In finishing third, Teutenberg retains her World Cup leader's jersey. "That was quite a hard bike race," she said. "The first five laps were really hard and towards the end I was just holding onto the group. I am happy with the result. Once Sarah got ahead we knew she was strong and were really just racing for second place."
It's difficult to quantify Ulmer's place in Kiwi society. Not only is she a highly successful athlete but is also incredibly personable and therefore wildly popular with the fans, always spending time to talk to them and signing autographs. She carries a large amount of public expectation on her shoulders but still manages to pull off spectacular victories when it matters; Wellington expected an Ulmer win, and that's what she gave them.
T-Mobile's Amy Moore said coming to New Zealand and witnessing the Ulmer phenomenon was quite incredible. "The fact she is such a successful person and so nice is very cool. It's always great to have a winner like that and she's so humble about it all too."
The next round of the Women's world cup will be the Tour of Flanders on April 2 in Belgium. Ulmer's next big challenge however, is the Commonwealth Games time trial in Melbourne on March 21.
Photography
For a thumbnail gallery of these images, click here
Images by Mike Heydon/www.jetphotography.co.nz
Images by Jeff Lyall
Images by Paul Millin
Images by CJ Farquharson/WomensCycling.net
Images by Craig Wadsworth
Results
1 Sarah Ulmer (NZl) New Zealand national team                     3.16.45
2 Oenone Wood (Aus) Equipe Nürnberger Versicherung                   4.24
3 Ina Teutenberg (Ger) T-Mobile Professional Cycling                 4.25
4 Joanne Kiesanowski (NZl) Univega Pro Cycling Team                      
5 Tina Mayolo Pic (USA)                                                  
6 Annette Beutler (Swi) Elk Haus Nö                                      
7 Susanne Ljungskog (Swe)                                                
8 Svetlana Bubnenkova (Rus) Russian national team                        
9 Miho Oki (Jpn) Nobili Rubinetterie Menikini Cogeas                 4.29
10 Tamara Boyd (NZl) New Zealand national team                           
11 Lang Meng (Chn) Giant Pro Cycling                                 4.31
12 Olga Slyusareva (Rus) Russian national team                           
13 Priska Doppmann (Swi) Univega Pro Cycling Team                        
14 Olivia Gollan (Aus) Nobili Rubinetterie Menikini Cogeas           4.33
15 Sarah Düster (Ger) Univega Pro Cycling Team                       4.34
16 Trixi Worrack (Ger) Equipe Nürnberger Versicherung                    
17 Toni Bradshaw (NZl) New Zealand national team                         
18 Edwige Pitel (Fra)                                                    
19 Melissa Holt (NZl) New Zealand national team                      4.38
20 Nikki Egyed (Aus)                                                     
21 Michelle Hyland (NZl) New Zealand national team                   4.40
22 Nathalie Bates (Aus)                                              4.42
23 Meifang Li (Chn) Chinese national team                            4.43
24 Claudia Stumpf (Ger) German national team                         4.50
25 Judith Arndt (Ger) T-Mobile Professional Cycling                  4.59
26 Kate Nichols (Aus) Chase Sydney - Smart - Mercedes Benz           5.19
27 Katherine Bates (Aus) Equipe Nürnberger Versicherung              6.48
28 Yoko Okuda (Jpn) Japan national team                              8.04
29 Charlotte Goldsmith (GBr)                                             
30 Helen Kelly (Aus)                                                     
31 Amy Hunt (GBr)                                                        
32 Natalia Boyarskaya (Rus) Russian national team                        
33 Akemi Morimoto (Jpn) Japan national team                          8.07
34 Bärbel Jungmeier (Aut) Elk Haus Nö                                    
35 Josie Loane (Aus)                                                     
36 Amy Moore (Can) T-Mobile Professional Cycling                     8.10
37 Kimberly Bruckner Baldwin (USA) T-Mobile Professional Cycling         
38 Magali Le Floch (Fra) T-Mobile Professional Cycling                   
39 Giorgia Bronzini (Ita) A.S. Team F.R.W                                
40 Elodie Tuoffet (Fra) Nobili Rubinetterie Menikini Cogeas              
41 Sigrid Corneo (Ita) Nobili Rubinetterie Menikini Cogeas           8.13
OTL Yongli Liu (Chn) Chinese national team                               
DNF Marta Vilajosana Andreu (Spa) Nobili Rubinetterie Menikini Cogeas    
DNF Robin Wong (NZl)                                                     
DNF Emma Rickards (Aus) Univega Pro Cycling Team                         
DNF Emma Mackie (Aus) Australian national team                           
DNF Serena Sheridan (NZl)                                                
DNF Alexis Rhodes (Aus) Australian national team                         
DNF Kara Northcott (NZl)                                                 
DNF Marina Duvnjak (NZl)                                                 
DNF Elke Gebhardt (Ger) German national team                             
DNF Masami Mashimo (Jpn) Japan national team                             
DNF Amy Mosen (NZl)                                                      
DNF Carly Hibberd (Aus)                                                  
DNF Yanxia Jiang (Chn) Giant Pro Cycling                                 
DNF Patricia Schwager (Swi) Elk Haus Nö                                  
DNF Isabella Wieser (Aut) Elk Haus Nö                                    
DNF Brei Gudsell (NZl)                                                   
DNF Na Zhao (Chn) Chinese national team                                  
DNF Frith Brown (NZl)                                                    
DNF Antoshina Anna (Rus) Russian national team                           
DNF Kanako Nishi (Jpn) Japan national team                               
DNF Min Gao (Chn) Giant Pro Cycling                                      
DNF Daniela Pintarelli (Aut)                                             
DNF Xiong Ying Ruan (Chn) Giant Pro Cycling                              
DNF Gina Waibl (NZl)                                                     
DNF Donna Sibley (NZl)                                                   
DNF Emma James (Aus) Chase Sydney - Smart - Mercedes Benz                                                     
DNF Libo Ma (Chn) Chinese national team                                  
DNF Karina Wilkinson (NZl)                                               
DNF Silvia Valsecchi (Ita) Nobili Rubinetterie Menikini Cogeas           
DNF Amanda Spratt (Aus) Australian national team                         
DNF Pu Xiang Zheng (Chn) Giant Pro Cycling                               
DNF Emma Hutchings (NZl)                                                 
DNF Martina Corazza (Ita) A.S. Team F.R.W                                
DNF Larissa Kleinmann (Ger) German national team                         
DNF Eva Lutz (Ger) Equipe Nürnberger Versicherung                        
DNF Nicole Cooke (GBr) Univega Pro Cycling Team                          
DNF Tye Dale (NZl)                                                       
DNF Anke Wichmann (Ger) Equipe Nürnberger Versicherung                   
DNF Kate Mercer (Aus)                                                    
DNF Hayley Brown (Aus) Chase Sydney - Smart - Mercedes Benz                                                      
DNF Jennie Stenerhag (Swe)                                               
DNF Robin Farina (USA)                                                   
DNF Kelly Benjamin (USA)                                                 
DNF Jing Chen (Chn) Chinese national team                                
DNF Johanna Buick (NZl)                                                  
DNF Rosy McCall (NZl)                                                    
DNF Irina Zemlyanskaya (Rus) Russian national team                       
DNF Jessie Maclean (Aus)                                                 
DNF Jenny Trew (Can)                                                     
DNF Marlen Johrend (Ger) German national team                            
DNF Nicola Johnson (NZl)                                                 
DNF Ayako Toyooka (Jpn) Japan national team                              
DNF Susie Wood (NZl) New Zealand national team                           
DNF Stacy Sims (NZl)                                                     
DNF Carolyn Jenkings (NZl)                                               
DNF Kettj Manfrin (Ita) A.S. Team F.R.W                                  
DNF Rochelle Gilmore (Aus)                                               
DNF Vickie Burr (NZl)                                                    
DNF Laura Pisaneschi (Ita) A.S. Team F.R.W                               
DNF Ombretta Ugolini (Ita) A.S. Team F.R.W                               
DNF Karen Fulton (NZl)                                                   
DNF Bernadette Schober (Aut)                                             
DNF Lisa Haynes (NZl)                                                    
DNF Erin Chamberlen (Aus) Chase Sydney - Smart - Mercedes Benz                                                    
DNF Jenny Macpherson (Aus) Australian national team                      
DNF Candice Sullivan (Aus) Australian national team                      
DNF Nicola Cox (NZl)                                                     
DNF Lauren Koedyk (NZl)                                                  
DNF Melissa Pilla (NZl)                                                  
DNF Dorette Prinsloo (NZl)                                               

World Cup standings after two rounds
1 Ina Teutenberg (Ger) T-Mobile Professional Cycling                  110 pts
2 Sarah Ulmer (NZl)                                                    75
3 Miho Oki (Jpn) Nobili Rubinetterie Menikini Cogeas                   65
4 Tina Mayolo Pic (USA)                                                57
5 Oenone Wood (Aus) Equipe Nürnberger Versicherung                     50
6 Annette Beutler (Swi) Elk Haus Nö                                    45
7 Joanne Kiesanowski (NZl) Univega Pro Cycling Team                    41
8 Katherine Bates (Aus) Equipe Nürnberger Versicherung                 35
9 Svetlana Bubnenkova (Rus) Fenixs-Colnago                             27
10 Rochelle Gilmore (Aus) Safi-Pasta Zara Manhattan                    27
11 Tamara Boyd (NZl) Les Pruneaux d'Agen                               26
12 Susanne Ljungskog (Swe) Buitenpoort-Flexpoint Team                  25
13 Gina Grain (Can) Giant Pro Cycling                                  24
14 Nicole Cooke (GBr) Univega Pro Cycling Team                         18
15 Lang Meng (Chn) Giant Pro Cycling                                   10
16 Monia Baccaille (Ita) Saccarelli Emu Marsciano                      10
17 Olga Slyusareva (Rus)                                                9
18 Priska Doppmann (Swi) Univega Pro Cycling Team                       8
19 Hayley Brown (Aus) Chase Sydney - Smart - Mercedes Benz              8
20 Olivia Gollan (Aus) Nobili Rubinetterie Menikini Cogeas              7
21 Giorgia Bronzini (Ita) A.S. Team F.R.W                               7
22 Sarah Düster (Ger) Univega Pro Cycling Team                          6
23 Emma Rickards (Aus) Univega Pro Cycling Team                         6
24 Trixi Worrack (Ger) Equipe Nürnberger Versicherung                   5
25 Sigrid Corneo (Ita) Nobili Rubinetterie Menikini Cogeas              5
26 Toni Bradshaw (NZl) Les Pruneaux d'Agen                              4
27 Edwige Pitel (Fra) Bianchi Aliverti Kookai                           3
28 Larissa Kleinmann (Ger)                                              3
29 Melissa Holt (NZl)                                                   2
30 Kate Nichols (Aus)Chase Sydney - Smart - Mercedes Benz               2
31 Nikki Egyed (Aus)                                                    1
32 Catherine Sell (NZl)                                                 1
 
Team standings
 
1 T-Mobile Professional Cycling                                       110 pts
2 New Zealand                                                         107
3 Equipe Nürnberger Versicherung                                       90
4 Univega Pro Cycling Team                                             79
5 Nobili Rubinetterie Menikini Cogeas                                  77
6 Elk Haus Nö                                                          45
7 Russian Federation                                                   36
8 Giant Pro Cycling                                                    34
9 United States Of America                                             30
10 Italy                                                               10
11 A.S. Team F.R.W.                                                     7
12 Germany                                                              3