U.S. National Criterium Championships - NE
Downer's Grove Village, Illinois, USA, August 19-20, 2006
Main Page Results Overall standings Stage Details Previous Stage
Stage 5 - August 20: USPRO National Criterium Championships, 100 km
Hilton Clarke keeps Navigators winning
Brad Huff upgrades from amateur to USPRO crit champion
by Mark Zalewski, North American Editor in Downers Grove, Ill.
Hilton Clarke & Brad Huff celebrate
Photo ©: Jon Devich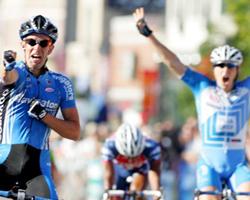 Last weekend Hilton Clarke (Navigators Insurance) took the richest win of his career winning $25,000 and the Tour of Elk Grove. But with the domestic peloton spread across three major races, Clarke wanted to win the next weekend in Downers Grove when the best of the best would be battling. Well, he did, showing he is one of the top sprinters in the U.S. and continuing the Navigators Insurance team's steamroll of August. Close behind, but not close enough, was Brad Huff (TIAA-CREF) who won the points sprints in Elk Grove. However, Huff was content with taking the stars and stripes as the first U.S. rider across the line.
"The race was so aggressive!" said Huff. "It was like controlled speed all day. And the final laps were getting sketchy."
The final turn saw Huff and Clarke behind Toyota-United's Tony Cruz, who's team was obviously working for an outright American win and not for Dominguez or Haedo who were close behind. But Huff and Cruz bumped exiting the turn causing a moment of hesitation which Clarke quickly exploited.
"I lead through the second-to-last turn, but I might have been a little too aggressive," said Huff. "Cruz and I bumped and we had to do a little brake check while Hilton flew past us."
Brad Huff
Photo ©: Matthew Moses

"When Huff bumped me I lost a little steam," said Cruz. "I tried to go inside but Clarke has the inside and took it from there. I had to touch my brakes and wait until I was straightened out before I could go."
Also coming in fast was Kyle Gritters (Health Net-Maxxis) who was fourth just behind Cruz and Huff when the door was closed. "They just took me all the way to the wall," he said. Luckily the wall was covered with hay bales and Gritters only suffered minor scrapes.
For Huff, the reigning elite amateur criterium champion, the upgrade was a sweet victory. "It was a little sad that I couldn't wear the jersey this whole year," he said. "But being able to wear it next year will be incredible!"
Attacks and breaks
The race seemed to be one of the faster editions in recent memory, which helped keep the crashes to a minimum. Much of the day Health Net-Maxxis set the tone by going with a strategy of sending riders up the road in an effort to get a break off the front. "We were looking for a move all day," said Corbett. "We have a lot of guys who can win out of a break like O'Bee, Henderson, Johnson... Everyone was looking for moves I think."
And the breaks did form, even with all the right teams represented, but apparently not the right riders. At one point, former USPRO criterium champion Kirk O'Bee (Health Net-Maxxis) went on a solo break, but could not keep the fast moving field off his back for long.
Kyle Gritters (Health Net pb Maxxis)
Photo ©: Matthew Moses

A dangerous break did form when Mark Walters (Navigators Insurance) won the mid-race prime and kept it rolling. Many team directors could be heard encouraging their riders to work, but even then the break only lasted a few laps. The Toyota-United team strategy was slightly evident at this point when Ivan Dominguez and Ivan Stevic were working hard in a break.
For most of the final laps it was Health Net-Maxxis taking its usual position on the front. On one lap, TIAA-CREF had three of their riders leading up the home stretch. But with one lap to go Navigators sent their international riders to the front, with Sergey Lagutin taking a strong pull through the first turn.
Photography
For a thumbnail gallery of these images, click here
Images by Jonathan Devich/epicimages.us
Images by Mark Zalewski/Cyclingnews.com
Images by Matthew Moses/www.moses-images.com
Images by Beth Seliga/

Results
1 Hilton Clake (Aus) Navigators Insurance Cycling Team            2.15.33
2 Brad Huff (USA) Team TIAA-CREF                                         
3 Tony Cruz (USA) Toyota-United Pro Cycling Team                         
4 Dan Schmatz (USA) Kodakgallery.Com/ Sierra Nevada Pro Cycling          
5 Emile Abraham (Tri) AEG-Toshiba-Jetnetwork Pro Cycling Team            
6 Jeffery Hopkins (Aus) Jittery Joe's - Zero Gravity Pro Cycling Team    
7 Alex Candelario (USA) Jelly Belly Cyling Team                          
8 Davide Frattini (Ita) Colavita Olive Oil-Sutter Home Winery C.T.       
9 Frank Pipp (USA) Targetraining Cycling Team                            
10 Mark McCormack (USA) Colavita Olive Oil-Sutter Home Winery C.T.       
11 Zach Bell (Can) Rite Aid Pro Cycling                                  
12 Pete Lopinto (USA) Kodakgallery.Com/ Sierra Nevada Pro Cycling        
13 Juan Haedo (Arg) Toyota-United Pro Cycling Team                       
14 Rob King (USA) Priority Health Cycling Team                           
15 Todd Yezefski (USA) Nerac/ Outdoorlights. Com Pro Cycling             
16 Eneas Fryne (USA) Targetraining Cycling Team                          
17 Alex Boyd (USA) VMG Racing                                            
18 Ted King (USA) Priority Health Cycling Team                           
19 Chris Frederick (USA) AEG-Toshiba-Jetnetwork Pro Cycling Team         
20 Jackson Stewart (USA) Kodakgallery.Com/ Sierra Nevada Pro Cycling     
21 Josh Thornton (USA) Toyota-United Pro Cycling Team                    
22 Neil Shirley (USA) Jittery Joe's - Zero Gravity Pro Cycling Team      
23 Jacques-Maynes (USA) Kodakgallery.Com/ Sierra Nevada Pro Cycling      
24 Jonathon Page (USA) Colavita Olive Oil-Sutter Home Winery C.T.        
25 Mariano Friedick (USA) Toyota-United Pro Cycling Team                 
26 Peter Penzell (USA) Rite Aid Pro Cycling                              
27 Bryan Smith (USA) Team TIAA-CREF                                      
28 Daniel Holt (USA) Nerac/ Outdoorlights. Com Pro Cycling               
29 Peter Hatton (Aus) Jittery Joe's - Zero Gravity Pro Cycling Team      
30 Justin Spinelli (USA) Nerac/ Outdoorlights. Com Pro Cycling           
31 Karl Menzies (Aus) Health Net Presented By Maxxis                     
32 Rudy Robaina (USA) VMG Racing                                         
33 Chris Wherry (USA) Toyota-United Pro Cycling Team                     
34 Ivan Dominguez (Cub) Toyota-United Pro Cycling Team                   
35 Garrett Peltonen (USA) Health Net Presented By Maxxis                 
36 Brice Jones (USA) Jelly Belly Cyling Team                             
37  Kobzarenko (Ukr) Navigators Insurance Cycling Team                   
38 Hayden Godfrey (NZl) Team Monex                                       
39 Jake Rytlewski (USA) Priority Health Cycling Team                     
40 Adam Myerson (USA) Nerac/ Outdoorlights. Com Pro Cycling              
41 Nebojsa Jovanavic (SCG) AEG-Toshiba-Jetnetwork Pro Cycling Team       
42 Martin Gilbert (Can) Kodakgallery.Com/ Sierra Nevada Pro Cycling      
43 Yosvani Falcon (Cub) AEG-Toshiba-Jetnetwork Pro Cycling Team          
44 Mark Walters (Can) Navigators Insurance Cycling Team                  
45 Mike Friedman (USA) Team TIAA-CREF                                    
46 Andrew Bajadali (USA) Jelly Belly Cyling Team                         
47 Alejandro Acton (Arg) Targetraining Cycling Team                      
48 Sergey Lagutin (Uzb) Navigators Insurance Cycling Team                
49 Jonathan Wirsing (USA) Rite Aid Pro Cycling                           
50 Todd Henriksen (USA) VMG Racing                                       
51 Greg Henderson (NZl) Health Net Presented By Maxxis                   
52 Keith Norris (USA) AEG-Toshiba-Jetnetwork Pro Cycling Team            
53 Devon Vigus (USA) Team Monex                                          
54 Kirk O'Bee (USA) Health Net Presented By Maxxis                       
55 Mike Norton (USA) Nerac/ Outdoorlights. Com Pro Cycling               
56 Vassili Davidenko (USA) Navigators Insurance Cycling Team             
57 Michael Creed (USA) Team TIAA-CREF                                    
58 Dominique Perras (Can) Kodakgallery.Com/ Sierra Nevada Pro Cycling    
59 Shawn Miline (USA) Navigators Insurance Cycling Team                  
60 Hugh Moran (USA) AEG-Toshiba-Jetnetwork Pro Cycling Team              
61 Dustin Macburnie (Can) Targetraining Cycling Team                     
62 Michael Jones (USA) Health Net Presented By Maxxis                    
63 Frank Travieso (Cub) AEG-Toshiba-Jetnetwork Pro Cycling Team          
64 Prokic Predrag (USA) AEG-Toshiba-Jetnetwork Pro Cycling Team          
65 Gordon Fraser (Can) Health Net Presented By Maxxis                    
66 Steven Cozza (USA) Team TIAA-CREF                                     
67 Viktor Rapinski BIR Colavita Olive Oil-Sutter Home Winery C.T.        
68 Siro Camponogara (USA) Navigators Insurance Cycling Team              
69 Blake Caldwell (USA) Team TIAA-CREF                                   
70 Ian Macgregor (USA) Team TIAA-CREF