World championships - CM
Madrid, Spain, September 21-25, 2005
Main Page Results Live report Previous Race
Race 6 - September 25: Elite men's road race, 273km
A question of loyalty?
By Anthony Tan
Oscar Freire (Spain) won't be in Madrid to defend his rainbow crown, limiting the country's chances for a home-win.
Photo ©: AFP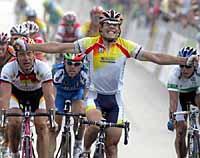 Bunch sprint or breakaway? Team or country? Right now, the latter appears to be the biggest issue concerning Madrid's blue-ribbon event, the elite men's road race, where potential hidden factions are likely to play a role in the final outcome.
First, let's focus on three of the strongest teams - Australia, Belgium and Italy - and their line-ups:
Australia: Baden Cooke (Franšaise des Jeux), Allan Davis (Liberty Seguros), Cadel Evans, Robbie McEwen, Henk Vogels (Davitamon-Lotto), Simon Gerrans (Ag2r), Matthew Hayman (Rabobank), Brett Lancaster (Panaria), Michael Rogers (Quick.Step).
Belgium: Mario Aerts, Bj÷rn Leukemans, Peter Van Petegem (Davitamon-Lotto), Stijn Devolder (Discovery Channel), Philippe Gilbert (Franšaise des Jeux), Tom Boonen, Wilfried Cretskens, Nick Nuyens (Quick.Step), Marc Wauters (Rabobank).
Italy: Alessandro Petacchi, Marco Velo, Matteo Tosatto, Lorenzo Bernucci (Fassa Bortolo), Paolo Bettini, Filippo Pozzato, Luca Paolini (Quick.Step), Daniele Bennati, (Lampre), Giovanni Lombardi (CSC)
As far as the team from Down Under is concerned, sprinter Robbie McEwen enjoys an enviable support network, with his some of his most important men for the final kilometres showing excellent form of late. Baden Cooke won the opening stage of the Tour de Pologne, Simon Gerrans clinched his second major one-day race at the end of last month, Allan Davis won a stage of the Benelux Tour, and Michael Rogers spent the majority of last month preparing to defend his time trial crown, and is obviously in good form after creating history on Thursday.
However, the 33 year-old sprinter may also have the unspoken support of three or more of his trade team members. Mario Aerts, Bj÷rn Leukemans and Peter Van Petegem have all been named as part of the line-up for Belgium - all regulars in the Davitamon-Lotto train this season, guiding the Queenslander to no less than 14 victories, and no doubt handsomely rewarded for their efforts.
Less than two weeks ago in Paris-Brussels, Peter Van Petegem proved his worth as a 'team' member, graciously allowing McEwen an armchair ride to the finish, which he won. There's also the fact that Davitamon sponsors the Belgian Federation. Fred Rodriguez (part of the USA's national team), instrumental in McEwen's three Tour de France victories, is another unknown, but Fast Freddy still believes he's one of the fastest guys in the world - and Madrid's his chance to prove it.
Cheeky as is he is, McEwen even offered some advice to Belgian selector and national coach JosÚ De Cauwer after Paris-Brussels, saying: "If the Belgian national coach watched the race today, he'll know he has to take more of our team to Madrid. They know better than anyone else how to guide a sprinter to the finish line." They certainly do, Robbie.
One person who saw through these comments was Quick.Step team manager Patrick Lefevre, who told Cyclingnews during the Tour de France he is crazy about having the world champion's jersey in his team next year. "He [Boonen] has a real chance. I hope that the Belgian coach [De Cauwer] will have the intelligence to put the best men [to ride] for Tom and not look at politics to try and satisfy everybody in Belgium, like they always do," he said at the time.
Upon hearing that De Cauwer was going to select at least three riders from Davitamon-Lotto, Lefevre was quoted by Het Laatste Nieuws as saying: "It's a huge disaster. De Cauwer's on his own; we'll make the bill in Madrid, after the finish. We'll see who works for who."
But Boonen also has his share of non-Belgian Quick.Step team-mates. Okay, forget about Michael Rogers, who's highly unlikely to 'betray' McEwen and is moving to T-Mobile next year - but what about Italians Paolo Bettini, Filippo Pozzato, Luca Paolini and Davide Bramati? Would these guys get a thrill out of seeing Petacchi become world champion? Don't forget 'American' Guido Trenti, either, who, along with Stefano Zanini, have been Boonen's two most important lead-out men this season.
And then there's Italy. With the so-called 'McEwen corner' 600 metres from the line (that has since been modified), Bettini had a good a chance of being crowned world champion as Petacchi - and still does to some extent, even though Ale-Jet appears to be at the top of his game right now, notching five stage wins at the Vuelta a Espa˝a. They got their act together in 2002, but Zolder had Cipollini written all over it; before that, well-publicised squabbles between Bettini and Michele Bartoli squandered at least two or three rainbow jerseys.
The same could be said of Australia. If McEwen somehow fell out of the picture, Cooke or Davis could easily become their protected rider, but for now, it appears to be all for him. Out of the big three, Italy appears to be the most vulnerable to a division of loyalty; currently, there are four Fassas and Quick.Steps apiece within the Italian camp, so the final nine-man selection may indeed determine the final outcome.
With triple world champion and last year's winner, Oscar Freire, missing from the Spanish line-up and 2003 runner-up Alejandro Valverde an unknown quantity, the host nation has conceded that go into Sunday's race as an outside chance, and if comes down to a bunch sprint, no chance at all. "With Oscar it would be easier because on a course with these characteristics he is faster than anyone and would have done well," said national coach Francisco Antequera to As. "If everyone arrives together, Petacchi will take it easily. The team that we have is not one for a mass finish, so we must look for another solution."
That 'solution' Antequera speaks of is making the race as hard as possible, allowing the team's three team leaders - Valverde, Igor Astarloa and Juan Antonio Flecha - a chance to get themselves in a breakaway. From what's being said so far, a breakaway situation is entirely possible, but really depends on the type of race that unfolds; that is, will the sprinters' teams control proceedings, or will they be forced into letting a few escapes go?
Germany faces a similar situation to Spain, in that their fast guy Erik Zabel is not as fast as McEwen, Boonen or Petacchi, but is arguably the most versatile of the four. J÷rg Jaksche, Matthias Kessler, Jens Voigt and Fabian Wegmann are proven performers in a breakaway situation, so between these two teams, there may be some cross-country collusion to foil attempts at a bunch sprint finish.
Of course, there is the possibility that none of these secret trade team or inter-country alliances will eventuate, and the day will be decided by a combination of the cumulative strength of each country, weather conditions, the parcours itself and a sprinter's strength after 273 kilometres' racing, should the race be decided in a bunch gallop. We'll see...
Course preview: Urban setting for World's
By Shane Stokes in Madrid
The wide start/finish
Photo ©: Shane Stokes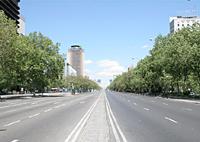 The city of Madrid is already well known worldwide for its energy and style, but both attributes will be boosted yet further this weekend with the hosting of the three world championship road races on its streets. An influx of thousands of spectators plus the always-vocal support of the sports-mad Spanish public should generate plenty of atmosphere for the road races for Elite women, under 23 men and Elite men.
Somewhat unusually, the course is based almost totally in urban surroundings, the riders tearing up and down the Paseo de la Castellana thoroughfare and passing Real Madrid's hallowed Estadio Santiago BernabÚu, before looping out through residential areas, passing quickly through the Dehesa de la Villa park and then returning to the start/finish area. The route takes the riders past shops and apartment blocks and while this sounds unappealing, the aesthetic nature of Madrid means that the races should work well on television. Of course one obvious benefit is accessibility for spectators; as a result, huge numbers are expected.
The riders in each race will compete on laps of a 21 kilometre course. There are two hills per circuit, the 1.5 kilometre Dehesa de la Villa climb and the 2.2 kilometre ascent up the Avenida del Cardenal Herrera Oria. Neither of these are particularly difficult by themselves, but the combined effects of speed and distance mean they may assume greater significance towards the end of the races.
The distinctive towers
Photo ©: Shane Stokes

The circuit begins on the Paseo de la Castellana, a perfectly straight three-lane carriageway which rises gently uphill to the impressive leaning towers at the Plaza de Castilla. After 1.5 kilometres the riders swing left and race onto the Calle de Bravo Murillo, passing through the Tetuan district, then take a gentle right turn down the narrower, tree-lined Lope de Haro and Calle de Francos Rodriguez streets. From there the riders take a sweeping left turn at the 3.8 kilometre mark, gathering speed as they head along the downhill Camino de las Moreras and into the verdant Cuidad Universitaria district. A couple of right hand bends brings them past the Complutense University's faculty of geological science and onto the Avignida Paraninfo (5.4 kilometres). Then, after another 1.2 kilometres, they reach the narrow right hand turn at the base of the Dehesa de la Villa climb.
This twisting ascent rises 70 metres in 1.2 kilometres for an average gradient of approximately six percent, suiting big-ring power riders rather than climbing specialists. The road twists and turns through the attractive park up to the 710 metre summit (8.1 km), then returns to urban settings as it drops quickly down the Calle de Antonio Machado. A left hand bend leads the peloton onto the Calle del Doctor Ramˇn Castroviejo and Calle Cantalejo, bringing the riders down a narrow residential descent and to the base of the second climb.
The Avenida del Cardenal Herrera Oria
Photo ©: Shane Stokes

This ascent is more exposed and longer, rising 80 metres in 2.2 kilometres. While the average gradient appears easier at just under four percent, the second half - namely the climb up the Avenida del Cardenal Herrera Oria - features the steepest sections of the course. But, once again, these should prove to be big ring power climbs, suiting explosive riders rather than flyweights.
Once to the top (14.8 km, 680 m) the road plateaus out and heads past tall apartment blocks, before flicking right twice, looping around a roundabout and then turning left onto the Avenida Monforte de Lemos. This flat street takes them to the turn onto Ginzo de Lima and then onto the Avenida de Asturias, both fast, wide avenues which will ramp up the speed before the return to Plaza de Castilla (18 km) and the high velocity rundown towards the Estadio Santiago BernabÚu. Once down to Nuevos Ministerios, the site of the spectacular Windsor tower inferno earlier this year, the peloton will collectively lock their brakes and arc hard around the final bend before beginning the 500 metre drag to the finish line.
A distraction.
Photo ©: Shane Stokes

Previously christened 'McEwen corner' by riders who felt that it would suit the Australian's excellent bike-handling skills, this final turn was modified by the race organisers on Friday. Many big names had voiced their concerns about the bend, saying that it would lead to dangerous riding and crashes. The peloton will now take a wider approach to the corner via a side road, lessening the turning arc and causing the corner to be faster and - theoretically, at least - safer.
Verdict: This World's course is unusual in that most of the 21 kilometre route is based within the suburbs of a major city, rather than the more rural settings of other years. The organisers have brought the race through a couple of attractive parkland areas and, by and large, the Madrid streets chosen look well (especially when the sun shines, as is expected).
The World's road race course has just two climbs of any significance, although both have an average gradient of less than seven percent and will certainly be ridden in the big ring. This is one of the flattest courses in recent years, appearing - as did Zolder three years ago - to be destined for a likely sprint finish. However those riding the course in recent days say that the course is harder than they thought, with those two climbs, the technical turns and some stretches of slightly uneven road all likely to have an increasing effect as the kilometres tick by. Whether this will be enough to defeat the collective might of the sprinters' teams remains to be seen.
Photography
For a thumbnail gallery of these images, click here
Images by Shane Stokes/Cyclingnews.com
Race Map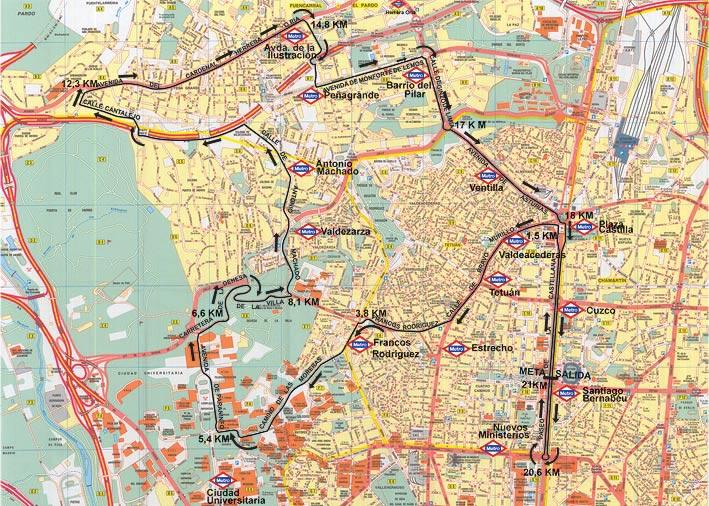 Race Profile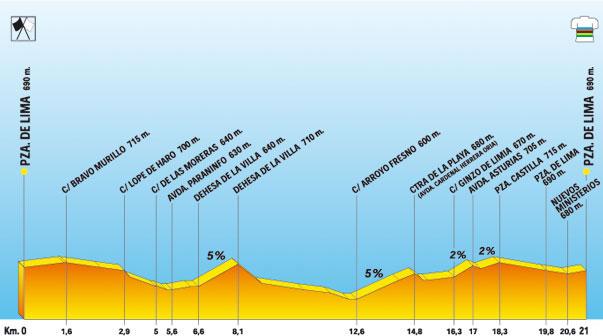 Images ©:www.mundialmadrid2005.com