Tour de France Tech – July 14, 2005
Edited by John Stevenson
Got tech? Send press releases, news, and tech questions to the Cyclingnews tech desk.
Peter Wrolich's Specialized Thor Hushovd's Look Tom Boonen's Time Stuart O'Grady's Wilier Robbie McEwen's Ridley
The bikes of the sprinters: Thor Hushovd's Look 585
Thor Hushovd's Look 585.
Photo ©: Anthony Tan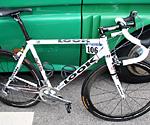 Big Norwegian sprinter Thor Hushovd needs a super-stiff bike, and his frame of choice of frame is Look's 585. The frame uses all carbon tubes and lugs, with the Pro Max SL tubing varying in shape and wall thickness depending on size.
The one-piece head lug
Photo ©: Anthony Tan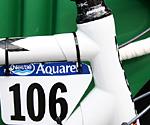 The 585 comes from the same lineage as Look's famed 481SL, designed by French Tour legend Laurent Jalabert, and the bare frame is claimed to weigh under 1000g - 990g for a size M frame, Look's first sub-kilo. Look was able to get the weight of the 585 down, but retain the stiffness and security a rider such as Hushovd needs, by adopting new carbon fiber technologies for the tubes and lugs, in particular a very high pressure moulding process for critical parts such as the bottom bracket shell.
Its tube-and-lug construction means the 585 is unusually conventional-looking for a carbon fiber frame - at first glance this could be an old school steel frame, but when you look closer you notice that Credit Agricole's bikes don't have Look decals, but bare areas where the carbon shows through in the shape of the maker's name!
Stealth carbon
Photo ©: Anthony Tan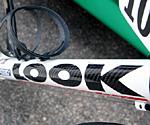 The Look 585 comes as a package with Look's very light HSC5 SL fork and Ergopost 2 Ti seatpost, with three mounting positions for the clamp. It's also no surprise to see Look pedals on Hushovd's bike.
Hushovd's slightly upturned bars
Photo ©: Anthony Tan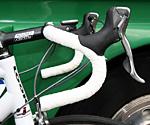 Credit Agricole uses Shimano components. It's remarkable how normal the once-controversial Dura-Ace cranks now look, but aside from that observation there's little to say about Shimano's pro workhorse component set that hasn't been said a million times before - though it is interesting to note that Hushovd's bike has a braze-on front derailleur mounted on a separate clamp rather than a one-piece clamp-on front mech.
Being a tall, powerful rider, Hushovd uses 175mm cranks to get the most out of his legs in the final few hundred metres. It's also interesting to see many sprinters prefer a curved rather than a ergo-shaped handlebar drop and Hushovd is no exception; his 46cm-wide bars are the shape that used to be called a 'Maes' bend with a fairly shallow drop - handlebar supplier Ritchey calls this a 'Classic' shape.
Being a sprinter, Hushovd probably doesn't much care what his bike weighs (within reason, of course) but nevertheless, these are not hefty machines. According to Look the average weight of a Crédit Agricole bike is 7.085 kg. The bike of Italian rider Pietro Caucchioli weighs 6.850 kg and uses LooK KéO titanium axle pedals to further trim grams.
Photography
For a thumbnail gallery of these images, click here
Images by Anthony Tan/Cyclingnews.com