57th Critérium du Dauphiné Libéré - PT
France, June 5-12, 2005
Second-last call: France calling Armstrong
By Anthony Tan
2004 Critérium du Dauphiné Libéré winner Iban Mayo
Photo ©: AFP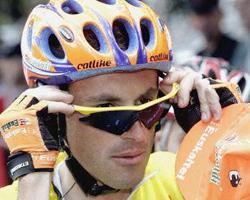 A Tour de France contender's final race preparations invariably consist of one of two races: the Critérium du Dauphiné Libéré or the Tour de Suisse.
It would be madness to do both, which in part explains the reason why the two are run semi-concurrently, with the last two days of the Dauphiné Libéré overlapping with the first two stages of the Tour de Suisse.
In the last six years, six-time Tour de France winner Lance Armstrong has participated in five editions of the Dauphiné (1999-2000, 2002-04) and just once at the Tour de Suisse (2001). During that time, he's had a 50 percent strike rate in coming out on top, beating Gilberto Simoni for the Tour de Suisse title in 2001 and winning the Dauphiné in 2002 and 2003; not a bad effort for someone who's always used the race as a warm-up for the Tour.
However, it seems that as the now 33 year-old Texan grows older, he's had to tame his voracious appetite for winning. In last year's Dauphiné, it was clear he was holding back - particularly on the fourth stage TT to Le Mont Ventoux, where he finished almost two minutes behind eventual winner Iban Mayo from Euskaltel-Euskadi. Mayo went on to a very lacklustre performance in July, eventually quitting the race, while Armstrong crushed his rivals in yet another flawless demonstration of measured strength, cunning and teamwork.
This year - his last as a professional cyclist - he's likely to do the same at Le Dauphiné: no heroics, just controlled efforts, making sure he'll be where he wants to be come the Tour. Of course, if there's an opportunity to win, don't count him out.
Needless to say, the 2005 edition is an exciting one: two time trials and six challenging road stages spread over 1,136.4 kilometres with 12,820 metres of climbing, all held in the southeast of France and all encouraging aggressive riding.
Beginning with a 7.9 kilometre prologue in Aix-les-Bains, the 365 metre-high Côte du Biolay is sure to create a immediate selection, with the top 10 placegetters also likely to be the top 10 contenders for the general classification.
The following day, June 6, the peloton leaves Aix-les-Bains, headed due west to Givors. Nothing overly difficult with two Cat. 4 and one Cat. 3 climbs spread along its 224 kilometre-long route, but enticing enough for a opportunist like Cofidis' Stuart O'Grady or Bouygues Telecom's Thomas Voeckler.
Stage 2's parcours is almost a carbon copy of the previous day, only shorter at 184 kilometres. Here, the riders face the same number and same category climbs as they head north by northwest from Givors to Chauffailles - so if anyone's kicking themselves for missing the move the day before, they get another chance. Or if your name's Jens Voigt, you do it all over again.
The 'Giant of Provence' awaits
Photo ©: AFP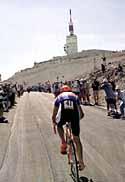 If the previous two stages seem rather uneventful for the GC riders, an all-important contre la montre (time trial) awaits in Roanne on Wednesday, June 8. Apart from the distance - 46.5 kilometres - the profile isn't anything to sneeze at, either, the Category 3 climb to the Côte de Paimpillod that rises to 601 metres an ugly addition to an already difficult time test. Look for Americans Bobby J and Floyd Landis to bring home the bacon.
Did someone say more pain suffering? Well, the Dauphiné Libéré organisers have heard you. Stage 4 could be a very pleasant ride if it was about 40 kilometres shorter - but it's not. Starting in Tournon-sur-Rhône, it's pancake-flat for 140 clicks to the town of Baaume-de-Venise; from there, the only way is up, up and away to the legendary Le Mont Ventoux, finishing 1909 metres above sea level at the observatoire. Ouch. Look out for Dario Frigo (Fassa Bortolo), Vladimir Karpets and Francisco Mancebo (Illes Balears), Denis Menchov (Rabobank), Andreas Klöden (T-Mobile) and, naturally, Lance Armstrong.
Friday's Stage 5 isn't much easier. In fact, with six categorised climbs and about a kilometre of flat road along its 219 kilometre-long parcours from Vaison-la-Romaine to Grenoble, some may find it even harder - provided they made the time cut the previous day and aren't watching the race on telly from their hotel room with a beer in hand, of course. Maybe one for Axel Merckx (Davitamon-Lotto) or Jérôme Pineau (Bouygues Telecom).
Sure, Stage 6 marks the start of the weekend, but today ain't no weekend ride. Only 155 kilometres long, but with three Cat. 1 climbs - Col de la Forclaz, Col de la Croix-Fry and the Col de la Colombiére - plus the hors categorié Col de Joux-Plane less than 10 kilometres from the finish in Morzine, the overall winner of the 2005 Critérium du Dauphiné Libéré may well be decided on this day. And don't forget - the Joux-Plane was the scene of Armstrong's famous case of hunger knock at the 2000 Tour de France, and where he almost lost the race - so expect LA to treat this stage very, very seriously.
The final day is one for the spectators, with the race cresting the Cat. 4 Côte de Domancy seven times in the final 70 kilometres, before the stage and race draws to a close in Sallanches. If timings are tight at the top of the leaderboard, GC riders will need to keep their wits about them, but most probably, it's another one for those adventurers who still have the legs. Philippe Gilbert (La Francaise des Jeux) or Michael Boogerd (Rabobank) would make likely protagonists.
So, while you may not see who will win the Tour de France after the conclusion of the Dauphiné, you will certainly see who's in with a chance. And who isn't.